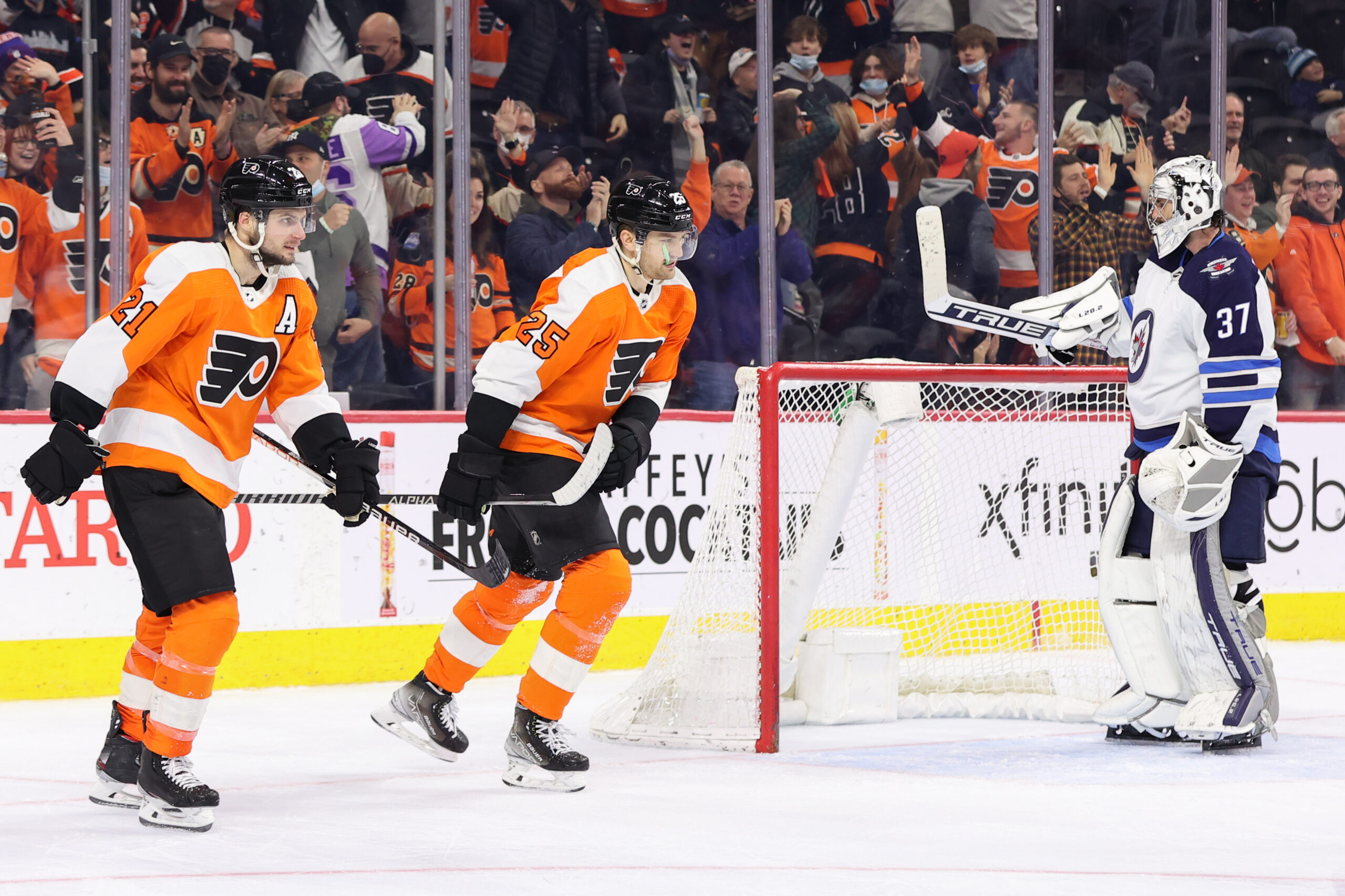 Flyers need to dig deep, playing their 5th game in 7 days at home against the Winnipeg Jets
The Flyers return home to host the Winnipeg Jets after edging out Detroit 2-1 in Little Ceasars Arena, counting their blessings after Carter Hart made an incredible save in the dying seconds of the final period to secure the victory.
Here's that unreal Carter Hart game-winning save in slow-mo, absolutely insane

Also Raymond had a ton of net if he could have put it closer to the post, but it was a tough, bouncing puck to shoot pic.twitter.com/zJY50XN0H2

— Dan Silver (@dsilver88) January 22, 2023
The Flyers may need even more heroics this time around, facing off against the 6th-best team in points, compared to the Red Wings' 24th ranking. This time, they will be looking to Felix Sandström, who's currently on the outs as Samuel Ersson has performed extremely well (not to mention, there are a lot of people in the organization, including Tortorella, who believe in Errson's abilities as a future starter) this season relieving Carter Hart. Tonight will be a big night for him, and he will need all the help he can get up front.
Scott Laughton found himself on the scoresheet last night and continues his streak, with 5 points in 5 games. Travis Konecny made the game- changing pass to Noah Cates via a Detroit turnover, a prime example of the "Tortorella effect". The Flyers will need Konecny to lead the charge against a loaded Winnipeg team.
Blake Wheeler will be on the ice with some zing to him after registering his 900th career point last night with a 3-point outing, scoring 1 goal and 2 assists in a 5-1 beating of the Ottawa Senators. You could say it was a timely boost for himself and the team, who started their road trip with back to back losses against Montreal (4-1) and Toronto (4-1). A 4-1 loss to the 26th-worst team by points (Montreal) gives me enough pause to think the Flyers (23rd-worst via points) have enough to frustrate Winnipeg's play drivers and scorers. There are a couple of forwards on the Jets that are due for regression. Pierre-Luc Dubois, Nikolaj Ehlers, Mark Schiefele, and Blake Wheeler have been shooting between 15-22%, despite averaging 11-16% in shooting percentages, suggesting they are playing above their true talent level.
The same could be said about some of the Flyers' forwards as well. Morgan Frost, Owen Tippett, Scott Laughton, and Travis Konecny have been shooting between 12-18% this season, despite shooting between 8-12% over their careers. With both teams likely preparing the back-ups to play tonight on the backend of a back-to-back, we may expect these forwards to continue to score at a significant rate.
Philadelphia Team Stats, per NHL.com
Power Play – 16.0% (30th)
Penalty Kill – 76.1 (20th)
Faceoffs – 45.9% (28th)
GF/GP – 2.77 (26th)
GA/GP – 3.17 (18th)
Winnipeg Team Stats, per NHL.com
Power Play – 24.7% (7th)
Penalty Kill – 84.8 (2nd)
Faceoffs – 48.2% (24th)
GF/GP – 3.28 (11th)
GA/GP – 2.62 (3rd)
PHI Record: 20-20-7, 47 pts, 7th in Metropolitan
WPG Record: 30-16-1,  61pts, 2nd in Central
Last Game PHI: 1/21/23, 2-1 W at Detroit
Last Game WPG: 1/21/23, 3-2 W vs Ottawa
When: 7:00pm ET
Where: Wells Fargo Center, Philadelphia, PA
PHI Goalie: Felix Sandström (1-6-1, .888 SV%, 3.37 GAA, 0 SO)
WPG Goalie: David Rittich (7-4-0, .908 SV%, 2.59 GAA, 3 SO)
PHI Projected Lineup
#86 Joel Farabee – #49 Noah Cates – #11 Travis Konecny
#25 James van Riemsdyk – #48 Morgan Frost – #74 Owen Tippett
#13 Kevin Hayes – #21 Scott Laughton – #57 Wade Allison
#44 Nicolas Deslauriers – #38 Patrick Brown – #17 Zack MacEwen
#9 Ivan Provorov – #45 Cam York
#6 Travis Sanheim – #77 Tony DeAngelo
#24 Nick Seeler – #55 Rasmus Ristolainen
#32 Felix Sandström
#79 Carter Hart
WPG Projected Lineup
#81 Kyle Connor – #80 Pierre-Luc Dubois – #91 Cole Perfetti
#26 Blake Wheeler – #55 Mark Scheifele – #27 Nikolaj Ehlers
#36 Morgan Barron – #17 Adam Lowry – #20 Karson Kuhlman
#71 Axel Jonsson-Fjällby – #28 Kevin Stenlund – #8 Saku Mäenalanen
#44 Josh Morrissey – #2 Dylan DeMelo
#5 Brenden Dillon – #4 Neal Pionk
#54 Dylan Samberg – #88 Nate Schmidt
#33 David Rittich
#37 Connor Hellebuyck
PHI Injuries: Sean Couturier (back), Tanner Laczynski (upper-body), Cam Atkinson (neck), Ryan Ellis (hip)
Scratched: Justin Braun, Kieffer Bellows
WPG Injuries: Mason Appleton (upper-body), Logan Stanley (foot), David Gustafsson (upper-body)
Scratched: Sam Gagner, Ville Heinola, Kyle Capobianco
News and Notes
– Felix Sandström is playing one of the more important games of his career tonight. If he can somehow play a role in stealing a win or point from Winnipeg, this could make the Ersson/Sandstrom battle a lot more interesting
– Scott Laughton, quietly, is having the best season of his career, and is in line for captaincy per multiple rumors and understanding how Tortorella sees him. He has 12 goals, 16 assists, 28 points in 43 games. He also has 5 power play goals, and 3 shorthanded goals. Laughton is on pace for a 20+ goal, 50+ point season, which would smash his 2018-19 career year, scoring 12 goals and 20 assists for 32 points over 82 games.
– The Flyers have a 9-2-0 record at home against the Winnipeg Jets, outscoring them 43-27 over those games.
– If you watch closely in the last 2 seconds, you will catch a feral Travis Konecny mouthing off a guy after this great set up to Noah Cates, never stop being you TK
Noah Cates scores against the Detroit Red Wings to make it 2-0#PHIvsDET pic.twitter.com/2efBhr4PpU

— PeckBot_001 (@PeckBot_001) January 22, 2023
Broadcast Info: TV – NBC Sports Philadelphia, Radio – 97.5 The Fanatic