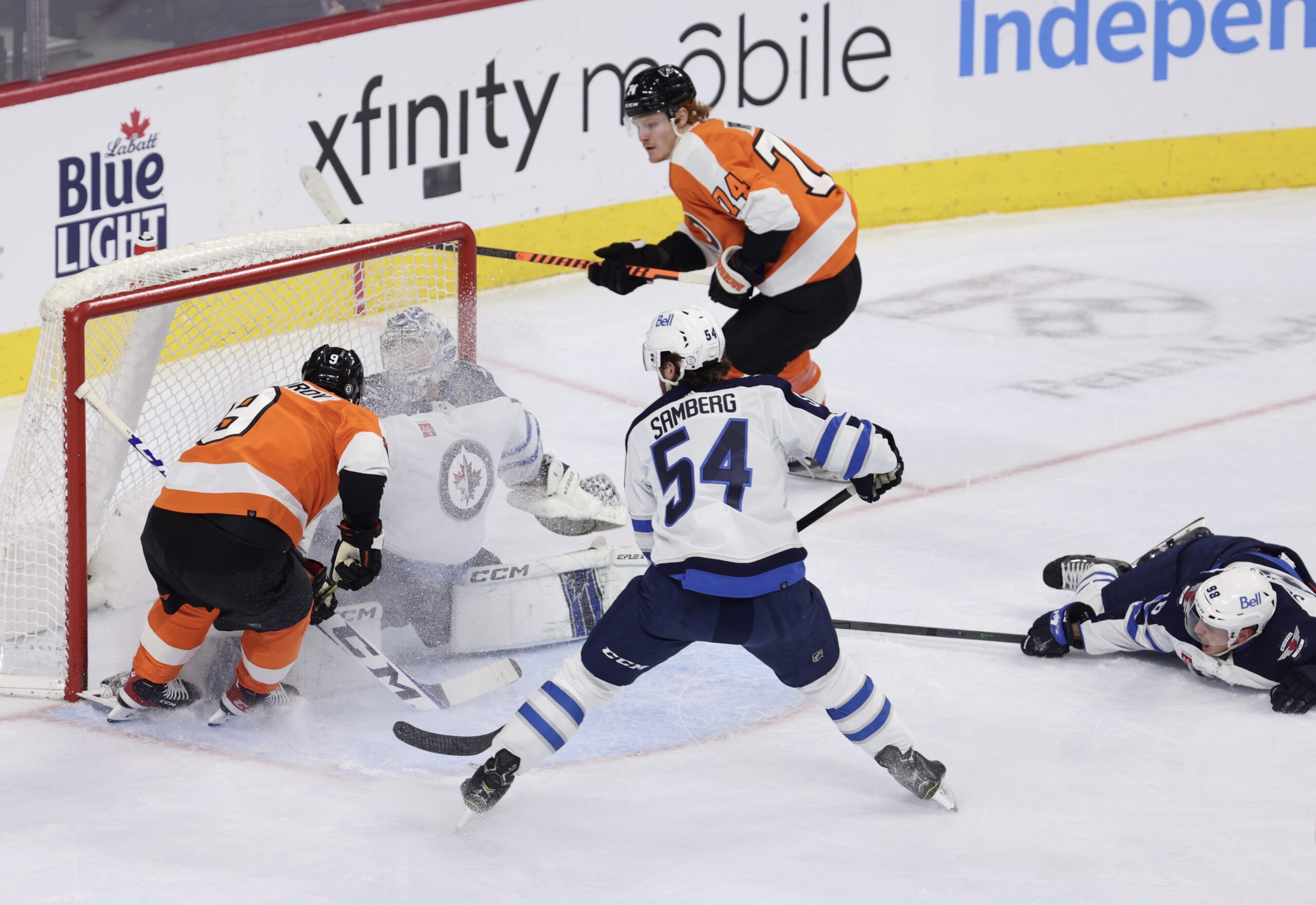 Comeback attempt comes up short as Jets thwart Flyers, 5-3
After a hard-nosed victory Saturday night in Detroit, the Philadelphia Flyers looked to keep things rolling over a strong Winnipeg Jets club who entered tonight 6th in the league standings. After trailing 3-0, the Flyers put on a furious comeback attempt and tied the game in the third period, but the Jets put their hopes to rest with two goals after that to hand the Flyers a second consecutive home loss for the first time since December 17th.
FIRST PERIOD
The Flyers came out of the gate strong, setting the tone early by starting the aggressive fourth line of Nicolas Deslauriers, Patrick Brown, and Zack MacEwen. The early pressure worked and Winnipeg took the game's first penalty just 58 seconds in as Pierre-Luc Dubois tripped up Travis Sanheim.
Before the Flyers could really set up and fire some man-advantage rubber at David Rittich, James van Riemsdyk's hooking minor against Dylan DeMelo negated the power play, setting up 1:18 of 4-on-4 time. With four-a-side hockey commencing, Philadelphia began to pressure the Jets again and started to test Rittich, but Winnipeg wasn't about to let Felix Sandström's first NHL game since December 13th be a cakewalk either.
Dubois exited the penalty box to begin the Jets' abbreviated power play, and shortly afterwards he was sprung on a breakaway that Sandström shut down. On the Jets' second shot however, a very skillful Axel Jonsson-Fjällby deflection found its way by a surprised Sandström to give Winnipeg an early 1-0 lead.
Axe man finely chops down the puck! 🌲🪓 pic.twitter.com/E1Jdv6BOkc

— Winnipeg Jets (@NHLJets) January 23, 2023
The Jets smelled blood and wasted no time in pouncing on a stunned Flyers team and just 2:21 after Jonsson-Fjällby's goal, Kyle Connor sniped home the puck on a 2-on-1 rush off a perfect feed from Cole Perfetti.
FUN FACT: Fetts' sauce is a family recipe passed down from generation to generation 👨‍🍳🍝 pic.twitter.com/B8AVv9CJpg

— Winnipeg Jets (@NHLJets) January 23, 2023
The first period onslaught continued and Mark Scheifele potted his 29th marker of the year off a pretty passing play from Nikolaj Ehlers and Blake Wheeler to cap off a Winnipeg rally of three goals in 3:38.
Can someone remind us how many goals Scheif is on pace for 😏 pic.twitter.com/nE9Lkmw0kO

— Winnipeg Jets (@NHLJets) January 23, 2023
After seeming dead in the water, the Flyers finally woke up late in the period and Ivan Provorov jumped up and tapped home an Owen Tippett feed to make it 3-1 and cut into the deficit.
Crashing in and cashing in.

🚨: Provy
🍎: @TippettOwen
🍏: @camyork2#WPGvsPHI | #FueledByPhilly pic.twitter.com/nrLpCniJda

— Philadelphia Flyers (@NHLFlyers) January 23, 2023
The late goal by Provorov gave the Flyers some life and hope heading into the first intermission, and they also led the shots on goal battle 14-10 after 20 minutes.
SECOND PERIOD 
The Flyers got off to a rocky start in the second as Travis Konecny was whistled for a hooking call against Brendan Dillon just 1:13 into the middle frame. The Flyers were luckily able to kill off the penalty and went back to work trying to chip away at the Winnipeg lead.
After some back and forth chances, Zack MacEwen was sent off for roughing against Cole Perfetti just past the halfway mark of the period but again, Philadelphia killed off another Jets power play.
With just 3:16 to play in the period, Nate Schmidt took an interference minor after a hit on James van Riemsdyk to send the Flyers on the power play late. They made no mistake in cashing in as Kevin Hayes fired a one-time bullet from the goal line past a bewildered David Rittich to make it a one goal game.
600 games and a PPG for Hollywood. #WPGvsPHI | #FueledByPhilly pic.twitter.com/2KANu5yUbc

— Philadelphia Flyers (@NHLFlyers) January 23, 2023
After 40 minutes it was now just 3-2 in favor of Winnipeg, with the Flyers hot on their trail and not showing quit.
THIRD PERIOD
After another Jets penalty, this time by Axel Jonsson-Fjällby for tripping Scott Laughton, Hayes picked up right where he left off in the previous period and made his 600th NHL game even more special by scoring his second goal of the night just 2:35 into the final stanza.
A Hollywood double feature. 🎬✌️@KevinPHayes12's second PPG of the night erases a three-goal deficit. #WPGvsPHI | #FueledByPhilly pic.twitter.com/bxWSbRuSDb

— Philadelphia Flyers (@NHLFlyers) January 23, 2023
For Hayes, it was his second multi-goal outing and sixth point in his last four games, and the goal tied the game up and sent the Wells Fargo Center crowd into a frenzy.
Shortly after Hayes' goal, Tony DeAngelo slashed Nikolaj Ehlers across the hands to put Winnipeg back on the power play, and the Flyers defenseman was not happy with the decision. The Flyers' penalty kill did their thing and ended up almost turning into the "power kill" again after Laughton and Konecny had a good chance in the Jets' zone. Unfortunately Konecny was given a very questionable holding penalty after he and Mark Scheifele fell to the ice next to David Rittich's net to set up a 28-second 5-on-3 for Winnipeg. Through sheer grit, tenacity, and timely saves from Felix Sandström, Philadelphia killed off the short two-man advantage and then the subsequent second penalty to get back to even strength.
Despite fending off Winnipeg's efforts with men in the box, Philadelphia gave up a heartbreaking goal to Karson Kuhlman before the nine-minute mark of the period on a tough bounce. Scott Laughton tried to check Kuhlman and the puck slid off Kuhlman's stick and through Sandström, who couldn't get his pad down in time to stop the puck.
VERY KUHL‼️ pic.twitter.com/CATRGdkJ2u

— Winnipeg Jets (@NHLJets) January 23, 2023
So the Flyers trailed again, looking for anymore magic to keep hopes of overtime alive. They had a great opportunity to tie the game again after Jonsson-Fjällby took another penalty – high-sticking this time – giving the Flyers their fourth power play of the contest. Unfortunately they couldn't cash in as the Jets didn't let the Flyers get many scoring chances.
Philadelphia eventually made the decision to pull Sandström with about 2:40 remaining in the period to try and get a tying goal late. They had a glorious opportunity after a jam play as the puck bounced to an open DeAngelo in the slot, but his shot was stopped by Rittich through a forest of bodies to keep Winnipeg on top. Eventually the Jets iced the game with a Kevin Stenlund empty-netter with about 27 seconds to go and that would be all she wrote as the Winnipeg Jets staved off a hard-fought Philadelphia Flyers comeback attempt to win 5-3.
3 STARS OF THE GAME: 1) Karson Kuhlman – WPG, 2) Kevin Hayes – PHI, 3) Kyle Connor – WPG
UP NEXT
Philadelphia will have to gear up and get ready to turn around in quick order again for another game on Tuesday night as the Los Angeles Kings visit Wells Fargo Center.