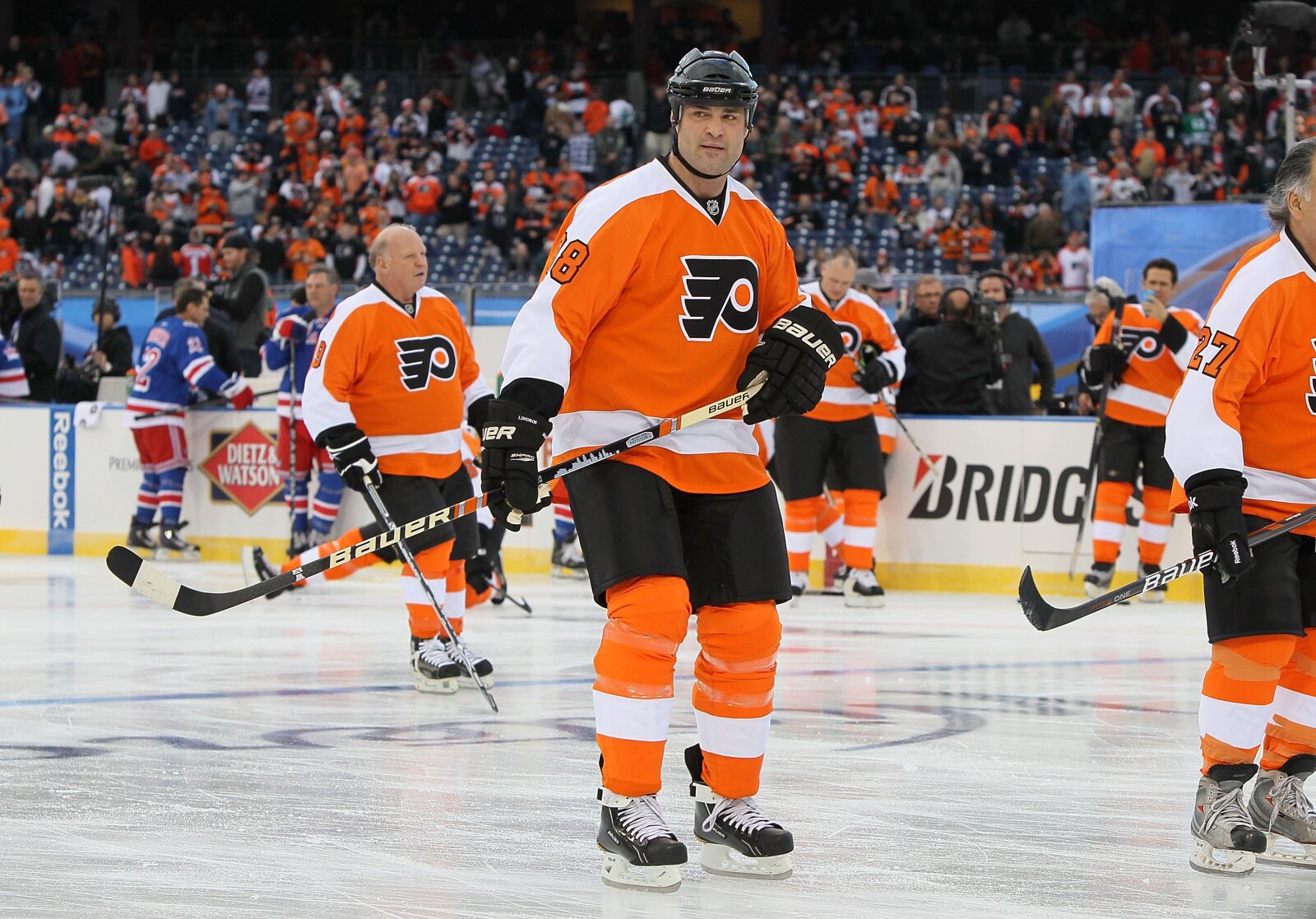 Flyers Hall of Fame Alumni Game Lineups Announced
The Philadelphia Flyers announced the lineups today for their alumni game on November 15th to celebrate the Flyers Hall of Fame inductions of Paul Holmgren and Rick Tocchet. Each team, appropriately named "Team Holmgren" and "Team Tocchet", will consist of 10 forwards and 4 defensemen, with Team Holmgren having two goaltenders to Team Tocchet's one.
Plenty of Flyers legends, including Hockey Hall of Famers and fan favorites over the years, will either be playing or in attendance in some way. Notable names that are playing include Eric Lindros, John LeClair, Mark Howe, Danny Briere, Reggie Leach, Simon Gagne, and more.
TEAM HOLMGREN (BLACK)
Coaches/Staff: Paul Holmgren, Orest Kindrachuk, Bob Kelly, Dave Schultz, Jim Watson, Rich Sutter, Bill Clement
FORWARDS
#10 John LeClair – #88 Eric Lindros – #19 Scott Mellanby
#19 Scott Hartnell – #18 Adam Hall – #15 Joffrey Lupul
#9 Scottie Upshall – #14 Ron Sutter – #21 Dave Brown
#29 Todd Fedoruk
DEFENSEMEN
#2 Mark Howe – #3 Dan McGillis
#14 Joe Watson – #2 Derian Hatcher
GOALTENDERS
#42 Robert Esche
#35 Neil Little
TEAM TOCCHET (ORANGE)
Coaches/Staff: Rick Tocchet, Mike Keenan, Murray Craven, Bobby Clarke, Bill Barber, Gary Dornhoefer, Steve Coates
FORWARDS
#12 Simon Gagne – #48 Danny Briere – #22 Mike Knuble
#26 Brian Propp – #9 Pelle Eklund – #18 Lindsay Carson
#87 Donald Brashear – #37 Mitch Lamoureux – #27 Reggie Leach
#32 Riley Cote
DEFENSEMEN
#6 Chris Therien – #28 Kjell Samuelsson
#8 Brad Marsh – #55 Nick Schultz
GOALTENDER
#56 Mike McKenna
The game will take place at Wells Fargo Center on November 15th at 7:00pm ET, the night before Tocchet and Holmgren will be inducted into the Flyers Hall of Fame in a pregame ceremony before the Flyers host the Calgary Flames on the 16th. Tickets for both events are still available online on the Wells Fargo Center's website.