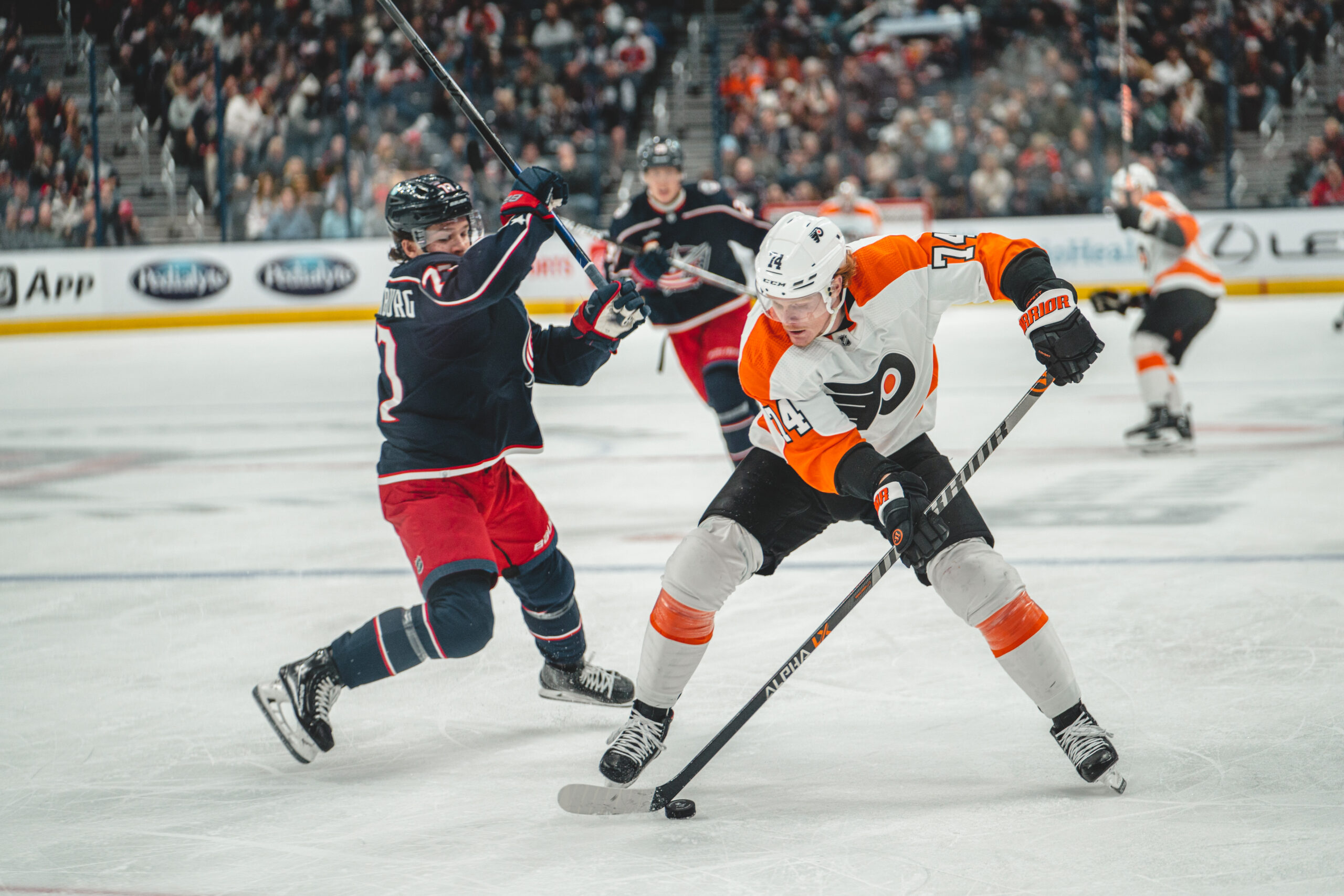 Flyers fall 5-2 to Blue Jackets in disappointing fashion in Tortorella's return to Columbus
1st Period
Early into the game the Blue Jackets found their rhythm quickly, disrupting the Flyers at every turn in the first 4 minutes of the game. The sustained pressure led to an ugly backhand pass attempt through the neutral zone by Owen Tippett, which Zach Werenski grabbed and whipped to Johnny Gaudreau, who snapped a wrist shot short side above Hart's stick. This felt like the first time Carter Hart looked a bit human this year.

I hope you bet your life savings on this outcome.

Chuck Fletcher has the Flyers down 1-0 early. pic.twitter.com/E3PiGbfGQ9

— Flyers Nation (@FlyersNation) November 11, 2022
In the Flyers zone again after a puck freeze, Nicolas Deslauriers and Mathieu Olivier duked it out, a long bout full of slugs, and gave each other a ton of respect afterwards. 
They were Kung Fu Fighting. #Flyers pic.twitter.com/Zlj5jRlu2B

— Flyers Nation (@FlyersNation) November 11, 2022
This did begin to sway momentum and woke some of our top players up. Immediately after the fight, Travis Konecny and Kevin Hayes made great work in the offensive zone, to which they followed up with a minute later forcing a turnover in the offensive zone. Unfortunately it didn't turn into a shot on net as Farabee forced a lateral pass for a Laughton one-timer from inside of the right circle, but it was a good step forward.
The Flyers made it back in the Columbus zone at the 11 minute mark, featuring Provorov in the right circle for a one timer into the chest of Korpisalo. Some real ugly zone exits were attempted at at the 9 minute mark, but the Flyers cleared, and they went right back and jammed the net with a handful of attempts from Zack MacEwen.

Unfortunately, Tippett had another terrible turnover and Werenski found rebound after Gaudreay attempted to feed Laine but was blocked by Provorov. 2-0 Columbus.
Johnny Gaudreau is on pace for almost 12 points tonight. pic.twitter.com/mk20cWPEhg

— Flyers Nation (@FlyersNation) November 11, 2022
Thirty seconds later, Farabee got scrappy defending Scott Laughton.
Joel Farabee ready for war when somebody touches Scott Laughton. pic.twitter.com/vmZyYrqo0e

— Flyers Nation (@FlyersNation) November 11, 2022
The game moved to 4v4 now, and Tippett rang one off the post after falling on his own.
Werenski went out to the tunnel shortly afterwards after missing his hit on TK.
Zach Werenski will not return tonight…

Columbus currently has four defensemen available. pic.twitter.com/hg6JQE9kVR

— Flyers Nation (@FlyersNation) November 11, 2022
In the dying seconds of the period, Johnny Hockey was coasting down for another CBJ breakaway, but Tony DeAngelo disrupted him just enough to keep him from getting a shot off.
Tony DeAngelo comes up huge to strip Gaudreau of the puck on a breakaway. #Flyers pic.twitter.com/HricVudNi8

— Flyers Nation (@FlyersNation) November 11, 2022
*TDA totally didn't cheat
SOG: 12-9, PHI 
2-0, CBJ
2nd Period
Columbus opened the first 40 seconds of the period with a tic tac toe play. 3-0. The Flyers got burnt by another turnover made by Konecny, who was given the puck between three Blue Jackets, forcing his hand.
Konecny turns it over…3-0 Columbus. pic.twitter.com/izcaY5G7Tg

— Flyers Nation (@FlyersNation) November 11, 2022
Lukas Sedlak had a nice breakaway attempt a minute later but Joonas Korpisalo made an incredible effort to stop him.
MacEwen got sent to the box about 3 minutes later for elbowing, which John Tortorella didn't like. The Jackets created a great rebound chance but Provorov kept Sillinger from cashing in with a nice stick play. The Flyers had a shorthanded chance, with DeAngelo setting up Sedlak with his second great look of the night, but Korpisalo was there to stop him on the shorthanded attempt. Korpisalo had been lights out to that point in the game.
3 minutes later Erik Gudbranson got destroyed by Deslauriers crashing into the boards. Deslauriers was coming in to finish a check, but Gudbranson had an unexpected slip, without enough time for Deslauriers to react. 
The referees initially called a five minute major on Nic Deslauriers for this play…

It has been overturned on review. pic.twitter.com/ZdjjiblfdJ

— Flyers Nation (@FlyersNation) November 11, 2022
The Flyers eventually scored with 6:56 to play in the second. Noah Cates gets the deflection from Provorov, and DeAngelo stuffed the rebound making it 3-1.
Tony D. and Sedlak were in the crease! The #Flyers are on the board. 3-1 now… pic.twitter.com/CA7HcWyW1w

— Flyers Nation (@FlyersNation) November 11, 2022
Not too long afterwards Morgan Frost killed all momentum, being sent to the box for tripping with just under 5 minutes to go.
Torts looking pissed after a Morgan Frost penalty kills the momentum. pic.twitter.com/oMEv990mes

— Flyers Nation (@FlyersNation) November 11, 2022
Defending the power play well again, the Flyers found themselves with another odd-man rush shorthanded. Cruising into the zone with a 3-on-2, Konecny choked on a soft dish that sent Columbus the other way, but this time Hart was there to make the save to negate the 2 on 1 attempt.
Remember that save! Carter Hart bails out the #Flyers at the end of the kill. pic.twitter.com/DgxZH0qGOr

— Flyers Nation (@FlyersNation) November 11, 2022
SOG: 20-9, CBJ
3-1 CBJ
3rd Period
Things were mostly quiet in the first half of the period, with a few looks by Joel Farabee, Noah Cates, and Zack MacEwen. That was until Ivan Provorov scored his first goal of the season, cutting the game to a one-goal deficit around 11 minutes to go in the third period.

IVAN PROVOROV DOWN LOW! The #Flyers are within one. pic.twitter.com/zRkpmzIeDw

— Flyers Nation (@FlyersNation) November 11, 2022
The Flyers pulled the goalie with a little over two minutes left, but were unable to get any decent shots through to Korpisalo. The Blue Jackets sent the final nail in the coffin with 1:39 left after Nick Blankenburg scored from his end into the empty net, making it 4-2, and then score another for safe measure by Boone Jenner made it 5-2 to really seal it.
SOG: 32-28, PHI
5-2 CBJ

Up Next
The Flyers face off against Claude Giroux and the Senators again at Wells Fargo Center, making it Giroux's first time back since being traded last March.