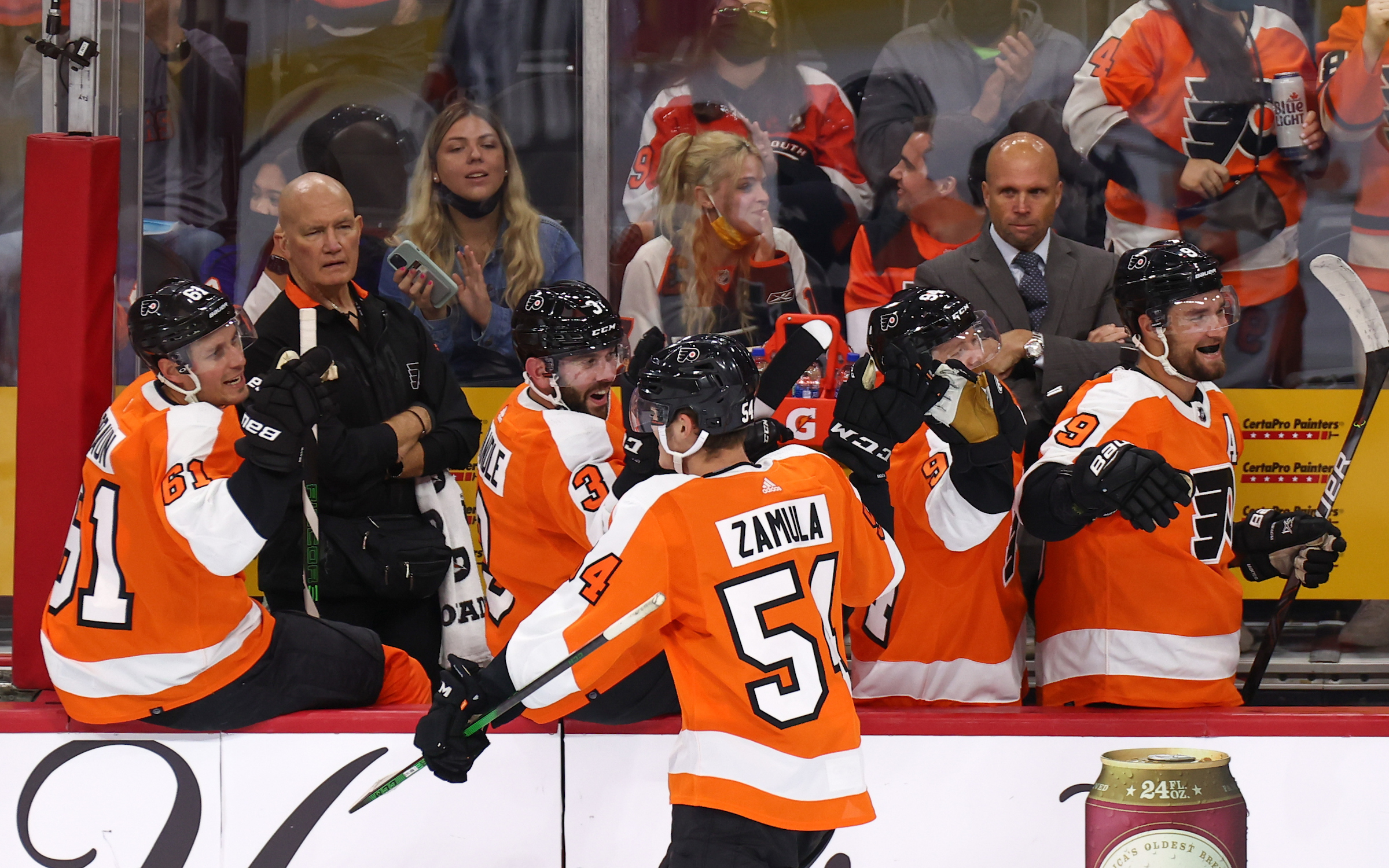 The Philadelphia Flyers announced on Tuesday that forward Zack MacEwen has been added to the main roster after clearing up his visa issues. He was also present for practice today and is expected to make his Flyers debut on Wednesday night in Philadelphia against the Boston Bruins. He will wear #17, last worn by fan favorite Wayne Simmonds in 2019.
MacEwen, a 6'3" 205 pound forward from Charlottetown, Prince Edward Island, was claimed off waivers from the Vancouver Canucks by the Flyers on October 13th. He has skated in 55 games at the NHL level, all previously with the Canucks. He has scored 6 goals and 3 assists for 9 points in that time frame along with 69 career penalty minutes racked up as well.
MacEwen is slated to take Max Willman's spot on the Flyers' fourth line, playing alongside Nate Thompson and Nicolas Aubé-Kubel. MacEwen is another player capable of bringing some toughness and physicality we've seen in the first two games of the season, which will hopefully make it an easy fit for him in Philadelphia.
In two corresponding moves, the Flyers have assigned Max Willman and Egor Zamula to the American Hockey League's Lehigh Valley Phantoms. Willman played in his first two NHL games on Friday against Vancouver and last night against Seattle. Willman recorded zero points and chalked up 4 penalty minutes, but he showed plenty of physicality and character in his brief stint. Zamula opened the season on Injured Non-Roster status with the Flyers after suffering a lower-body injury on September 30th during the preseason. Being loaned to Lehigh Valley indicates he is healthy and ready to play for the Phantoms now.
Willman returns to Lehigh Valley after scoring 9 goals and 7 assists for 16 points in 30 games with the team last season, good for fifth in total scoring in Allentown. Zamula appeared in 25 games for the Phantoms last year in his first professional season. He racked up 6 assists on the Phantoms blueline, and he also spent time on the Flyers' taxi squad and played in his first two NHL games last season as well.
Defenseman Rasmus Ristolainen will also make his season debut tomorrow night as well against Boston after missing the first two games of the season with an upper-body injury. Patrick Brown is still absent from the team as he is undergoing COVID protocol.

Riley Cote & Derek "Nasty" Settlemyre go behind the scenes and talk hockey with some of the biggest names in the NHL.