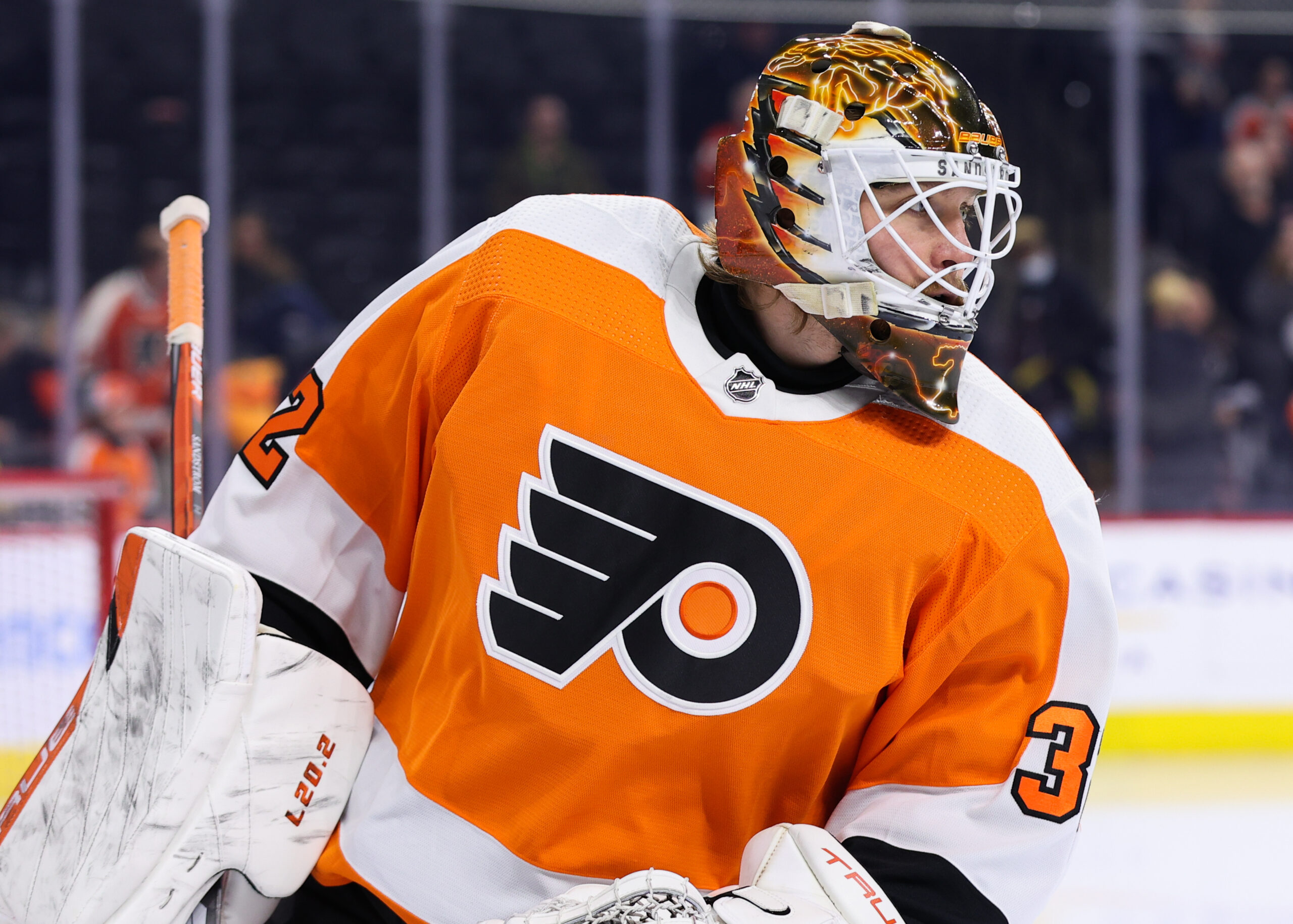 The Philadelphia Flyers have not supported Carter Hart or Felix Sandström very well this season. They are facing copious amounts of shots on a nightly basis and while seeing a solid amount of rubber in a game is good to keep you on your toes, facing too many shots will wear you down, physically and mentally.
While Hart has been the only Flyer to record a victory in net this season, Sandström's winless record certainly isn't for a lack of effort. The 25-year-old backup has appeared in three games for Philadelphia, stopping 32 of 36 shots against Florida, 22 of 24 shots against San Jose, and 39 of 44 shots against Toronto. His peripheral numbers aren't pretty at first glance, as he sports an .894 save percentage and 3.78 goals against average to accompany his 0-3-0 record, but there's more than meets the eye with his numbers when watching how the goals have gone in or watching how the Flyers have played in front of him.
And yes, while Hart has managed to take his game to a higher level so far and has outplayed Sandström, that's perfectly acceptable and honestly that should be expected given that Hart is the presumed savior of the franchise in net.
Sandström faced the same issues last year in his first five NHL contests: poor defense and poor goal support. Sandström faced 177 shots on goal last season and stopped 161 of them. Those totals are the third-most by a Flyers netminder ever in their first five starts with the team, just behind Bobby Taylor (164 saves on 180 shots) and Martin Biron (167 saves on 180 shots).
Sandström already has three 35+ save games under his belt in the NHL, which includes 39 last night against the Maple Leafs and 43 in his NHL on December 30th, 2021 against the Sharks. His 43 saves and 46 shots faced are each Flyers records in a team debut and NHL debut.
Sandström's record in those first five games last year was 0-4-1, and Philadelphia's goal totals in order were 2, 0, 3, 1, and 0 for an average of 1.5 goals for per game. That's not going to win you anything, and the Flyers' goal totals in Sandström's performances this year read in order 3, 0, and 2 for 1.67 goals for per game. The Flyers over Sandström's entire NHL career score at a 1.375 goals per game clip when he's in the cage, which is despicable.
Of course, it is a small sample size and those goal totals will likely up when he gets more games under his belt, but it's certainly an interesting statistic to consider as it leaves Sandström with a very minuscule margin for error.
Another catalyst for Sandström's poor record or the poor performances in front of him could be that he usually plays on the second half of back-to-back sets. Former Flyers goaltender and current Daily Faceoff contributor and analyst Mike McKenna wrote about this situation last week, and it definitely makes sense. In fact, all but one of Sandström's eight starts have come on the second half of a back-to-back set, with the standalone game being a 4-0 loss on April 27th, 2022 in Winnipeg against the Jets. The backup goalie playing behind a fatigued team that skated the night before usually won't be a recipe for success, and McKenna would know best from his personal experiences as a goaltender.
McKenna notes that starting the number one goalie for the first game is a normalcy for John Tortorella, and it's very much the norm around the rest of the league as well. But perhaps Sandström could benefit from a fresh team in front of him in the first game and Carter Hart could get the second game and have to stand on his head instead. It's not a perfect scenario at all, but Hart is better suited to be proverbially thrown to the wolves in that situation and it could give Sandström a better chance at finally punching a W into the win column and help him gain confidence and get the monkey off his back.
The Gävle, Sweden native is doing as much as he can in net. He tracks the puck well, he moves well laterally in his crease, and he's a very sound goaltender positionally with great reflexes. But while playing as well as he can given the team in front of him, mentally it can wear a goalie down without having results to show for it. Sandström is still searching for his first NHL victory, and this is the longest a Flyers goalie has waited in search of their first win with the club. Eventually he will break through, and hopefully it comes soon, but it's hard not to think about.
Broad Street Buzz's Ariel Melendez asked Sandström about how hard it is to not let frustration set in while still searching for his first win after the Flyers' 3-0 home loss to San Jose on October 23rd, and Sandström replied, "Like you said, you can't control everything. You just gotta keep battling and keep doing your work and eventually it's gonna turn around."
He's a player that quietly goes about his business and battles as hard as anyone on the ice, and he deserves that first NHL win more than anyone. Hopefully, his teammates will help him earn that first win soon.