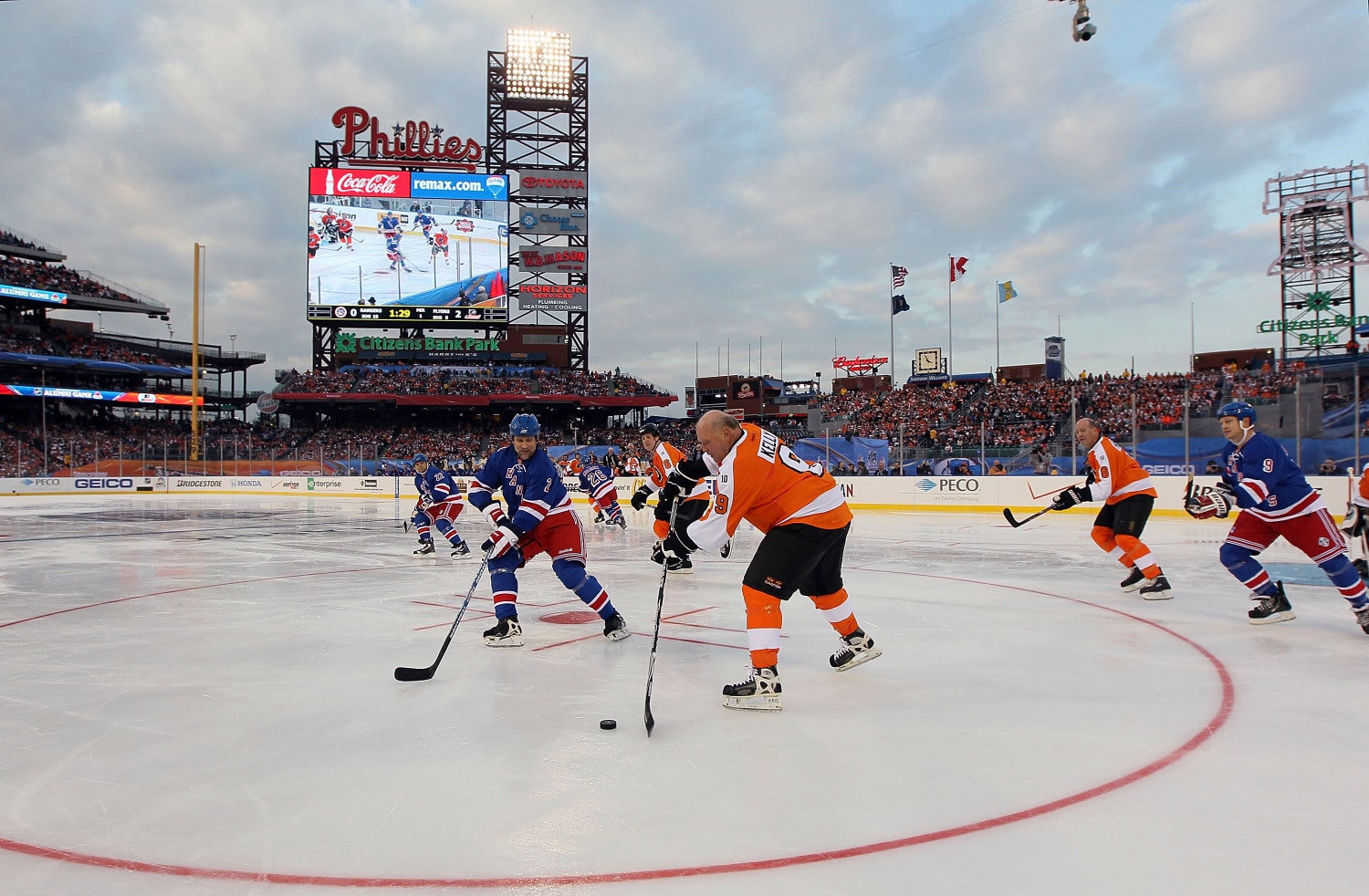 December 31, 2011: Flyers Alumni star at Citizens Bank Park
On this date in 2011, the Flyers Alumni took down the Rangers Alumni at Citizens Bank Park.
The Alumni Game occurred the day before the Flyers and Rangers were scheduled to go head to head in the 2012 Winter Classic. A near sellout crowd of 45,808 people had to wait an extra two hours for puck drop as there was weather concerns.
Following a 3:00 start time, the CBP crowd of 45,808 erupted as Flyers legend Bernie Parent, 66 years old at the time, made a huge pad save on Rangers alumni forward Ron Duguay to start the game.
There was much fanfare surrounding Eric Lindros' return to the Flyers organization for the Alumni game and he delivered in a big way.
Two thirds of the Legion of Doom (LeClaire, Lindros) were able to make the Alumni game. Mikael Renberg couldn't attend due to prior commitments. The line was one of the most dominant, offensively and physically, in the NHL from 1995-1997.
Mark Recchi, fresh off a Stanley Cup with the Bruins the past spring, found The Big E to start a rush. John LeClair finished a 2 on 1 to open the scoring for the Flyers Alumni.
Later on in the first period, Rick Tocchet got greasy and took it to the net. Shjon Podein, Flyers forward from 1994-1999, finished off the play with a tap in.
Longtime Flyers defenseman and five time NHL All Star Mark Howe scored the last Flyers goal on a penalty shot. Philadelphia would hang on in a 3-1 victory against the Rangers Alumni.