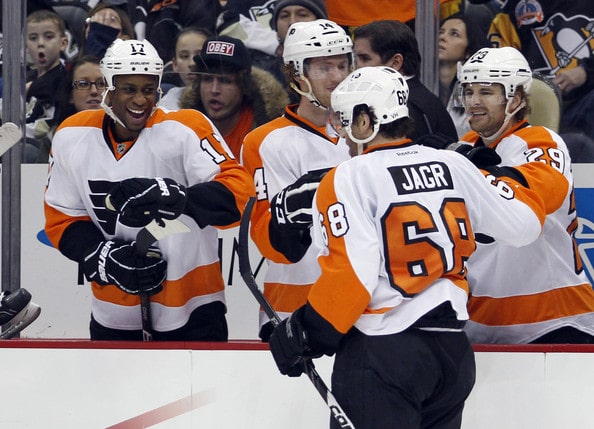 On this day in 2011, Jaromir Jagr made his return to Pittsburgh after spurning the Penguins in free agency.
The 39 year old NHL legend rebuffed the franchise he won two Stanley Cups with to sign in Philadelphia for $3.3 million.
Instead of paying respects to one of the franchise's three best players of all time, the Pittsburgh crowd met Jagr with boos every time he touched the puck.
Jaromir Jagr wasn't the only former Penguin returning as a Flyer. Playoff hero Max Talbot was also returning in orange and black after signing a 5 year, $9 million deal in the offseason.
An 8th round draft pick in 2002, Talbot spent six seasons in Pittsburgh. He scored the only two goals in the 2009 Stanley Cup Final to hand the Penguins their 3rd Stanley Cup.
In one of the most memorable Flyers games of the 2010s, Jaromir Jagr scored in the 2nd period and then gave the Pittsburgh crowd the Jagr salute. Jagr was then met with the middle finger and much more as the Consol Energy Center erupted.
Max Talbot would go on to score the empty netter and cap off a satisfying 4-2 win. Kimmo Timonen and Matt Read had the other two goals. Claude Giroux, Sean Couturier, and Jake Voracek each had two assists. This was the last game the Flyers played before the 2012 NHL Winter Classic at Citizens Bank Park.