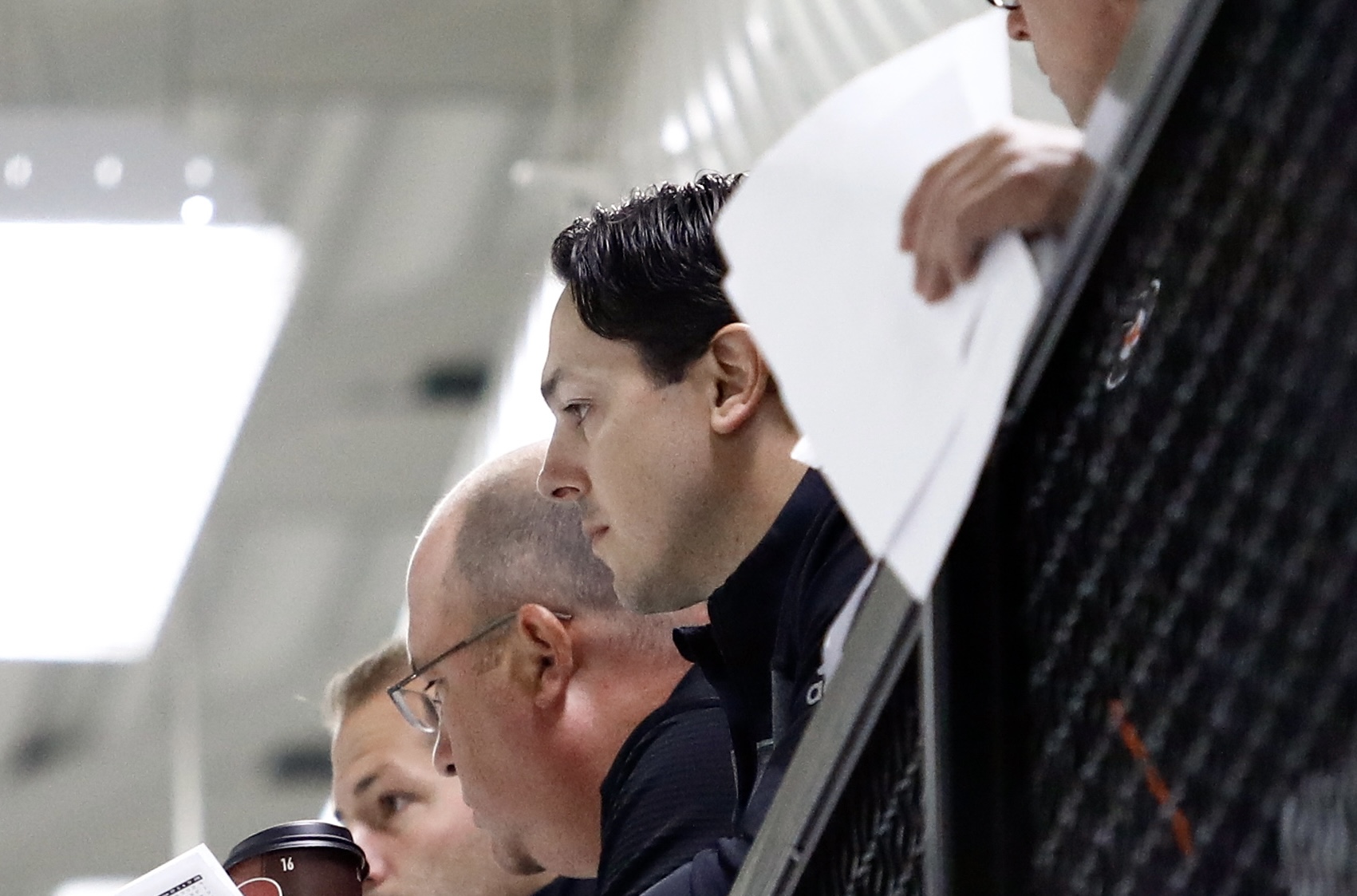 Newly-minted Interim General Manager, Daniel Brière, took the stage for the first time since Friday's brouhaha and addressed the next steps that the Philadelphia Flyers will be taking under his wing.
The former player-turned-general manager was employed as the Special Assistant to the General Manager last February after having spent parts of 5 seasons for the ECHL's Maine Mariners as President and Governor. His hiring as Special Assistant was sort of a wakeup call for then-General Manager, Chuck Fletcher, as it was deemed that Brière was essentially being groomed as his successor.
After consecutive losing seasons in the hotbed of Philadelphia, Fletcher's seat was barely lukewarm last year, however it seems that the old adage of "three strikes and you're out" applies to the now-former general manager of the Philadelphia Flyers as upper management finally said enough was enough – in large part because of the commotion caused by the fanbase.
As a player, Brière played in 973 games across 17 seasons for 5 different clubs. He scored 307 goals, 696 points, and accumulated an additional 53 goals and 116 points in 124 playoff games. For the Buffalo Sabres he was spectacular, scoring 230 points in 225 games across 4 seasons before signing in Philadelphia as a free agent in the summer of 2007. In 6 seasons, Briere scored 124 goals and 283 points but nothing was more memorable than his 2010 playoff run, where he scored 12 goals and 30 points in just 23 games.
In 68 postseason appearances with the Flyers, he scored 37 times and added an additional 35 helpers – back when making the playoffs was a foregone conclusion in Philadelphia.
His numbers took a hit after 2010-11, and he played 2 more seasons with the Flyers before joining the Montreal Canadiens and the Colorado Avalanche before hanging up his skates at the end of the 2014-15 season. He was hired as a member of the Flyers' business operations department and served as a Special Assistant to the General Manager in 2015-16 to the end of 2016-17. Brière then served as Vice President of Hockey Operations for the Maine Mariners from 2017-18 to 2020-21, he was the General Manager in 2019-20 and 2020-21, and he became the Team President in 2021-22. Brière was also named as a Team Consultant for the Flyers in 2021-22 before taking over as Special Assistant to the General Manager last year. He has now taken over the unenviable position of trying to clean the mess that his predecessor has left for him.
The Flyers are currently a barren wasteland of over-valued and over-priced long term contracts and toiling in the basement of the NHL's standings for the past 3 seasons has done nothing for their salary cap situation, cupboard of draft picks, or stock pile of prospects that you'd generally expect from a lottery team. Ahead of the trade deadline this year, the Flyers were engaged in trade talks with several teams over the likes of Kevin Hayes, Ivan Provorov, and Travis Konecny among others. A lot of the dealings that Chuck Fletcher was previously involved in had salary retention implications, which is why he was hesitant on pulling off said moves. It seemed, especially from his verbiage, that maybe he was going to try to kick the can at another re-tool but the Flyers had other plans and decidedly let him go after the debacle that led to James van Riemsdyk and Justin Braun not being traded to contenders.
As things stand the Flyers have Travis Sanheim locked in for 8 more years at $6.25 million AAV, Sean Couturier signed for an additional 7 years at a cap hit of $7.75 million AAV, Joel Farabee signed for 5 more years at $5 million AAV, Rasmus Ristolainen for 4 more years at a cap hit of $5.1 million AAV, and have Kevin Hayes, Scott Laughton, and Nicolas Deslauriers each signed for 3 more seasons at cap hits of $7.142 million, $3 million, and $1.75 million, respectively. They also have Ivan Provorov, Travis Konecny, and Cam Atkinson for 2 more years apiece at cap hits of $6.75 million, $5.5 million, and $5.875 million respectively. Tony DeAngelo is the remaining culprit with a high cap hit but he only has 1 more year remaining at a $5 million AAV. Of course there's also Ryan Ellis who has 4 more seasons left on his contract, however he seems to be a permanent fixture on LTIR.
According to CapFriendly, the Flyers will be walking into the summer with a shade over $7 million in cap space. That would be worrisome if your General Manager was trying to retool on the fly as he would have limited cap space and limited assets. However with Briere at the forefront, he is "not scared" to announce that the Flyers are undergoing a rebuild and likens that it will be a multi-year process to make them a Stanley Cup contender once more. On top of that he reiterated that no player is untouchable, which brings us back to players like Hayes, Provorov, Konecny, and some have even spoken about Carter Hart.
Brière is excited about his new position, while conceding that he was a bit surprised by the firing of Chuck Fletcher – which seems to be the consensus feeling around the Flyers front office members at the moment. He thanked Fletcher and Dave Scott for hiring him in the first place and giving him the opportunity and the platform. He was quoted as saying, "I've spent a lot days, a lot of sweat, a lot of sacrifice for this organization, so it's a true honor to be in this position. It's also the city I call home."
As for the elephant in the room, Briere addressed that he doesn't know what is going to happen to the Senior Advisors currently employed. Moving forward, it was reported that the Flyers will be looking to make several changes in the front office, which included cleaning house of some Senior Advisors – notable names include Bobby Clarke, Paul Holmgren, and Bill Barber.
Clarke has been with the organization through a myriad of positions. He was a player from 1969-70 all the way to 1983-84. He was a Player Assistant Coach from 1979-80 to 1981-82, became General Manager from 1984-85 to 1989-90, and then left the organization to manage the Minnesota North Stars and Florida Panthers before returning as General Manager once more in 1994-95 all the way to 2006-07. Then he was named Senior Vice President of Hockey Operations, a position he held from 2006-07 to 2018-19, and has since been a Senior Advisor. With the exception of 3 years in the early '90s, Clarke has been within the organization since 1969 and has specifically held a front office position since 1984.
Holmgren is in the same boat as Clarke as he was a player for the Flyers from 1976-77 to 1983-84 before playing for the Minnesota North Stars for a couple seasons. He then became an assistant coach for the Flyers from 1985-86 to 1987-88, head coach from 1988-89 to 1991-92, and became a scout in 1991-92. Holmgren then took a hiatus from the Flyers and went to Hartford as a head coach and general manager (for one season) before returning to Philadelphia in 1996-97 as Director of Professional Scouting. He then became Director of Player Personnel in 1997-98 and 1998-99, Assistant General Manager from 1999-00 to 2006-07, General Manager from 2006-07 to 2013-14, President from 2014-15 to 2018-19, and Senior Advisor ever since.
Barber played for the Flyers from 1972-73 to 193-84, became an assistant coach from 1985-86 to 1987-88, then became Director of Professional Scouting from 1988-89 to 1995-96, with one year of assistant coaching mixed in 1993-94. He was then named head coach from 1996-97 to 1999-00 for the Philadelphia Phantoms before being named Head Coach of the Flyers in 2000-01 and 2001-02, winning the Jack Adams Award in 2001. Barber then departed to Tampa Bay before coming back as a Team Consultant from 2008-09 to 2018-19, and since then has been a Senior Advisor like his counterparts.
The worry from many is that the Flyers are sticking with their mantra of keeping it within the organization, but Brière does not represent the old guard, he does not represent the win-at-all-costs adage from his Senior Advisors, and it seems that more modern former players who have taken up General Manager positions have done relatively well over the last decade or so. Joe Sakic, Steve Yzerman, Chris Drury, and most recently Mike Grier were all former players for their current teams but have a much more modern approach and understand that the game of hockey has changed over time.
While he hasn't been given a definitive timeline for when the Flyers will name a permanent General Manager or President, Brière said he was fine with either position, he was happy to take on whatever they felt he was best suited for, especially the general manager's chair. He's not too worried about interim tag for the time being because he sees himself remaining within the organization regardless.
Brière will also be aided by Brent Flahr, who was the Assistant General Manager to Chuck Fletcher in Minnesota and Philadelphia. The expectation is that Flahr will be heading the upcoming draft and that there's a good chance he will remain for the future.
Brière also mentioned how he has discussed with Dave Scott and Dan Hilferty on whether or not he can make moves as interim General Manager but made sure to reiterate that he's not trying to rock the boat at the moment either. "At this time, it's not about rocking the boat. It's more about evaluating everyone that's in place, and evaluating our players…I'm not looking to change anything drastically right at this moment. I've had this job for 48 hours, so it's not going to happen overnight. This is going to be a long process."
He finished off his presser by saying he was a student of the game and has learned a lot from Paul Holmgren, Chuck Fletcher, and Joe Sakic – the architect of the reigning Stanley Cup champions.
In other words, the rebuild we've been waiting for might finally be on the horizon and while the losing seasons will most likely continue, the Flyers will finally have a larger plan in motion. They will be selecting a good-to-great prospect this year, they have 2 firsts in 2024, but most importantly is what they do with certain young players on their roster.
The Flyers have to figure out what their current timeline is, when they expect to be contenders, and who fits with that plan. Travis Konecny, Ivan Provorov, and Carter Hart are 3 players who will be able to bring back the most assets for the rebuild, their trade values remain high, many teams are and have been interested, and it's now on Brière and company to see if it makes sense.
Konecny and Provorov have been dragged in trade rumours since 2020, they are both signed for 2 more seasons, their cap hits aren't egregious for their value on the ice, but both are currently 26 years old. The Flyers won't be back in contention in 2 years time when their contracts are up, will they want to remain Flyers even beyond that as well? In terms of trades and trading, we've seen the value of contract term and what that can bring back in assets, so this summer is going to be extremely important for the present and future of the Flyers. Jakob Chychrun landed the Arizona Coyotes a conditional first round pick, a conditional second round pick, and an additional second round and that was for a player who was never ever going to play for the Coyotes again, so they didn't hold all the power or leverage, something that Brière won't be too worried about when it comes to Provorov, Konecny, or others.
As for Carter Hart, the same notion can be applied. He has 1 year remaining before becoming an RFA, he's only 24 years old, his prime has yet to come, and many teams would drooling over his services, meaning the Flyers would be able to recoup a king's ransom. However, are they comfortable trading what was once deemed the future of their net? Are they comfortable enough to roll with Samuel Ersson and Felix Sandström, who have a combined 27 games of experience? A realistic timeline for contention could be 3-4 years down the line and Hart's due for a new contract at the end of 2023-24 season, and it should be a lengthy contract considering his age, talent, and counterparts. However, the question remains, will he want to stick around for more losing seasons?
Chicago's teardown rebuild is a fun to look at but it's also very hard to execute and something you have to plan for well in advance. The Flyers have far too many contracts with term remaining on their roster, something Chicago didn't necessarily have. You'd have to find trade partners for Couturier, Atkinson, Hayes, Ristolainen, Deslauriers, Laughton, Konecny, Provorov, Farabee, and Hart. While some should be easier to trade than others, it's not entirely practical either.
The time to trade your core players would be now to absolutely maximize your return and actually settle into your rebuilding plan. Getting cold feet and potentially missing out on your opportunity will only push this team further back, let alone keep your plan at bay for another season.