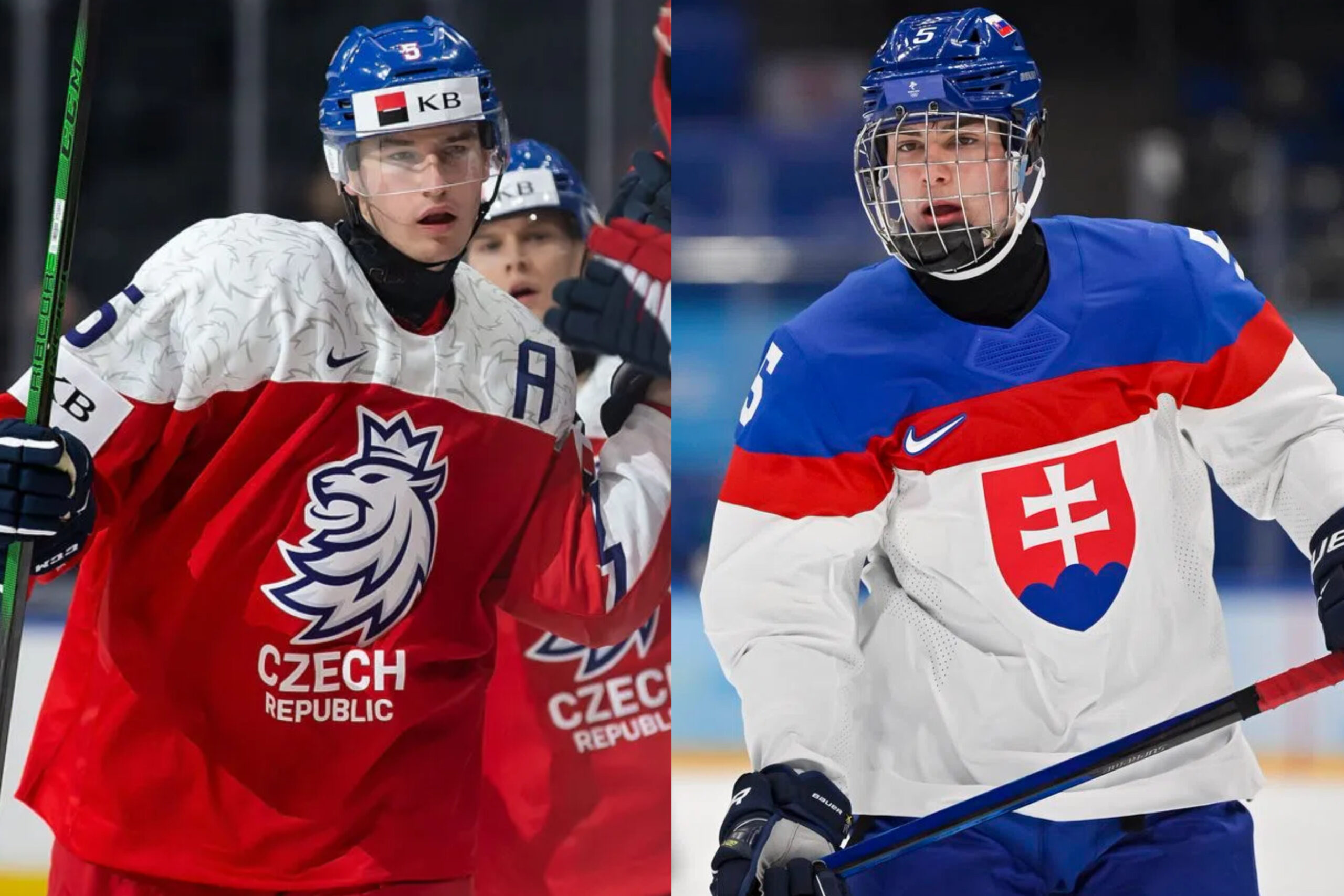 Flyers 2022 NHL Draft: Simon Nemec or David Jiricek?
The Philadelphia Flyers will enter the 2022 NHL Draft with the 5th overall pick. It was another draft that left Flyers fans feeling like they got played. After finishing with the 4th-worst record in hockey, Philadelphia dropped down one spot, and then watched the New Jersey Devils jump us to the 2nd overall pick, making it the third time since 2017 that the Devils have had the 1st or 2nd overall pick in the last 3 years…yeah…tough to watch from the other side of the Ben Franklin Bridge.
It admittedly had taken me some time to let go of that night, but once I began my research on Philadelphia's pick, those feelings of hope began to reemerge. Now, maybe not in the sense that this pick could magically catapult the team back into contention, but it would create a lot more certainty for our defensive core for years to come, which would make Chuck Fletcher's job a lot easier when determining how to retool/restructure the team. We've heard from insiders like Jeff Marek from 32 Thoughts say that much of the Flyers' direction and identity is still up in the air. A top 4 right handed shot, with #1-2 upside brings more answers than questions to the blue line. For example, if Ryan Ellis continues to have health problems, and cannot return to the form we'd thought we would see, this would be a quick and affordable replacement. Prospects are signed under ELCs, also known as an Entry Level Contract(s), where the max pay is $925,000. This gives a little bit more flexibility for a team working under a tight budget. Secondly, this prospect could be the player that unearths peak Ivan Provorov from the 2017-18 season (paired with Shayne Gostisbehere) and/or the 2019-20 season (paired with Matt Niskanen). A player of this caliber would take pressure off bottom units and open more opportunities to play to their strengths.
In the scenario where Ellis does return healthy next season, and is playing relatively well, the Flyers have potential of a real deadly backend, creating a legit 1st pair, followed up by a strong 2nd pairing led by Travis Sanheim and Rasmus Ristolainen, and a 3rd pairing that could see Cam York and David Jiricek/Simon Nemec. Despite all of our legitimate pessimism, we cannot deny the fact that one of the two defensemen has a real chance at solidifying the blue line for years to come. The only question remaining is, David Jiricek or Simon Nemec?
Let's start with the #1 consensus defensemen in the draft, Simon Nemec.
Prospect Profile
2021-22 Team: HK Nitra (Slovakia)
Date of Birth: Feb.15, 2004
Place of Birth: Liptovsky Mikulas, SVK
Height: 6-foot-1 Weight: 192 pounds
Shoots: Right
Position: Defense
NHL Draft Eligibility: 2022 first-year eligible
Rankings
Nemec isn't a physically imposing defensemen, but he's not a small one either. There is still enough weight in his 6'1″ frame to rub players off pucks along the boards or in corners. Many scouts have appreciated his commitment to be physically engaged despite not possessing an overwhelming build like his fellow draftee that we'll speak on later. Check out this clip here where he makes a smart read behind the net, and then immediately sends his team the other way in fluidity. Again, not overly physical, but reads plays much quicker than anyone else on the ice.
Simon Nemec with some nice 1on1 defending facing his own goal without taking a penalty. Prevents a shot on goal and immediately jumps up to join the rush in the last 20 seconds of overtime #2022NHLDraft pic.twitter.com/JYjJRMR4c3

— Spoked Z (@SpokedZ) September 28, 2021
Nemec has proven the ability to keep up with grown men, which speaks to his IQ and ability to adapt to different environments. Sometimes players can make it into the bigger leagues because they were born bigger, however, being big can only get you so far. Nemec has proven to keep up with stronger and heavier competition via IQ, something that you need to become at top pairing defensemen in the NHL. The strength of his game that has led him to this point of his career is how he can effectively distribute & carry the puck out the defensive zone and through the neutral zone with ease. He does have some offensive flair in his game, but it's unlikely we'll be seeing blistering one-timers or slap shots from the kid, though he has been credited with the ability to get pucks through traffic for rebound opportunities via his wrist shot. Watch these plays (6 point in 6 games to start their run, no big deal):
Simon Nemec has 6 points in 6 playoff games thus far.

Here's a look at all of them. #2022NHLDraft pic.twitter.com/RveaZ8lMtY

— /Cam Robinson/ (@Hockey_Robinson) April 3, 2022
Simon is an absolute stud with his gap control and controlling his blue line when oppositions attempt to barrel through. Pivots are strong, meaning he does well in retrieving dump-ins sent in by opponents, and plays a prevent-defense style in the slot. His strong skating abilities add another tool to his shed when walking the blue line, executing clean shots on net or passes to teammates down low while facing pressure. You'll see him sneak into the circles to release a quick wrister, but most of his points will be earned via his defensive zone breakouts and QB abilities on the blue line. See here where Nemec uses body language to trick F1 when pressured in the break out:
Watching some film on Šimon Nemec and I love his usage of body language to manipulate the forecheck. He will sell the forechecker that he's contemplating on passing the puck. Once the forechecker is drawn in, Nemec has open ice. #2022NHLDraft pic.twitter.com/RZsMxfBdKs

— Josh Tessler 🇺🇦 (@JoshTessler_) November 1, 2021
The only knack I feel comfortable giving Nemec is the one thing that may hold him back from stardom is that he doesn't have a heavy shot. This certainly does not mean he won't score in the NHL, he will, but the lethality of his shot is what may hold him back from evolving into a true all-star defensemen in the league. I am not worried about his size. It's not like the boy isn't over 6 feet and at least 190 pounds, and he's still only 18, so safe to assume he will bulk out over the next few years. At the end of the day, Nemec rounds out to become a high-end right-handed defensemen who has all the tools to become your franchise defensemen for a long time.
Now let's take us over towards the Czech Tower, David Jiricek.
Player Profile
2021-22 Team: HC Skoda Plzen (Czechia)
Date of Birth: Nov. 28, 2003
Place of Birth: Klatovy, CZE
Height: 6-foot-3 Weight: 190 pounds
Shoots: Right
Position: Defense
NHL Draft Eligibility: 2022 first-year eligible
Rankings
Unlike Nemec, David Jiricek does have the reputation of utilizing his exceptional frame to push opponents off the puck and give them hell in the pursuit of puck battles along the boards. Jiricek also LOVES this brand of hockey, and his willingness to make open-ice hits and actually execute them is a sight to see. I've been thinking a lot about the conversations that revolve around the direction hockey is moving towards. While there is no question that the brutality of the game still exists, it's much more paced out, and seen more infrequently over time. Players and/or prospects who can keep up with the speed of the game, inflict pain on opponents, and contribute to scoring in a top 6 (Fs)/ top 4 (Ds) role is a rare commodity. Jiricek very well may become one of these rarities that still roam the ice of the NHL. Sure, we love to marvel at big men doing big men things, but can he score? Can he QB a powerplay? Are his physical gifts enough to negate scoring chances in his own zone? The answers are basically all yes, but let's dive a bit deeper so we can get a better understanding of what this player brings to the ice. Firstly, the guy has an absolute cannon, and shoots at rubber pucks as if there's some kind of beef or feud between the two:
David Jiříček must hate pucks. Guys always slapping them into oblivion.

Anyone who has underestimated Jiříček's offensive upside, may want to rethink their decision. pic.twitter.com/mSjfFH1XYF

— Future Watch (@FutureWatch_TV) May 2, 2022
His IQ to join rushes or sneak into the right circle is SHARP. Like, real sharp. Jiricek loves joining in on offensive chances, and isn't hellbent on shooting the puck, he wants to make plays too. Teams will absolutely drool over this, especially for any organization that lacks true offensive threats on their blueline. Speaking of the blueline, watch Jiricek absolutely taking this guys jock strap and woman with this sick shimmy at the line
Another fun David Jiricek clip.

Lured the attacker, quickly shifts the puck forehand to backhand, shifts the puck back to forehand and then completes a lateral feed to his winger.

Excellent hands.#2022NHLDraft pic.twitter.com/Ea09RVtJY2

— Josh Tessler 🇺🇦 (@JoshTessler_) December 21, 2021
There have been some criticisms of his skating, and to be honest I do not really see where these problems are. His power strides are excellent, and then deploys a series of shorter steps to gain acceleration. One skating ability he's reportedly struggled with is his transitioning from skating backwards to forwards and vice versa. This will become a bit more obvious to the eye test when he gets beat to pucks on defensive dump-in retrievals. However, it's not like he's getting smoked, and his size and weight can counter any danger that would manifest from the corners, but it's good information to know.
The defensive game is strong, and we will notice over time with this player that he likes to force players into the boards, or lean all over them until his stick finds the puck. Jiricek's reach is outstanding at 6 foot 3, and it's on full display on the clip below.
You got to love David Jiricek's gap control and excellent poke checking. #2022NHLDraft pic.twitter.com/gWzVVCoH4O

— Josh Tessler 🇺🇦 (@JoshTessler_) December 19, 2021
The biggest concern with David Jiricek is the knee surgery he had to undergo at such a young age, and that may not bode well with playing the brand of hockey he does over the long haul, but that's for us to find out later. I did see some reports that he has tendencies to hyper-focus on the point, rather than the players in the slot or behind the net, which gives me all types of bad vibes to be completely honest. He is going to have to learn to remember to use his body to manage the players down low. Jiricek is a smart player, I think he will learn to pay closer attention to his assignments in front and below the net. If the knee does not end up holding him back, David Jiricek also has the frame and weapons to become a high scoring defensemen who's savvy in his own end.
Conclusion
Who is the better fit? Oy vey, your guess is as good as mine. The Seattle Kraken pick at #4, and everything points to the organization taking one of the two defensemen, and we do not know who they're going to take. When the Seattle office was being put together, we saw highly regarded data analysts like Namita Nandakumar (@nnstats on Twitter) brought on as a senior hockey analyst, and many others that bring a breath of fresh air in the way they track the game and players. Moves like this would have had me believing they'd be #TeamNemec all day, but then they hired Dave Hakstol. With those moves, and considering the personalities they put on the ice, Jiricek would bode well with the type of brand Seattle Hockey is trying to cultivate.
Then we have the Flyers, and man, David Jiricek just screams Philadelphia Hockey. The front office loves IQ and size, so there may be a split on this one. Nemec has been marked as the IQ guy, and Jiricek as the size guy, but that doesn't mean Jiricek isn't smart or that Nemec can't handle the physicality. They just serve as digestible abbreviations when talking about the players.

There has been a lot of discourse in the front office and in the public that this team is still too soft to play against. That played a big role in Chuck Fletcher giving up a 1st round (and Robert Hagg, lol), and a 5×5 extension for Rasmus Ristolainen. I also wonder if the knee horrors Sam Morin went through may deter them from taking Jiricek because of that recency bias. Of course, it was a rare case, and we do not usually see players struggle to the extent Morin did with returning to the league after injury.

The Flyers will ultimately land with the guy that Seattle does not select, so we'll find out together next month, July 7th. I'm sure it will all go as planned, doesn't it always?