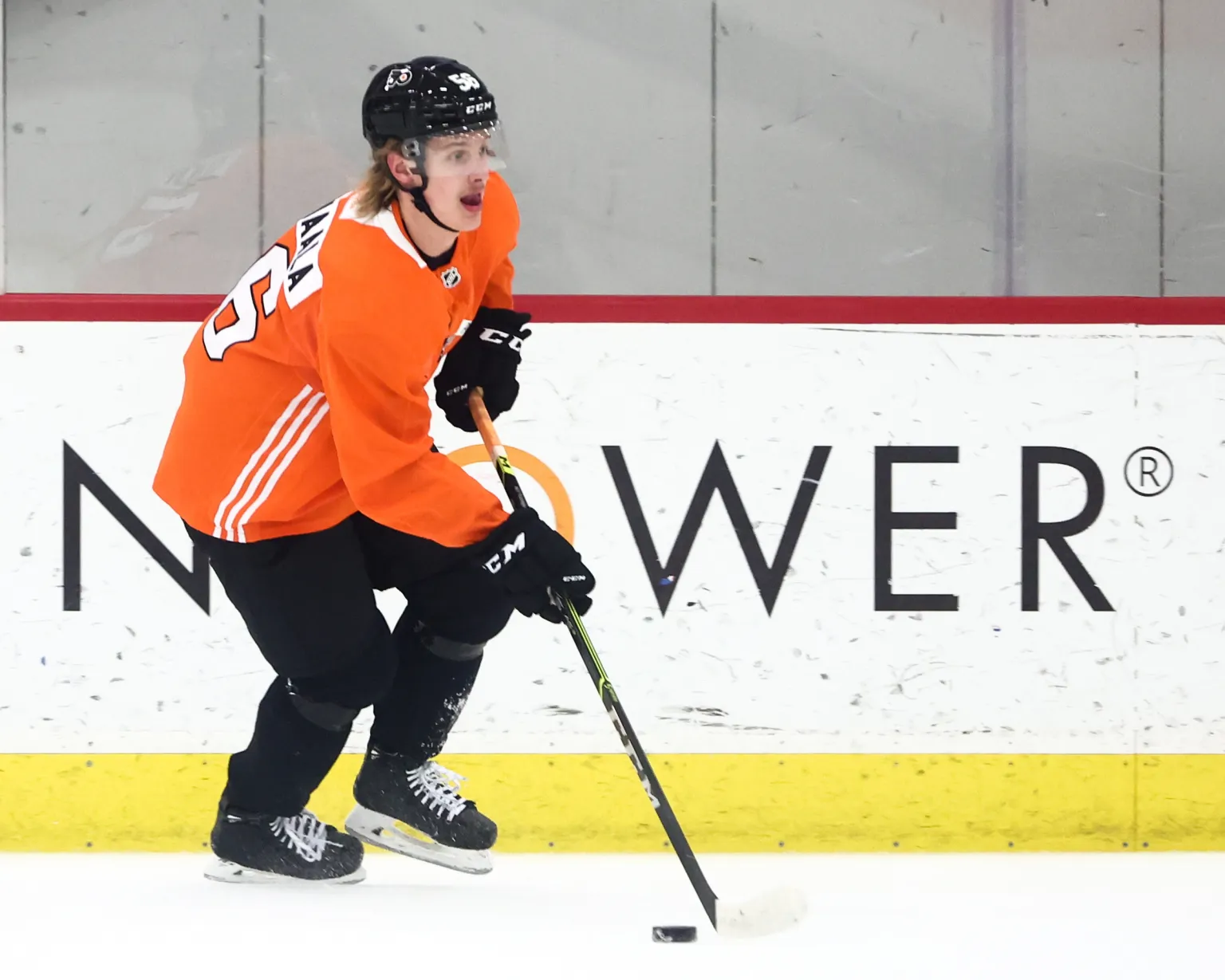 Entering the 2021 NHL Entry Draft, the Philadelphia Flyers were scheduled to pick 14th overall – but 13th off the board with the Arizona Coyotes having to forfeit their 1st rounder – and should've been focusing on adding to the pipeline. However, then-general manager Chuck Fletcher decided it was high time to move the pick, alongside a future second, and Robert Hagg to Buffalo for Rasmus Ristolainen and his soon-to-be expiring contract.
🚨 TRADE ALERT! 🚨

We have acquired defenseman Rasmus Ristolainen from the Buffalo Sabres in exchange for our first round pick (13th overall) in the 2021 NHL Draft, a second round pick in the 2023 NHL Draft and defenseman Robert Hagg. Details: https://t.co/UOBqWNQCm6 pic.twitter.com/vCrkLgY0Mt

— Philadelphia Flyers (@NHLFlyers) July 23, 2021
The Sabres selected forward, Isak Rosen, and the Flyers were left to wait until the second round for their first pick of the draft. With the 46th pick of the draft, the Flyers were proud to select forward, Samu Tuomaala, out of Finland. The 5'11", 190 pound winger from Oulu, Finland, entered the draft as the 10th-ranked European skater just behind Isak Rosen at #8 and Fabian Lysell at #9.
With the 46th pick in the 2021 #NHLDraft, we have selected forward Samu Tuomaala! pic.twitter.com/EbkNiAmRmt

— Philadelphia Flyers (@NHLFlyers) July 24, 2021
Tuomaala played for Karpat in the U20-SM sarja where he scored 15 goals and 31 points in 30 games, a steady improvement from his 2019-20 season where he scored 15 goals and 23 points in 40 games in the U20 SM-liiga. He also played 5 games with Karpat in the top-ranked Finnish league, Liiga, but was held without a point. On the international scene, Tuomaala scored 5 goals and 11 points in just 7 games at the U18-World Junior Championship.
Upon entering the draft, this is what some of the more venerable draft-makers had to say about the Finnish forward:
EliteProspects: "He reloads to swing wide on his team's breakout, collects the puck in stride, accelerates through knee-over-knee crossovers, and drives play across the offensive blue line. Blink, and you just might miss him. Tuomaala has a wicked wrist shot, and he can get it off in-stride from either foot."
Mike Morreale – NHL.com – July 12th: "Tuomaala (5-10, 174) is an energy-type forward with good speed, quickness and puck control."
Eetu Siltanen – Dobber Prospects – July 7th: "He's a shoot-first player and has a really quick and dangerous wrist shot. He's a fast skater with good acceleration and possesses solid, if unspectacular, puck skills."
Scott Wheeler – The Athletic – June 22nd: "When he plays an up-tempo, energizing game, he's very effective. His skill makes him a lot of fun to watch when he's surrounded by talented players, too (as was the case at U18s"
After the draft, this is what the Flyers and NHL Central Scouting had to say about the pick:
Brent Flahr – Vice President & Assistant General Manager
"He's a guy we targeted. We kind of thought he would probably go at the end of the first or somewhere in the 20s and he fell. A real talented winger. Great skater. Real dynamic speed. Loves to shoot the puck. Talented kid. He's going to take a little time to get stronger and put on a little weight. A talented kid that has real good offensive upside."
Joakim Grundberg – Flyers Director of European Scouting
"Obviously very excited getting him. He was rated as a first round talent. We were able to get him in the middle of the second round, so we're really excited about that. To us, he has elite speed and high skill. Very good shot. High-offensive upside. There's things he's got to work on like his overall game and obviously getting stronger. We're really excited. We see a lot of upside there."
Bill Meltzer – PhiladelphiaFlyers.com
"Tuomaala's speed and hands are of first-round caliber. If he develops as hoped, he could be a top-six NHL forward. Despite his lack of size, he isn't afraid to go the scoring areas and he doesn't get intimidated. He was a force at the U18s in Frisco this year. The young Finnish winger is a player who feeds off emotion, for better and for worse. If things aren't going his way, he can get off track. But in terms of his feet and his hands — two things that really can't be taught — he's a high upside player. The rest can come with maturity and experience. He figures to see more Liiga time this year with Kärpät."
NHL Central Scouting
"An elite skater with a great set of skills including speed, balance and smooth puck handling. A smart passer who also possesses a fine selection of shots. Can score big goals and is very dangerous around the net with a fine finishing touch. A complete package that does not shy away from tight situations or rough games. Used in all game situations."
Tuomaala impressed enough to earn his stripes for the Lehigh Valley Phantoms ahead of the 2021-22 season, but only managed to stick around for 2 games before being sent back to Finland. It was a relatively underwhelming season even in his native country as he played 13 games for Sport in Liiga with 2 points and another 8 games for Jukurit with 1 point.
After such a mundane and quiet draft+1 season, Tuomaala lost favour amongst the Flyers media and became a lost member of the pipeline. He dropped down the pecking order relatively quickly and was generally found near the bottom amongst the forwards of the future – or at least the ones who were drafted with valuable draft capital. The introduction of Cutter Gauthier coupled with the improvements from Tyson Foerster, Bobby Brink, Elliot Desnoyers, and Olle Lycksell made it easier for people to forget about him.
Tuomaala entered a rather important 2022-23 season at the age of 20, needing to push himself back to the top, or at least back into the conversation. His time was split with Jukurit U20 in the U20-SM sarja, Jukurit in the Liiga, Peliitat of Mestis, as well as Kettera of Mestis. With Jukurit he went without a point in 14 games in the Liiga, he chipped in with 2 points in 2 games for Peliitat, and then 26 goals and 46 points in 29 games for Kettera in the regular season with another 7 goals and 19 points in 17 post-season games.
After a strong showing at the recent Development Camp, it sounds like Tuomaala will be taking his talents to the Lehigh Valley Phantoms but this time intends to stick around.
Charlie O'Connor took to The Athletic to jot down what he's noticed with Tuomaala and the changes he's seen since he was initially drafted:
"Now, however, he'll be taking his talents full time to North America."
"My plan is coming to North America and getting ice time here," Tuomaala said after his development camp session.
"Tuomaala has worked to improve his English since being drafted. Though Flyers player development coach Sami Kapanen accompanied him for his interview Wednesday, Tuomaala answered the vast majority of questions on his own — a dramatic shift from 2021, when he needed a translator for every question. And though his stock has dropped over the past two seasons, he still flashed the skill Wednesday that so intrigued the Flyers in the first place — namely, his speed, which he used to blast past Andrae on a rush drill, one of the few all day to make Andrae look foolish."
He has worked extremely hard to hone in on his craft and the intangibles that made him such a tantalizing pick in the second round of his draft year. His shot has improved, he looks a lot more confident and stronger with the puck, and has blazing speed – speed that allowed him to get past Emil Andrae with relative ease during a rush drill.
Samu Tuomaala getting some extra shots in with Sami Kapanen after practice. Tuomaala has looked good at camp and his shot has definitely improved. pic.twitter.com/QDOyXQHWGU

— Maher Media (@MaherMediaCo) July 5, 2023
He was always known for his goal scoring in the Finnish junior circuit as evidenced by his production throughout the U16, U17, and U18 leagues but something clearly stunted his development and growth after being drafted and playing in the Liiga. He scored 32 goals in in 40 games in 2017-18, 36 goals in 53 games in 2018-19, and 26 goals in 59 games in 2019-20 – all encompassing leagues and international play were included.
Sweet shot by Samu Tuomaala on the 2-on-1. 🔥 pic.twitter.com/fFy6tHKAtX

— Maher Media (@MaherMediaCo) July 5, 2023
Tuomaala has also opened the eyes of some of the very important men that are running the camp – and player development as a whole – with Director of Player Development Riley Armstrong being one of them. He made a quick quip about how he looks stronger, faster, and has legs that are reminiscent of Sidney Crosby.
Flyers director of player development Riley Armstrong said Samu Tuomaala has legs like Sidney Crosby, real strong and can skate like the wind.

They're hoping they can eventually get his game back to North America and keep developing. pic.twitter.com/ucZj0mGE0T

— Jordan Hall (@JHallNBCS) July 2, 2023
It's all about remaining calm, cool, and collected as he enters training camp with a lot more eyes on him than previously expected. With the glut of wingers that the Flyers possess, he may be relegated to bottom-6 duties to start the season in the minors but that's also very dependant on the availability of Tyson Foerster, Bobby Brink, Olle Lycksell, and Elliot Desnoyers.
If, for whatever reason, none of them make it on the opening night roster for the Flyers, Tuomaala will have to grind and battle for the spotlight. A player like that needs the right tools to develop, which includes playing time, a clear and concise role, and room to grow. The last thing you want is for him to be stunted, however in saying that he also needs to earn those spots. it can't just be handed out or given without merit.
Fortunately it seems like Tuomaala has all the skills and intangibles to make it to the big stage, but he now needs to show it to the coaches, staff members, and player development team on a more consistent basis.
2024 Stadium Series Trip
Flyers Nation and Philly Sports Trips have teamed up to bring you on an amazing bus trip to the 2024 NHL Stadium Series between the Flyers and Devils. Place an early deposit to reserve your spot at the ultimate tailgate experience at MetLife Stadium before the game. The package includes a game ticket, round-trip charter bus, an all-inclusive tailgate party with unlimited cold beverages, "Philly Style" catered food, live entertainment, and more.