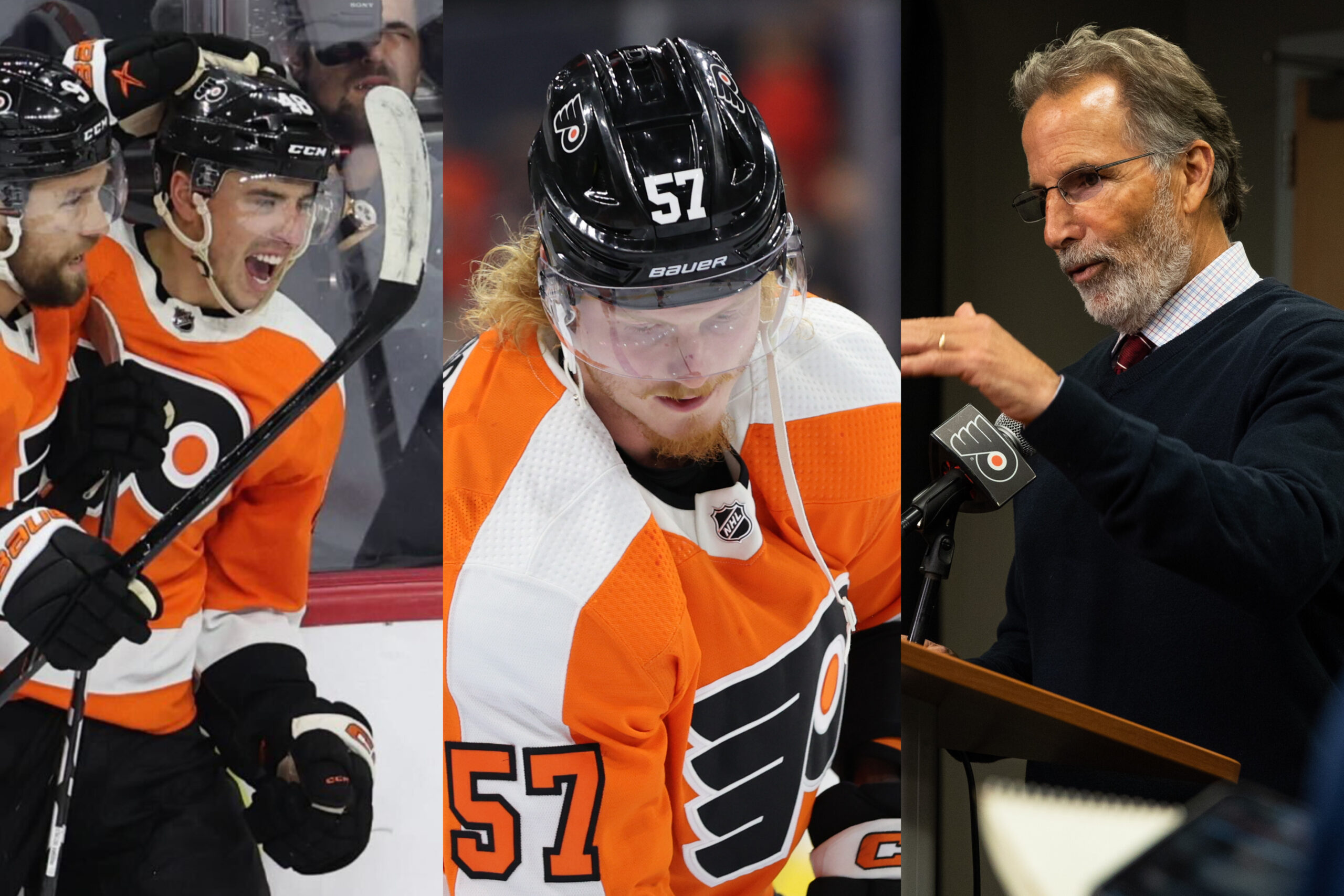 In a game against the suddenly venerable Florida Panthers on Thursday, while having only 11 forwards dressed, you would have assumed a team effort was required to get the victory. What in fact ended up happening was the opposite as the Philadelphia Flyers rode another Carter Hart-tidal wave towards their 5th win of the season. Hart made a career-high 48 saves en route to a 4-3 victory and while the Flyers did score 4 goals on Sergei Bobrovsky – a goaltender with a ridiculous record against his former team – it was an onslaught from the Panthers who outshot the Flyers 51-22 and attempted 104 shots total.
The scrappy Flyers have found ways to score opportunistically, which is something they haven't been able to do for some time. However, the way they're currently playing is not sustainable and at some point Hart won't be able to keep making 35-40+ saves a game to keep things close. You can't take anything away from his spectacular start either, as he is 5-0-0 with a .947 SV% and a 2.00 GAA while having faced 188 shots to date – which with quick math is about 38 shots a game.
A few things stood out from Thursday's win more than others, and it was 1) the bounce back performances from Kevin Hayes and Travis Konecny after being benched in the third period of their previous game on Sunday against the San Jose Sharks, and 2) even with only 11 forwards dressed, Tortorella benched Morgan Frost (7:43), Wade Allison (5:09), and defenseman Egor Zamula (6:41).
We already had an inclination that at some point, head coach John Tortorella's tough love approach was going to kick in, but maybe we didn't think it would come so soon and to the team's arguable best offensive options. The Flyers were trailing in the game on Sunday and even had a power play to cut into the deficit, but Tortorella kept Hayes and Konecny stapled on the bench. He didn't want to answer any questions in relation to their benchings and just said that they had two practices before their next game.
With several days in between games, one could only imagine that both Konecny and Hayes were raring to get back on the ice and prove to their new head coach that their lesson has been learned. That is exactly what happened as they were the two standouts on the offensive side of the puck as each collected 2 assists and were seen all over the ice. Konecny ended up playing 22:14 compared to his 12:25 from the game before and Hayes was on the ice for 19:55 compared to his 11:22.
With one less forward dressed because of the scratching of Tanner Laczynski (family matter), several players played lengthy minutes in Scott Laughton (23:24), Joel Farabee (18:09), Owen Tippett (18:24), Noah Cates (18:49), and even Zack MacEwen (13:31). Frost and Allison were omitted from that list as it seems that Tortorella is giving them the same treatment as Konecny and Hayes. The only explanation that Tortorella might've given us without naming names was when he said that some forwards were "overwhelmed" so the Hayes and Laughton line played extra minutes and shifts.
Tortorella has made it clear from the start that he wants to see maximum effort on a nightly basis, even if that means you're not showing up on the scoreboard. Frost has been under the spotlight for a few years now as he hasn't developed into the first round talent that Ron Hextall had hoped for. He signed a one-year deal over the summer in what is proving to be a make-it-or-break-it year for the young pivot, and Tortorella has said that he wants to see more execution from him. He started off the season with a two-goal game against the New Jersey Devils and then added an assist two games later against the Tampa Bay Lightning. He's gone without a point in his last 4 games, is -4, has only fired 6 shots on goal, and his ice time has varied from about 15 minutes to 13 to 18 to 7 on Thursday.
Wade Allison is in a nearly similar boat as Frost as he had issues staying healthy and therefore in the lineup, let alone staying on the team. His style of play is a lot different than Frost's, as Allison is more of a grinder and shooter compared to Frost who is more of a playmaker. Allison scored a goal on opening night as well but has gone pointless since and even though his efforts haven't entirely been seen on the boxscore, he has been a little nonexistent over the last few games.
His ice time never really changed all too much outside of Thursday's game and the effort to shoot the puck, collect hits, and block shots is there, but Tortorella wants production from his top-nine players. The Flyers are generating offense off the sticks of Hayes, Farabee, Konecny, Laughton, and even MacEwen, but other than that it's hard to find a strong contributor, which further explains why they're constantly being outshot and outattempted.
It was always going to be a grind with and without Sean Couturier and Ryan Ellis, then you add in the injuries to Cam Atkinson and James van Riemsdyk, and all of a sudden the Flyers' lineup is missing several key pieces and we're only seven games into the season. Secondary and tertiary scoring has always been hard to come by for the Flyers and there might not be a season in recent memory where that kind of scoring would be welcomed with open arms like this year. Hayes sits atop the club with 9 assists and 10 points, Konecny follows with 4 goals and 8 points, then there's Tony DeAngelo with 2 goals and 6 points, Farabee with 2 goals and 5 points, Ivan Provorov with 5 assists, and van Riemsdyk with 2 goals and 5 points.
The Flyers are going to need several other players to grab the baton and help their top guns if they want to sustain their 5-2-0 record and keep Hart from facing 40 shots a game.
As for Zamula, unfortunately, the return of Rasmus Ristolainen coupled with his two massive giveaways last game will probably find him back with the Lehigh Valley Phantoms. Young defensemen in particular are going to have the magnifying glass on them every shift, every minute, and every second they're on the ice and with Nick Seeler also fighting for a permanent roster spot, the costly giveaways last night had Zamula stapled on the bench as well.
The first one came at the end of a 4-on-4 where he lost the puck in his own zone and tried to stop a centering pass to Patric Hornqvist from completing but he couldn't get his stick down in time as Hornqvist was all alone in front Hart. Fortunately, he missed the net and kept the score where it was but Zamula was at it one more time, this time behind his own net and with two Panthers swarming Hart. He sent an outlet pass straight down the middle that was deflected down by the Panthers and created another scoring chance and once again Hart was up to the task.
Ristolainen didn't have a particularly great game either as he was on the ice for 2 shot attempts for versus 21 shot attempts against, but it's always tricky when you have 7 defensemen dressed and different combinations rolling out. It was a little odd to see Provorov out there with Ristolainen so often as they very rarely played together last year, if at all, and breaking up Provorov's pairing with DeAngelo was also a little questionable. If the Flyers revert back to last year and place Ristolainen with Travis Sanheim, maybe that is exactly the catalyst needed for Sanheim to get his game back on track as well.
Heading into tonight's game against the Carolina Hurricanes, the spotlight will be shining on several players, but none more than Frost and Allison who were seen together on the third line with newcomer Kieffer Bellows at practice – and if that is not a redemption line than I don't what is.
The Flyers' schedule doesn't get any easier with the Hurricanes coming to town, and then they will play a back-to-back on the road against the New York Rangers and Toronto Maple Leafs before jetting off to Ottawa a few days later to play the Senators.
The tough love approach worked on Konecny and Hayes, so here's hoping it lights a fire under Frost and Allison.