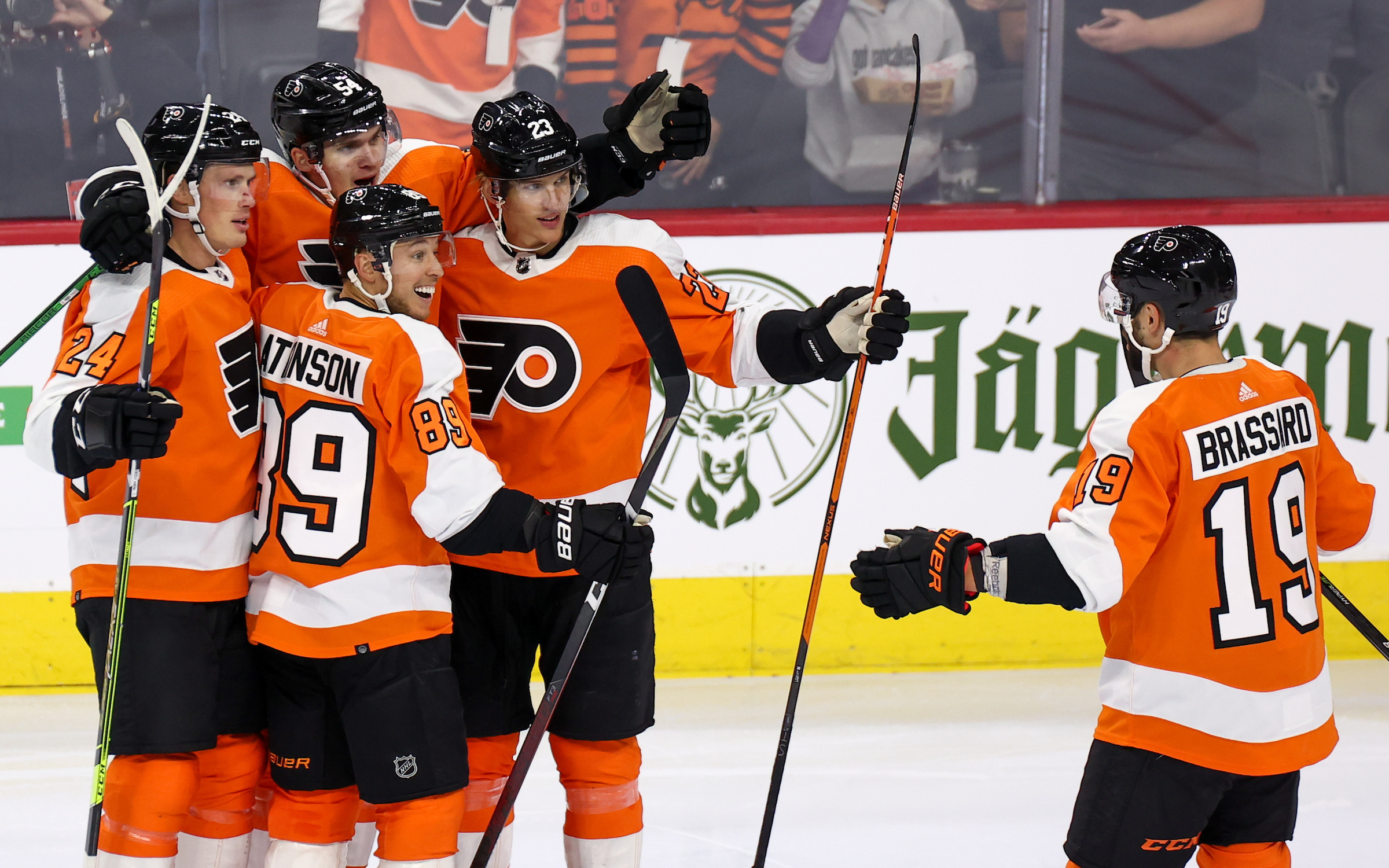 The Flyers Start Slow
Death, taxes, and the Flyers starting their season slow. The Flyers are already banged up to start the season with Kevin Hayes, Wade Allison, Tanner Laczynski and Sam Morin injured plus Ryan Ellis and Rasmus Ristolainen questionable for the season opener on October 15th against the Vancouver Canucks. The Flyers face some challenges starting the season against Western Conference teams and with a Western Canada road trip. With the large roster turnover and adjusting to a new system and teammates, this seems like a recipe for a slow start to the season.  
The Slow Start Triggers Another Big Move by Uncle Chuck
Chuck Fletcher has made a lot of moves building up to this season and if the Flyers start slow, I could see Fletcher having a quick trigger finger to improve the team. Morgan Frost not making the team is a little damning because the Flyers do not have a real 2nd line Center with Kevin Hayes out of the lineup. Chuck Fletcher also did not draft Morgan Frost, so he might not have as high of an opinion on him. There is a decent amount of talent rumored to be on the trade market including Jack Eichel from Buffalo, Sean Monahan and Matthew Tkachuk from Calgary, Dylan Strome from Chicago, and Tomas Hertl from San Jose. The player that fits the Flyers the best out of all those players is Tomas Hertl (I love Tkachuk, but the Flyers already have enviable depth at wing). Pierre LeBrun has reported that Hertl is not likely to sign an extension in San Jose and the Sharks are rebuilding. Hertl had 43 points in 50 games for San Jose in 2020-21 and 52.4 Corsi and 6.2 Corsi Relative to his teammates despite starting 52% of his faceoffs in a defensive zone. Something around Morgan Frost plus a 2022 1st round pick and maybe another sweetener for Hertl at 50% retained would be what it takes. The Flyers would have amazing center depth with Couturier, Hayes, Hertl, Brassard, Laughton, and Nate Thompson. 
Flyers are Fun, but Ulcer Inducing
The Flyers will be fun again. The presence of Rasmus Ristolainen will at the very least prove that they will not be pushed around and will finally clear the porch in front of Carter Hart and Martin Jones. The addition of Cam Atkinson will finally have a shot first mentality player that plays with great passer like Claude Giroux. The Flyers attack style will have them blowing 2 goal leads like hot cakes. Plus, when is a Philadelphia team not inducing ulcers in their fans. The Eagles game against Carolina was an emotional roller coaster and they should have lost by 3 touchdowns. Keep the tums close.
Flyers Extend Claude Giroux
Chuck Fletcher has re-signed Sean Couturier and Joel Farabee already who were slated to be free agents in this upcoming offseason. That leaves Claude Giroux and Rasmus Ristolainen as the only two main UFAs after this season. Giroux is the longest tenured Philadelphia athlete. He is the best Flyers player since Eric Lindros. He is one of the most underappreciated Philadelphia athletes with Donovan McNabb being pretty much his only competition of the last 20 years. Giroux is an ultimate gamer and almost has a point per game in both the regular season (0.91 ppg) and the playoffs (0.86 ppg). As long as the price is right, he should be a Flyer for life. 
Flyers Make the Playoffs
The Flyers will make the playoffs. With this roster and the additions that Chuck has made, this should absolutely be a playoff team. As is tradition, it will come down to goaltending. As long as Hart and Jones give this team average goaltending, the Flyers will be playoff bound. The Metropolitan Division is the toughest division in the entire NHL. Pittsburgh is a perennial Stanley Cup favorite. Washington won a Stanley Cup with its current core on the roster. Carolina has a great coach and very good roster whose chances also hinge on goaltending. The Islanders have the best coach in the sport and play the best team game in the sport. New Jersey's arrow is pointing up and just added a top five defenseman in free agency (Dougie Hamilton). The Rangers should be a good team that is a hard out. Columbus is probably the worst team in the division, but they have a good goaltending tandem and an underrated general manager in Jarmo Kekelainen. 
Get ready for another Flyers season that should be entertaining above all.
(Note: I am not liable for all of these not coming true in real life)