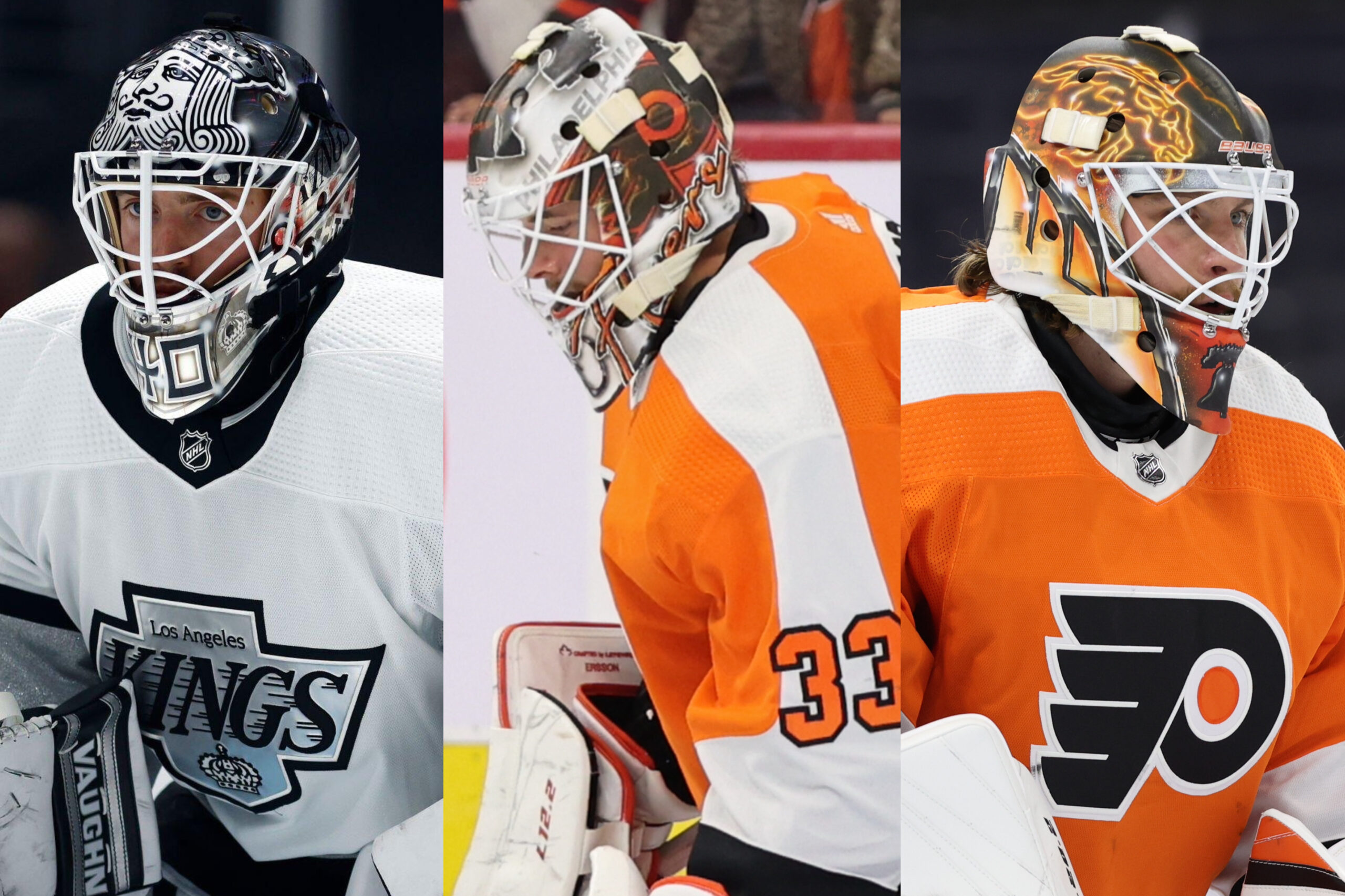 For the Philadelphia Flyers, goal prevention has been an everlasting losing effort since the late 1990s.
For whatever reason they were cursed between the pipes and if things ever got better, it didn't last a long time. Since 1997-98, the Flyers have had 34 goaltenders patrol their crease with just 11 surpassing 90 games played and only 5 of them have lasted longer than 4 years.
One of the 5 includes Carter Hart and for the modern day Flyers, everything begins and ends with the young goaltender.
Carter Hart had a fantastic junior career with the Everett Silvertips of the WHL and his first 2 years in the NHL gave the fanbase a glimmer of hope that we had finally found our saviour in goal, For a variety of reasons, the wheels fell off in 2020-21 and 2021-22, so much so that he was statistically the worst goaltender in the league in 2020-21. His numbers aren't a good indication of how he played last year but he most definitely bounced back and was a focal point in most of their victories.
Off the heels of a 22-35-12 record with a .895 SV% and a 3.34 GAA in his previous 2 seasons, he finished the season 2022-23 with 22-23-10 record, a .907 SV%, and a 2.94 GAA. For goaltenders that played over 30 games, Hart finished 15th out of 42 in goals saved above expected, GAA better than expected, wins above replacement and 11th in high danger unblocked shot attempt save percentage.
He wasn't perfect by any stretch of the imagination, as he had his ups and downs throughout the season that either brought out frustration or was a reminder of how good he could be.
In his first 8 games to start the season, Hart went 6-0-2 with a .946 SV% and a 2.00 GAA
He followed that up with a 14-game stretch where he sported a 2-8-4 record, a .881 SV%, and allowed 46 goals in the process
Then he went 5-4-0 in his next 9 games with a .912 SV% with 25 goals allowed
Finished off the season going 9-11-4 with a .903 SV% and allowing 68 goals in the process but having 4-5 game stretches where he either put up a save percentage above .920 or below .890
It's an important season for the 25-year-old as he will become a restricted free agent in the summer of 2024. The Hockey Canada investigation loomed large over Hart this summer but with no information being made public, it seems that he will be patrolling the crease this fall as the bell-cow.
Daniel Brière alluded to the notion that he expects him to be their starter for the season opener and that the backup spot will go to the victor between Cal Petersen, Felix Sandström, and Samuel Ersson.
"Just another season for me, another season to grow."

– Carter Hart on contract year

Hart said offseason trade rumors didn't bother him. Said Danny Briere is a good man, good GM. Hart said he's confident he'll be a Flyer moving forward. pic.twitter.com/ipMtHJI0uv

— Jordan Hall (@JHallNBCS) September 21, 2023
Hart has the potential to be an amazing goaltender and while we have seen that in spurts, we've never been able to see it on a consistent basis since 2019-20 or the COVID bubble. A big part of that is the shoddy defense that has been in front of him as Chuck Fletcher was never able to find the right bodies to form a solid core.
Behind him, Hart has Petersen, Ersson, and Sandström that will be all be contending for the backup position. As of right now there's no real favourite, but if there was someone to have an upper hand over the field, it would Samuel Ersson.
The 23-year-old took the Flyers by storm in his first stint with the club where he went 5-0-0 in 6 starts and 2 relief appearances before making a return in February and April. In his first 7 games, he posted a .918 SV% and allowed 15 goals in the process. He was also the first Flyers goaltender to sweep the California series.
His relief appearances came against the Boston Bruins and Seattle Kraken, where Hart was pulled in lopsided defeats and Ersson had to fend off the playoff hungry teams with the Flyers having no bite in their game. He finished his first season with the Flyers 6-3-0 with a 3.07 GAA and an .899 SV% – largely due to the 7-0 drubbing at the hands of the New Jersey Devils.
John Tortorella had nothing but praise for the youngster and had it not been for Felix Sandström's waiver status, Ersson would have stuck around a lot longer. The Lehigh Valley playoff push was also important and the Flyers figured that it would be best for his development to play in meaningful games, all the while not forgetting about the waiver exemption.
"Ers deserves to be here. I told you guys early on he was one our best goalies at camp. He deserves to be here. That is no criticism of Sandy, but Ers deserves to be here. If Carter does not play, he will."
While Ersson might have the leg up based on how he played in 2022-23, Tortorella holds very little stock in what happened the prior season and invites healthy competition to win roster battles. Cal Petersen has a clean slate with the Flyers and with 2 years remaining on his contract – at a cap hit of $5 million – he has an opportunity to stake his claim as a backup goaltender but he really needs to show out in training camp.
He has proven that, at times, he can be a dependable goaltender but his last 2 seasons have been rather paltry compared to what he was doing for the Los Angeles Kings before his big contract. On the outside, a 19-25-6 record in 50 starts across 3 seasons is nothing to sniff at but he held things up with a .916 SV% and a 2.79 GAA on some pretty bad Kings teams.
2020-21, Petersen went 9-18-5 but held his own with a .911 SV% and a 2.89 GAA, which was enough to earn him a 3-year extension. His record improved to 20-14-2 but his save percentage dropped 16 points to .895 and then this past season it dropped even further to .868, while carrying a GAA of 3.75 in 10 games.
Petersen lost his job to Pheonix Copley – who also didn't have the greatest peripherals – but held the team around until they acquired Joonas Korpisalo at the trade deadline. He ended up spending the rest of the season with the Ontario Reign where he posted a 16-20-4 record with a .904 SV% and a 2.88 GAA.
Now on the Flyers and carrying a contract that would be tough to deal – at least until 2024-25 – Petersen has a chance to play in the NHL if he can hold his own during training camp. The Flyers wouldn't mind going with a veteran backup, but also fancy Ersson – and perhaps Felix Sandström – more if they outplay the 28-year-old.
While Petersen will be doing his best to win a spot, Sandström will be trying doubly harder than ever before. With the emergence of Ersson last season, it truly put a question mark on Sandström status with the Flyers moving forward. Had Ersson not made the jump or played as well as he did, Sandström could have possibly ended the season with a more optimistic outlook heading into 2023-24, however his play alone did him no favours either.
At first, goal support was the problem, not just in 2022-23 but also when he first came into the league in 2021-22 for his short stint. As of right now, in parts of 2 seasons, he carries a 3-16-4 record, a 3.62 GAA and an .887 SV%.
In his final 13 games of the 2022-23 season, he carried a save percentage above .900 only twice and succumbed to a 2-8-2 record, a .868 SV%, and allowed 49 goals along the way. He ended the season 3-12-3 with a 3.72 SV% and an .880 SV%
The soon-to-be 27-year-old has had an up-and-down run since being drafted and for a brief moment in time, Sandström was being touted as the better prospect over Carter Hart. The future was bright but for whatever reason, Sandström has not been able to figure it out at the NHL-level and some of that can be attributed to him, while the defense in front of him could be to blame as well – as has been the case since 2019-20.
To usurp Ersson and Petersen for the backup position, Sandström will have to be a brick wall in training camp, so much so that he has to make Tortorella's decision extremely difficult if he wants consideration. He has been a serviceable AHL goaltender but with just 1 year remaining until unrestricted free agency, the clock might be ticking on his tenure with the Orange and Black.
With Carter Hart looking to bounce back and make prove his doubters wrong, the backup position will be the one to watch for in training camp as Petersen, Ersson, and Sandström each try to stake their claim at an NHL job in 2023-24.
2024 Stadium Series Trip
Flyers Nation and Philly Sports Trips have teamed up to bring you on an amazing bus trip to the 2024 NHL Stadium Series between the Flyers and Devils. Place an early deposit to reserve your spot at the ultimate tailgate experience at MetLife Stadium before the game. The package includes a game ticket, round-trip charter bus, an all-inclusive tailgate party with unlimited cold beverages, "Philly Style" catered food, live entertainment, and more.