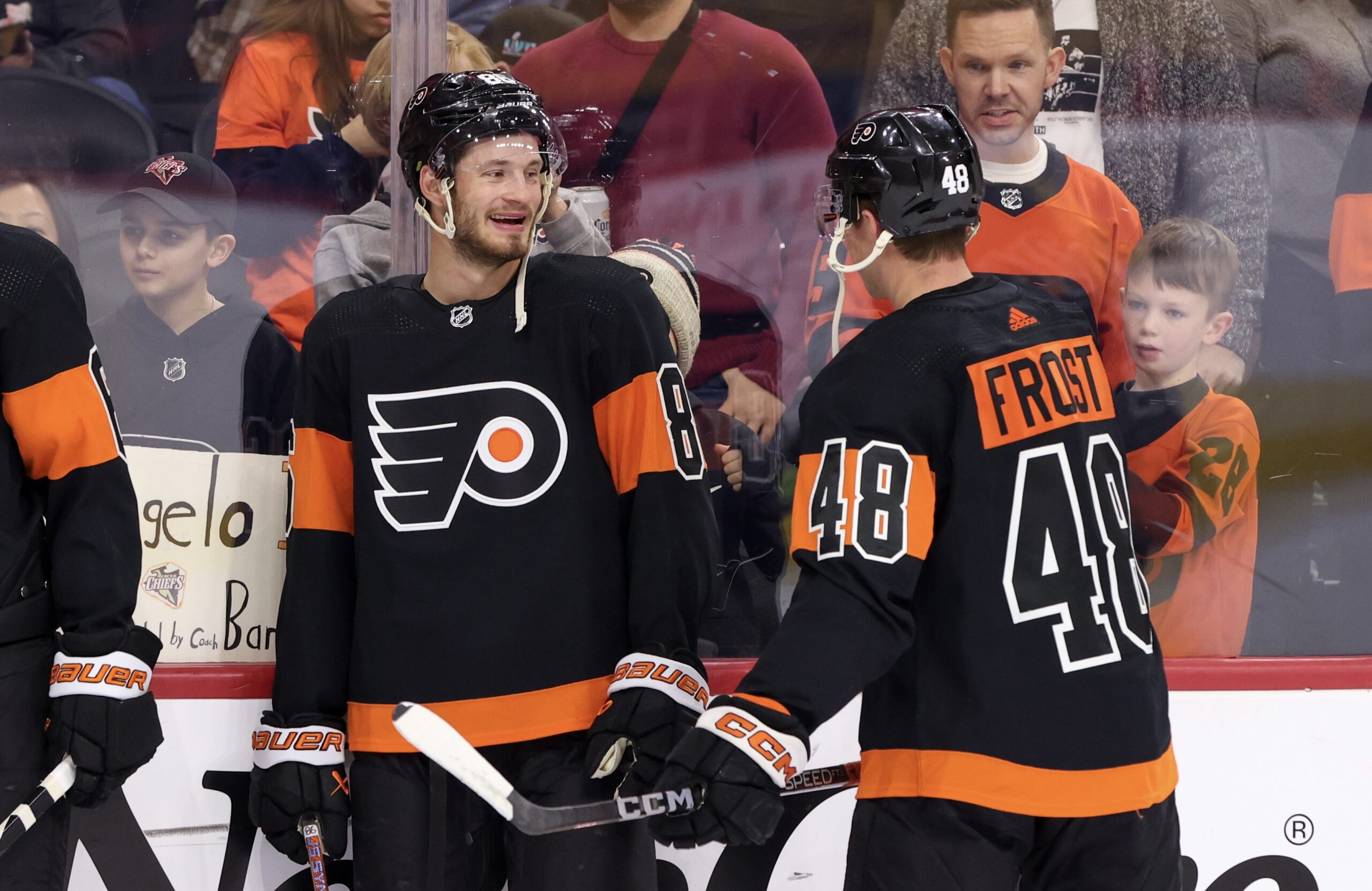 Top 5 lists are a lot of fun. The Flyers offseason is finished. Training camp has officially begun. Let's get back into the hockey mood baby!
GMDB and Keith Jones finished their offseason with a splash signing RFA Morgan Frost to a two-year deal. This means the roster for next season is pretty much set (pending the Team Canada investigation report).
With the Flyers roster ready to roll, there are a lot of intriguing players that the Flyers have that will be (brace yourselves) FUN to watch this season.
Yes, obviously players like Carter Hart, Travis Konecny, Scott Laughton, and Travis Sanheim are players to watch always (but one of them we'll be watching closer off the ice, *cough cough* Hart).
There are five players that the fans should watch a little bit closer than the others this season. These players could be in for breakout seasons, bounce back years, or just finally playing up to their potential.
Here are the Top 5 Flyers players to keep an eye on this season.
HM: Cutter Gauthier and Matvei Michkov
Alright, alright, I know, I'm already cheating a bit by adding these two guys and having an "honorable mentions" section in a Top 5 list. However, we as fans absolutely should be keeping an eye on these two prospects.
Cutter Gauthier
As a fan of hockey and not just the Flyers, you should watch Boston College hockey this season. They're a loaded team and going to be so much fun. BC has players like Will Smith, Ryan Leonard, and Gabe Perreault to compliment Gauthier next season, as they are going to be one of the favorites to win the National Championship.
We might even see Gauthier make an appearance in the NHL after the NCAA season is over depending on when he's finished and where the Flyers are at in the standings. Keep an eye on Gauthier, who might be transitioning from Maroon and Gold to Orange and Black by the middle of April.
Matvei Michkov
Michkov won't be on the Flyers for the next couple of years, but you should still get excited about him given he's one of the better players in the second best hockey league in the world as a prospect. SKA already loaned him to Sochi after 4 games, so he'll get consistent playing time to develop his skills. KHL games are hard to watch, but if you can get access to them you should absolutely watch Michkov's games as he'll probably be gunning for Alex Ovechkin's records.
#5: Noah Cates
At number five in our Top 5 is Noah Cates. Cates is coming off one of the sneakily best defensive seasons a Flyers player has had since Sean Couturier won the Selke Trophy in 2019-2020. Cates was rewarded by finishing top 15 in both the Selke voting and Calder voting. This season is a big one for Cates, as he signed a two year contract and will now have more of a spotlight on him, something fifth round draft picks on bad teams don't normally have to worry about. Now that he has this spotlight on him, there are two big questions with Cates this season.
Number one: Will he be able to replicate his 2022-2023 season enough where he can still be a reliable shutdown defensive center? Cates was in the 100th percentile for even strength defense last season, per JFresh Hockey.  While I don't think he'll do THAT again, what he CAN do again is be anywhere in-between the 93rd to 100th percentile. He seems to thrive in John Tortorella's system. If he plays at that level he'll continue to be a reliable 3C the very least.
Number two: Will he be able to develop a steady offensive game? Cates is in the perfect situation to succeed. The Flyers have a former Selke winner in Sean Couturier on the roster who will be able to teach Cates all he knows. Couturier knows what it's like to be a defense only prospect in the NHL. At one point Couturier was such a black hole on offense people though he would be cut from the team in training camp back in the mid 2010's. As we all know he developed into a player who had four straight seasons of good to great offensive play while also being a shut down center. If Cates can learn and develop in the Couturier role, the Flyers might have their 2C of the future.
#4: Sean Couturier
Speaking of Couturier, he comes in at number four in our Top 5. Couturier is coming back from yet another season where he was out for an extended period of time. Since his Selke winning season, Couturier has played in only 74 games, which is about 34% of the team's games in that timeframe.
The reason he's on this list isn't just his injury history either. Before Couturier went down with his most recent major injury he signed a major contract extension with the Flyers. This deal had eight years tacked on to the final year of his previous deal. All in all, the Flyers now have Couturier under contract for the next seven years. Oh did I mention he has a full no movement clause and is making $7.75M a year? Not great for the Flyers if he continues to pile up the injuries, or if he never regains his old form.
Keep an eye on Couturier this year because if he's even 75% of what he was, with the salary cap going up he could be a reliable 2C for the next couple of years.
#3: Joel Farabee
Number 3 on our Top 5 list is on this list for almost the same exact reason as Couturier. Both had major injuries that required surgery right after signing an extension that would keep them here for the foreseeable future. Farabee is higher because he actually played last season, and, well, it was not his best year in the orange and black.
It'll be telling to see how Farabee bounces back. Hopefully last season was just a weird "coming back from injury, don't read too much into this" kind of season. With a full offseason of health, Farabee could be back on the path where Claude Giroux was right and he'll break all of the former captain's records.
We might have to also keep a close eye on Farabee's relationship with Tortorella. Last season some smoke about a trade request and Farabee and Tortoreall started to show up. I doubt there was anything as Farabee shot those down. But where there's smoke there might be a fire so keep an eye on that too.
#2: Cam York
Oh boy am I EXCITED about Cam York. Although he's at number two on our Top 5, he could've been number one in most other years. Last season didn't go how many people thought as well. York had a really bad training camp and didn't even make the opening night roster. In the AHL he put his head down and worked his way back to the NHL squad.
When he did get back to the NHL he was great. York had a fantastic season and continued to get better as it went along. This summer he was rewarded with a new contract, and an opening on the top pair now that Ivan Provorov has been traded. Now we just have to wait and see who between Sanheim or York will be the top pairing D-Man this year. It'll be fun to watch this year.
#1: Morgan Frost
I mean, it seems pretty obvious that Frost would be at the top of our Top 5. Frost has been a bickering point between Flyers fans for the past four years. There are fans saying he's not good and they should trade him/let him walk after he's done as an RFA. There are also fans who look way too deeply at his potential and have been defending him to the ends of the earth, especially after the end to the season he had last year.
And then there are fans like me. The thing is, I really don't see anything super special in Frost. I think he'll be a good middle six player in his career, and I think he'd be better on the wing, but I'm not trying to prop him up as the future 2C of this team, nor am I saying the Flyers should let him walk. I just want to see if he can even semi-replicate the end of his 2022-2023 season. The beginning of his 2022-2023 season wasn't great, and John Tortorella said as much with his toilet seat analogy. I'm sure Frost himself would also tell you his beginning of the season last year wasn't great.
If he can play around the level of his second half last season, that would be wonderful. If he doesn't, there could be some uncomfortable conversation this next offseason about Frost's future with the organization.
2024 Stadium Series Trip
Flyers Nation and Philly Sports Trips have teamed up to bring you on an amazing bus trip to the 2024 NHL Stadium Series between the Flyers and Devils. Place an early deposit to reserve your spot at the ultimate tailgate experience at MetLife Stadium before the game. The package includes a game ticket, round-trip charter bus, an all-inclusive tailgate party with unlimited cold beverages, "Philly Style" catered food, live entertainment, and more.