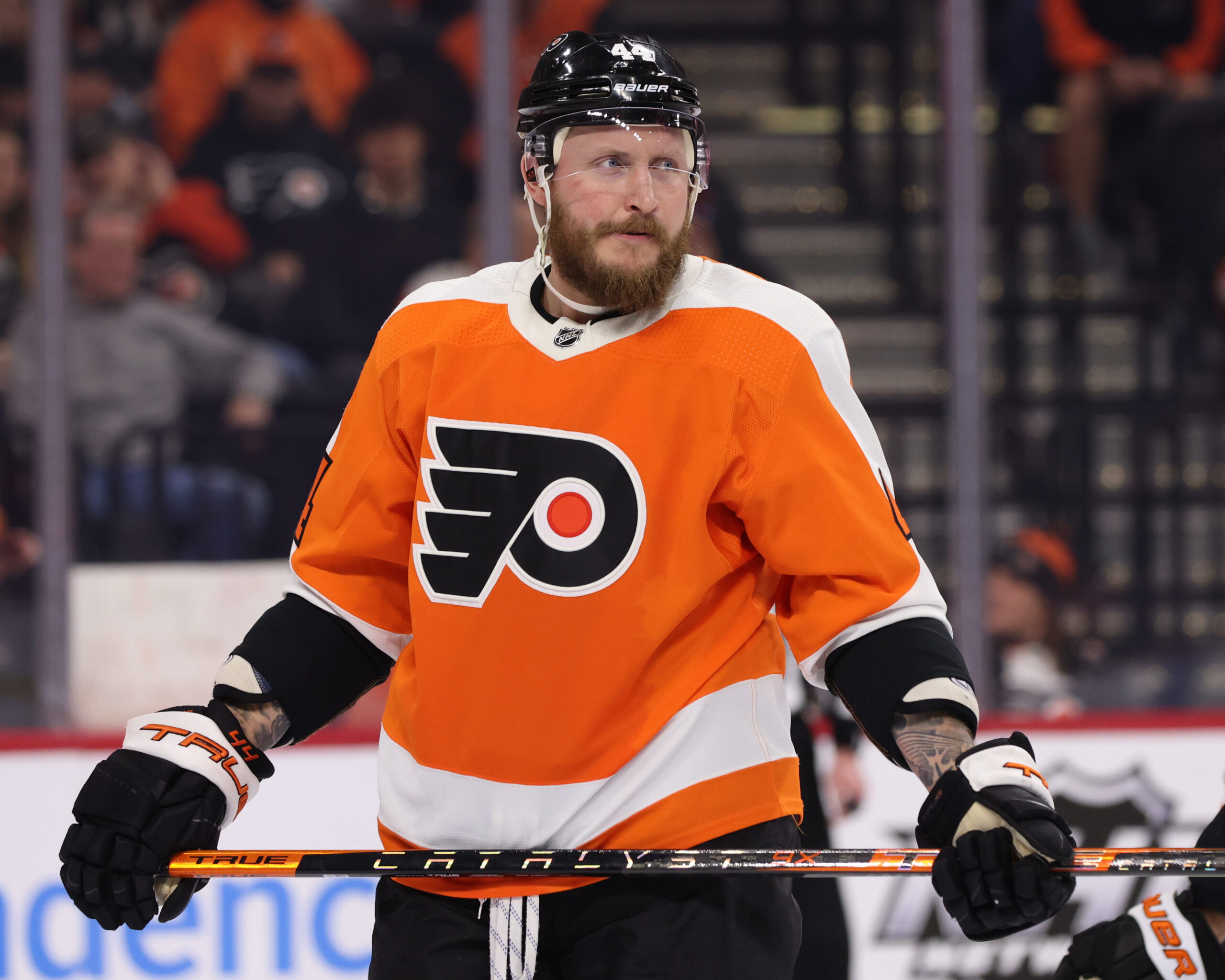 Personally, I'm pretty excited about the idea of having Nicolas Deslauriers and Garnet Hathaway on the same roster, let alone the same line, for the Flyers this season.
We're all well aware that this upcoming season – and most likely a few after 2023-24 – won't include the postseason or postseason pushes, but there are always a few wrinkles to look forward to and one of them could be the bombastic duo at the bottom of the lineup.
Last season we got a taste of what Deslauriers could bring to the table, and it was electrifying in its own way and always brought the crowd to their feet. Hathaway is a familiar face from his recent seasons in Washington and a partial season with the Boston Bruins, but he was always a thorn in the Flyers' side with both his aggression and a penchant for scoring goals against the Orange and Black.
Long gone are the days of the Broad Street Bullies and the NHL has modernized to such a point where they almost eradicated and made enforcers extinct. However we have slowly returned to a point where fights are more noticeable and the Flyers were a key cog in that movement last year with their 35 fighting majors, which was third in league behind only Tampa Bay's 37 and Ottawa's 36.
In recent years and trying to move with the trend, the Flyers never really possessed a true enforcer in their lineup. No one struck fear in their opponents, the Flyers' crease was always a happening spot for the opposition, and even the Flyers admitted that they were far too easy to play against. In stepped Deslauriers on a fresh 4-year contract with the pedigree of an enforcer and someone that would make the opposition think twice about either going after a younger player, a skilled player, towards the goaltender, or even into the zone untouched. He matched his career-high with 14 fighting majors in a season and accrued a career-high 136 penalty minutes and 306 hits.
Hathaway is less of an enforcer and more of an agitator and pest but he still has a penchant for dropping the gloves. He has 24 fighting majors in his career at the NHL-level but is more a tertiary scoring threat than someone who's going to fight. He scored 13 goals and 22 points across 84 games last year and 14 goals and 26 points in 76 games the year before. He recorded 268 hits in 2022-23 and 250 in 2021-21 with a combined 126 penalty minutes.
The Flyers have a storied past when it comes to the rough stuff involved with the sport of hockey but with how things are trending in the sport today, it's almost impossible for players to replicate the number of PIM and fighting majors that some in the 1970s, 1980s, and even 1990s possessed. The Flyers have the likes of Rick Tocchet, Paul Holmgren, Andre Dupont, and Bobby Clarke with over 1450 PIM and Dave Brown, Craig Berube, and Tocchet with over 94 fighting majors.
Deslauriers and Hathaway won't need to be as aggressive as some of the aforementioned names but they will be joining the ranks of several infamous, legendary, and talked-about "goons" and enforcers in franchise history.
Dave Schultz
I can't imagine a list like this not including Dave Schultz at the top with his 1,386 PIM in just 5 seasons with the Philadelphia Flyers. For his entire 9-year career, he accrued 2,292 PIM, led the league in PIM in 4 years – including 3 consecutive with the Flyers – and had 8 seasons with over 230 PIM.
In terms of actual numbers, his fighting majors don't pale in comparison to the likes of Dave Brown, Rick Tocchet, or Craig Berube, but Schultz had 76 fights for the club in just 5 seasons, which is good for 6th in franchise history, while also posting the 5th-most PIM in franchise history behind only Tocchet, Holmgren, Dupont, and Clarke – all of whom played a minimum of 300 games more than the Hammer. Schultz also holds the top-2 highest PIM in a single season and 3 of the top-4.
In 1973-74, Schultz scored 20 goals and 36 points with 348 PIM in 73 games before adding 2 goals, 6 points, and 139 PIM in 17 games en route to the organization's first championship. The following year he scored 9 goals and 26 points with 472 PIM in just 76 games and added an additional 83 PIM in the postseason en route to back-to-back Cups.
He was a focal point of the Broad Street Bullies and he will be forever enshrined and remembered for his bullish ways that eventually led to the Flyers only championships in franchise history. His contributions might've been more so with his fists than his on-ice play but he was an instrumental part of the championship teams and for the 1970s as a whole.
Rick Tocchet
Not only does Rick Tocchet lead the franchise in PIM,, he is also currently 2nd all-time in fighting majors, and he did so while contributing on the scoreboard as well. In 11 seasons with the club that spanned 2 tenures, Tocchet scored 232 goals and 508 points with 1,815 PIM and 102 fighting majors.
Tocchet was originally drafted by the Flyers in the 6th round of the 1983 NHL Entry Draft. He made his debut in 1984-85 with 39 points in 75 games but accrued 179 PIM along the way. He then added 284, 288, 299, 183, 196, and 150 PIM in the following 6 seasons, respectively, paving his way as a legitimate star power-forward in the league. He improved his point totals from 35 to 49, 64, 81, and 96 between 1985-86 to 1989-90 and even scored 40+ goals twice before his first tenure came to a close.
He was traded mid-season in 1992 to the Pittsburgh Penguins in a package that landed the Flyers Mark Recchi. Tocchet had scored 13 goals and 29 points in 42 games with 102 PIM before the trade but really exploded in short order with the Penguins, scoring 30 points in 19 games after the trade and then 48 goals and 109 points the following season.
After spending time with the Pittsburgh Penguins, Los Angeles Kings, Boston Bruins, Washington Capitals, and Phoenix Coyotes, Tocchet returned to Philadelphia ahead of the trade deadline in 2000 and finished off his career with the Orange and Black at the end of the 2001-02 season. His second tenure was far less impactful but he had already made himself a name between 1984-85 and 1991-92.
To this day, Tocchet ranks 13th in franchise history in goals, 17th in assists, 15th in points, 19th in points per game with at last 150+ games played, and of course 1st in PIM and 2nd in fighting majors. His first stretch with the club was memorable with 215 goals, 464 points, and 1,730 PIM.
In terms of single season records, Tocchet holds the 6th, 9th, and 10th highest total of PIM.
Paul Holmgren
His tenure as a general manager and senior advisor might have tarnished his reputation, but Paul Holmgren is a true Flyer from start to finish. From 1975-76 to 2022-23, Holmgren has spent every season with the Flyers in some capacity except for 6.5 years where he either played for the Minnesota North Stars or coached the Hartford Whalers.
As a player, Holmgren was an absolute menace as he scored 138 goals and 309 points in 500 games but accrued 1,600 PIM along the way with 83 fighting majors. His best seasons came in 1979-80 and 1980-81 where he scored 30 goals and 65 points with 267 PIM in the former and 22 goals and 59 points with 306 PIM in the latter. In just 9 seasons with the club, he never recorded a full season without less than 168 PIM and his 83 majors ranks 4th in franchise history.
Similarly to Tocchet, Holmgren was a productive offensive player as well and even scored 19 goals and 50 points in 67 postseason games. He had the Midas touch at times but was able to strike fear in his opponent's eyes at the very same time. Holmgren also holds the 5th-highest single season total of PIM in franchise history with 306 and the 4th and 6th highest PIM totals in a single game (39 and 37).
Craig Berube
Craig Berube started out his NHL career with the Flyers in 1986-87 and played there until the end of the 1990-91 season. He came back to the club for 2 seasons in 1998-99 and 1999-00 before finishing off his career in Calgary in 2002-03. In just 323 games played across 7 seasons for the Flyers, Berube ranks 9th in PIM and 3rd in fighting majors and was a key player in the late 1980s.
In just 7 games in 1986-87, Berube managed 57 PIM to start of his NHL career. The following season he only found himself in the lineup for 27 games but once again made his presence known with 108 PIM. He finally found consistent playing time and with it, his totals sky-rocketed. In just 201 games, he managed 783 PIMs to alongside his 13 goals and 37 points.
Berube was the true enforcer of his time, akin to what Nicolas Deslauriers is now to the modern game. He had the ability to chip in with goals and points but his role and focal point was to drop the gloves, hammer the body, and make sure the opposition thought twice whenever he was on the ice.
In terms of PIM per game, Berube ranks 2nd amongst the top of his class and only trails Dave Schultz's ridiculous 4.67 PIM/gm. Berube also holds the 7th and 8th spot for most PIMs in a single season record but oddly enough only finds himself 48th in most PIMs in a single game in franchise history, showing that he consistently found ways to draw the ire of his opposition.
Dave Brown
Dave Brown found himself in the smack dab of the Flyers in the 1980s and made sure to stake his claim as one of the league's top enforcers.
In 11 seasons with the Flyers that spanned two stints, Brown totalled 1,382 PIM and a franchise-record 113 fighting majors. Similarly to Berube, Brown wasn't known for his offensive capabilities as he managed just 39 goals and 78 points in 552 games.
In a three-year stretch from 1985-86 to 1987-88, Brown scored 29 goals and 44 points – including a career-high 12 goals and 17 points in just 47 games in 1987-88 – to go along with 665 PIM. He holds the 11th and 14th-highest PIM totals in a single season and also holds the 9th and 15th-highest totals of PIM in a single game.
The teams in the mid-1980s had Brian Propp, Tim Kerr, Mark Howe, Dave Poulin, Ilkka Sinisalo, and Pelle Eklund to do all the scoring, while the Dave Browns and the Rick Tocchets and the Rich Sutters of the team did all the dirty work with their 200+ PIM seasons. It was a great mix of scoring and aggression and was a big part of why of the Flyers were so successful in the 1980s.
André Dupont
A common trend with this list has to do with several marquee enforcers from the 1970s and Andre Dupont has to be included. From 1972-73 to 1979-80, Dupont managed 1,505 PIM in just 549 games and formed his own dynastic duo with Schultz in the Broad Street Bullies era.
After being acquired mid-season in 1972-73 from the St. Louis Blues, Dupont went from 51 PIM in 25 games for the Blues to 164 in just 46 games for the Flyers, while scoring 23 points. He then added totals of 216, 276, 214, 168, 225, and 135 in the following seasons while chipping in with a consistent 25-35 points.
Dupont is currently third in franchise history in PIM and 10th in fighting majors with 10.
Bob Kelly
In 741 games, Bob Kelly accrued 1,285 PIM and 77 fighting majors, which has him 7th in franchise history in PIM and 5th in fighting majors. He had the knack for scoring goals and chipping in with points, at least moreover than players like Dave Brown and Craig Berube. He scored 128 goals and 296 points in 10 seasons, including 22 goals and 46 points in 1976-77, alongside 117 PIM.
He wasn't as big of a bruiser as Dave Schultz or André Dupont but Bob Kelly managed totals of 100+ PIM in 5 of 6 seasons, including 238 in 1972-73. He did his job tremendously and will be forever enshrined as a Stanley Cup winner for his role in the 1970s.
Gary Dornhoefer
Gary Dornhoefer spent the final 11 years of his 14-year career with the Philadelphia Flyers and similarly to Dupont, Schultz, and Kelly, the tough forward played a vital two-way role to help the Flyers claim their only championships in franchise history.
Dornhoefer was a special breed because he not only scored aplenty but he was aggressive, vicious, and made sure to finish off his plays in style. He scored 202 goals and 518 points in 725 games with the Flyers, while accruing 1,256 PIM.
From 1971-72 to 1975-76, Dornhoefer scored 103 goals and 285 points in just 352 games with 706 PIM and not totalling any less than 102 in a single season. He brought about the same rough and tumble play in the post-season with 203 PIM in 80 games but obviously had to be a bit more tame with a lot more on the line.
Dornhoefer ranks 15th in goals, 13th in points, and 8th all-time in PIM for the Flyers.
Mel Bridgman 
The final member of the Broad Street Bullies to make this list is none other than Mel Bridgman. Drafted with the first overall pick in the 1975 NHL Amateur Draft, Bridgman just missed out on the successive Stanley Cup victories as his first season was in 1975-76.
He was a firecracker from the onset as he scored 23 goals and 50 points in his rookie season. He scored no less than 47 points in a single season and reached the 50-point plateau 4 times in 6 full seasons, while also totaling 971 PIM along the way.
He went from 86 in his rookie season to 120, 203, 184, 136, and 195 in his final full season with the club in 1980-81. Bridgman currently sits 7th all-time in franchise history with 70 fighting majors and despite only playing in 462 games, he is 11th all-time in PIMs.
He also ranks 12th and 13th for highest total of PIMs registered in a single game with 35.
Glen Cochrane
Last but not least is the feisty Glen Cochrane, who might've only played in 257 games but averaged nearly 5 PIM per game along the way. In 6 seasons with the club, Cochrane managed 1,110 PIM, which is good for 10th all-time.
For his career, he only spanned 10 seasons with the Flyers, the Vancouver Canucks, the Chicago Blackhawks, and the Edmonton Oilers, but his best seasons – in terms of his style – came with the Orange and Black. In parts of 5 seasons outside of Philadelphia, Cochrane scored 1 goal and 12 points in 154 games but managed 446 PIM. In Philadelphia he managed point totals of 18, 24, and 23 between 1981-82 and 1983-84.
Between 1980-81 and 1983-84, Cochrane managed 219, 329, 237, and 225 PIM each in consecutive seasons, currently holds the 3rd-highest single-season PIM total, as well as the 3rd highest single-game total with 42.
2024 Stadium Series Trip
Flyers Nation and Philly Sports Trips have teamed up to bring you on an amazing bus trip to the 2024 NHL Stadium Series between the Flyers and Devils. Place an early deposit to reserve your spot at the ultimate tailgate experience at MetLife Stadium before the game. The package includes a game ticket, round-trip charter bus, an all-inclusive tailgate party with unlimited cold beverages, "Philly Style" catered food, live entertainment, and more.