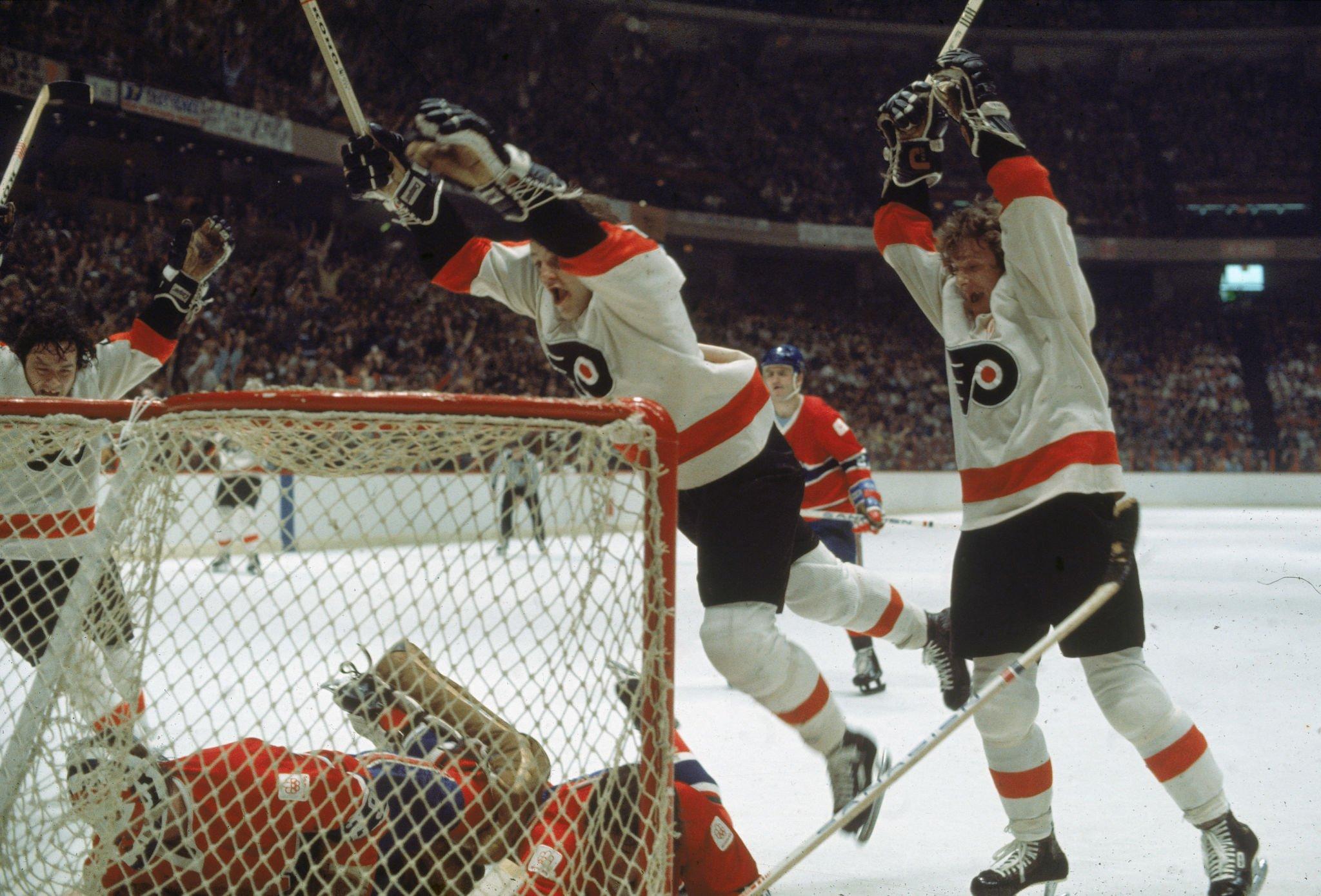 Each era of Philadelphia Flyers hockey had at least one dominating trio wreaking havoc on the ice. Between 1967-68 and 2011-12, the Flyers only missed the postseason 8 times with 5 of them coming in consecutive years between 1989-90 to 1993-94.
They have a historic, storied, and successful past which has been otherwise marred over the last 11 years with just 4 postseason appearances.
Nevertheless, if history is our guide, we have several legends, moments in time, and exciting memories to keep us involved until the current rendition of the Flyers figure things out on the fly. In the 1970s we have Bobbie Clarke, in the 1980s we had Brian Propp, in the 1990s we had Eric Lindros, in the 2000s we had Mark Recchi, and in the 2010s we had Claude Giroux. They were all fantastic players in their own right but also carried the torch as part of a dominating trio as we look back on some of the best to ever take the ice representing the "Flying P".
As we previously looked upon some of the most dynamic duos in recent memory, this list encompasses some of the mightiest trios since the inception of the organization:
1. Bobby Clarke, Bill Barber, and Reggie Leach
Any list that involves dictating the most dominating trios in Flyers history has to have the "L-C-B Line" stapled at the top. Not only were they a part of the only Stanley Cup winning teams in franchise history, but they were downright dominant in their era. As things stand today, Clarke sits atop the franchise leaderboard with 1,210 points, Barber is third with 883, and Leach is 14th with 514 – but in 300-500 games less than his counterparts.
Reggie Leach didn't join the Flyers until 1974-75 – the year after they had won their first Cup – after he was acquired from the California Golden Seals for Larry Wright, Al MacAdam, and a 1974 first-round pick. Up until that point, he had just mustered 60 goals and 120 points in 250 games across parts of 4 seasons. He was joining Clarke – who had 107 goals and 272 points in 233 games in his past 3 seasons – and Barber – who had 64 goals and 133 points in 144 games in his first 2 seasons.
During their time together, the Flyers won their second consecutive Stanley Cup in 1974-75, lost in the Final the following season, lost in back-to-back Semifinals after that before losing in the Quarterfinals in 1978-79, suffered another Final defeat in 1979-80, and then suffered a Divisional Semifinals loss in their final year together in 1981-82.
From 1974-75 to 1981-82, the trio dominated the NHL with 782 goals and 1,834 points combined. Leach had 306 goals and 514 points in 606 games, Clarke had 169 goals and 684 points in 605 games, and Barber had 307 goals and 636 points in 630 games. During the postseason, Leach scored 47 goals and 69 points in 91 games, Clarke scored 32 goals and 91 points in 98 games, and Barber added 45 goals and 86 points in 94 games. Leach earned himself the Conn Smythe Trophy in a losing effort in 1975-76 after scoring 19 goals and 24 points in just 16 games.
Their best statistical season came in 1975-76 when Leach scored 61 goals and 91 points, Clarke added 89 assists and 119 points, and Barber chipped in with 50 goals and 112 points. Clarke won the Hart Trophy that season – his 3rd in 4 years – as the Flyers' dominance continued.
It's tough to see anyone knocking them off of their lofty throne atop Flyers-lore for a very long time. Not only did they score at will, but they produced during crunch time and actually delivered the goods with a Stanley Cup ring – and another 2 Finals berths.
2. Eric Lindros, John LeClair, and Mikael Renberg
With a name like "The Legion of Doom", the Flyers had themselves an "L-C-B" incarnate in the modern days of the 1990s. Coming out of their disastrous run of 5 consecutive seasons without a post-season berth, the Flyers finalized the Legion of Doom in 1994-95 after acquiring John LeClair from the Montreal Canadiens.
After being drafted and then traded for, Eric Lindros spent one more season on the junior circuit before making his NHL debut in 1992-93. He would have to endure 2 more seasons without playoff hockey, but the "Big E" was everything as advertised and then some with 85 goals and 172 points in just 126 games. Renberg was drafted by the Flyers in 1990 but spent 3 years with Lulea HF of the SEL before making his debut in 1993-94 – a remarkable one at that with 38 goals and 82 points in 83 games.
LeClair on the other hand was with the Montreal Canadiens and struggled to produce with just 49 goals and 118 points in 224 games in parts of 5 seasons. He was acquired alongside Eric Desjardins and Gilbert Dionne for Mark Recchi and a third-round pick and instantly made his presence known with 25 goals and 49 points in just 37 games.
The Legion of Doom quickly erased the previous 5 years of failed hockey in a heartbeat as Lindros finished the lockout-shortened 1994-95 season with 70 points in 46 games to capture the Hart Trophy and Renberg chipped in with 26 goals and 57 points in 47 games. In just 3 seasons together, the trio combined for 305 goals and 666 points, a Conference Finals appearance, a Semifinals appearance, and a Stanley Cup Final defeat.
LeClair was responsible for 126 goals and 243 points, Lindros for 108 goals and 264 points, and Renberg 71 goals and 159 points. In their 3 postseason runs, LeClair tallied 20 goals and 44 points in 45 games, Lindros added 22 goals and 53 points in 43 games, and Renberg with 14 goals and 33 points in 44 games.
The Legion of Doom came to an end heading into the 1997-98 season after Renberg was ironically traded to the Tampa Bay Lightning, in large part because the Flyers had to shell out 4 first round picks after sending Chris Gratton an offer-sheet that the Lightning did not match. Renberg was traded to Tampa Bay with Karl Dykhuis for the 4 aforementioned firsts but was then sent back to Philadelphia 16 months later with Daymond Langkow for Gratton and Mike Sillinger.
1995-96 saw LeClair break the 50-goal barrier with 51 goals and 97 points, Lindros broke past the 100-point barrier with 47 goals and 115 points, and Renberg chipped in 23 goals and 43 points in just 51 games. Unfortunately, the Flyers squandered a 2-1 series lead in the second round to the Florida Panthers by losing consecutive games in overtime before dropping the 6th game by a score of 4-1.
The trio was formed during an era where the Flyers faltered, however they came out on top with dominating performances and led them into an even more successful run of seasons.
3. Eric Lindros, Mark Recchi, Brent Fedyk 
Before the Legion of Doom was formed, the Flyers had the "Crazy Eights" line which incorporated the younger Eric Lindros, Mark Recchi, and Brent Fedyk. Similarly to the Legion of Doom, Lindros was the heart and soul of that line – and already on the team – while Recchi was acquired during the 1991-92 season from the Pittsburgh Penguins.
The trio was formed in 1992-93 after acquiring Brent Fedyk,who previously played for the Detroit Red Wings and who hadn't really done much through 162 games in parts of 5 seasons. He exploded with 21 goals and 59 points in 74 games in 1992-93 while Recchi recorded what is still a franchise record, 123 points, and Lindros chipped in 41 goals and 75 points in just 61 games in his rookie season.
In 1993-94, Recchi scored 40 goals and 107 points, Lindros scored 44 goals and 97 points in just 65 games, and Fedyk chipped in with 20 goals and 38 points. Even though they possessed two great players who were performing like MVPs, the Flyers failed to qualify for the postseason in both 1992-93 and 1993-94.
During the 1994-95 season, the Flyers traded Recchi to the Montreal Canadiens for Éric Desjardins, John LeClair, and Gilbert Dionne. Fedyk managed 30 games with 8 goals and 12 points as he found himself off the Lindros line with the emergences of Renberg and LeClair. Recchi would find his way back to Philadelphia in a trade that sent Dainius Zubrus, a second-round pick, and a sixth-round pick to Montreal.
As a trio between 1992-93 and 1993-94, Fedyk scored 41 goals and 97 points in 146 games, Recchi scored 93 goals and 230 points in 168 games, and Lindros chipped in with 85 goals and 172 points in just 125 games for a grand total of 219 goals and 499 points.
The Crazy Eights line led into the Legion of Doom and then ironically the Flyers would reacquire Recchi to add into the mix of some memorable teams and playoff runs in the late 1990s and early 2000s.
4. Brian Propp, Ray Allison, Ron Flockhart
The early 1980s needs some recognition as the Flyers welcomed new faces in the midst of Bobby Clarke and Bill Barber. Brian Propp centred a rather productive line with Ray Allison and Ron Flockhart, both of whom are rather forgotten names amongst the myriad of stars that have played front and centre over the years.
Ray Allison was traded to the Flyers as part of package that included 5 players and 5 draft picks. Among the players going to Hartford was Rick MacLeish as well as a first-round pick, but in return the Flyers received a package surrounding the 18th overall selection in 1979 NHL Entry Draft in Allison. Propp made his NHL debut in 1979-80 with a 75-point campaign and Flockhart would make his debut the following season with 10 points in just 14 games.
In 1981-82 the trio was formed and while they only lasted 2 seasons, they were still very productive and a big part of why the Flyers continued to succeed. Allison wound up scoring 38 goals and 105 points in 118 games between 1981-82 and 1982-83, Propp scored 84 goals and 173 points in 160 games, and Flockhart chipped in with 62 goals and 132 points in 145 games before being traded at the beginning of the 1983-84 season.
Although the team had Ken Linesman, Tim Kerr, Paul Holmgren, Propp, Clarke, Barber, Flockhart, Allison, and Leach, the Flyers fell to the New York Rangers in 4 games in the first round. The following season they fell to the same fate, as they were swept by the Rangers with the likes of Clarke, Propp, Barber, Allison, Flockhart, Holmgren, Mark Howe, and Darryl Sitter on the squad.
An often forgotten line in Flyers history, the trio were rather productive in their short time together with 184 goals and 410 points in their two seasons together.
5. Daniel Brière, Scott Hartnell, and Ville Leino
The most recent trio on this list falls to the 5th and final slot, mostly because they were together for just one playoff run – albeit a very memorable and almost franchise altering run – and an additional season afterwards. The 2009-10 Flyers clinched a playoff spot on the final day of the season after a shootout victory against the New York Rangers, who were also vying for that final playoff position.
The Flyers made quick work of the 2nd-seeded New Jersey Devils as they dispatched their divisional foe in 5 games, then they made the historic comeback from being down 0-3 in the series against the Boston Bruins, before taking down the surprising 8th-seeded Montreal Canadiens in 5 games to clinch a berth in the Final – their first since 1997.
As we all remember with very vivid memories, the Flyers lost in 6 games to the Chicago Blackhawks but their improbable run was fueled by the trio of Brière, Hartnell, and Leino along with strong goaltending up until the Final. Brière tallied 12 goals and 30 points in just 23 games, Leino added 7 goals and 21 points in 19 games, and Hartnell chipped in with 8 goals and 17 points in 23 games.
In the first round against the Devils, Leino only played in 1 game, Hartnell had just one assist in 5 games, but Brière had 2 goals and 5 points. Against the Bruins, the trio was instrumental in the massive comeback with Brière pacing the club with 5 goals and 10 points, Leino with 2 goals and 7 points, and Hartnell with 2 goals and 5 points. Against the Canadiens in the third round, Leino had 2 goals and 5 points, Brière had 2 goals and 3 points, and Hartnell added a goal and an assist.
All this culminated into the Final where in just 6 games, Brière had 3 goals and 12 points, Hartnell had 5 goals and 9 points, and Leino had 3 goals and 9 points. Unfortunately, the rest went silent as Simon Gagne scored 2 goals, Mike Richards and Jeff Carter each recorded a goal and an assist, and the goaltending tandem of Micheal Leighton and Brian Boucher sported a combined .872 SV% while allowing 24 goals in 6 games.
Heading into the 2010-11 season, the Flyers brought back a similar roster and they ended up winning their last division crown in franchise history to date. They were led by a committee of players chipping in offensively, but Brière, Leino, and Hartnell remained intact as a trio and combined for 77 goals and 170 points. In the postseason, Brière added 7 goals and 9 points, but Hartnell only chipped in with 1 goal and 4 points with Leino added 3 goals and 5 points in 11 disappointing games for the team as a whole.
After barely beating the Buffalo Sabres in 7 games, the Flyers welcomed back a familiar foe in the Boston Bruins, who swept the Flyers in convincing fashion. Brière suffered a steady decline after the 2010-11 season, Leino walked into free agency and signed a lucrative deal with the Sabres, while Hartnell had a career-year in 2011-12 with his new linemates in Claude Giroux and Jaromír Jágr.
2024 Stadium Series Trip
Flyers Nation and Philly Sports Trips have teamed up to bring you on an amazing bus trip to the 2024 NHL Stadium Series between the Flyers and Devils. Place an early deposit to reserve your spot at the ultimate tailgate experience at MetLife Stadium before the game. The package includes a game ticket, round-trip charter bus, an all-inclusive tailgate party with unlimited cold beverages, "Philly Style" catered food, live entertainment, and more.