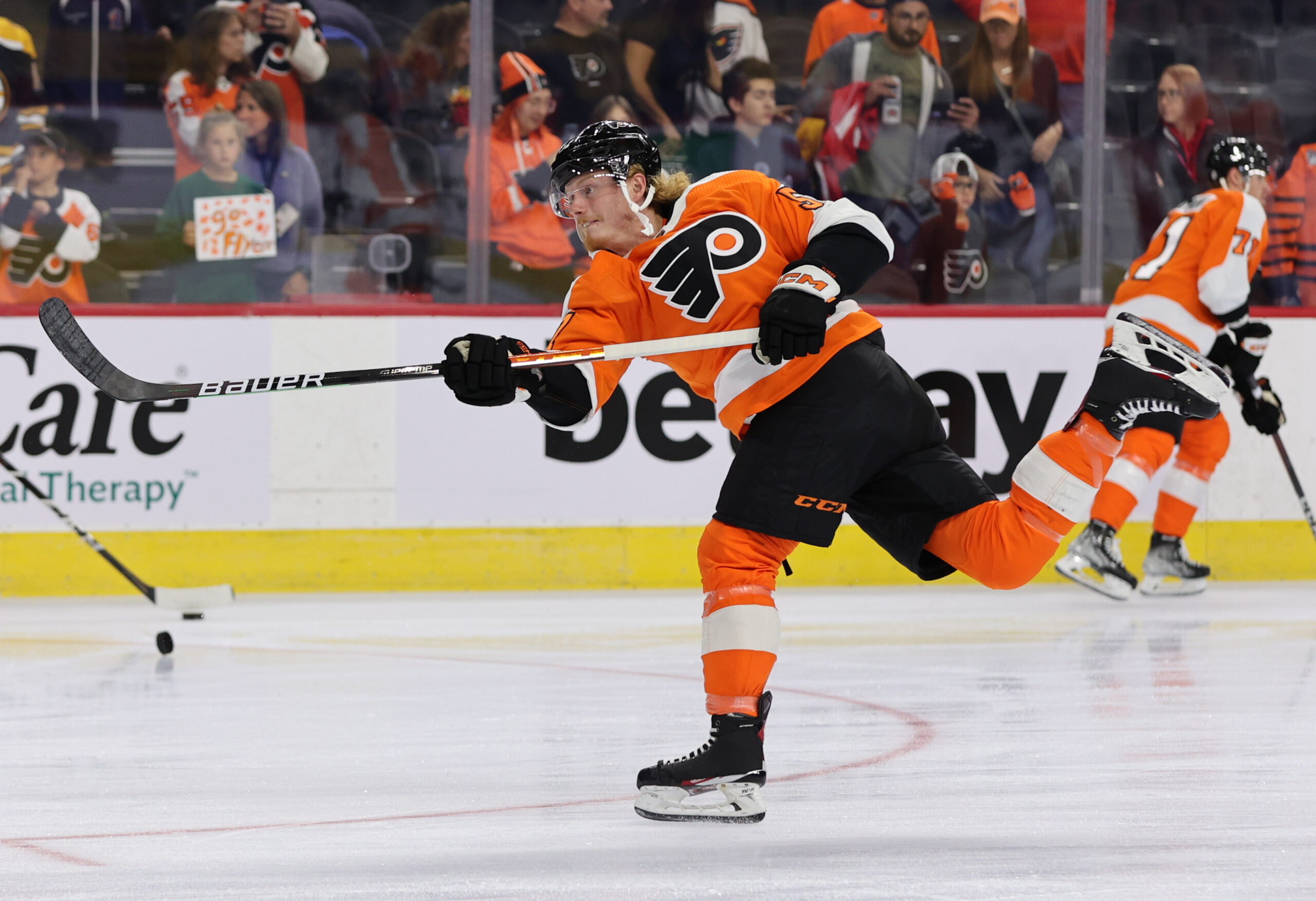 A day after being placed on IR, the Philadelphia Flyers have announced that forward Wade Allison is set to miss the next three weeks with an oblique muscle strain and hip pointer.
The injury took place on Saturday in their afternoon affair with the Ottawa Senators when he went in for a bodycheck on defenseman Jacob Bernard-Docker. Allison went in hip first and clearly got the worst of the exchange as he awkwardly fell and was on the ice in visible pain. He left the game and did not return and was replaced by Kieffer Bellows the following day in their tilt against the Dallas Stars.
Absolutely awful.

Hope Wade Allison will be ok. pic.twitter.com/dA0UWJa8Zr

— Flyers Nation (@FlyersNation) November 12, 2022
Allison, who entered training camp with a roster spot to win, impressed head coach John Tortorella with his tenacity and fiery play, which has seemingly become the new identity of the Flyers. He started the season off with a goal in their home opener against the New Jersey Devils but then slumped to the tune of six straight games without a point, with his last game having him benched after only seeing the ice for 5:09. Before that benching, he averaged 14:50 of ice time in the previous six games as Tortorella was looking to ignite something out of his young forward.
Allison only played 6:14 the next game but scored a goal and tallied an assist as he was demoted to the fourth line. His ice time and role increased steadily before the injury as he was being juggled around the top-nine, but he was finding it hard to get his name on the scoresheet as he only has four points in 14 games.
His tenacity and fieriness has been on full display this season regardless of his ice time as he has registered 42 hits, including 25 in his last five games. He had 7 hits and one block in the 8:14 he played before leaving the game in obvious pain.
Unfortunately, this is not the first time he has dealt with a serious injury as his past has blockaded his chances at cracking the big-league roster a few times. Allison went through two ankle injuries and an MCL sprain in the prior two seasons, on top of the fact that he had to overcome an ACL tear in his collegiate days with Western Michigan.
His absence from the lineup opens up an opportunity for Kieffer Bellows and the recently recalled Max Willman. Bellows was claimed off waivers from the New York Islanders and has appeared in four games for the Flyers going without a point while averaging 12:44 of time on ice and has registered 12 hits.
The Flyers might lean on giving Willman an opportunity tonight as well after sending Tanner Lacyznski to the Lehigh Valley Phantoms in a subsequent move yesterday. Willman played in 41 games last year with the Flyers, scoring 4 goals and 6 points, and played a rather disciplined and consistent bottom-six role.