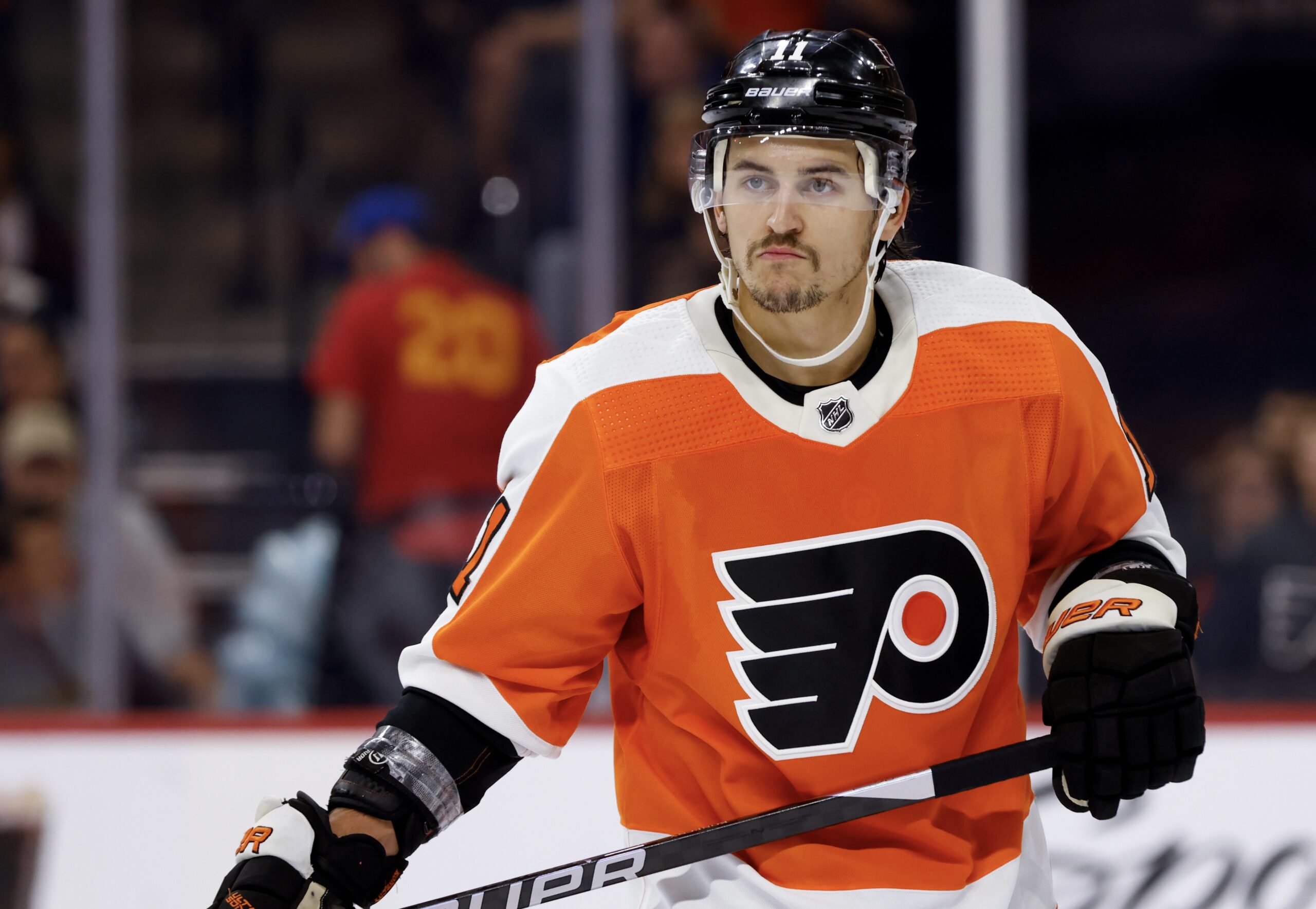 In Daniel Briere's first few months as general manager, he announced to the hockey world that he was open for business and no one was untouchable – including Travis Konecny.
It was an understandable and, quite honestly, status quo comment from a general manager of a rebuilding team. However, the world ran with it and started slinging out trade rumours and trade ideas for nearly every single player not named Cutter Gauthier.
It's one thing to listen, but it's a completely different notion to actually have players on the block and Travis Konecny was not one of those players. It is a fact that he would have brought back everything the Flyers were looking for in a trade package, but the club was not interested in a full tear down rebuild. In fact, you can make a solid argument that both general manager and head coach are so infatuated with Konecny that they see him as a piece for post-rebuild.
The Flyers have been pretty patient with Konecny since he was drafted in the first round of the loaded 2015 NHL Entry Draft but for good reason. He scored 24 goals in 3 consecutive seasons and paced the offensively-starved club in points on 2 separate occasions before the 2022-23 season. Under Tortorella's tutelage and system, Konecny exploded for 31 goals and 61 points in 60 games and was as dynamic as he's ever been since donning the Orange and Black.
It was a career season in almost every single statistical category for the 26-year-old as he accumulated 77 PIM, scored 23 even strength goals, averaged 20 minutes of ice time for the first time in his career, and scored 3 goals and 6 points while shorthanded. His 20:07 ATOI was 2.5 minutes more than his average from the previous season and a big part of that was his career-high 110.9 minutes while shorthanded. Earning Tortorella's trust can be a difficult task but he did so very quickly and never looked back once given the opportunity of being a top-line winger.
Signed for 2 more seasons at a very friendly cap hit of $5.5 million, the Flyers find themselves in an unenviable position; do they keep him around as a focal point for the seasons beyond the rebuild or do you trade him now, rip off the band-aid, and get several picks and prospects for the rebuild?
Just based on verbiage alone, the Flyers have made it quite clear that they don't want this rebuild to take too long but they will do everything in their power not to rush things for the sake of winning hockey or trying to fill the seats of the Wells Fargo Center. They're also trying to build a team, core, and culture around Tortorella and if you don't believe me, just rewatch any of their press conferences and they make it abundantly clear that he has a seat at the dinner table.
Whether or not that's a good idea remains to be seen because it's highly unusual in today's game to see a head coach have that much authority, but the Flyers understand what and who they have at their disposal. A culture change was necessary and accountability was needed as much as water is required for survival.
That gives players like Konecny a leg up in remaining a Flyer – if that is what his heart desires. By the time their rebuild is either complete or on its final legs, Konecny will need a new contract and with the salary cap rising almost 10 million by 2025, he'll be looking to cash in on a very deserved, yet large contract. The Flyers will have the space, the money, and the wherewithal to make it happen, but is it worthwhile?
In the next 2-3 years, the Flyers are hoping to see Cutter Gauthier, Matvei Michkov, Tyson Foerster, and Bobby Brink make headway into the starting lineup. There are several other prospects like Elliot Desnoyers and Olle Lycksell who can make their claims down the road, but the aforementioned quartet represent their best offensive options for the near future. Add in current NHLers like Morgan Frost, Owen Tippett, Joel Farabee, and Noah Cates – while also configuring that they draft a few promising prospects in the first round of the next 2-3 drafts – and the Flyers are looking pretty good on paper as of today.
Konecny can very easily fit the mold as he would only be 28-29 by the time they're ready to make inroads and he has proven to be a hot commodity with his goal scoring, point collecting, and feisty play.
The Flyers held trade negotiations, but it never seemed like Konecny was truly on his way out. They were asking for a near king's ransom and testing the waters to see if someone was willing to pay that much. They were more than okay with how things played out and will be leaning on him again this season with the returns of Sean Couturier and Cam Atkinson playing a major role.
List of UFA/RFAs a year from now:
Owen Tippett, Ryan Poehling, Wade Allison, Tanner Laczynski, Bobby Brink, Sean Walker, Marc Staal, Yegor Zamula, Nick Seeler, and Carter Hart
List of UFA/RFAs in 2 years:
Travis Konecny, Cam Atkinson, Noah Cates, Garnet Hathaway, Morgan Frost, Tyson Foerster, Cam York, and Cal Petersen
It is entirely possible that we see a completely different team in 2025-26 with the slew of UFAs and RFAs that are coming off the books. You can make the assumptions that Tippett, Brink, Zamula, Cates, Frost, Foerster, and York aren't going anywhere. After that, it's anyone's guess as to how they work around Atkinson, Konecny, and Hart.
However, Sean Couturier, Nicolas Deslauriers, and Scott Laughton will essentially be the only veterans up front and they're trying to find the right balance between young and old. Konecny will hold value this season, next summer, and if he's still around, the entire 2024-25 season. Trade packages will not decrease in value all that much but if they intend on moving him, this year's trade deadline or the summer would be the best time.
The Flyers want to keep players with the right work ethic and attitude and Konecny fits that bill. Nevertheless, if a desperate team comes knocking on the door with a gargantuan offer, the Flyers have to do what's best for the future and deal their 30-goal scorer.
If there's one player that can outlast this rebuild, it's Travis Konecny. His intangibles are hard to find through the draft, free agency, or through trade. He's still young enough to make sense of a contract extension and by the time the team is ready to compete he won't even be 30 years old.
2024 Stadium Series Trip
Flyers Nation and Philly Sports Trips have teamed up to bring you on an amazing bus trip to the 2024 NHL Stadium Series between the Flyers and Devils. Place an early deposit to reserve your spot at the ultimate tailgate experience at MetLife Stadium before the game. The package includes a game ticket, round-trip charter bus, an all-inclusive tailgate party with unlimited cold beverages, "Philly Style" catered food, live entertainment, and more.