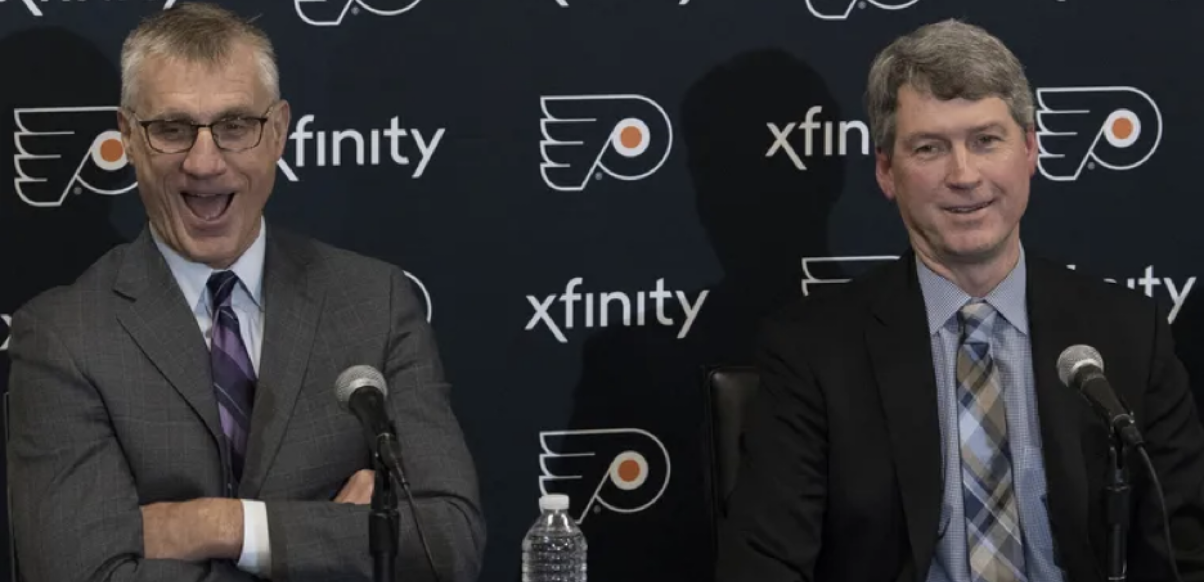 The Philadelphia Flyers were once a very successful hockey club. In their first 41 seasons, they qualified for the playoffs 34 times, won 16 division championships, and 8 conference championships, which resulted in 8 trips to the Stanley Cups Finals. Yes, the championships have alluded them since 1975 but in terms of regular-season success, they still sit in third place for the best winning percentage in NHL history (2nd if you don't count the Vegas Golden Knights with their 291 games compared to the Flyers 4,171).
10 seasons later and they've only added 5 playoff appearances and not much else. They've gone through 5 different coaching staffs and 3 different general managers. Identity, philosophy, and leadership from the front office have clashed with the core of the team that has remained nearly untouched this entire time. Paul Holmgren, Ron Hextall, and Chuck Fletcher have all had different approaches to trying to galvanize this once successful organization. In the process we've seen, and gone through tumultuous times, perhaps one of the most unsuccessful runs in franchise history.
Paul Holmgren (2006-2014)
Paul Holmgren inherited a mess of a team from Bob Clarke in 2006. Clarke resigned in the first month of the 2006-07 season, which turned out to be the worst one in franchise history. Holmgren quickly changed the core and identity of the Flyers with shrewd moves that shaped the next era of Flyers hockey. The first half of his tenure he was a great general manager; however, the latter half of his tenure is what he'll always be remembered for and what possibly ruined Claude Giroux's prime.
In one season he turned the Flyers around from finishing dead last to being an Eastern Conference finalist. He traded Peter Forsberg to the Nashville Predators for a package that would land them Kimmo Timonen and Scott Hartnell in the ensuing summer. He also traded for Martin Biron and Braydon Coburn at the trade deadline, signed Daniel Briere, and traded for Jason Smith and Joffrey Lupul. It was obvious that he wasn't afraid to make big moves and as long as he didn't swing and miss all the time, the Flyers would be contenders once again.
Over time he made his mark with larger and bolder moves. In the summer of 2009, he traded for Chris Pronger and signed Ray Emery to replace Martin Biron. The moves technically paid off to some degree as Pronger helped the Flyers advance to the Stanley Cup Finals. After losing the Cup, Holmgren started to lose his marbles.
In the ensuing years, he transformed the Flyers into a team against the cap every year, with somewhat mediocre talent. In the summer of 2011, he traded Mike Richards and Jeff Carter in two separate deals and even though the return shaped the future core, it didn't necessarily make them any better. He then signed Ilya Bryzgalov to a ludicrous eight-year deal while also signing Jaromir Jagr and Max Talbot.
The moves completely shattered the core, identity, and philosophy of the hockey club as they were moving into the Claude Giroux era. They beat the Pittsburgh Penguins in a goal-filled first round but were shortly upset by the New Jersey Devils. Holmgren then traded James van Riemsdyk to the Toronto Maple Leafs, traded Sergei Bobrovsky to the Columbus Blue Jackets, and lost Matt Carle and Jagr because he was going after Ryan Suter and Zach Parise. After whiffing on all of them, he then sent an offer sheet to Shea Weber for 14 years that was eventually matched by the Predators.
The next summer he traded for and then signed Mark Streit, signed Vincent Lecavalier after being bought out by the Tampa Bay Lightning, signed Ray Emery for round 2, and bought out Daniel Briere and Bryzgalov. All these moves cost them dearly in the standings and against the cap. His final major move as general manager was extending Andrew MacDonald (after trading two second-round picks for him at the trade deadline) to an insane six-year deal worth $30 million. Less than a month later he was promoted to President with Ron Hextall taking over the general managing duties.
Ron Hextall (2014-2018)
Ron Hextall had a much different approach than his predecessors. He took on a failing hockey team with no future, no farm system, and very little success. His ultimate goal was to re-tool the team from the ground up, as he did in Los Angeles where he was the assistant general manager for both of their cups. A lot of the moves he made had an eye to the future as he was always trying to create as much cap space as possible, while also acquiring as much draft capital as he could.
His first move was trading fan-favorite Scott Hartnell to the Columbus Blue Jackets for RJ Umberger. The idea was that even though the cap hits matched, Umberger had one less year on his contract, which was essentially how he viewed trades during his tenure. His trades did wonders for the Flyers in the distant future in terms of cap space, however, his free-agent signings were very rarely a success story.
He was rebuilding the Flyers as best he could, which he had the foresight to believe it would take about 4-5 years. In that time, he would acquire draft picks for expiring contracts as well as undesirable ones. His additions during free agency were never viewed as quick fixes, as they were generally depth pieces and bottom 6 forwards or defensemen.
Over his tenure, he signed Nick Schultz, Micheal Del Zotto, Ryan White, Michal Neuvirth, Dale Weise, Boyd Gordon, Christian Folin, and James van Riemsdyk. He extended players like Chris VandeVelde, Nick Cousins, Brandon Manning, Brayden Schenn, Radko Gudas, Taylor Leier, Jordan Weal, and Shayne Gostisbehere. He traded for Valteri Filppula, Jori Lehtera, Sam Gagner, and Petr Mrazek while trading away contracts like Nicklas Grossmann, Chris Pronger, Zac Rinaldo, Brayden Schenn, Vincent Lecavalier, and Luke Schenn.
As the list dictates, it was an underwhelming time for off-seasons and trade deadlines. Ron Hextall's list of players he signed or traded for was never really for the present. Even though the Flyers made the playoffs twice, they were outmatched, outclassed, and overmatched in the skill department because the team was never good enough. His mark on the franchise was his penchant for acquiring draft capital.
In the 5 drafts that he took part in, he had eight first-round picks, of which he had three drafts with multiple first-rounders. He was responsible for drafting Ivan Provorov, Travis Konecny, Morgan Frost, Nolan Patrick, Joel Farabee, Oskar Lindblom, Carter Hart, and Travis Sanheim among others. On the flip side of the coin, he may have had a lot of draft picks but his selections outside of the 2nd round very rarely panned out.
Hextall made 42 selections in his tenure, with eight coming in the first round and six in the second round. His second-round picks have accumulated just a little over 200 games in the orange and black but that's nothing to write home about since most of those have come from Nicolas Aube-Kubel and Carter Hart. From rounds three through seven, he made 27 picks and they only accounted for a shade over 125 games.
Obviously, not a lot is to be expected from the later rounds but for someone who had that many picks and was the "draft savant", a lot of them never panned out. The only obvious goldmines were his first-rounders and even then he made some suspect calls (Nolan Patrick, German Rubstov, Jay O'Brien).
He stuck by his head coach, Dave Hakstol, longer than Flyers management wanted and because he wouldn't fire him, Hextall got the boot. His five years as the general manager will be controversial amongst the fan base and media because of how he approached it. He did what he said he was going to do and he acquired draft capital every year and replenished the farm system with good prospects. However, he never gave his present team a chance to make a run, even if they were still qualifying for the playoffs. He acquired Petr Mrazek through trade and van Riemsdyk as a free agent signing, but they were both too little too late. Giroux and Jakub Voracek languished in that rebuild and because of it, their primes were nearly destroyed.
Chuck Fletcher (2018-)
Ron Hextall's termination leads us into the Chuck Fletcher era. He let the chips fall in his first half-season but he was responsible for bringing Carter Hart to the NHL. In his first off-season, Fletcher was given 33 million dollars in cap space to reconstruct the team to his vision. He traded for and then signed Kevin Hayes to a seven-year deal, traded Radko Gudas to the Washington Capitals for Matt Niskanen, traded for Justin Braun, and then extended Provorov and Konecny to six-year deals.
He hired his coaching staff and brought along Alain Vigneault, Mike Yeo, and Michel Therrien. It was a breath of fresh air considering the inexperience they had behind the bench for several years. The Flyers surprised most and ended up advancing past the first round of the playoffs for the first time since 2011-12. It was a step in the right direction and expectations were sky-high for the following season.
2020-21 was a train wreck and everything that could've gone wrong went wrong. The only major change he made in the off-season was signing Erik Gustafsson to replace the retired Matt Niskanen. Niskanen was a revelation on the backend, especially because of how he brought out the best of Provorov. His loss didn't seem like it was going to hamper them as much as it did and that's why the management didn't panic when first approached by Niskanen.
Fletcher admitted his faults and went about change for the summer of 2021. He was so upset with what he saw the previous season that he wasn't going to sit around for long. He uprooted the core and brought players who he thought would change the culture, locker room, and identity of his hockey club. He brought in Ryan Ellis, Rasmus Ristolainen, Cam Atkinson, Martin Jones, Nate Thompson, Keith Yandle, and Derrick Brassard. Leaving the club were Robert Hagg, Jakub Voracek, Shayne Gostisbehere, Nolan Patrick, Phil Myers, and Brian Elliott.
There's excitement and buzz around the Flyers for the first time in years. They look primed and destined for a successful season and Fletcher did as much as he could with the resources he had at his disposal. He also extended Sean Couturier and Joel Farabee to long-term deals, keeping an eye on the future and their possible Stanley Cup window. With most of the core locked up for several years, adding players with lengthy-term, and having enough money to possibly extend more key pieces in the summer; the Flyers window is slowly starting to open again.
The Flyers general managers have all had a different outlook on what they thought would bring a championship to Philadelphia for the first time since 1975. Holmgren was calculated in the first bit of tenure but lost his marbles after losing out on the Cup. He started gambling with the future by making bonehead mistakes that cost the Flyers dearly.
Hextall on the other hand thought about the future and only the future. He eventually got the Flyers out of Holmgren's cap nightmare but never added winning pieces to the club whenever they had a chance. He accumulated draft capital and cap space with almost every move he made and even though he wasn't around for the end of his vision, he was responsible for forming the current core of the hockey club.
Then the Flyers turned to Fletcher, who in his previous job with the Minnesota Wild, had Paul Holmgren tendencies. It felt like maybe we would be having deja vu moments but his plan and vision were very different this time around. He tried being as patient as possible but after witnessing a collapse of epic proportions last year, he couldn't sit idly by. He made moves that are going to affect the present and the future. Players like Couturier, Farabee, Konecny, Hayes, Atkinson, Provorov, Ellis, Hart, and Laughton are all signed for 3+ years.
He made moves to address the current roster and season with Ristolainen, Yandle, Brassard, Jones, and Thompson all having one-year contracts or one year left on their contracts. He has a few question marks for the next off-season in terms of Giroux and Ristolainen but for the most part, his window to win is beginning to take shape.
The Flyers' run of unsuccessful hockey has really taken their fans on a roller coaster of emotions. The alternating years of making and missing the post-season, the five different head coaches in only eight seasons, three different general managers, and a core that somehow remained intact for nearly 10 years gave everyone a headache and heart trauma.
We are now (possibly) entering a new era of success but that will only begin to take shape when the puck is dropped on opening night. For now, from what we can assess and dissect, on paper they look as deep and balanced as they ever have. Fletcher has taken a page from both his previous predecessors and is trying to bring an element to the team that has been missing for well over a decade: accountability, leadership, and for the love of god..wins.