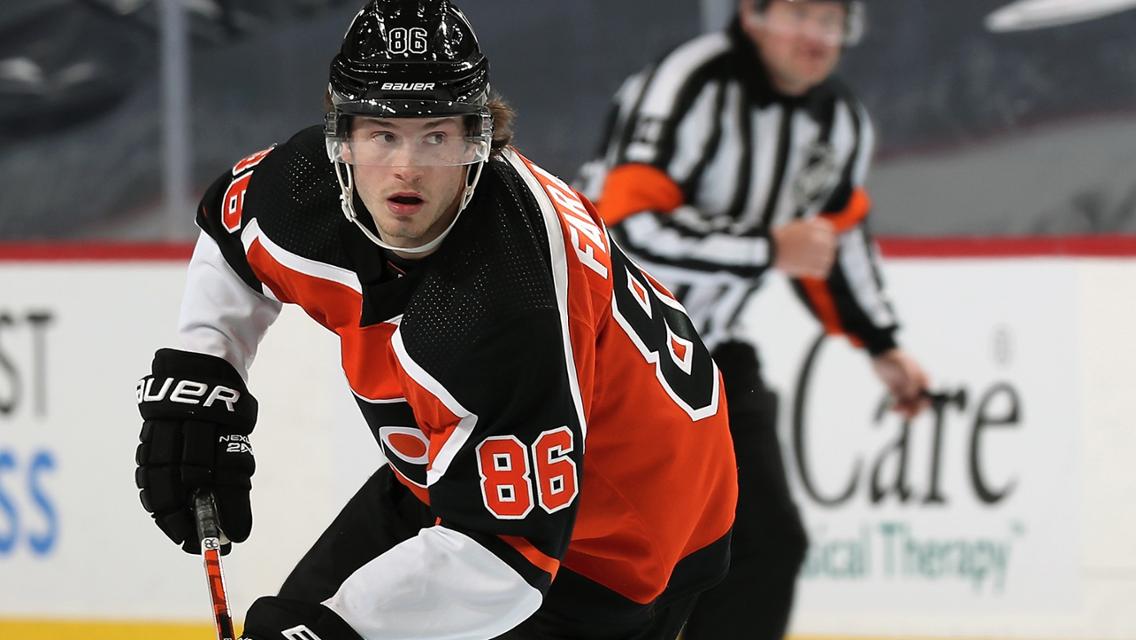 Players the Flyers Must Extend in 2022
With the Flyers finishing their offseason after extending Sean Couturier, the focus for Flyers GM Chuck Fletcher flips to the rest of the upcoming free agents. Next season the Flyers have 12 major RFA and UFA's to make decisions on. Now, after the Couturier deal, Fletcher only has $20.5M to build the rest of the team, whether it be through re-signings, trades, or making a splash in free agency. The Flyers will need to rebuild their depth, but who should the Flyers absolutely try to lock up long-term, and what should the money look like?
The Definites
1) Joel Farabee – 3YR/$4.5M AAV
Joel Farabee should be priority number one this offseason. After a solid sophomore season, all eyes will be on him to continue to improve on his game and take another step towards 30 goals. This deal will come at just the right time as Farabee will be playing some great hockey, but also young enough to take a bridge deal to his next contract.
Money Left: $16M
2) Claude Giroux – 3YR/$5M AAV
The Flyers' greatest player since Eric Lindros will most likely end his career wearing the same jersey he wore when it began. The Captain, like every great player, has started to hit the backend of his career but is still producing at a higher level than many players in the league. Giroux will most likely do whatever it takes to bring a Stanley Cup to Philadelphia. Sean Couturier's contract discount also makes it more likely for the Flyers to hold onto Giroux and give him the extra money they would need to.
Money Left: $11M
3) Wade Allison – 3YR/$2.5M AAV
Wade Allison looks ready to make the full-time jump to the NHL. After his brief stint with the Flyers last season, hopes are high for the young wing. He showed flashes of goal-scoring ability and grit that Philadelphia fans fell in love with. Given that Allison has only played in 14 career NHL games up until this point, there are chances the Flyers can get him at a low AAV.
Money Left: $8.5M
After signing the major players they need to these deals, the Flyers would have about $8.5M left to plug the holes on the defense, bottom six, and backup goaltender. But after the definites get signed, who would be next?
Prove-it Year
1) Martin Jones – 1YR/$2M AAV
This is a major prove it year for Martin Jones after a couple of abysmal years in San Jose. If the lower workload and better defense in front of him cause a bounceback season, the Flyers should absolutely lock him up for another one to make Hart's life a lot easier.
Money Left: $6.5M
2) Morgan Frost – 2YR/$1.25M AAV (2-Way Contract)
Frost has only played 22 career games in the NHL, is coming off a season-ending injury, and will most likely start the season in the AHL with the recent signing of Derick Brassard. Frost either has to have a very good season in the AHL or show that he can outperform Brassard and Thompson to take the third center spot at some point this season.
Money Left: $6.5M (2-way contract gets burried in AHL, no cap hit)
3) Rasmus Ristolainen – 1YR/$4M
Ristolainen has been a bad defenseman ever since he signed his most recent contract at $5.4M AAV; however, the change in scenery will most likely do well for him as most players turn into solid NHLers once they leave Buffalo. If Ristolainen has a decent season, a one-year deal to see if he can continue to play that well should suffice.
Money Left: $2.5M
With these six players re-signed, the flyers would have $2.5M to fix the holes in the bottom-six wingers and the bottom d-pair.
Only if needed
Keith Yandle/Justin Braun – 1YR/$750K AAV
If Cam York and/or Yegor Zamula are not ready for the 2022 season, re-signing Braun and/or Yandle to the vet minimum would only help the Flyers be able to develop either York or Zamula in the AHL for another season, plus the veteran presence of Braun and Yandle for another year could definitely help the locker room.
Money Left: $1M-$1.75M
Every other free agent is not necessarily needed. Important players that will most likely walk include:
Nicolas Aube-Kubel
Derick Brassard
Nate Thompson
Sam Morin
Braun and Yandle may make this list as the season goes on mostly because York and Zamula will get plenty of time together this season, with Morin being the 7th D-Man, to grow and develop together in the AHL. Alain Vigneault could put both York and Zamula on the third d-pair in sheltered if he sees progress being made. Overall the Flyers Cap situation seems a bit troublesome to manage around, but it is not impossible.