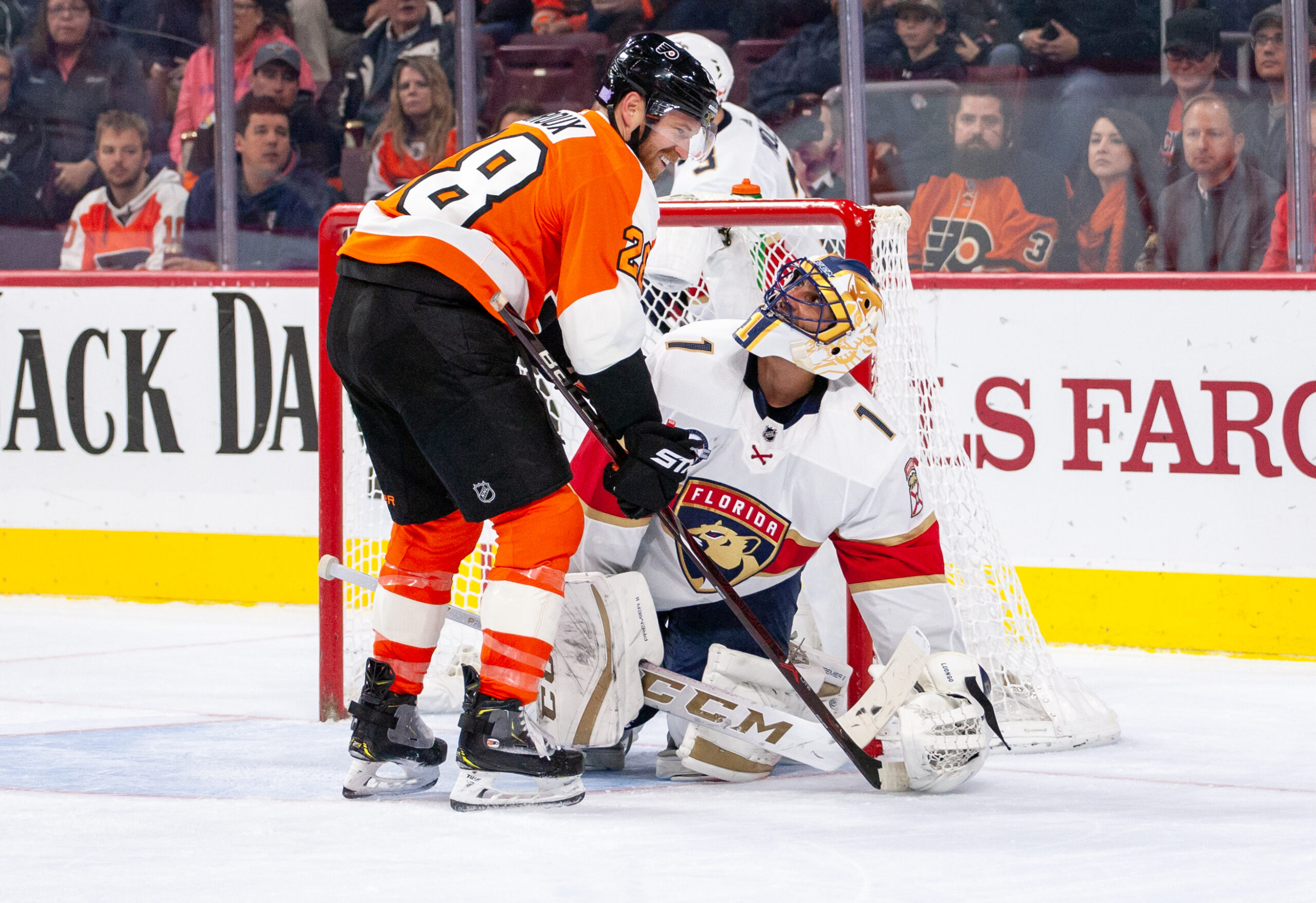 The Florida Panthers are Quickly Emerging as Favourites to Land Claude Giroux
With the trade deadline fast approaching, one of the biggest names on the market and the biggest name attached to Philadelphia, is once again attracting more teams and more rumours. At first it was believed that the Colorado Avalanche would be the odds-on favourites to land the services of Claude Giroux but as the weeks have gone by, their interest has dwindled a little but one team has made a surge near the finish line; the Florida Panthers.
The Panthers have been involved in Giroux rumours from the get-go, however it was believed that Giroux preferred the Avalanche, St. Louis Blues, or Minnesota Wild. Whether that was true or not remains to be seen, but his agent has been given permission to seek out teams to be interested in his services. Daniel Briere and several other Flyers scouts and assistant general managers were ever-present at Colorado games at the NHL and AHL level, but their presence has been white-hot at Florida games lately. One name to keep an eye on in relation to Florida is Owen Tippett.
The former 10th overall pick from the 2017 NHL draft, hasn't had the most gracious beginnings to his NHL career but he still has a lot of talent and promise. In his draft year he scored 44 goals and 75 points in 60 games for the Mississauga Steelheads of the OHL. The following year he scored 36 goals and 75 points in 9 less games before a short 5 game-stint with the Springfield Thunderbirds of the AHL. In 2018-19 he spent time with Mississauga before being traded to the Saginaw Spirit where he combined for 74 points in 54 games. At the NHL level he has played in parts of 3 seasons, where he has scored 14 goals and 33 points in 94 games. He is currently in the AHL with the Charlotte Checkers. 
He hasn't found his spot on a loaded Panthers team that has players like Sam Reinhart on the third line. The Panthers are no longer rebuilding or can't even be seen as just a playoff team, they have Stanley Cup aspirations, which makes a player like Tippett readily available if the Panthers want to make a swing at the deadline. 
If the Flyers don't want to go that route, they have 2 other options that they have seemingly been eyeing for quite some time in forward Grigori Denisenko and defenseman Lucas Carlsson.
Denisenko was drafted 15th overall in 2018, has tremendous skating abilities, is small and needs to gain size and strength, but has the offensive tool-kit that the Flyers desire. He spent parts of 3 years in the KHL with Yaroslavl Lokomotiv before playing in parts of 2 seasons at the AHL level. He hasn't shown those scoring abilities just yet but he was doing well before getting hurt this season with 18 points in 30 games. 
Carlsson is a former fourth round pick from 2016, who doesn't have the greatest arsenal of weapons but he is very steady, blocks a lot of shots, moves the puck well, and would improve the Flyers defense at the moment. If you plugged him in the lineup right now he would be an upgrade over Keith Yandle, Kevin Connauton, and Nick Seeler. He has 9 points this season with the Panthers but he would likely serve on the bottom pairing for the Flyers. He is still only 24 years old and he, alongside Denisenko and a future first round pick, would qualify what the Flyers are looking to get back in return for Giroux. 
Pierre LeBrun has agreed that the Flyers' package isn't absurd or ludicrous and that there's no doubt that a prospect, a player, and a first round pick will be in the cards for the Flyers captain. A combination of 2 of the 3 players and a 2023 first round pick (a much more deep and loaded draft than 2022) would serve as a good move for the Flyers. Giroux seems to be a pure rental since most of the teams he is attracting interest from don't have the necessary cap space in the summer to extend him alongside their slew of expiring contracts. 
Giroux could also ultimately come back to Philadelphia in the summer and make this a win-win situation, where the Flyers get 2 prospects and a first round pick, while signing him in the summer at a far cheaper deal than his current $8.275 million AAV. Let's not forget the Flyers don't want to go through a rebuild and they seem content with riding through another re-tool. They have stated several times how much they value Giroux as a captain and player and that they wish they didn't have to make such an illustrious move. 
The Panthers are currently first in the Atlantic Division with a 39-13-5 record and are 3 points ahead of the second-place Tampa Bay Lightning. They are second in the Eastern Conference with the Carolina Hurricanes at the top and they sit third in the NHL with the Colorado Avalanche leading the way. The Panthers have fancied themselves as contenders and with players like Aleksander Barkov, Jonathan Huberdeau, and Aaron Ekblad as their cornerstones, who can blame them?
Huberdeau is third in the NHL with 78 points, trailing only Connor McDavid and Leon Draisaitl who both have 79. Barkov has played in 13 less games but is first on the team with 26 goals and second on the team with 57 points. Summer acquisition Sam Reinhart has 54 points in 54 games, Ekblad has 15 goals and 50 points, Anthony Duclair and Carter Verhaeghe have 44 points, and rookie Anton Lundell has 14 goals and 38 points. The list is endless for the Panthers in terms of their offense, but Sergei Bobrovksy has also come to the forefront this year after a few disappointing seasons. He is currently 29-6-3 with a 2.55 GAA and a .916 SV%.
Claude Giroux has attracted a lot of teams and with the deadline only 2 weeks away, the Panthers are currently sitting pretty at the top of that list. The Flyers have been heavily scouting their games and prospects, they really like Tippett, Denisenko, and Carlsson, they have had several conversations, and for Giroux's sake the Panthers represent one of the best chances to win a Cup this year. The Avalanche haven't bowed out just yet but they have been reportedly looking around at other names like Patrick Kane and Max Domi.
He figures to be a feature in the lineup until at least March 17th, which would represent his 1000th game as a Flyer. The trade deadline would be 4 days after that and would involve 2 more games against the Ottawa Senators and the New York Islanders. With only 5-7 games in between his eventual departure, maybe it's time to relish in his presence for the time being as he could possibly be playing in his final games as a Philadelphia Flyer.