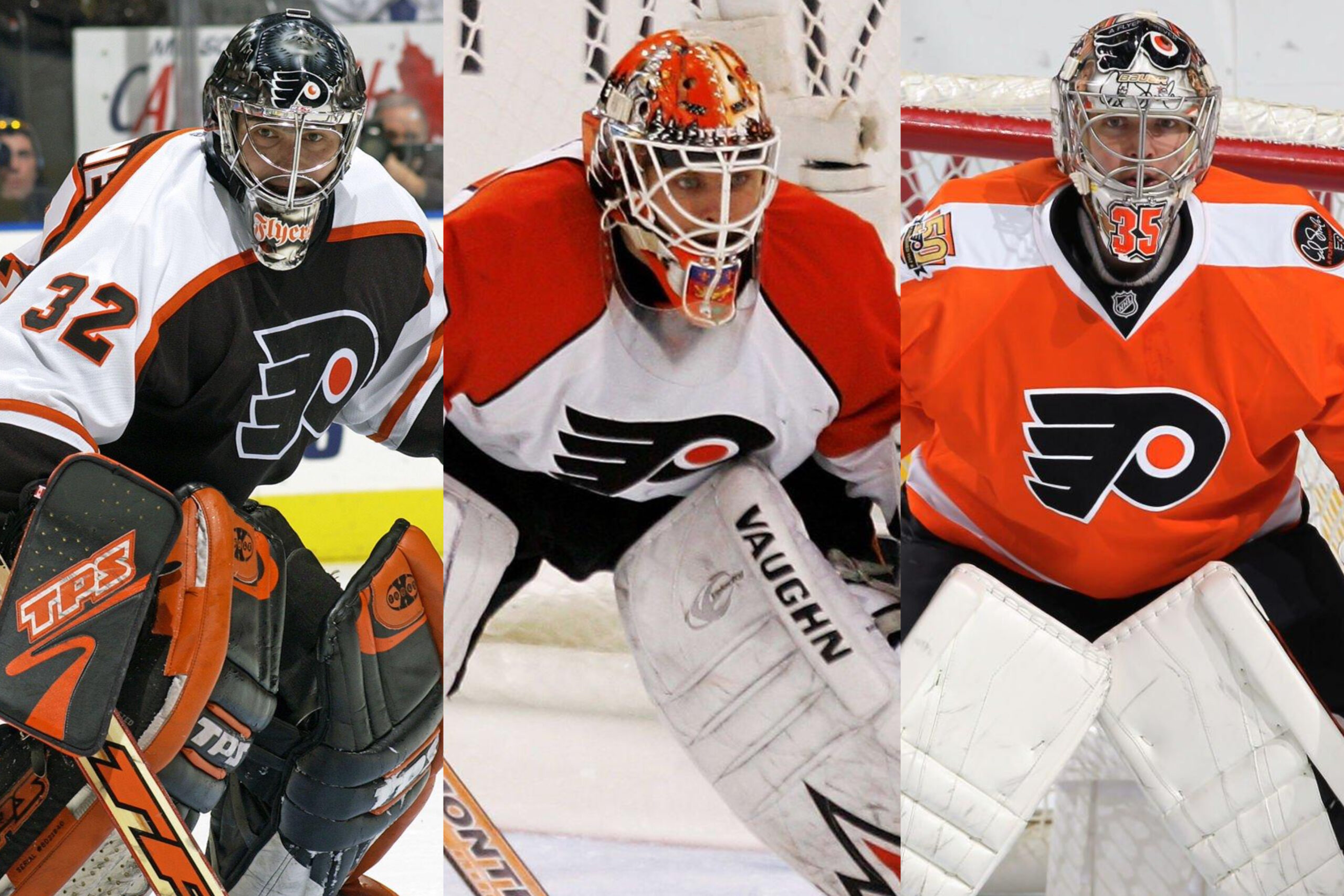 It's no secret that the Philadelphia Flyers have had their issues in goal since Ron Hextall's second stint with the team. Since 1997-98, the Flyers have had 34 goaltenders patrol their crease with 11 surpassing 90 games played from Garth Snow (90 games) all the way down to Carter Hart (201 games*).
Other notables include: John Vanbiesbrouck (112 games), Brian Boucher (174 games), Roman Cechmanek (163 games), Robert Esche (128 games), Antero Niittymaki (161 games), Martin Biron (133 games), Ilya Bryzgalov (99 games), Steve Mason (231 games), and Brian Elliott (130 games). Some just missing the cut include: Ray Emery (88 games), Sergei Bobrovsky (83 games), and Michal Neuvirth (89 games).
It is an extensive list of goaltenders who have tried out for the Flyers over the last 3 decades but not many have lasted longer than 4+ years and 90+ games with the exceptions being Boucher, Esche, Mason, Elliot, and currently Hart. However amongst the 34 goaltenders, 3 very much stand out above the rest – with the exception of Hart – in Cechmanek, Biron, and Mason who all played brilliantly in their short tenure and are sometimes – or often – forgotten.
Roman Cechmanek
Roman Cechmanek was fantastic in his short stint with the Philadelphia Flyers as he posted a 92-43-22 record in 163 games across 3 seasons with a .923 SV% and a 1.96 G.A.A with 20 shutouts. He still sits atop on his throne with the best GAA and save percentage in franchise history and doesn't look like he's going to be dethroned any time soon.
Drafted in the 6th round of the 2000 NHL Entry Draft, Cechmanek usurped Brian Boucher for the starting job and finished the 2000-01 season finishing 2nd in Vezina Trophy voting and 4th in Hart Trophy voting. He posted a 35-15-6 record with a 2.01 GAA and a .921 SV% with 10 shutouts and finished behind only Dominik Hasek in a close race for the Vezina Trophy. He also finished only behind Joe Sakic, Mario Lemieux, and Jaromir Jagr for the Hart Trophy.
Playoffs had arrived and Cechmanek looked like a shell of his regular season version with a 3.12 GAA and an .891 SV% in a 6-game defeat to the Buffalo Sabres in the first round, which included an 8-0 drubbing in Game 6 with the series on the line.
The following season, he shared the crease with Boucher a little more as Cechmanek went 24-13-6 in 46 games but posted fantastic peripherals again with a .921 SV% and a 2.05 GAA. The playoffs brought about the same old song and dance as the Flyers were ousted in the first round at the hands of the Ottawa Senators who held the Flyers to just 2 goals in 5 games. Flyers won the first game 1-0 in overtime but were then shutout 3-0 in 3 consecutive games before dropping a 2-1 overtime contest in Game 5. Cechmanek sported a .936 SV% and an only allowed 7 goals in 4 games.
Visibly upset with his teammates, there were several instances where he berated them on the ice, in public, and one would have to assume off the ice and in response it was reported that after a playoff game against Ottawa and being berated on the ice, the players in response, shot pucks towards his head in practice the next day.
The following season, with tempers and frustrations at an all-time high between goaltender and teammates, Cechmanek did what he had done the previous 2 seasons and provided the team with a strong regular season showing. He went 33-15-10 with a 1.83 GAA and a .925 SV%, ended up sharing the William Jennings Trophy with Martin Brodeur and his fellow-tandem-partner, Robert Esche. However, even with great numbers, he was very inconsistent and the dam was about to burst.
In their first round matchup against the Toronto Maple Leafs, Cechmanek posted a .920 SV% and allowed 15 goals in a wild 7-game series that had 3 games go into or past the 2nd overtime. However against the Senators in the 2nd round, Cechmanek allowed 16 goals and posted an .894 SV% in their 6-game defeat and although he recorded 2 shutouts in the series, he allowed some blatantly awful and soft goals that brought about a lot of disdain – the dam had fully collapsed at this point.
Therefore it came as no surprise that he was traded to the Los Angeles Kings for a 2nd round pick at the end of the year. Despite the headaches and heartaches that he provided in his short tenure, he sits 9th all-time in games played, 1st in both GAA and SV%, is tied for 5th in wins, and 2nd in shutouts.
Martin Biron
Martin Biron was only with the Flyers for parts of 3 seasons after he was acquired at the trade deadline during the debacle that was the 2006-07 season. Flyers general manager, Paul Holmgren, took over from Bobby Clarke but was essentially given the worst team in franchise history as they crumbled to a last-place finish. However he made some shrewd moves ahead of the trade deadline that set them up for success in short order, including Biron from the Buffalo Sabres for a 2nd round pick.
After spending parts of 9 seasons with the Sabres and playing in 300 games for the only club he knew, he came to the Flyers in February and started 16 games. For the last-place club, Biron went 6-8-2 with a 3.01 GAA and a .908 SV% and looked rather sharp albeit in tough conditions. The next 2 seasons he started 112 games, went 59-39-14 with a 2.67 GAA and .917 SV% with 7 shutouts.
Biron played a big role in the Flyers turnaround season in 2007-08 where he posted a 30-20-9 record with a .918 SV% and 2.59 GAA in the regular season. He posted a .908 SV% in their 7-game series victory in the first round against the Washington Capitals and a.921 SV% in their 5-game series victory against the Montreal Canadiens. He didn't fare as well against their cross-state rivals as he allowed 18 goals in 5 games with a .876 SV%, while Marc-Andre Fleury only allowed 8 goals with a .939 SV%. Nevertheless, after such a disastrous 2006-07, the Flyers went all the way to the final four in one calendar year.
The following season, Biron had a near-identical record as he went 29-19-5 with a .915 SV% and a 2.76 GAA. Antero Niittymaki provided Biron and the Flyers with a strong backup performance as he himself went 15-8-6 with a .912 SV% and a 2.76 GAA. They would come face-to-face with their cross-state rivals once again but this time in the first round with the Penguins coming out victorious in 6. Biron was a lot better as he posted a .919 SV% but the Penguins were too deep, loaded, and had Fleury playing just as well, if not better, than Biron.
Entering unrestricted free agency, Biron out-priced himself out of Philadelphia – who had offered him a fair deal to begin with. With the Flyers quickly filling up their vacancies in goal with Ray Emery and Brian Boucher, Biron wasn't left with as many options as he had originally thought and he eventually signed a 1-year deal worth only 1.4 million with the New York Islanders who already had Rick DiPietro and Dwayne Roloson.
He currently sits 14th in games played, 12th in GAA, 5th in save percentage, 13th in wins, and tied for 10th in shutouts.
Steve Mason
Quite possibly the most underrated player in recent franchise history – not just goaltender – Steve Mason provided the Flyers with great goaltending in a period where they didn't have the best teams up front.
With Ilya Bryzgalov's tenure coming to an abrupt end, the writing was on the wall heading into the trade deadline of 2013. The Flyers acquired Steve Mason from the Columbus Blue Jackets for Michael Leighton and a 2015 3rd-round pick in the hopes that he could potentially return to his Calder Trophy winning form from back in 2008-09.
In just 7 games post-deadline, Mason went 4-2-0 with a 1.90 GAA and a .944 SV%, of course it was a small sample size at the time, but it was more than enough for the Flyers to be convinced that he could be their starting goaltender the following season with Bryzgalov being bought out. Immediately the change paid dividends as he posted a 33-18-7 record in 61 games with a .917 SV% and 2.50 GAA. He was injured right before the playoffs and ended up missing the first 2 games and relieved Ray Emery in Game 3, where they lost 2 of those contests to the New York Rangers.
He posted a .939 SV% and only allowed 8 goals in the next 4 games but the Flyers couldn't solve Henrik Lundqvist in Game 7 and lost the game 2-1. The next season was not a fun one for the Flyers but Mason still provided strong peripherals with a .928 SV% and a 2.25 GAA but still managed to lose 29 times with a 18-18-11 record.
The next season was the same old story as he posted a 23-19-10 record with a .918 SV% and a 2.51 GAA but this time around they made the playoffs. They fell in 6 games to the Washington Capitals, only scored 5 goals in total, and Mason was ousted after Game 3 for Micheal Neuvirth who stood on his head and forced a Game 5 and 6 and came very close to forcing a Game 7.
Similarly to Cechmanek, the dam was about to burst and there were reports that Mason was rubbing his teammates the wrong way and it sort of explains the poorer performance in 2016-17 before finding himself a new home in Winnipeg ahead of the 2017-18 season. He was still 26-21-8 with a .908 SV% and a 2.66 GAA but the Flyers were well out of the playoff picture.
He walked into free agency and signed with the Jets as they were looking to build a tandem with the young Connor Hellebuyck but Mason had suffered 2 concussions and a knee injury that derailed his season and subsequently his career.
Nevertheless, his goaltending might have been the best performance between the pipes since Hextall. He sits 3rd in games played, 2nd in save percentage, 5th in GAA, 3rd in wins, and 5th in shutouts.
If you had to rank them from best to worst, you have to first look at what they had to play with.
With Cechmanek, the Flyers were loaded from top to bottom and had a defensive core that comprised of Eric Desjardins, Kim Johnsson, Chris McAllister, Dan McGillis, Chris Therien, Dennis Seidenberg, Marcus Ragnarsson, and Eric Weinrich within his tenure.
Offensively, the Flyers had Mark Recchi, Keith Primeau, Simon Gagne, Daymond Langkow, John LeClair, Jeremy Roenick, Michal Handzus, and cameos from Rick Tocchet, Sami Kapanen, Adam Oates, Tony Amonte, and Alexei Zhamnov.
With Biron, the Flyers quickly transformed from a bottom feeder to a playoff contender. He had Derian Hatcher, Joni Pitkanen, Jason Smith, Braydon Coburn, Kimmo Timonen, Randy Jones, and Matt Carle in front of him during his tenure.
Offensively, the Flyers had Simon Gagne, Mike Richards, Jeff Carter, Scott Hartnell, Mike Knuble, Joffrey Lupul, Scottie Upshall, R.J. Umberger, Daniel Briere, and rookie Claude Giroux.
With Mason, it was an up-and-down time for the Flyers who kept alternating between missing and making the post-season. He had Braydon Coburn, Kimmo Timonen, Nicklas Grossmann, Luke Schenn, Bruno Gervais, Kurtis Foster, Andrew MacDonald, Andrej Meszaros, Mark Streit, Brandon Manning, and Nick Schultz during his tenure.
Offensively, the Flyers had Claude Giroux, Jakub Voracek, Wayne Simmonds, Scott Hartnell, Matt Read, Sean Couturier, Brayden Schenn, and Michael Raffl as the prominent contributors.
Cechmanek was spectacular in the regular season but had the best teams in front of him compared to Biron and Mason. With what Mason had to contend with and how well he played, especially on some not-so-great renditions of the Flyers, he has the leg up for me with Cechmanek a very close 2nd and Biron a strong 3rd.
1. Steve Mason
2. Roman Cechmanek
3. Martin Biron
2024 Stadium Series Trip
Flyers Nation and Philly Sports Trips have teamed up to bring you on an amazing bus trip to the 2024 NHL Stadium Series between the Flyers and Devils. Place an early deposit to reserve your spot at the ultimate tailgate experience at MetLife Stadium before the game. The package includes a game ticket, round-trip charter bus, an all-inclusive tailgate party with unlimited cold beverages, "Philly Style" catered food, live entertainment, and more.