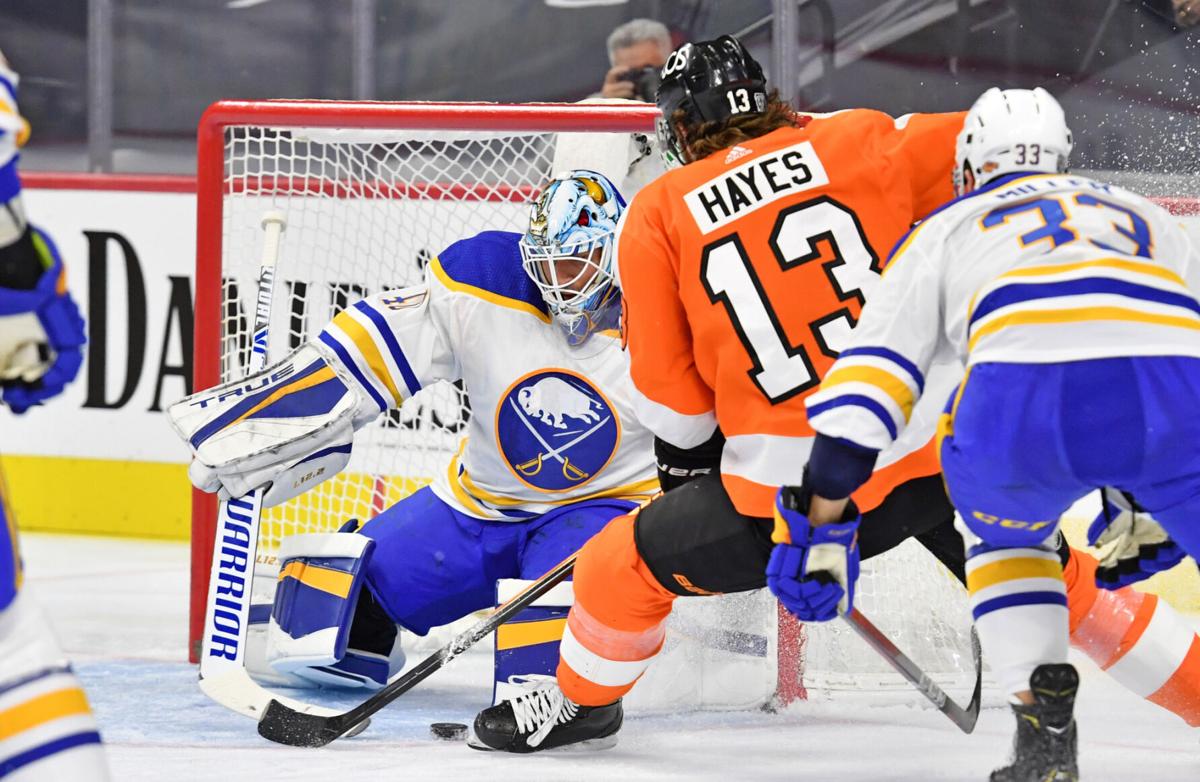 The Philadelphia Flyers look to rebound tonight in the second match of a two game series with the Buffalo Sabres. The Sabres embarrassed the Flyers with a 6-1 beatdown last night.
Alain Vigneault was adamant last night that the Flyers will play a much better game today.
The Flyers might elect to make a switch on defense tonight. Travis Sanheim was moved up with Ivan Provorov during the third period in a series of moves. Erik Gustafsson made some bad turnovers in the loss last night. Mark Friedman is waiting in the wings right now as the 7th defenseman.
AV has been pretty consistent in wanting the forward lines to gel together after no preseason, but he shook them up last night in the third. Konecny was moved onto the top line with Giroux and Hayes. Farabee was bumped down to replace Voracek on the JVR, Patrick line. It'll be interesting to see what the Flyers roll with tonight.
UPDATE: AV has now said that the personnel for the rematch will remain the same. There might be some tweaks to the line combinations and pairs though:
Brian Elliott was already scheduled to start tonight and got some action after Carter Hart was yanked yesterday. Elliott has some good career stats against the Sabres franchise.
The Flyers are hoping the previous game was an aberration. It's definitely not the time to panic since it was game number three in a season with no preseason games. Nobody showed up last night and Philly needs to flip the script in the rematch.
PHI: 2-1-0 (41-21-7 in 2019-2020)
BUF: 1-2-0 (30-31-8 in 2019-2020)
When: 7:00 PM
Where: Wells Fargo Center (Philadelphia, Pennsylvania)
PHI Goalie: Brian Elliott (1 GP, .867 SV%, 3.77 GAA)
BUF Goalie: TBD
PHI Unofficial Lineup
Giroux – Hayes – Konecny
JVR – Patrick – Farabee
Lindblom – Frost – Voracek
Raffl – Laughton – NAK
Provorov – Sanheim
Gustafsson – Myers
Hagg – Braun
BUF Unofficial Lineup
Hall – Eichel – Reinhart
Olafsson – Staal – Cozens
Rieder – Eakin – Thompson
Skinner – Lazar – Sheahan
McCabe – Ristolainen
Dahlin – Montour
Miller – Jokiharju
Line projections via DailyFaceoff.com.
Last Game PHI: 6-1 loss against the Sabres last night.
Last Game BUF: 6-1 victory against the Flyers last night.
Past Games
1/18/21 – 6-1 BUF: Nicolas Aube-Kubel (1 G), Phil Myers (1 A), Travis Sanheim (1 A)
3/7/20 – 3-1 PHI: Claude Giroux (2 G), Jakub Voracek (2 A), Travis Sanheim (2 A)
12/19/19 – 6-1 PHI: James van Riemsdyk (2 G), Travis Konecny (3 A), Matt Niskanen (1 G, 1 A), Kevin Hayes (2 A), Sean Couturier (2 A)
News and Notes
The Flyers are now 0-1 without Sean Couturier on the year. Philadelphia wouldn't have won last night with him, but the team needs to string together some wins without him. He might be out a lot longer than the minimum two weeks.
Nicolas Aube-Kubel scored the only goal yesterday and received the only fine. The NHL fined him $4,633.62 for essentially punching Rasmus Dahlin in the face in the dying minutes of the game. NAK got a double minor for high sticking.
Tonight might get a little chippy. Sabres coach Ralph Krueger wanted Aube-Kubel suspended for the punch at Dahlin.
Broadcast Info: NBC Sports Philadelphia, 97.5 The Fanatic
Injuries: Shayne Gostisbehere (COVID-19 Protocol), Sean Couturier (Costochondral separation)
Next Up: Thursday – Flyers @ Bruins (7:00 PM, NBC Sports Philadelphia, 97.5 The Fanatic)

Riley Cote & Derek "Nasty" Settlemyre go behind the scenes and talk hockey with some of the biggest names in the NHL.