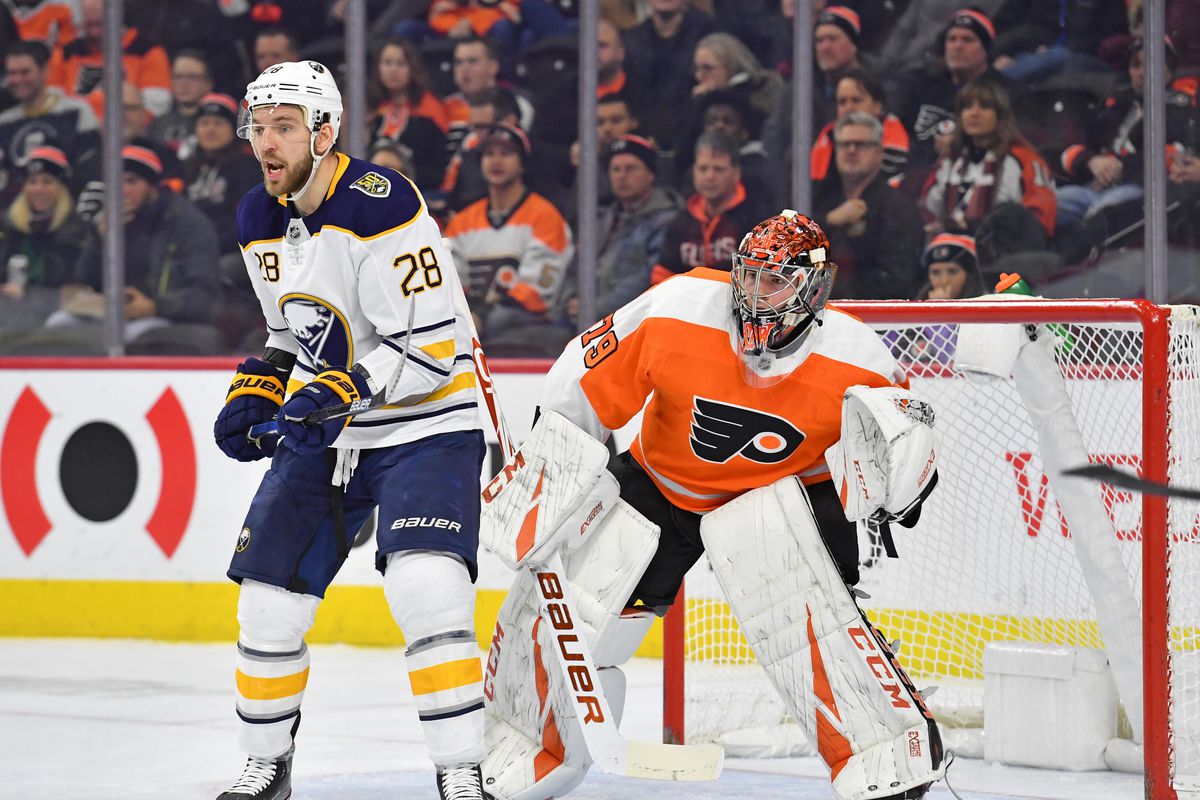 The Flyers will continue to play at the Wells Fargo Center as they start a new two game series with the Buffalo Sabres. The Flyers are undefeated while the Sabres were swept against Washington last week.
This will be Philadelphia's first test without elite two-way center Sean Couturier. Morgan Frost has been plugged in-between Lindblom and Konecny for the time being.
Despite Couturier's absence, you have to feel really good about this team and their substantial forward depth. The Flyers under Alain Vigneault have been dominant in their home building and they'll look to continue that tonight.
Carter Hutton's stat-line is only slightly better than Tristan Jarry. The Flyers hope the good times will continue to roll.
PHI: 2-0-0 (41-21-7 in 2019-2020)
BUF: 0-2-0 (30-31-8 in 2019-2020)
When: 7:30 PM
Where: Wells Fargo Center (Philadelphia, Pennsylvania)
PHI Goalie: Carter Hart (2-0, .925 SV%, 2.51 GAA)
BUF Goalie: Carter Hutton (0-1, .815 SV%, 5.12 GAA)
PHI Unofficial Lineup
Giroux – Hayes – Farabee
Lindblom – Frost – Konecny
JVR – Patrick – Voracek
Raffl – Laughton – NAK
Provorov – Braun
Sanheim – Myers
Hagg – Gustafsson
BUF Unofficial Lineup
Hall – Eichel – Reinhart
Olafsson – Staal – Cozens
Rieder – Eakin – Thompson
Skinner – Lazar – Sheahan
McCabe – Ristolainen
Dahlin – Montour
Miller – Jokiharju
Line projections via DailyFaceoff.com.
Last Game PHI: 5-2 victory against the Penguins on Friday.
Last Game PIT: 2-1 loss against the Capitals on Friday.
Past Games
3/7/20: 3-1 PHI: Claude Giroux (2 G), Jakub Voracek (2 A), Travis Sanheim (2 A)
12/19/19: 6-1 PHI: James van Riemsdyk (2 G), Travis Konecny (3 A), Matt Niskanen (1 G, 1 A), Kevin Hayes (2 A), Sean Couturier (2 A)
News and Notes
Shayne Gostisbehere has been placed on a non-roster status. Ghost has spent the entire young season on the COVID protocol list. This allowed the Flyers to call up Connor Bunnaman, he'll take Frost's spot as the 13th forward.
The last time the Flyers player their first four games at their home building they won the Stanley Cup in 1975.
Travis Konecny (3 G, 2 A) was named the NHL's Second Star of the Week.
Carter Hart will go in goal tonight in the first of a back to back. Brian Elliott gets the nod tomorrow.
The Flyers are 12-0-2 in their last 14 games at the Wells Fargo Center against Buffalo.
The Flyers haven't started a season 3-0 since the 2011-2012 campaign.
Broadcast Info: NBC Sports Philadelphia, NBC Sports Network, 97.5 The Fanatic
Injuries: Shayne Gostisbehere (COVID-19 Protocol), Sean Couturier (Costochondral separation)
Next Up: Tuesday – Sabres @ Flyers (7:00 PM, NBC Sports Philadelphia, 97.5 The Fanatic)

Riley Cote & Derek "Nasty" Settlemyre go behind the scenes and talk hockey with some of the biggest names in the NHL.