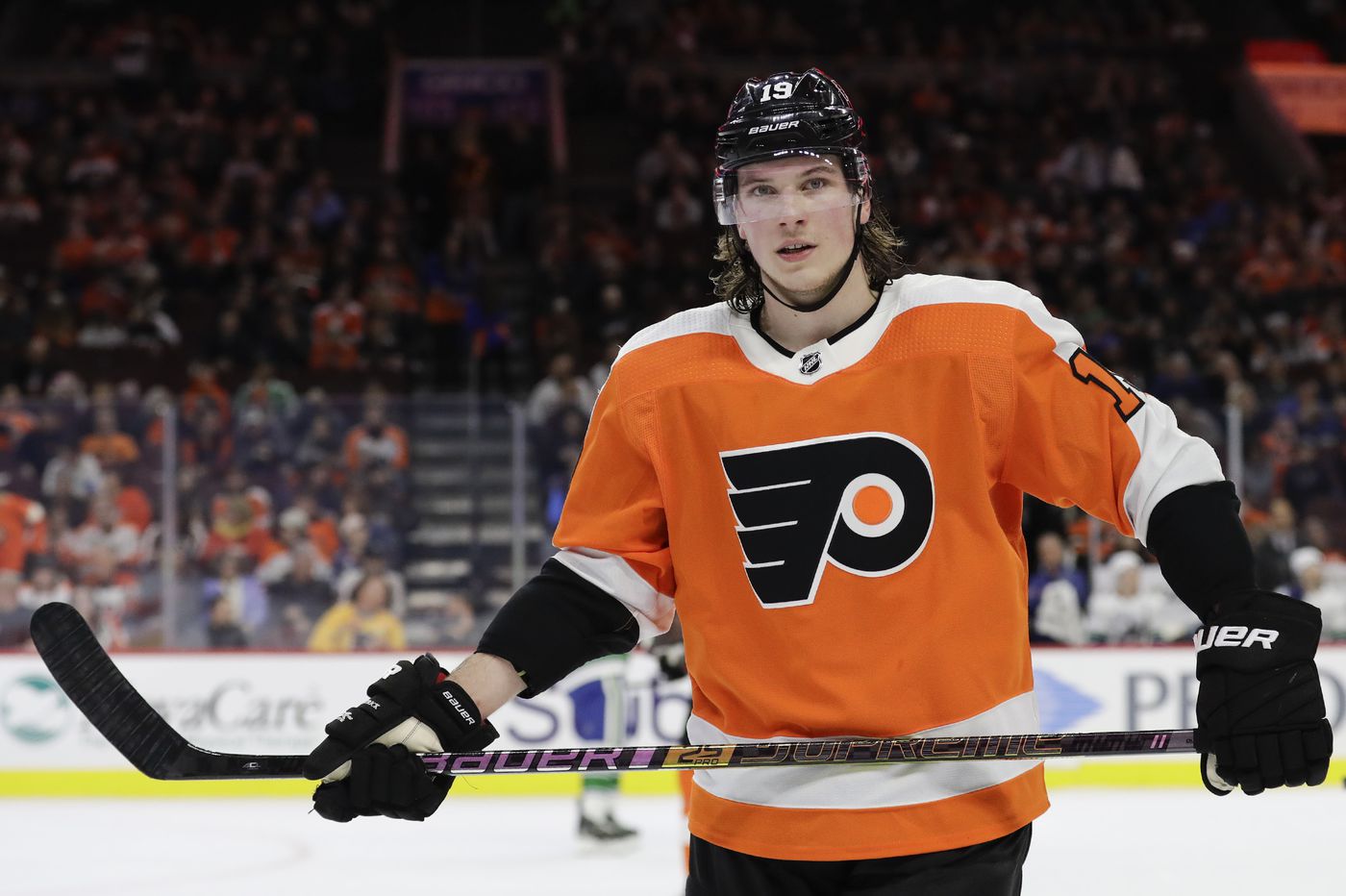 It's a new weekly feature here at Flyers Nation where we'll look back at three of the week's positives (the "Ups") and three negatives (the "Downs"). Topics will range from players, to coaching, roster transactions, trade rumors — anything that really has to do with the team.
After a two-game sweep of the Pittsburgh Penguins, this week we'll look at Nolan Patrick, the powerplay, and some trade rumors involving the Florida Panthers.
Ups
Nolan Patrick
It had been a long time since Patrick had played in an NHL game before Wednesday night. Just over 21 months to be exact, but it didn't take long for him to get on an NHL scoresheet again.
With just under a minute left in the first period, defenseman Erik Gustafsson's shot glanced off Patrick's rear end to beat the Penguins' Tristan Jarry for Patrick's first point since the 2018-19 season. On Friday, the 22 year old followed that up with an assist on Travis Konecny's second goal of the game.
It's a quick and impressive start for a player who has missed a long amount of time and was still finding his own in the big leagues before being shelved with a sever migraine disorder. Now, it's a fair question to ask if Patrick has found his footing just two games into his return.
He looked strong and fast in Wednesday's game and was then even more noticeable Friday. It looks like Sean Couturier will be out for at least half a month (more on that later). If Patrick continues to play like he did in the first two games, Couturier's absence won't be anywhere as drastic as it would have been a year ago.
I'd also like to add that Oskar Lindblom has also been impressive in his regular season return, but given Couturier's injury, Patrick's play should be the point of focus at the moment.
The Power Play
The biggest disappointment during the Flyers' playoff run last season was easily the power play. I went over the numbers before the season, and to make things quick, the man advantage was the second-worst among the 24 postseason teams.
The first two games are showing that was an aberration rather than a new trait.
Philadelphia scored twice on the man advantage on Wednesday — both on deflections on point shots from Gustaffson — and once on Friday off of smooth movement between the top power play unit that resulted in a Konecny goal. That's given the team an unstainable, but promising 3/9 success rate this year.
Some of the encouraging signs are the new/returning players in Gustafsson, Patrick, and Lindblom; plus the units scoring like they should. The first unit scored by strong puck movement, the second group, with Patrick and James van Riemsdyk, did it on deflections and net-front play.
It's also important to note that Konecny didn't have a great postseason last year. It's not a coincidence that the 23 year old and the power play are both off to strong starts.
Morgan Frost
Frost started the NHL week on Tuesday by making the Flyers' roster as the 13th forward. While most wanted the rookie in the starting lineup, coach Alain Vigneault was never going to play him on the fourth line and the top nine is too deep for Frost to usurp anyone.
But by including him as the 13th forward rather than a veteran like Andy Andreoff or a youngster more in a bottom-six mold like Connor Bunnaman, general manager Chuck Fletcher, Vigneault and the Flyers showed they regarded Frost highly. They stuck to that Sunday.
With Couturier sidelined, Vigneault inserted Frost directly into the alternate captain's spot between Konecny and Lindblom, and on the top power play unit. Those are two premier spots on any team.
Now, Frost won't see the 19 minutes Couturier played on Wednesday night (he left Friday's during the first period) due to the latter killing penalties, but Vigneault wouldn't put Frost with two of his top offensive weapons if he was going to shelter the player. That's a quick turnaround for a player who was competing for a spot on the roster a week ago.
Downs
Team Defense
I'm willing to consider that we might want to give the team defense a pass right now. It's the start of a new season, the team has to find the right mix to replace Matt Niskanen without Shayne Gostisbehere, and 2020 Selke winner Sean Couturier played just 45 seconds in one half of the games I'm looking at, but the team defense was bad in both of the Flyers games this past week.
The amount of odd-man rushes the Penguins had, in Friday's game in particular, was staggering. Newcomer Gustafsson was a big culprit both nights. However, there are not many goalies other than Carter Hart that would have earned his team the win on Friday night.
That's the good news with Hart in net — and it wasn't as bad on Wednesday with a full game from Couturier — but what would have happened had the Flyers played a team with a better defense than the Penguins, who Philly scored 10 non-empty-net goals on in two games?
Frost is a good offensive replacement for Couturier, but very few players are satisfactory defensive replacements. Unfortunately the team's defensive woes don't look like something that can be fixed with a quick adjustment.
Health
Before the season, I listed health as a key to the Flyers' season. At the time, I was referencing mainly the COVID pandemic that has affected most sports teams' ability to keep a full roster game-in and game-out. Of course, other physical injuries are a concern every season also.
In the first week, Philly got hit with both.
First, Gostisbehere missed the end of training camp and the first two games of the season due to being on the NHL's COV0D-19 protocol list (the list does not detail if players have tested positive or are part of contact tracing). In training camp, it looked like Ghost would get the first crack at playing with Ivan Provorov on the first pairing, but Vigneault and company quickly had to go to a backup plan instead.
Then during the second game of the season, Couturier suffered a Costochondral separation that will keep him out until Jan 30 in a best-case scenario.
Couturier's impact in a game can't be understated. He can shut down an opponent's top line and is one of the offensive leaders on the team at the same time. He's one of the last players the Flyers would ever want to see missing time, but unfortunately that's where they're at.
Inane Trade Rumors
It didn't take long for the Flyers to get involved in trade rumors. We probably shouldn't be too surprised given all the Patrik Laine talk over the offseason, but a new name entered the fray in the form of the Florida Panthers' defenseman Keith Yandle.
Fox Sports Midwest's Andy Strickland first brought up Yandle and the Flyers together on Thursday, a day after Philly's first game.
It's unclear if Strickland was merely speculating or if he had heard chatter that linked the player with the team, but either way the reporter is typically a reliable source. That said, there doesn't seem to be much of a logical link between the Flyers and Yandle.
Yandle is a premier offensive defenseman that has always struggled in his own zone. Fletcher already brought in a blueliner of the same caliber this offseason in Erik Gustafsson. Gostisbehere also fills a similar role for the team.
But even putting all that aside, from a cap stand point, it makes even less sense. Yandle, at 34 years old, makes $6.35 million a year for two more seasons past this one — seasons where Philly might be using up every cent of cap space. The Flyers would likely have to include Gostisbehere or Gustafsson (probably the former) and have the Panthers retain salary in the trade to even make things work cap wise this season.
If Yandle was a defenseman that could replace Matt Niskanen's spot on the top pairing with Ivan Provorov, this would be something the Flyers should consider. But making a lateral move and giving up a younger player doesn't make sense for the team in any way.

Riley Cote & Derek "Nasty" Settlemyre go behind the scenes and talk hockey with some of the biggest names in the NHL.