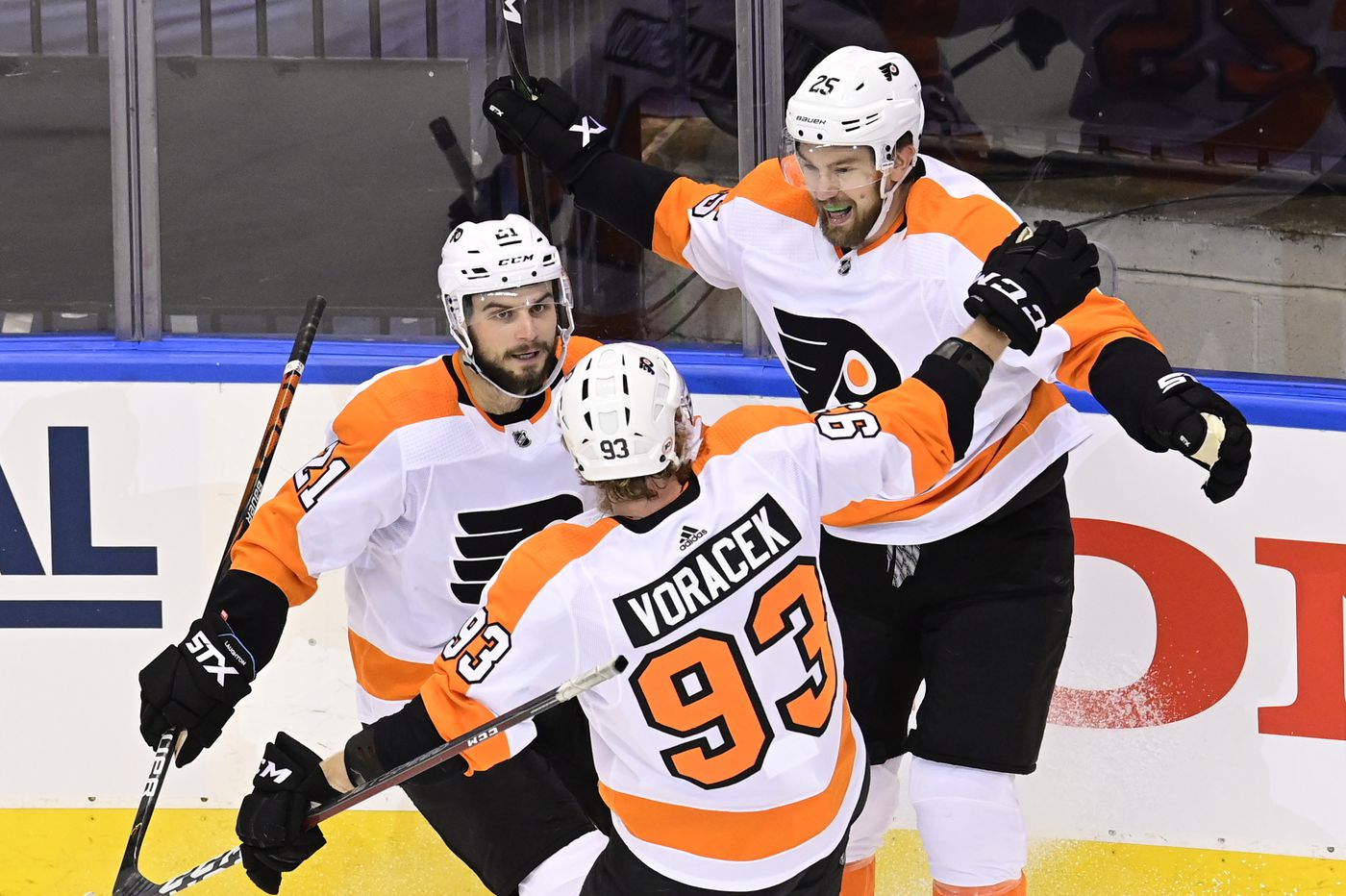 Philadelphia Flyers outlook for the 2021 expansion draft
While the start of the 2021 NHL season is just days away, Philadelphia Flyers' management has more on its mind than just the start of a new season. The expansion draft for the Seattle Kraken is a looming shadow over all proceedings for any NHL team.
Don't believe me? Just look at general manager Chuck Fletcher's comments in free agency this past fall. And while a lot can change between the start of the season and the end of one, it's always a good exercise to look at what a team might be planning months in advance.
So here's a look at what the Flyers might do. We'll look at different paths the team could take, the major decisions, and guaranteed locks.
Before we begin some things to consider: the Seattle management has hired one of — if not the best — analytic groups in the league. General manager Ron Francis showed his willingness to listen to analytics with the Carolina Hurricanes too so we should safely expect a focus on advanced stats with their selections.
Value is also important for the other teams in regards to the draft, as you'll see. There are players that Flyers management will be okay losing to rid them of their salary with no return. Then there will be players of less impact that the team will protect because their value is higher.
Here are the expansion draft rules for anyone that needs a refresher (from the NHL):
Current NHL teams can protect seven forwards, three defensemen and one goalie, or eight skaters (forwards/defensemen) and one goalie.
All players with no movement clauses at the time of the draft, and who decline to waive those clauses, must be protected and will be counted toward their team's applicable protection limits.
All first- and second-year NHL players, and all unsigned draft choices, will be exempt from selection (and will not be counted toward protection limits.)
Teams must expose one defenseman who is a) under contract in 2021-22 and b) played in at least 40 NHL games the prior season or played in at least 70 NHL games in the prior two seasons, two forwards who are a) under contract in 2021-22 and b) played at least 40 NHL games the prior season or played in at least 70 NHL games in the prior two seasons, and one goalie who is under contract in 2021-22 or will be a restricted free agent at the end of his current contract immediately prior to 2021-22.
Exempt Players
These are the players (under contract with the Flyers) that fall under the first or second-year players exemption:
Wade Allison
Joel Farabee
Tyson Foerster
Morgan Frost
Linus Hogberg
Tanner Laczynski
Mason Millman
Isaac Ratcliffe
Linus Sandin
Matthew Strome
Maksim Sushko
Kirill Ustimenko
Zayde Wisdom
Wyatte Wylie
Yegor Zamula
NMC / Lock for Protection
Here are the players that either have a NMC and have to be protected, or players that are locks to be protected. They're ranked in order of NMC, then most likely to least likely to be protected:
Claude Giroux (NMC) – The captain has a no-movement clause but there's no way the Flyers would let him out of their grasp in an expansion draft.
Kevin Hayes (NMC) – Hayes and his agent included a NMC in his first three years of the monster contract he signed in the summer of 2019, ensuring a protection from this draft. Philly would likely protect him regardless, even though his contract might not be favorable to the team in a few years.
Carter Hart – The Kraken can dream all they'd like.
Sean Couturier – Couturier maybe quietly became the team's best forward last season. He's also on one of the best value deals in the NHL.
Ivan Provorov – The foundation of the Flyers back end and on a solid deal to boot.
Travis Konecny – The right winger quickly made his contract a solid deal for the Flyers last season and they're not going to expose him even if he has a lackluster 2021 season like his 2020 postseason.
Travis Sanheim – The defenseman does make mistakes at times, but he's part of the three defenesmen that Fletcher and company are expecting to lead the blue line for years to come.
Philippe Myers – The last of the three mentioned above, Myers' contract could also become a steal sooner rather than later.
Near Locks
These two players are about 95 percent locks in my opinion. The only thing stopping it is how the Flyers plan to protect players. If they choose to go with four defensemen (more on that later), then the above four forwards are all that can be protected.
Oskar Lindblom – Realistically I don't see any way that Philly loses Lindblom regardless of how this season goes. The team will make a side trade with Seattle to take someone instead of the Swede if it comes down to it. For this exercise though, I'm not looking into that rout.
Nolan Patrick – I know this will be a surprise to some given Patrick's injury/health history and his slower-than-hoped development so far, but the Flyers do not want to lose the 22 year old for nothing. In a worst-case scenario they may move him to another team for some value before the expansion draft. It's probably more likely he plays his way into a protection spot.
Left Unprotected
These are the players that regardless of how their season goes will likely be left open for Seattle. Most of the reasons come down to age, requirement, and contract status.
Scott Laughton & Michael Raffl – Both bottom-six forwards' contracts expire at the end of this season. Even if both are brough back, it makes sense for all parties to sign after the expansion draft when nobody has to worry about the Kraken selecting them. Although whether he has a contract or not, Laughton is a sneaky possibility for Seattle. He has performed well in a smaller role — a trait the Vegas Golden Knights looked for in their expansion draft — and has good underlying stats.
Justin Braun & Robert Hagg – Both have become important blueliners over the past two years for the Flyers, but Braun will be 34 at the time of the draft and Hagg will always be a bottom-pairing d-man. Probably more importantly, neither fit the strong analytical mold of the Kraken.
Erik Gustafsson – Everything that was said about Laughton and Raffl holds true here too. Gustafsson was signed to a one-year deal this summer and even if he impresses this season, better to wait to sign after the draft.
Connor Bunnaman, German Rubtsov, Pascal Laberge, Carsen Twarynski, David Kase, Samuel Morin, Mark Friedman, Felix Sandstrom – These are all prospects that the Flyers would not like to lose, but aren't worth a protection spot at this point. They likely won't appeal to Seattle though because every team will have unprotected prospects just like this group.
Brian Elliott & Alex Lyon – Both are UFAs at the end of the year, but the Flyers do not have a goalie that meets the expansion draft requirement. Don't be surprised if one or both of these goalies are signed to meet that need.
Andy Andreoff, Mikhail Vorobyov, Nate Prosser, Chris Bigras, Tyler Wotherspoon, Derrick Pouliot – Veteran AHLers who are all mostly UFAs also.
The Rest
Jake Voracek – Although often maligned by the fan base, Voracek is a hugely important player both on the ice and in the locker room for the Flyers. But he has three more seasons on his contract at $8.25 million a year. That's a lot in an NHL that isn't expected to see much of an increase in the salary cap for a couple more seasons. It might also be enough to scare Seattle away even if he is exposed.
James van Riemsdyk – Like Voracek, JvR has a big cap hit but for one less season and with less of an on-ice impact. Still though, van Riemsdyk is the only pure goal-scorer on the team. He's not in the elite category, but he's still a threat for 30 goals at this point of his career.
Shayne Gostisbehere – If Flyers fans were told back in August that Ghost would still be a Flyer in January, I think most would be surprised — that's how strong the rumors were that he'd be traded. But a stagnant cap made a trade difficult and the 27 year old is still in Philly. Gostisbehere was bad last year and only slightly better in 2018-19, but he does have two 40-plus point seasons under his belt.
Nicolas Aube-Kubel – Aube-Kubel was one of many pleasant surprises for the Flyers last season, and maybe the one that very few saw coming. Even at this point last year, the 24 year old wouldn't even be a thought for protection. But Aube-Kubel's forechecking and plus-shot has firmly put him into the conversation.
The Decisions
8 Skaters, 1 Goalie
As evidenced above, the only way the Flyers go this rout is if Gostisbehere has a huge rebound and flirts with 47 points (the same rate in this shortened season as his 65-point season in 2017-18). He would also likely have to morph into the perfect partner on the first pairing with Provorov.
Coach Alain Vigneault has had Ghost in that spot — when the Florida native has been able to play — in camp so it's nothing that should be counted out.
But the real issue with going this path are the forwards that are left exposed. The Flyers would have to jump through hoops to keep Lindblom and Patrick — or get value for them.
The simple fact is that Gostisbehere has to replicate his rookie year to force the Flyers' hand.
7 Forwards, 3 Defensemen, 1 Goalie
In this scenario, the Flyers comfortably protect everybody in the lock group, plus Lindblom and Patrick with a forward spot left over.
And that's where the fun begins. With Voracek, van Riemsdyk, and Aube-Kubel, the Flyers have three forwards that can make a case for being protected.
Looking at Philadelphia's cap over the next couple seasons, the team will be tight against the books with some important contracts coming to an end. Losing some money would be a positive thing.
That's why it's a smart bet that JvR will be exposed. The Flyers are hoping that some of his duties can be replaced by Lindblom and Farabee sooner rather than later and other wingers like Ratcliffe and Allsion later.
It comes down to Voracek and Aube-Kubel at that point then. Voracek is more difficult to replace than van Riemsdyk or Aube-Kubel, but losing his contract would also free up more than $24 million over the 2021-22 to 2023-24 seasons.
On the other hand, Aube-Kubel would be a prime candidate for Seattle. His advanced stats have been impressive since his Phantoms days and he's had strong contributions in a lesser role — assuming that continues this year.
Fletcher and company should also wonder if a 31 year old Voracek (32 by the start of next season) with his playing style and contract would even appeal to the Kraken. It's possible Fletcher could protect Aube-Kubel and keep eight of his top forwards in the process. That seems like the best option for a championship-caliber team.