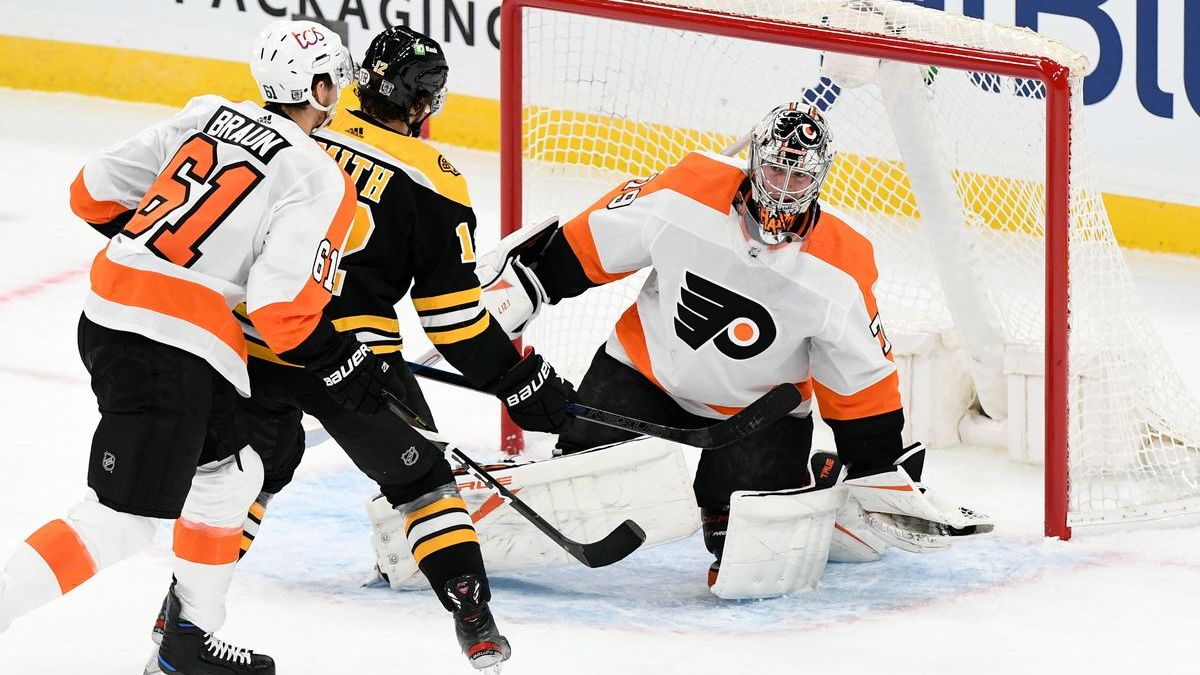 It was not a pretty week for the Philadelphia Flyers. When half of your games are blowout losses that tends to be the case. Looking back on a week where the Flyers earned three of a possible eight points, and lost two other games by a combined score of 12-2 makes this week's positives a little difficult and the negatives encompassing of the whole team.
Ups
Brian Elliott
Philadelphia and the fan base know they don't have to worry much when Carter Hart is in net. Elliott, who has largely been an above-average goalie in his time with the Flyers, would probably even understand that confidence isn't nearly as high when he's between the pipes.
But no one in the Philadelphia corner had anything to worry about on Tuesday night against the Buffalo Sabres with Elliott in net.
A night after the first 6-1 blowout loss, the Flyers came out better, but not great, against the Sabres. After one period, the game was still scoreless and the shots were even at 11.
But in the second, the Sabres started to ramp up and dominate in shots 29-19 (a common trait this past week for the Flyers). Despite the uptick in offense, Elliott shut the door, making some highlight reel saves along the way and earning a shutout in his first game of the season.
Elliott's play allowed the Flyers' offense to slowly get moving and covered any mistakes by the defense. Without that stellar play, it's likely Philly would have ended this week without a single win.
Shayne Gostisbehere Healthy / Following COVID Protocols
Gostisbehere easily had the worst season of his career last season but with how the Flyers' defense has been playing, fans justifiably can't wait for his return. And luckily, the wait shouldn't last another game.
Ghost has been shelved on the NHL COVID Protocol List since the tail end of training camp, but was taken off the list Thursday. Because he hadn't skated since Jan. 9th, coach Alain Vigneault chose to keep Gostisbehere in Philly and let him work on getting up to game speed.
Although Gostisbehere does have some liabilities in the defensive zone, his puck movement prowess will be welcomed by a defense currently including Robert Hagg, Justin Braun, a turnover-prone Erik Gustafsson, and a rookie Mark Friedman.
Vigneault also near-as-possible confirmed that Gostisbehere did have COVID and was not simply just part of contact tracing. Putting the team's need aside, it's good to see that the blueliner is healthy and was able to return to skate.
It's also nice to see the Flyers able to keep the virus as contained as possible. The Washington Capitals had four players, including Alex Ovechkin, break protocol this past week and were added to the NHL's Protocol List. Those four have since missed two games after goalie Ilya Samsonov tested positive.
More absences is the last thing the Flyers need so good for them on sticking to NHL protocol.
Star Hunting
The Flyers may not have been part of the blockbuster deal Saturday that saw the Winnipeg Jets ship Patrick Laine and Jack Roslovic to the Columbus Blue Jackets for Pierre-Luc Dubois and a pick, but by all accounts the team did its due diligence — and beyond — in looking to add one of the two stars in Laine and Dubois.
It's a fair statement to make that the Flyers do not need a winger (though an elite scorer might be wished upon by a large portion of the fan base) and especially not a center, but the NHL is not the NBA. Star players do not demand trades often and rarely hit free agency — and when they do it's usually at the age of 27. Laine and Dubois are both 22 with years of peak play in front of them.
It's probably also a positive that general manager Chuck Fletcher and company didn't make a trade for either Laine or Dubois. The Jets and Blue Jackets were in comfortable positions to trade their players since both had reportedly asked for a trade. If the Flyers were going to beat either offer, Travis Konecny and more assets would have been necessary.
But good for Fletcher and company to make an effort in bringing in a type of player that rarely changes teams. There was a large section of the Philly fan base that critiqued former GM Ron Hextall for his seemable trepidation in making a trade to improve his team. That doesn't look like it's going to be a concern with Fletcher the next time an impact player — and hopefully one that fills a need for the Flyers — becomes available through trade.
Downs
Turnovers
The Flyers defense as a whole, has not been good. Whether it's losing a man in coverage, leaving someone open in front of the net, or bad gaps, the team has not been able to produce a whole game where the defense played strong.
But the turnovers have been some of the worst to watch.
Gustafsson, who was brought in for his offensive skill, has been the biggest culprit — including the Boston Bruins' fourth goal Saturday — but Hagg and Braun tend to be forced into a turnover frequently also. Nolan Patrick even had a couple of turnovers on the power play in Saturday's game.
Per the NHL's tracking, the Flyers accounted for 37 giveaways over the past four games this week. For comparison's sake, their opponents had 20 combined giveaways in that same stretch against Philly.
Now for the good news: the giveaways actually decreased as the games went on last week. It peaked at 12 during Tuesday's win against the Sabres, went down to eight Thursday (which may have been one of Philly's more cleaner defensive games) and finished with six on Saturday. Couple that with Gostisbehere's return and maybe turnovers start to cut down even more.
Lack of Creative Offense
The Flyers' offense has certainly had its' moments over the first six games of the season, but if you're looking for the dominating forecheck and skill the team showed during its' nine-game win streak last season, you're still looking.
Instead what you're seeing is a lot of poor zone-entries and then a ton of board/outside work once the puck actually gets into the opposition's zone. That's led to the Flyers being outshot every game this season and nine non-empty net goals over the past four games.
The biggest noticeable difference is the lack of an effective forecheck this year. Vigneault's system heavily relies on the first two forecheckers attacking a puck that's been dumped into an opponent's zone. That relentless work has not been seen this season on a consistent basis at all.
It's probably fair to note that Vigneault slowly worked the team into that style last season, but with 26 less games this year, it's something that will have to change much quicker.
Carter Hart Outburst
Before I start, let me be clear that this is not a negative directed at Carter Hart for breaking his stick after the Bruins game Saturday. It's rather an indication of how quickly and far the Flyers have fallen this season.
One of the most common things you'll read about Hart from scouts and management is that the netminder is mature beyond his years and is always stoic. To further the point, 21 year old goalies rarely ever play for their NHL team, let alone become the starter as Hart did last year.
This past week, the Flyers have mailed in efforts against the Bruins and in even worse fashion against the Sabres. That resulted in 12 goals allowed by Hart in those two games.
And to be fair to the rest of the team, Hart didn't perform great in either game, but pinning him on either result would be laughable. However if the Flyers are going to continue to play in the same way that led to this outburst, it's going to be a long season.