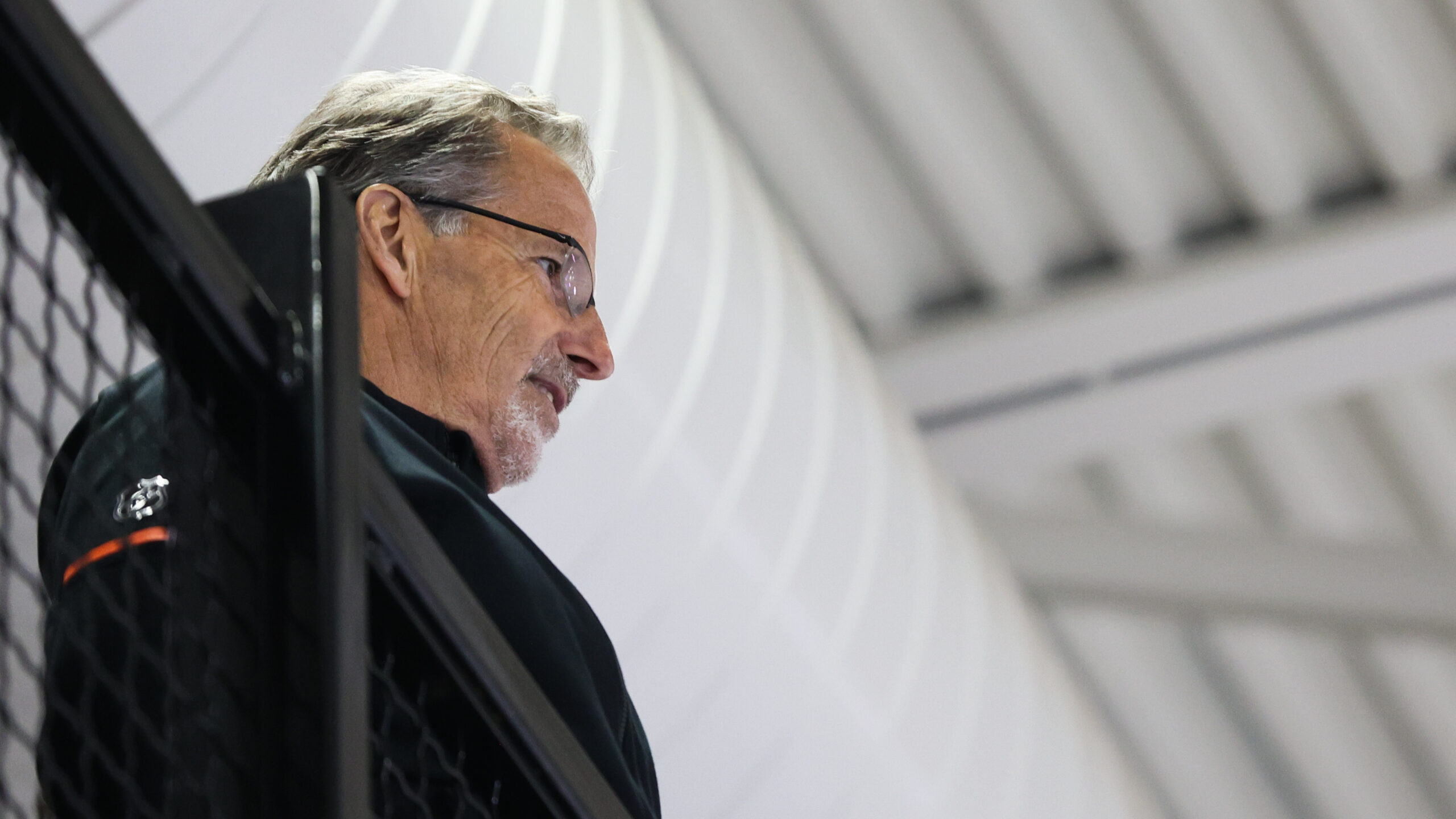 New Coaching Staff Was the Biggest Move This Offseason for Flyers
In a rather mundane and lackadaisical offseason, the biggest move the Philadelphia Flyers pulled off was the hiring of John Tortorella.
The Flyers, who were supposed to be ultra aggressive this summer, kept their 5th overall pick and selected Cutter Gauthier, weren't able to trade James van Riemsdyk to alleviate cap space, let go Oskar Lindblom in an attempt to sign depth pieces like Nicolas Deslauriers and Justin Braun, balked at Johnny Gaudreau wanting to come to Philadelphia, traded for and signed Tony DeAngelo, and then waved the white flag after the first day of free agency.
That's a lot of fluff for no real change as they're putting all their eggs in the basket of Sean Couturier and Kevin Hayes returning to health. Nevertheless, the one change that should bear the fruit of its labour and the one move that will bring the most change was the hiring of Tortorella.
The Flyers' goalie graveyard is often spoken about but their coaching carousel has been just as problematic. Locker room issues and a lack of accountability have been at the forefront of the Flyers since the early 2010s, and the organization has done their best to eradicate what they believed was to be the root of the problems. Over the years we have seen the departures of players like Mike Richards, Jeff Carter, Ilya Bryzgalov, Jakub Voracek, and most recently Claude Giroux – all of whom at one point or another were the culprits of the Flyers' abysmal performances and lack of success.
There's always some truth to every story but what's been lost in translation are the ins and outs of head coaches over a short period of time. Sean Couturier is entering his 12th season as a Philadelphia Flyer and John Tortorella is about to become his seventh head coach. Scott Laughton is in the same boat as he enters his 10th season as a Flyer with the same amount of head coaches. Ivan Provorov and Travis Konecny, who are both entering their seventh seasons with the Flyers, are about to be under their fifth different head coach.
Head coaches matter just as much as anyone else, and when you're being taught by 5 or 6 or 7 different people, learning 5 or 6 or 7 different systems, then finally getting comfortable under one then having to change everything over because there's a new coach behind the bench can't be an easy feat for any player. Hockey players and athletes alike need and crave consistency and the Flyers have been the moniker of inconsistency for as long as we can remember. From Peter Laviolette to Craig Berube to Dave Hakstol to Scott Gordon to Alain Vigneault to Mike Yeo, the players who have been there for the majority of these years have had to forget what they previously learned for a new system that eventually failed and then the cycle would repeat itself.
Assistant coaches matter just as much as well, and I can't imagine it helps anyone when someone like Gord Murphy is essentially "spying" on you for your general manager to see whether or not you're following the right diets and exercises. Trust is lost quickly in the NHL and plenty of assistants who have worked for the Flyers have done something to lose a part of the locker room, which is then followed by a roster purge just for everything to repeat itself all over again. Michel Therrien, alongside Vigneault, had issues with certain players like Jakub Voracek and Shayne Gostisbehere, core members of the team which ultimately led to the downfall of both coaches and players.
The Flyers also have this affinity of trying to change the style of a player to no benefit. For almost a decade now, the Orange and Black have had an obsession with signing, trading for, and drafting two-way players who can play both sides of the puck rather than going for pure skilled players, which they have severely lacked. Then whenever they do draft someone who is very offensively gifted and has a hole or two in their game defensively, they don't try to reap the rewards of what is actually working, they go ahead and try changing them or molding them into a player they were never supposed to be.
Shayne Gostisbehere is a prime example of a very skilled and demonstrative player who excelled very early by playing his style of hockey, and then quickly fell off the face of the earth as the Flyers tried "molding" and fine-tuning his flaws. Offensive-minded defensemen are going to make several mistakes on the defensive side of the puck, that has been the case with players like Erik Karlsson and P.K. Subban and those alike, but you take the good with the bad – it generally evens out. Gostisbehere came into the NHL on fire, scored 46 points in 64 games as a rookie, broke several rookie records along the way, and gave the Flyers an element they sorely missed on the backend.
Kimmo Timonen was pretty good offensively but he was always touted as a responsible two-way defenseman, and the same can be said about Mark Streit. They also got offensive production from players like Chris Pronger, Braydon Coburn, and Matt Carle for several years. However they represented the old guard of hockey, where defensemen were meant to be two-way, not entirely too flashy on the offensive end, but still responsible off the puck. Gostisbehere represented the new wave that was brought on by players like Karlsson and Subban, where defensemen started being a lot more aggressive on the rush, scoring at near point per game paces, and even represented their teams as the most potent offensive weapons.
For three seasons, Gostisbehere was all that and then some as he accumulated 150 points in only 213 games, established himself as a premier offensive defensemen, was a lethal quarterback on the top unit for the Flyers' power play, and was a difference maker behind Giroux and Voracek. Then for whatever reason the Flyers tried changing his game into becoming more of a two-way defenseman, all this on the heels of a career season the year before where he scored 65 points. The idea makes sense – only if it can be achieved. However, Gostisbehere was always touted as an offensive playmaker on the backend and his defensive shortcomings come along with the ride.
In doing so, his numbers plummeted, his confidence disappeared, his ice time decreased, and his production was nowhere to be found just like the Flyers in the NHL standings. His final three seasons with the Orange and Black weren't pretty, he clashed with several coaches, most notably Vigneault and company, and as they tried to mold him into a different player, they ended up losing the dynamic offensive mind they once had and then ironically needed in the near future.
After excelling with Dave Hakstol in the beginning, he had a few blips in the end, and then just never saw eye to eye with Vigneault and Therrien, which ended up costing the Flyers a very talented defenseman. They've been clamouring for years about how they need dynamic players on the backend, players who can exit the zone with ease, join in on the rush, and quarterback a man advantage – they had him, they lost him, and now they're searching again but believe they have found "him" in Tony DeAngelo.
After placing him on waivers to no avail, the Flyers apparently scoured the market for any team willing to trade for Gostisbehere. Chuck Fletcher said there weren't many teams or trades so they decided to send him to Arizona alongside a second and seventh round picks as a cap dump in order to facilitate a trade for Rasmus Ristolainen. All he ended up doing in the desert was play the full 82-game season and scores 14 goals and 52 points while playing a career high 22:11 minutes per game. They allowed him to play his game and it worked to fruition; crazy, huh?
Another player the Flyers have tried to change is Morgan Frost. The former first round pick from the 2017 NHL Entry Draft was always a wizard with the puck, an offensive mind, but never really known for his defensive game. As a centre, the Flyers believed it was in his best interest to try to mold him into a two-way threat, something along the lines of Sean Couturier. However, in the process – alongside several injuries – the experiment didn't work and his offensive game has been lost in translation. It's a little puzzling because the Flyers have been talking about how they need more impact players, offensive minds, and secondary scoring and had they kept Frost the way he was they might've had that by now. With Alain Vigneault in charge, they wanted a more responsible lineup and in doing so lost a lot of production. With the Flyers already having two-way centres and players in Sean Couturier, Kevin Hayes, Claude Giroux, and Scott Laughton over the years, what was the pressing need to try to add Frost to that list?
Now the young pivot is entering a seemingly make-or-break season as he just recently signed a one-year deal over the summer. His evolution and production is desperately needed this season, alongside several other young players like Owen Tippett. With previous coaches trying to fine tune certain players to no avail, here's hoping that Tortorella and company understand what players they have on the roster, what they can and can't do, what they can and can't change, and how to maximize their potential.
One thing we've heard all summer with John Tortorella is that he can get the most out of his roster, he can maximize talent, and get everyone to play on the same page. There will be growing pains with players like Frost but if he ever plays to his draft potential, the Flyers will luck out and bear the fruits of their labour.
Ivan Provorov and Travis Konecny are also entering critical junctures of their young career as the Flyers are desperately hoping for a bounce back of sorts. General manager Chuck Fletcher has dangled the two in trade discussions for the last 2-3 seasons and has admitted he was close to pulling the trigger a few times. He tried once again over the summer but it seemed like every other general manager was low balling the outwardly desperate Flyers. Now their hope is that under a new coaching staff, they will be able to return back to their 2019-20 form and help the Flyers turn things around after an abysmal 2021-22 showing. Trading for DeAngelo was a move that Fletcher believes will help Provorov who has had too many dance partners to count. Consistency is a key part of his game and with four different coaches in his ear, defensive partners changing on a regular basis, and the brunt of responsibility carrying like a heavy anchor, his game has undoubtedly regressed a little.
The same can be said for Travis Konecny, who has had a tough time scoring goals since the COVID postponement in 2020. Including the playoff bubble, Konecny has scored 27 goals in his last 145 games, but once again the Flyers tried fine tuning his game as well after three successive seasons of 24 goals. Konecny played with a lot less fire and feistiness, which took away from his overall game. Alain Vigneault was a stickler for playing his way or the highway, and we saw how quickly things can change for promising young players like Nicolas Aube-Kubel. Once Vigneault was dismissed we saw a renaissance type change for a lot players, Konecny included. Going from 10 points in 22 games to 42 in 57 isn't a fluke, isn't a mystery, or isn't by accident. Alongside Travis Sanheim and Oskar Lindblom, Konecny was given the ability to play his style of game, let loose of the shackles that Vigneault had him in, and be a difference maker once again.
In saying all this, we don't know what Tortorella is going to do or change but we do know he has a good track record under his belt or at the very least he carries a better track record than his predecessors. Alain Vigneault, as good as he was, had a lot of red flags coming in and then adding two assistant coaches who were previously head coaches, doesn't help the cause and mixes as well as oil and water.
Brad Shaw is going to be tasked on fixing the defense and shore things up to help his young goaltender, Carter Hart. Rocky Thompson will be in charge of the power play, which desperately needs a flair or two to get things back on track. Of course, there's also John Tortorella whose fiery attitude has given rise to a lot of confidence amongst the Flyers leadership group.
Cam Atkinson will attest to his former coach and how he helped him rediscover his game and got him to career highs, while Tortorella will tell you about how much fun it was to coach a player like Atkinson. Kevin Hayes is already looking forward to the high tempo practices and the "yelling" and Sean Couturier was ready to right the several wrongs from last season before his reported injury.
Music City Hockey Trip
Take a three day vacation to Nashville with Philly Sports Trips this October! The package includes direct flights, a three night stay at the Cambria Hotel Nashville Downtown, an all-inclusive tailgate, and tickets to the Flyers Predators game. $100 cash for anyone who shows proof they went to the Flyers game on the trip.