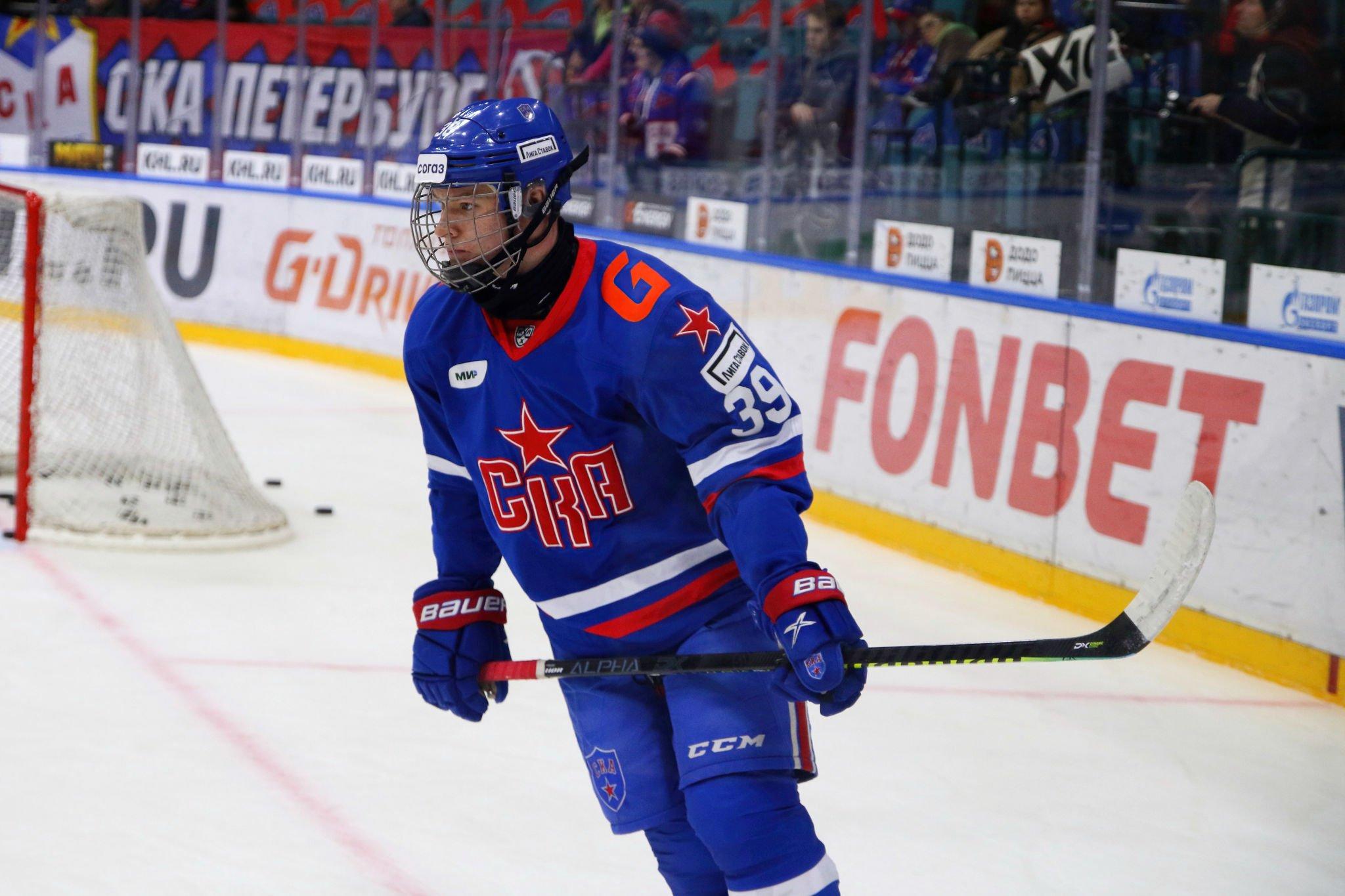 Philadelphia Flyers top prospect, Matvei Michkov is being held out of the lineup for the second successive game to start the new season in the KHL.
SKA Saint Petersburg do have a reputation where they play a lot of their veterans over younger prospects, but considering Michkov's skill and reputation, it's starting to bring about a new cloud over the KHL, the NHL, and the Flyers.
The 2 healthy scratches come on the heels of a very stellar performance for the 18-year-old during the preseason. He was a factor in every game he played, he was trying to transition to the centre position, and was even named MVP for their 3-on-3 tournament. However, he was made a scratch near the end and once a 13th forward – where he scored a goal in his only shift of the game.
After being made a healthy scratch, SKA head coach, Roman Rotenburg, said that Michkov would have to earn his way back into the lineup. He also said that he can see him reentered in short order but mostly as a 13th forward – generally rotational and get a few shifts a game. Ivan Demidov, who is expected to be a top prospect ahead of the 2024 NHL Entry Draft, was made the 13th forward in their season opener.
18-year-olds, let alone any young prospect, usually find it difficult traversing the KHL landscape to start their career. Matvei Michkov was loaned to HC Sochi last season and with the ample amount of playing time and opportunity, he made the best of his situation.

SKA is known to be one of the better teams in the league, filled with veterans, and look no further to Alex Galchenyuk already being stapled in as their 1C. After a tumultuous summer that saw him be briefly part of 3 separate organizations, get arrested, and then enter the NHLPA Assistance Program, he signed a 2-year-deal right before the season started and is already a major focal point of their offence.
Former Flyers prospect Mikhail Vorobyev, who failed to make inroads at the NHL level, is ahead of Michkov in the pecking order. Vorobyev has been a lot better in the KHL with 13 goals and 39 points in 59 games last year – a far cry from his 2 goals and 5 points in 35 games for the Flyers. The veterans have free rein in the KHL and it can be disappointing, frustrating, and everything in between if you're rooting for the development of younger players.
Now here's a thought for Roman Rotenberg, get Mikhail Vorobyov the f*ck outta there and give Michkov his spot.

Vorobyov is good a few games/season then is ass.#FreeMichkov

— Hockey News Hub (@HockeyNewsHub) September 4, 2023
Then on the flip side of the coin, for many, it's hard not to ignore or to avoid the "Russian factor" here because of how tangled the web was weaved between the Flyers and the KHL this summer regarding Ivan Fedotov. It's not unfathomable to believe that the KHL, its teams, and the Russian Ice Hockey Federation work hand in hand for the betterment of Russian hockey and they felt extremely disrespected with the IIHF's ruling on Fedotov's contract – whether warranted or not.

Michkov also addressed his desire to play in the NHL, his love for the Flyers and how happy he was being drafted by the only team was he hoping for, and everything that surrounded him and his family pre-draft. So early on in his development, it's all hearsay and mostly theoretical, however if things continue to traverse the same path throughout the season, then there should be a cause for alarm.
Michkov is under contract and will be in the KHL until 2026, but this is certainly not how the Flyers and it's fanbase thought his draft+1 season would start.
After breaking records last season and turning into a premier prospect – mostly with HC Sochi – we have to remain patient with the process and development of our top prospect.
There's also the possibility of Michkov being loaned out again for more playing time akin to last season. Nevertheless, it's a rather disappointing start to the season for the 7th overall selection.
2024 Stadium Series Trip
Flyers Nation and Philly Sports Trips have teamed up to bring you on an amazing bus trip to the 2024 NHL Stadium Series between the Flyers and Devils. Place an early deposit to reserve your spot at the ultimate tailgate experience at MetLife Stadium before the game. The package includes a game ticket, round-trip charter bus, an all-inclusive tailgate party with unlimited cold beverages, "Philly Style" catered food, live entertainment, and more.