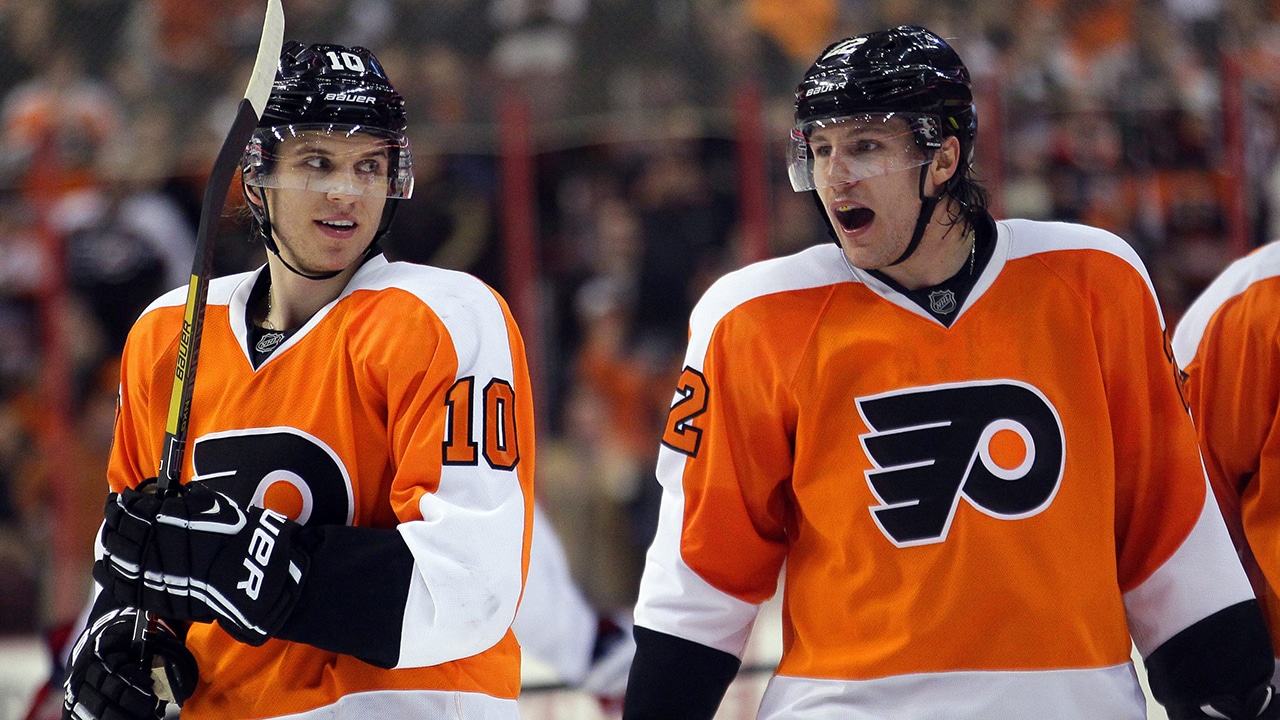 Former Philadelphia Flyers general manager and netminder Ron Hextall was in the news for the first time in a while last week. Unfortunately for Flyers fans, it wasn't for a reason they would have liked.
Hextall was named general manager of the team's cross-state rival, the Pittsburgh Penguins, and is now tasked with getting the Pens back on track to the Stanley Cup while Sidney Crosby is still playing. But instead of focusing on that, I thought it would be fun to look back at all the trades Hextall made during his tenure as Flyers GM.
We'll take a look at every deal that included an NHL player. I chose not to look at picks-for-picks trade, except for one crucial deal during the 2015 draft.
As you might not be shocked to hear, most were centered around the Flyers trimming cap fat and getting younger. We'll start with the first that came just over a month after Hextall was promoted to GM.
June 23, 2014 – Scott Hartnell to the Columbus Blue Jackets for R.J. Umberger and a 2015 4th round pick (later traded)
Hextall's first trade was a show of things to come for the Flyers — and also the worst for on-ice impact during Hextall's tenure.
Just over a month into the former netminder's regime, Hextall traded the fan-favorite Hartnell largely due to injury concerns from the winger's style of play and rising cap concerns. What he got back was a heavily used Umberger (a fan favorite during his first stint in Philly) who deteriorated quicker than Hartnell ever did, but he had fewer years on a contract that still ended up being bought out.
Umberger went on to score 26 points over his next two seasons with the Flyers and was a frequent healthy scratch in both years. Hartnell scored 146 points over his three seasons with the Blue Jackets. Hextall's plan all along did work out, though.
The Flyers bought out Umberger before the 2016-17 season which spread the last year of Umberger's contract over the 2016-17 and 2017-18 season while saving the team $3 million in the first year. Hartnell was also bought out by the Blue Jackets before the 2017-18 season. However, he had two years left on his contract, meaning the salary was spread out over the next four seasons to this year.
Even at the time, it was easy to see Hextall's goal at the time — and it did work out. But it was a trade that mostly was done for cap purposes that hurt the on-ice team (though that was maybe also a positive for Hextall who was trying to rebuild). It's mainly the lackluster return that still hurts today.
July 2nd, 2014 – Tye McGinn to the San Jose Sharks for a 2015 3rd Round Pick (Felix Sandstrom)
When people talk about Hextall's strengths as a GM, they tend to talk about his ability to move bad contracts. What's never brought up enough is his ability to get assets for players with little value. This deal is a perfect example of that.
McGinn was an NHL tweener at the time of this trade but did show some potential as a bottom-of-the-lineup energy guy. He had scored five points in 18 games with the Flyers during the 2013-14 season but a more impressive 35 points, including 20 goals, with a bad Phantoms team.
Apparently, that was enough for the Sharks to send a third-round pick over for McGinn. He played 33 games for San Jose before they placed them on waivers and was picked up by the Arizona Coyotes.
McGinn played just 20 NHL games after that while Sandstrom still has some potential as an NHL goalie down the road.
Feb. 27, 2015 – Kimmo Timonen to the Chicago Blackhawks for a 2015 2nd round pick (later traded) and a conditional 2016 2nd round pick (Wade Allison)
This trade ended with some luck for the Flyers — the second pick could have been as low as a fourth to as high as a second depending on how the Blackhawks finished and how much Timonen played. Chicago and Timonen won the Stanley Cup that year, triggering an additional second-round pick for the Flyers.
Either way, it was good value for a nearly-40-year-old Timonen, who hadn't played a single game that season due to blood clots. The first second-round pick was used to acquire the Travis Konecny draft pick, and Wade Allison has dealt with injuries since being drafted, but there's hope he can become an NHLer.
March 2nd, 2015 – Braydon Coburn to the Tampa Bay Lightning for Radko Gudas, 2015 1st round pick (later traded), & 2015 3rd round pick (Matek Tomek)
Well, if you weren't familiar with Hextall's work in Philly, you can definitely see the traits now. Three of his first four trades featured players over 30-years-old for largely draft picks and/or cap relief. This trade may have been the biggest.
Coburn was still a decent middle-pairing defenseman at this point of his career but was wasted on a Flyers team that was being held together by Claude Giroux, Jake Voracek, Wayne Simmonds, and Steve Mason. Tampa though was about to make a Stanley Cup run.
Coburn also had some extra value because his contract had one year beyond the 2014-15 season on it — a rarity for trade deadline deals — which helped the Flyers get a first-round pick back.
Gudas, though, also held plenty of value for Philly. At the time of the deal, the 24-year-old was injured, but when he came back the next season he quickly helped give the Flyers an identity with his thunderous body checks and hard work.
Matej Tomek never panned out even as a minor-league goalie for the Flyers but the first-round pick was crucial in bringing Konecny to Philly. Hextall's two deadline deals were the only way that was going to happen, putting two good trades into great territory.
June 26, 2015 – Tampa's 1st round pick (later traded) & Chicago's 2nd round pick (Jeremy Bracco) to the Toronto Maple Leafs for Nashville's 1st round pick (Travis Konecny)
This is the lone draft-picks trade we'll look at, but if we skip this one, I think it's unfair to Hextall's philosophy while in Philly. A large part of Hextall's tenure was getting draft picks to either select promising prospects or to use them as ammo to move up and select out-of-range prospects.
Leading up to the 2015 NHL draft, there was plenty of talk about how great the first round was going to be. So what did Hextall do? He traded two veterans that gave him two additional selections in the top 60 selections.
And when he saw a promising player fall, he used those picks to acquire a player that wouldn't be there when his next draft pick was.
Of course, deals like this could come back to haunt a team, but Hextall bet on his scouting staff and it's worked out wonderfully for the Flyers. Although Konecny's on a bit of a slump this season, he's been a dangerous player in Philly since his sophomore season.
June 27, 2015 – Nicklas Grossmann, Chris Pronger's contract to the Arizona Coyotes for Sam Gagner, 2016 4th round pick (later traded)
This is the first deal of Hextall's tenure that's sole purpose was to shed salary. At the time of the deal, the Flyers had a logjam at defense and Grossmann had been replaced by Gudas. Although Pronger was no longer playing, his contract still counted against the books in the offseason.
But in one trade, Hextall was able to rid himself of both issues without having to pay a sweetener — usually a must for any cap dump trades. Instead, the team took back Gagner, who had one year left but was a wash in salary with Grossmann after the Flyers had retained salary on the blueliner's deal.
The only disappointing part of the trade is that then-coach Dave Hakstol was never able to get any production out of Gagner. The former Oiler was able to produce the next season by playing on the fourth line and seeing some power-play minutes with the Blue Jackets. The Flyers never got that far with him.
June 29, 2015 – Zac Rinaldo to the Boston Bruins for a 2016 3rd round pick (Kirill Ustimenko)
Another deal where you just look back and wonder how Hextall was able to get any asset for a player. Rinaldo was part of a dying breed at the time, and although he's managed to fight his way in sticking around at the NHL level, he's a 13th forward at best on most teams.
Somehow that was enough for the Bruins to pay a third-round pick for the winger. In return, Rinaldo played 52 games for Boston and might have became the first player to be suspended in both the NHL and AHL for separate incidents.
Jan. 6, 2016 – Luke Schenn, Vincent Lecavalier for Jordan Weal, 2016 3rd round pick (Carsen Twarynski)
I don't believe many hockey fans can look back at Levavalier's stint with the Flyers and be happy about it. The former elite player had a strong first year in Philly but aged quickly over the next two seasons. By the 2015-16 season, he was a frequent healthy scratch.
Schenn was in a similar boat (though of course with nowhere near elite history) but with Lecavalier having two years after 2016 left on his deal, it didn't look like either would be appealing to any team. Somehow, Hextall found a way to trade them and get two assets back.
Weal was a dominant AHL player at the time and he quickly found his game with the Flyers to end the 2015-16 season. He was re-signed in the offseason but only showed glimpses with little consistency after that year. Still, that was likely more than Lecavalier, who agreed to retire after the year if he was dealt, would have done in Philadelphia.
Meanwhile, Twarysnki has become a tweener in the Flyers' organization and played 15 games in the big league last season.
March 1, 2017 – Mark Streit to the Lightning for Valtteri Filppula, 2017 4th round pick (Maksim Sushko), 2017 7th round pick (Wyatt Kalynuk)
This trade is a tricky one. Streit was at the end of his career and trading him at the deadline made a lot of sense (he actually ended up being dealt to the Penguins on the same day from the Bolts).
The Flyers also had issues finding a third-line center for years at the time of the trade so getting a center back did make sense. Unfortunately, though Filppula could never consistently be that.
The Swede was a great second-line center in his prime but by the time he came to Philly, he was near the end of his last legs. He was frequently outmatched but as Hakstol was known for, he relied on his veterans (regardless of skill) and Filppula played a lot in the 2017-18 season.
Kalynuk was a prospect with some potential but he chose not to sign with the Flyers, and instead signed with the Blackhawks where they have fewer young blueliners. Sushko has shown promise in the AHL so if he can become a regular NHLer this is an easy win for the Flyers. Right now, the Flyers would probably just call a wash on this trade.
June 16, 2017 – Nick Cousins, Merrick Madsen to the Coyotes for Brendan Warren, 2018 5th round pick (Wytte Wylie)
Faced with a growing number of NHL players after the Flyers moved up the 2017 draft lottery to second overall (Nolan Patrick), Hextall started thinning the roster by dealing bottom-sixer Cousins. Madsen, a netminder, was rumored to not be interested in signing with Philly so he was traded before his rights were lost.
Wylie is now with the Phantoms and has an outside chance of making the NHL one day, but Warren finished his collegiate career and was let go by the Flyers. Meanwhile, Cousins is still a reliable third or fourth-liner in the league.
Looking back at the forwards who played a healthy chunk of the season in the orange and black that year (Matt Read, Taylor Leier, Jori Lehtera) and who was brought in (Dale Weise), I think it's fair to ask for a do-over on this one and figure out something else among the forward corps.
June 23, 2017 – Brayden Schenn to the St. Louis Blues for Jori Lehtera, 2017 1st round pick (Morgan Frost), 2018 first round pick (Joel Farabee)
Contrary to popular media beliefs, there was more involved in this trade than just Schenn and Lehtera. In fact, the two first-round picks are what makes this move still a profitable one for the Flyers.
Farabee has become a top-nine threat for Philly and while Frost had some awful injury luck this season, there shouldn't be any doubt that the pair will be part of a bright future for the team for years to come.
Bringing it back to Lehtera; he was included in the deal as a cap dump and probably helped earn the Flyers the second first-round pick in the deal. But with so many other of these trades, Hakstol made this trade look worse by relying so heavily on Lehtera during his two seasons in Philly and not seeing him for his plodding ways.
As for Schenn, he has become a second-line center in St. Louis, which he never was in Philadelphia, and helped the team to a Stanley Cup in 2019. There still might be some Flyers fans that look longingly at the 29-year-old's production since leaving, but the team wouldn't have had much extra success with him while also missing Frost, Farabee, and probably Kevin Hayes.
Feb. 19, 2018 – 2018 3rd round pick (Seth Barton), 2019 3rd round pick (later traded) to the Detroit Red Wings for Petr Mrazek
This is the lone trade in Hextall's tenure where you can unequivocally say he wanted to better his team without giving away any roster assets. That's not a great thing to say in over four years of work.
And while Mrazek didn't pan out with the Flyers, you can't fault Hextall for his attempt. At the time of the deal, the team had Brian Elliott and Michal Neuvirth as their combo in net, but Elliott was injured and the team desperately needed help in goal.
In stepped Mrazek who started out hot, but by the time of the postseason, was considered a third option.
One of Hextall's biggest faults was identifying NHL talent — typically at the bottom of the roster. There might not have been a huge goalie market at the time of the Mrazek acquisition, but this certainly didn't do much to allay those concerns.
March 21, 2018 – Cooper Marody to the Edmonton Oilers for 2019 3rd round pick (later traded)
The last player dealt by Hextall during his Flyers era was Marody, a forward prospect who didn't plan on signing with the team after his collegiate career.
Marody's had a cup of coffee with the Oilers and has scored in the AHL at a decent clip but saying he's made an NHL impact would be a huge exaggeration. The Flyers drafted him in the 6th round in 2015 so returning a 3rd rounder is clearly a "draft pick" upgrade in a situation that wasn't in Hextall's favor.