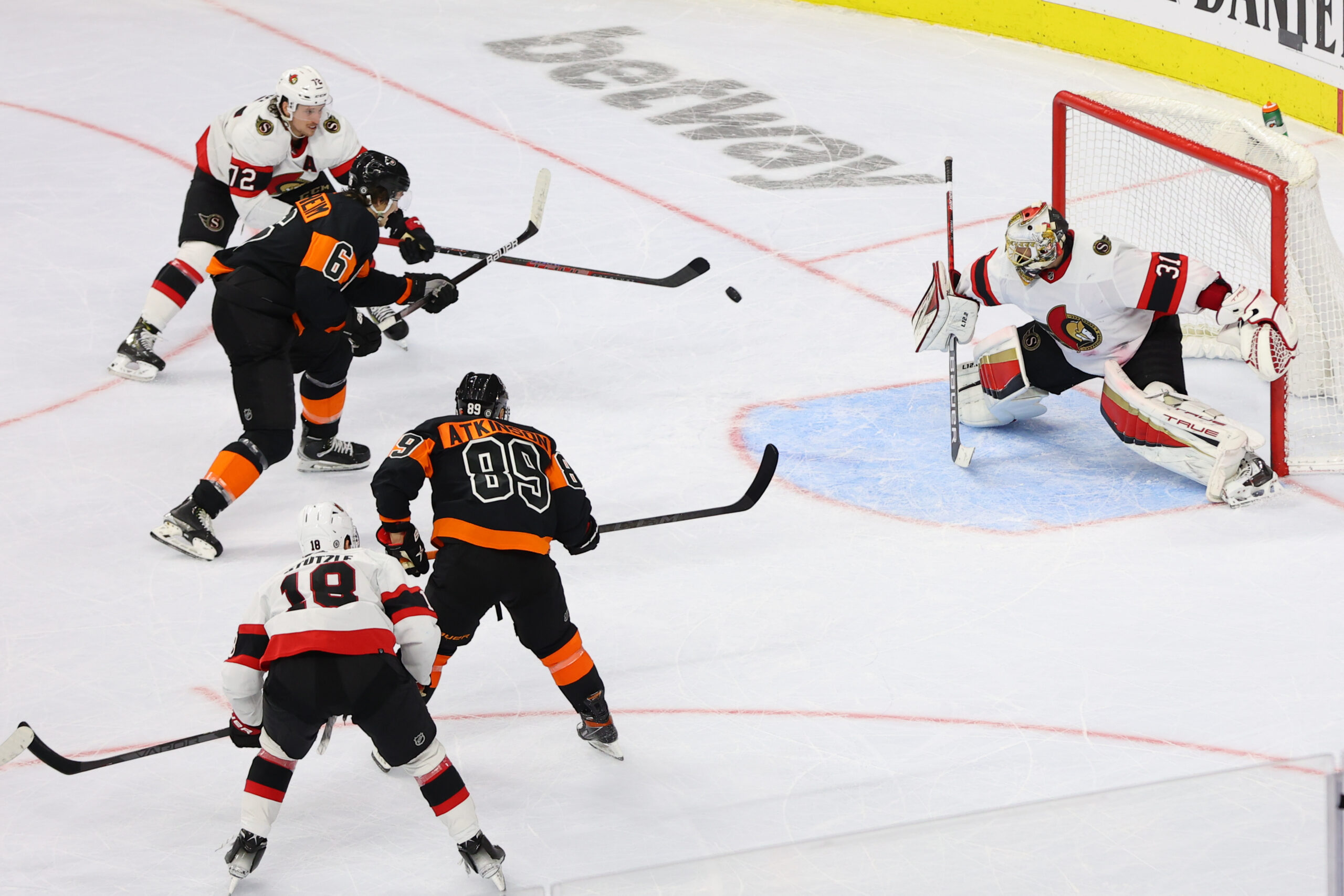 The Philadelphia Flyers' season is over and, honestly, thank God.
Shockingly enough, this is a crucial game for the Flyers to lose. If the Orange and Black can seal their 46th loss of the season, a shocking number and the second-most losses in a season in franchise history, then the team can hold onto hopes of the third-best Draft Lottery odds. However, that is not of importance tonight. What is important is watching two teams destined for a top 10 pick in the 2022 Draft showcase some possible future stars, so let's talk about them.
Let's start with the Ottawa Senators. They're led by three youngsters in Josh Norris, Tim Stützle, and Thomas Chabot. Interestingly, these three players are inside the top 150 NHLers in expected standing points above replacement (xSPAR) from Evolving Hockey. That means they're certifiably top half of the lineup players, and in Josh Norris' case, almost an elite-level center. He and Stützle are the Senators' best shot at star-level talent in their lineup. In terms of players to watch for Ottawa, they're the two. 
A name not mentioned here is Brady Tkachuk. For a player who has the reputation of the Senators' captain, Brady struggles to balance his offensive play with sustainable defensive impacts. Until he can balance his game, he'll struggle to take a step many of us predicted he could, into a bonafide top-line player. For now, he's a flawed, but fun, youngster who fits perfectly onto most teams' second lines. 
For the Flyers, it's a final sixty minutes to showcase some of our youth. The final game of the season allows every fan to take one more look at Frost, Cates, and Tippett one last time. In forty-five minutes, that trio takes almost 55% of the shot attempts, has 70% of the chances, and scored 75% of the goals when on the ice. While they aren't penciled into the lineup together to start tonight, expect them to see time together throughout the game. There's a real possibility that those three could turn into a functional NHL third line in 2022 and beyond. 
What we can say about tonight is that this season is over. For the good or bad, this iteration of the Philadelphia Flyers is over. What happens for the next six months will be… chaotic. It's a Friday night, take a load off, watch one more game, revel in a positive development, and try to enjoy the chaos. Sometimes that's all we can truly do. Go Flyers.
PHI Record: 25-45-11, 61 pts, 8th in Metropolitan
OTT Record: 32-42-7, 83 pts, 6th in Central
When: 7:00 PM ET
Where: Wells Fargo Center, Philadelphia, PA
PHI Goalie: Martin Jones (12-17-3) 3.43 GAA, .900 SV%, 0 SO
OTT Goalie: Anton Forsberg (21-17-4) 2.84 GAA, .916 SV%, 1 SO
PHI Projected Lines:
#25 James van Riemsdyk– #13 Kevin Hayes – #11 Travis Konecny
#49 Noah Cates – #21 Scott Laughton – #46 Bobby Brink
#86 Joel Farabee – #48 Morgan Frost – #74 Owen Tippett
#23 Oskar Lindblom – #44 Nate Thompson – #17 Zack MacEwen
#9 Ivan Provorov – #47 Ronnie Attard
#84 Linus Högberg – #6 Travis Sanheim
#3 Keith Yandle – #54 Egor Zamula
#35 Martin Jones
#32 Felix Sandström
OTT Projected Lines
#7 Brady Tkachuk – #9 Josh Norris – #19 Drake Batherson
#10 Alex Formenton – #18 Tim Stützle – #17 Adam Gaudette
#45 Parker Kelly – #27 Dylan Gambrell – #16 Austin Watson
#71 Chris Tierney – #47 Mark Kastelic – #42 Viktor Lodin
#72 Thomas Chabot – #23 Travis Hamonic
#26 Erik Brännström – #2 Artem Zub
#5 Nick Holden – #22 Nikita Zaitsev
#31 Anton Forsberg
#32 Filip Gustavsson
Last Game PHI: 4-0 L vs WPG (4/28)
Last Game OTT: 4-0 L vs FLA (4/28)
Broadcast Info: NBCSP, ESPN+, 97.5 The Fanatic
Injuries:
PHI – Ryan Ellis (lower-body), Sean Couturier (back), Nick Seeler (lower-body), Carter Hart (lower-body), Cam Atkinson (lower-body), Rasmus Ristolainen (upper-body), Cam York (lower-body), Patrick Brown (upper-body)
OTT – Matt Murray (upper-body), Colin White (COVID-19), Shane Pinto (upper-body), Jake Sanderson (hand), Tyler Ennis (upper-body), Mathieu Joseph (undisclosed), Connor Brown (undisclosed)