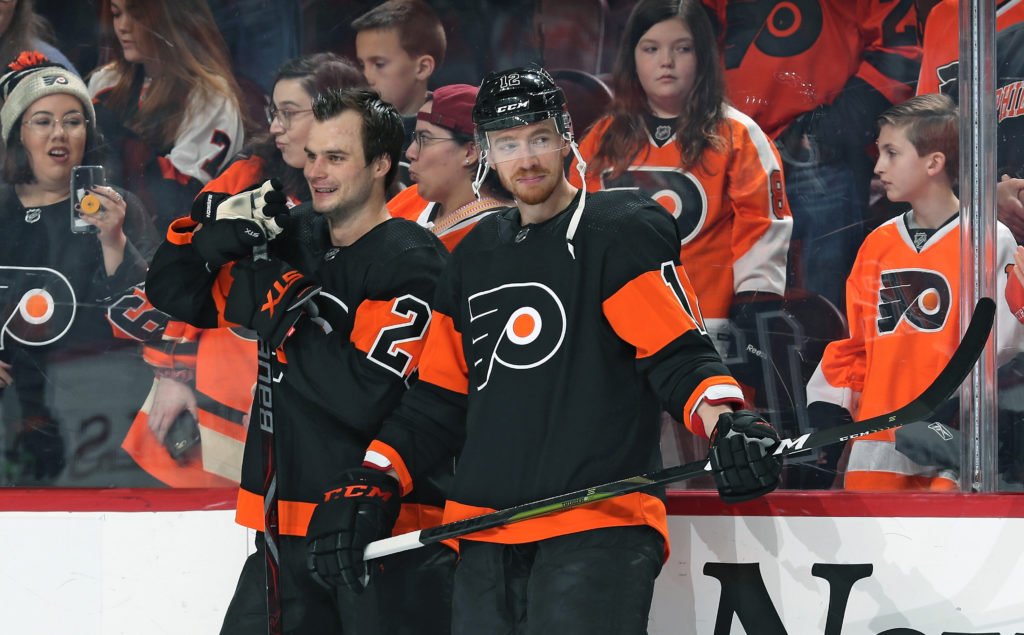 Michael Raffl (#12, F)
34 GP, 3 G, 5 A, 8 Pts, -5 +/- (only Flyers' appearances included)
Grade: C
In eight years, Raffl played in 504 games with the Philadelphia Flyers. He has always been one of those "stats aren't everything" players. Just looking at his numbers this season and throughout his career, you'd assume he was one of the worst guys on the ice. However, Raffl is one of those "eye-test" players that you must watch to understand his value. He was one of the longest-tenured Flyers before being traded to Washington this season for that exact reason. Raffl is a great depth guy who works hard everywhere on the ice, so Washington traded for him at the deadline. This was one of his worst seasons points-wise, but Raffle can blame a couple of nagging injuries throughout the year for that. His regression in points is the reason for a C grade and his -5 +/-, which is the third-lowest total of his career. I will miss Raffl in a Flyers jersey, as he was a fun player to watch despite not adding much to the scoresheet, and I wish him all the best for the rest of his career.
Scott Laughton (#21, F)
53 GP, 9 G, 11 A, 20 Pts, +13 +/-
Grade: B+
The 2019-20 season was Laughton's breakout year, tallying 13 goals and 14 assists in just 49 games. Although he regressed a bit this season with only 9 goals and 11 assists in 53 games, he still deserves a B+, as his 19-20 campaign would've earned him an A for the season. Laughton is great for the Flyers both on and off the ice, as he's a presence during games and in the locker room. Laughton is a physical and scrappy presence on this roster and is one of the few guys willing to drop the gloves and stand up for a teammate. This was the second straight season Laughton finished the year with a +13 +/-, which is the best on the roster this season. His added ability to score and dish the puck over the past two years has made him a valuable part of this organization, which is why he received a 5-year, $15 million extension. This is a well-deserved raise for Laughton, who needs to continue his excellent form into next season for the Flyers to be the team they were pre-Covid. I look forward to watching his continued growth for years to come as a long-term member of the team.
Nicholas Aube-Kubel (#62, F)
50 GP, 3 G, 9 A, 12 Pts, -3 +/-
Grade: F
After a promising 2019-20 season with 7 goals and 8 assists in 36 games, NAK was atrocious this year. Just 3 goals and 9 assists in 50 games is a significant and concerning drop-off in production. NAK also had 44 penalty minutes this season, almost doubling his penalty minute/game totals from the year before. He didn't pass the eye test whatsoever, taking stupid and unnecessary penalties to make up for his poor and sloppy play. Outside of Nolan Patrick, he was easily the hardest forward in orange and black to watch this season, with just about no upside to his game. Although he has only played 95 NHL games, and most of them were this season, NAK is already 24, meaning he isn't as "young" as everyone acts like he is. NAK brought almost nothing to the table this season and certainly needs to improve to be a member of this roster going forward, much less an important member. NAK will be one to watch in training camp this year, as I imagine he will be fighting for a roster spot with some younger guys like Wade Allison and Morgan Frost (barring any off-season trades). It would be very disappointing for NAK not to return to his 19-20 form next season, and I hope he takes this long off-season to get back to work and develop his game.
NHL Stats, History, Scores, & Records. Hockey Reference. (n.d.). https://www.hockey-reference.com/.