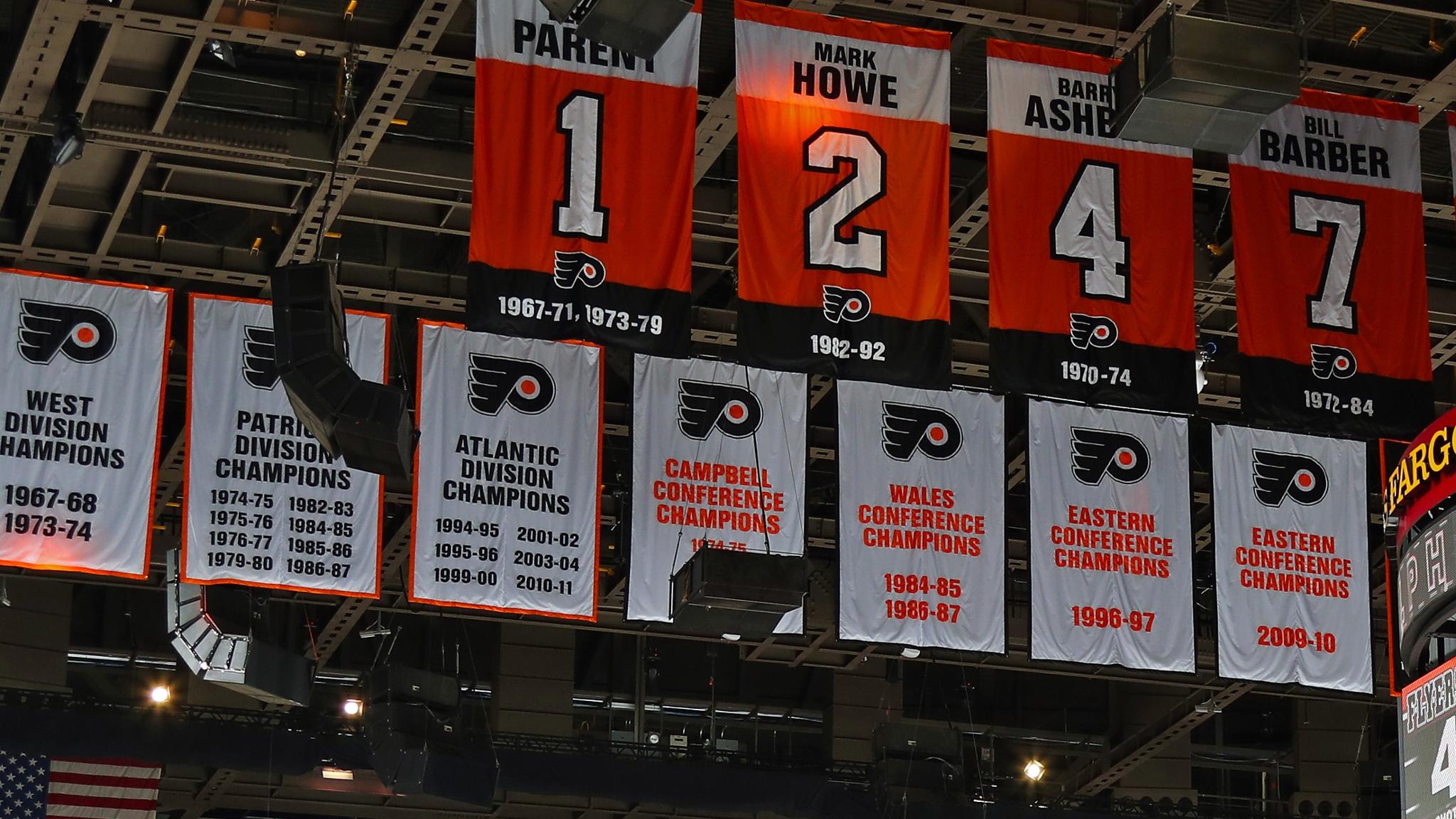 Four Possible Philadelphia Flyers Hall-of-Fame Inductees
The Philadelphia Flyers have announced that they plan on inducting a new member into the Flyers Hall of Fame this season. The Flyers have introduced a new selection process for the new inductee by having a wide range of focus and input coming from different sources like former players, alumni, journalists, and front office members. On top of a new selection process, they're introducing a new voting committee, which will also comprise of former players, alumni, and journalists. There are many options to choose from but who will be lucky enough to be inducted into the Flyers Hall of Fame?
Mark Recchi
Mark Recchi had multiple stints with the Flyers (1991-92 to 1994-95 and 1998-99 to 2003-04), recorded 627 points in 602 games in parts of 10 seasons, and still holds the franchise record for most points in a single season (123). Recchi also played in 65 playoff games and recorded 39 points. In his first stint with the Flyers, he formed a line with Eric Lindros and Brent Fedyk, known as the Crazy Eights. The Flyers never made the playoffs in any of those years and he was then traded to the Montreal Canadiens for John LeClair and Eric Desjardins.
He returned to Philadelphia in 1998-99 for Dainius Zubrus and picks and had a much better run the second time around. He was an instrumental piece (18 points in 18 games) during their run to Eastern Conference Finals in 1999-00, before falling to the New Jersey Devils in seven games. He was also a part of the Flyers team that bowed out to the Tampa Bay Lightning in the Eastern Conference Finals in 2003-04. He wasn't much of a factor offensively as he only scored six points in 18 games but he was great defensively and was still a complementary piece to an otherwise stacked offense.
Recchi won the Stanley Cup with 3 different teams (Pittsburgh Penguins in 1990-91, Carolina Hurricanes in 2005-06, and the Boston Bruins in 2010-11) throughout his career. However, he spent nearly half of his decorated career with the orange and black, played the most (of his) games with the Flyers, and had his best statistical seasons with the Flyers. In terms of franchise ranks, Recchi finished 9th all-time in points (627), 12th in goals (232), 6th in assists (395), 6th all-time in power-play assists (156), and 6th all-time in power-play points (230)
Simon Gagne
Simon Gagne was a homegrown Flyers talent, drafted in the first round of the 1998 NHL Entry Draft. He spent parts of 11 seasons with the Flyers on two different stints as well (1999-00 to 2009-10 and 2012-13). He recorded 264 goals and 535 points in 691 games. He finished 4th in the Calder Trophy voting in 1999-00 for the league's best rookie. Gagne also played in 90 postseason games, scoring 32 goals and 47 points, while playing a key role in their runs to Conference Finals in 1999-00 and 2003-04, as well as the Stanley Cup Finals run in 2009-10.
After starting off his career on a good foot (173 points in 228 games) he struggled to find his offensive game before the NHL lockout in 2003-04 (72 points in 146 games). Injuries played a part, as did the fact that the Flyers had a very stacked offense and he didn't have the grandest of roles. His best years came after the lockout when he connected with Peter Forsberg and Mike Knuble. He recorded back-to-back 40 goal seasons in 2005-06 and 2006-07, with a career-high of 47 goals and 33 even-strength goals in 2005-06. Injuries took their toll on Gagne as he ended up missing 84 games over his last three seasons with the Flyers. The silver lining was that he was still producing at a near-point-per-game pace.
His goal-scoring acumen will always be remembered but his biggest feat could easily have been his 2009-10 postseason run. He missed the first eight games of the playoffs and returned with the Flyers down 0-3 in their series against the Boston Bruins. He ended up scoring the game-winning goal in overtime in game four, added another two goals in game five to stave off elimination, and then scored the go-ahead goal in the final minutes of game seven after trailing the game itself 0-3. After winning the Stanley Cup with the Los Angeles Kings in 2011-12, he returned to the Flyers through a mid-season trade and played in 27 games, while scoring 11 points. Amongst the all-time leaders, Gagne ranks 13th in games played (691), 10th all-time in goals (264), 12th in points (535), and 6th in game-winning goals (47).
Kimmo Timonen
Kimmo Timonen spent the first eight years of his career in Nashville before having his negotiating rights traded to the Flyers. He was a stud defenseman with the Predators and was definitely an underrated talent after scoring 301 points in 573 games. He was an instrumental part of why the Flyers were able to transition from last place to final four in one season (2006-07 to 2007-08). He went on to play in parts of seven seasons in the orange and black, scoring 38 goals and 270 points in 519 games. He was a steadying force and anchor on a backend that desperately needed it.
The 2007 off-season was grand for the Flyers as they acquired Timonen and Scott Hartnell in the same trade from the Predators, immediately signed them to six-year deals, and then signed Daniel Briere in free agency. Timonen posted three 40+ point seasons, was close to scoring 40+ points three more times, was the Flyers powerplay quarterback during the years they were actually good on the man advantage, and formed a formidable pairing with Braydon Coburn.
He was a minute munching defenseman as he averaged over 23 minutes of ice time in his first three seasons (24:31 in 2008-09). He was as durable as they came as he only missed 21 games from 2007-08 to 2013-14. However, he was diagnosed with blood clots in his lungs and right leg and missed most of the 2014-15 season. With the trade deadline approaching and the Flyers well out of a playoff spot, they traded him to the Chicago Blackhawks in an effort to get him that Stanley Cup. After winning the Cup he announced his retirement after a solid 16-year career.
He ended his Flyers tenure as the third-best offensive defenseman with 270 points, 10th in goals for a defenseman (38), 3rd in assists (232), 1st in power-play assists (135), and 3rd in powerplay points (150).
Rick Tocchet
Drafted in the 6th round of the 1983 NHL Entry Draft, Tocchet became a prolific NHL player playing in 1144 games, scoring 440 goals, and 952 points, while amassing 2972 penalty minutes. Like Recchi, he spent his career with several teams but played the majority of his seasons with the Flyers. In two stints with the team, he played in parts of 11 seasons and recorded 232 goals and 508 points in 621 games. On top of all that he scored 27 goals and 60 points in 95 playoff games.
Tocchet went to the Stanley Cup Finals twice (1984-85 and 1986-87) but fell to the vaunted Edmonton Oilers on both occasions. In 1986-87, he was an instrumental part of the offense as he scored 11 goals and 21 points in 26 games. He also went to the Conference Finals in 1988-89, scoring 12 points in 16 games, before bowing out to the Montreal Canadiens.
Tocchet broke the 20 goal barrier in five consecutive seasons from 1986-87 to 1990-91. He broke past the 30 and 40 goal barriers twice in that span, with a (then) career-high of 45 in 66 games in 1988-89. Amongst the franchise leaders he is 13th in goals (232), 16th in assists (276), 15th in points (508), and 1st in PIMS with 1815. He was a driving force for the Flyers in the mid-late 80s and not winning the Cup during his time in the orange and black forever haunts him. He's been on the record stating that he would trade one of his three rings with the Penguins (one as a player and 2 as an assistant coach) for one with the Flyers.