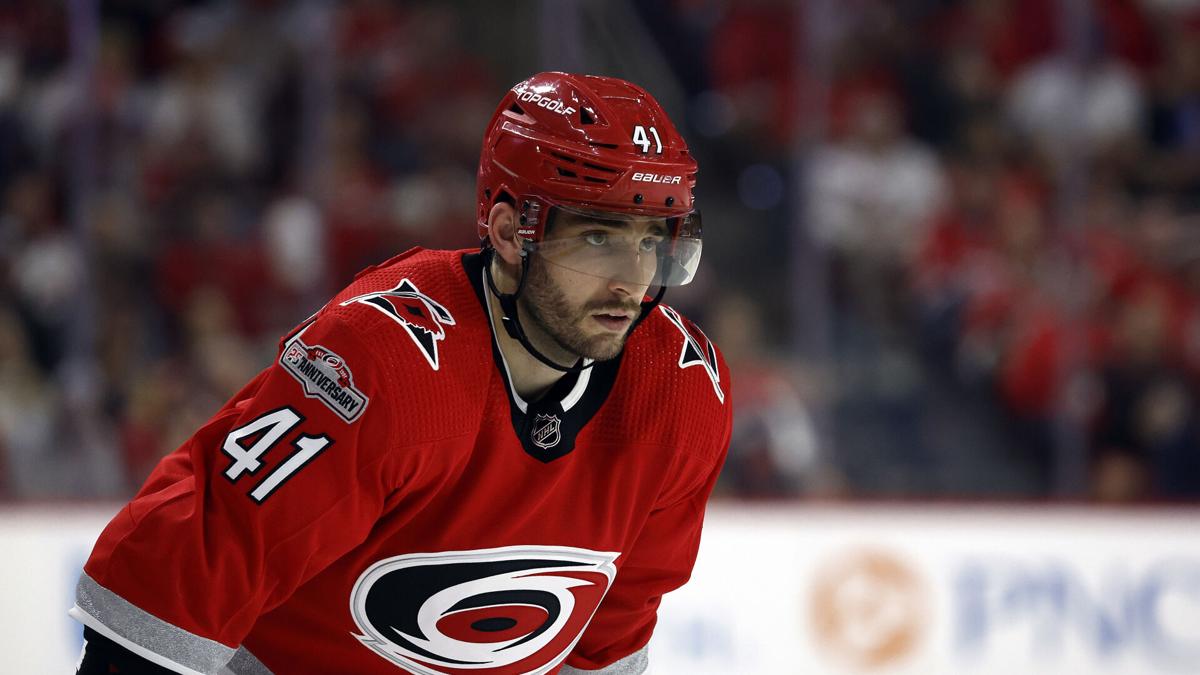 The 2023 Stanley Cup Playoffs are among us this spring.
For the third season in a row, the Philadelphia Flyers are not a part of those playoffs. Despite that, there are some old friends that made the cut on other teams.
There were even a few head coaches with Flyers ties in the postseason – Jim Montgomery, Rod Brind'Amour, and Dave Hakstol – and the latter two have had successful runs so far.
16 former Flyers made the playoffs as players though, and while some of them did not actually play in the Conference Quarterfinals, today we'll take a look at how they or their fellow teams did in the opening round.
Shayne Gostisbehere – Carolina Hurricanes
Gostisbehere played in all 6 games of Carolina's opening round victory over the New York Islanders.
A fan favorite for 381 regular season games and 17 playoff games with the Flyers, Gostisbehere did not register a point in the series for the Hurricanes and recorded a -2 rating, 3 hits, and 8 blocked shots while averaging 16:02 of ice time per game.
Calvin Pickard – Edmonton Oilers
Pickard was recalled by Edmonton from the AHL's Bakersfield Condors before Game 5 and had been a healthy scratch for the final 2 contests in the Oilers' 6-game series win over Los Angeles.
The Moncton, New Brunswick native, who appeared in 11 games for the Flyers in 2018-19, spent the 2022-23 regular season with Bakersfield. He went 23-12-2 with a .912 SV%, 2.70 GAA, and 4 shutouts and served as the Condors' starter in both of their playoff losses in the opening round.
Sergei Bobrovsky – Florida Panthers
Bobrovsky originally began the Panthers' postseason run as Alex Lyon's backup after Lyon had willed Florida into the playoffs with a 6-1-1 record in his final 8 games from March 29th to April 13th.
However, Lyon's hot streak began to fizzle and Bobrovsky relieved him in Game 3 of their opening round matchup against the heavily favored, Presidents' Trophy-winning Boston Bruins.
The two-time Vezina Trophy winner and Flyer of 90 combined regular season and playoff games did not look back. Bobrovsky went 3-1 to accompany an .891 save percentage and 3.94 goals against average as Florida mounted a historic comeback after being down 3-1 in the series and forced overtime in Game 7 before completing the upset.
Nick Cousins – Florida Panthers
Cousins racked up 4 assists in Florida's 7-game opening round upset over Boston.
A Flyer for 113 combined regular season and postseason contests, Cousins appeared in all 7 games and also recorded 14 hits, 3 blocked shots, and 9 shots on goal.
Radko Gudas – Florida Panthers
Gudas was an absolute wrecking ball on skates in the first round against Boston.
The hulking blueliner of 302 regular season and playoff games in Philadelphia racked up a whopping 34 hits in 7 games to accompany 1 assist, 5 shots on goal, 12 penalty minutes, and 11 blocked shots.
Alex Lyon – Florida Panthers
Lyon was the largest reason why the Panthers even made the playoffs, going 6-1-1 in his final 8 games to push Florida into a Wild Card berth.
The former Yale standout and Flyers netminder for 22 games earned the start in the Panthers' first 3 games of the first round against Boston, but was pulled in Game 3 for Sergei Bobrovsky after letting up 3 goals on 26 shots.
Lyon finished the opening round with a 1-2 record, a .902 save percentage, and a 3.26 goals against average.
Zack MacEwen – Los Angeles Kings
MacEwen initially didn't dress in the Kings' first two games against Edmonton, but head coach Todd McLellan opted to put the bruising forward in.
The former Flyers forward of 121 games skated just 6:44 – 8 shifts – and registered 3 hits, 1 blocked shot, and 2 penalty minutes in Game 3, his lone appearance in the series as Los Angeles lost 4-2 in the first round.
Ryan Hartman – Minnesota Wild
Hartman was one of Minnesota's top players in their hard-fought series loss to the Dallas Stars.
Acquired by Philadelphia along with a 4th round pick in the 2019 Wayne Simmonds trade before having his rights traded away that offseason for Tyler Pitlick, Hartman racked up 2 goals and 3 assists for 5 points in 5 games.
He scored the double-overtime winner for Minnesota in Game 1 but missed Game 2 due to a lower-body injury. Hartman returned for Game 3 and scored a goal and two assists to lead the Wild to another victory.
The Hilton Head Island, South Carolina native posted an assist in Game 4 but then was rather quiet in the final two contests as the Stars won the series in 6 games.
Hartman finished the series with 2 goals, 3 assists, 8 hits, 6 blocked shots, and 16 penalty minutes.
Martin Jones – Seattle Kraken
Jones backed up Philipp Grubauer for each game in Seattle's 7-game victory against the defending champion Colorado Avalanche.
A Flyer for just last season, Jones racked up a 27-13-3 record, .887 SV%, 2.99 GAA, and 3 shutouts in 48 games in the regular season for the Kraken.
Brian Elliott – Tampa Bay Lightning
Elliott suited up as Andrei Vasilevskiy's backup in the Lightning's 6-game defeat to Toronto.
A Flyer for 137 regular season and postseason games, Elliott recorded an 12-8-2 record along with an .891 save percentage, 3.40 goals against average, and 2 shutouts in 22 regular season contests this year.
Pierre-Édouard Bellemare – Tampa Bay Lightning
Bellemare posted two points in Tampa Bay's defeat against the Toronto Maple Leafs.
The former Flyer of 242 regular season and playoff games scored the opening goal of the series in Game 1 en route to a 7-3 Lightning victory. He then notched an assist in Game 2 as Toronto evened the series.
Bellemare finished the series with 1 goal, 1 assist, 16 hits, 5 blocked shots, and 4 takeaways in 6 games.
Erik Gustafsson – Toronto Maple Leafs
Gustafsson made one appearance in the Leafs' 6-game defeat of Tampa Bay.
The Flyer of 24 games in 2020-21 skated in Game 6 for Toronto, skating for just 7:38 – the lowest amount of ice time for any Maple Leafs skater in the game.
He posted a -1 rating, 1 hit, and 2 blocked shots as Toronto exorcised their demons to advance past the first round for the first time in 19 years.
Wayne Simmonds – Toronto Maple Leafs
Simmonds did not appear in any of Toronto's first round games against the Lightning.
One of the most beloved Flyers in recent memory, Simmonds appeared in only 18 games this season for the Maple Leafs, posting just 2 assists. He did serve as a physical presence for the Leafs however, recording 44 hits and 3 fights.
This season marked the first time ever that Simmonds has been held goalless in an NHL campaign.
Luke Schenn – Toronto Maple Leafs
Schenn skated in all 6 games of Toronto's series win over Tampa Bay.
The 2008 5th overall pick of the Leafs, who was reacquired at this year's trade deadline after stops in Philadelphia, Los Angeles, Arizona, Tampa Bay, and Vancouver from 2012 to this season, was a solid defender and was incredibly physical in the series.
Schenn posted 34 hits, 10 blocked shots, 7 shots on goal, and averaged 17:26 of ice time per game as the Maple Leafs took down the reigning Eastern Conference champions and former back-to-back Stanley Cup winners.
Nolan Patrick – Vegas Golden Knights
Patrick has missed the entire season with injuries after suffering more concussion issues last year and obviously did not play in Vegas' first round victory over Winnipeg.
The former 2nd overall pick of the Flyers in 2017 will enter restricted free agency this summer with the Golden Knights.
Sam Gagner – Winnipeg Jets
Gagner did not appear in any of Winnipeg's games in their 5-game loss to Vegas after undergoing hip surgery in March, ruling him out for the rest of the year.
A Flyer during the 2015-16 season, Gagner recorded 8 goals and 6 assists for 14 points in 48 games in the regular season for the Jets. He was also Winnipeg's nominee for the Bill Masterton Memorial Trophy and reached the 1,000 NHL games played milestone this year.