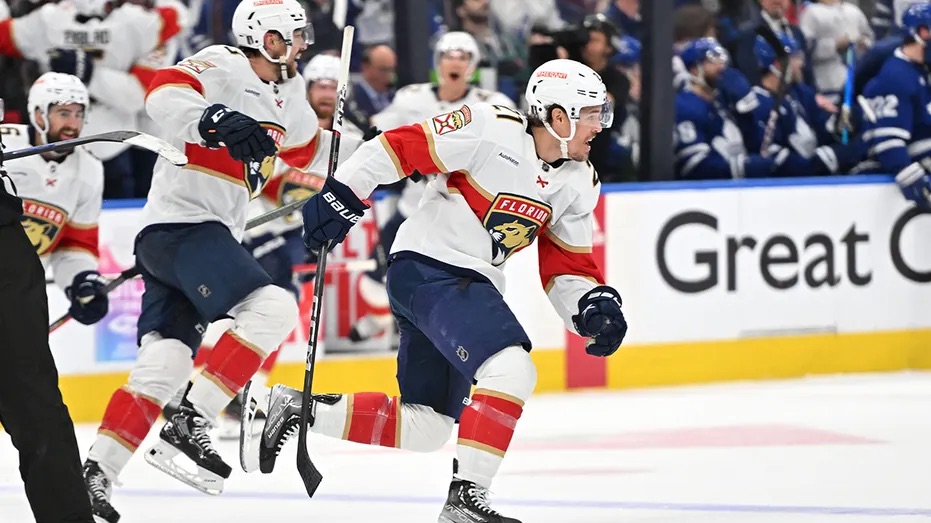 The second round of the 2023 Stanley Cup Playoffs have come and gone, and just the final four teams remain in Carolina, Florida, Dallas, and Vegas.
16 former Philadelphia Flyers players originally made the postseason, with 11 of them advancing into the Conference Semifinals. Another 6 lived to fight another round in the Conference Finals, and today we'll look at how our old acquaintances and their teams fared in the quest to get there.
Shayne Gostisbehere – Carolina Hurricanes
Gostisbehere had himself quite the series after remaining relatively quiet in the first round.
He racked up 2 assists, both primary, in Carolina's 6-1 Game 2 victory over New Jersey, helping on Jesperi Kotkaniemi's opening goal and Martin Nečas' goal to give the Canes a 4-0 lead near the end of the second period.
Gostisbehere's most important point came in Game 5, when he assisted on Jesper Fast's series-clinching power play goal in overtime to send the Hurricanes to their second Eastern Conference Finals in five seasons.
JESPER FAST SERIES WINNER IN OT 🚨 pic.twitter.com/pdi3Mkx1tq

— Carolina Hurricanes (@Canes) May 12, 2023
Gostisbehere finished the series with 3 assists, 9 shots on goal, 5 blocked shots, and 3 hits while averaging 16:48 of ice time per game. His assist total was good for a tie for third among Hurricanes players in the series, and he led the team in power play assists (2) in the series as well.
One happy 👻🐻#NeverCompromise | #WinningSmiles pic.twitter.com/2F8VEdB2Z4

— Carolina Hurricanes (@Canes) May 12, 2023
Calvin Pickard – Edmonton Oilers
Pickard did not suit up in Edmonton's 6-game defeat at the hands of Vegas, serving as a healthy scratch while Stuart Skinner and Jack Campbell tended goal.
He was recalled during the Oilers' first-round series against Los Angeles after his season with AHL Bakersfield came to a close.
Sergei Bobrovsky – Florida Panthers
After backstopping the Panthers to an incredible upset over Boston, Bobrovsky worked his magic again and was even more incredible in the Panthers' series against Toronto.
B🚫B getting it done 👏 pic.twitter.com/ytAAMV9467

— Florida Panthers (@FlaPanthers) May 5, 2023
Bobrovsky went 4-1 with a stupendous .943 save percentage and 1.89 goals against average against the Maple Leafs to continue his incredible postseason run.
Nick Cousins – Florida Panthers
Cousins became the unlikely hero for the Panthers in their 5-game victory over Toronto.
While he did score the opening goal of the series in Florida's 4-2 Game 1 victory at Scotiabank Arena, the biggest goal of his NHL career came four games later in the same building.
MAY WE PRESENT:

NICK COUSINS SCORING THE OT GAME-WINNER TO SEND US TO THE ECF pic.twitter.com/ZAWWC60uJF

— Florida Panthers (@FlaPanthers) May 13, 2023
Cousins scored the overtime winner to send the Panthers to their first Eastern Conference Finals appearance since 1996, which also remains the last time Florida appeared in the Stanley Cup Final. Will we see a repeat of that?
Cousins finished the series with 2 goals, 4 shots on goal, 18 hits, and 3 blocked shots while averaging 15:46 of ice time per game.
Radko Gudas – Florida Panthers
A bruiser as always, Gudas did not disappoint in Florida's series win over the Leafs.
He not only racked up 18 hits and 8 blocked shots in the series, but he also collected two assists, including the lone helper on Nick Cousins' series-winning overtime goal in Game 5 as well as driving the net on the play to help screen Joseph Woll on the shot.
Radko Gudas after the Panthers OT win 😳 pic.twitter.com/Uf7IO1ysfu

— TSN (@TSN_Sports) May 13, 2023
Alex Lyon – Florida Panthers
Lyon did not play in the Panthers' upset of Toronto, as he has served as Sergei Bobrovsky's backup since midway through Game 3 in the first round.
Martin Jones – Seattle Kraken
Jones made his first appearance of the 2023 postseason in relief of starter Philipp Grubauer in Game 4 against the Dallas Stars.
Grubauer grabbed a spot on the bench for the third period after letting up 5 goals on 22 shots in the opening 40 minutes.
Jones stopped both Dallas shots he faced in an eventual 6-3 Stars victory at Climate Pledge Arena. For Jones, it was his first playoff game since 2019 when he helped lead the San Jose Sharks to the Western Conference Finals.
Erik Gustafsson – Toronto Maple Leafs
Gustafsson, like last round, only skated in one game.
He was inserted into Sheldon Keefe's lineup for Game 3, in which he made the most of his opportunity and scored his first goal of the playoffs to put the Maple Leafs up 2-1 about 8 minutes into the second period.
GUSSSSS!!!!! pic.twitter.com/2I5mWQ5hBf

— Toronto Maple Leafs (@MapleLeafs) May 7, 2023
Toronto would go on to lose the game, and eventually the series, in overtime, and Gustafsson would not make another appearance in the series.
Luke Schenn – Toronto Maple Leafs
Schenn played in all 5 games of the Leafs' defeat at the hands of Florida.
He notched an incredible 20 hits to accompany 7 blocked shots, 7 shots on goal, and 1 assist back in Game 2 – his only point of the playoffs – while averaging 17:28 of ice time per game.
Wayne Simmonds – Toronto Maple Leafs
Simmonds was a healthy scratch for each of Toronto's five games against the Panthers.
Simmonds did not dress in any of the opening round matchups either against Tampa Bay and has not appeared in a playoff game since Game 2 of the Maple Leafs' 2022 first round series against the Lightning.
Nolan Patrick – Vegas Golden Knights
Patrick was ruled out for the 2022-23 season at the beginning of the year due to injury.
His Golden Knights teammates were able to take down Edmonton and advance to a Conference Finals for the fourth time in franchise history.