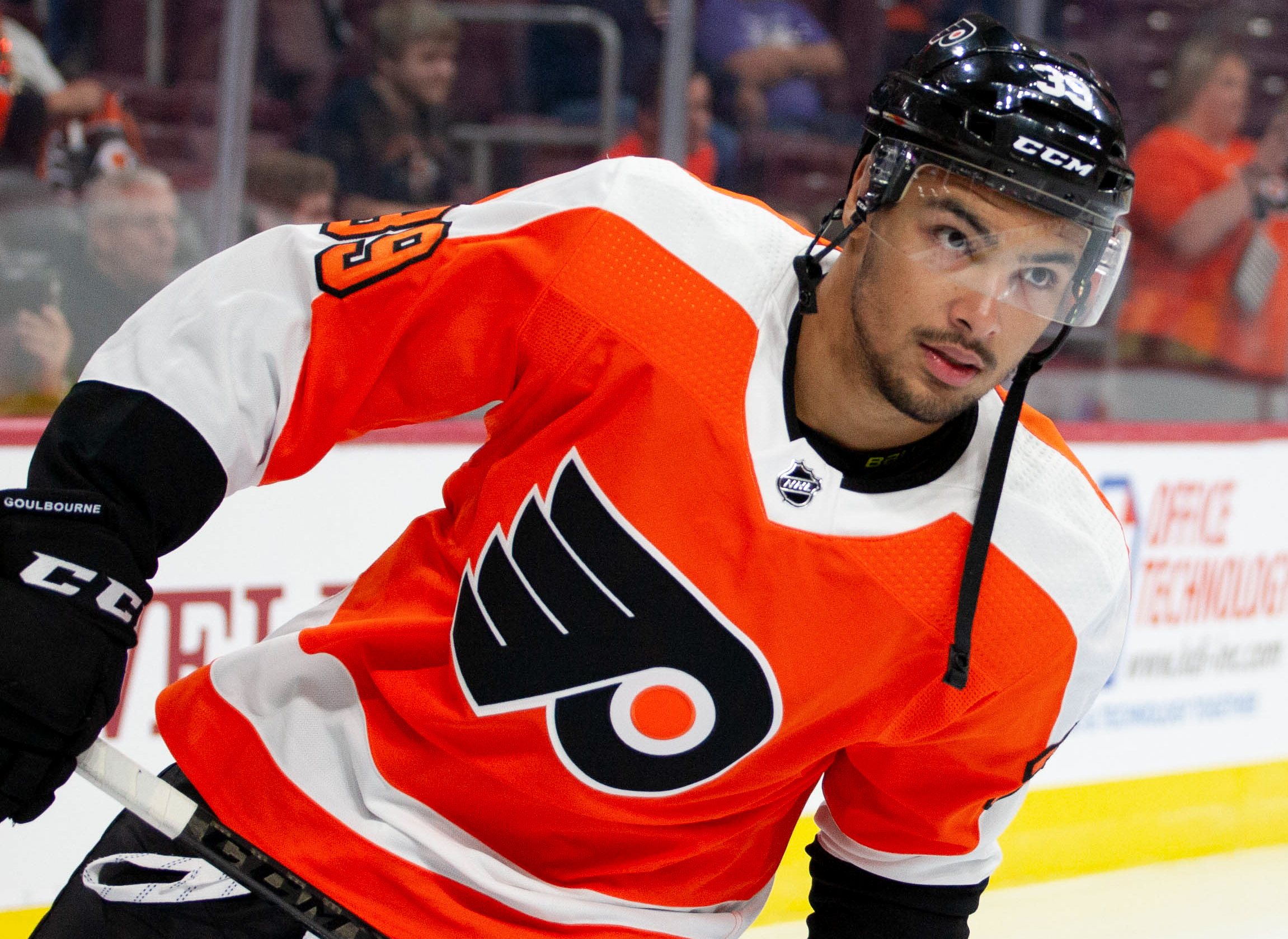 After a seven-year professional career, former Philadelphia Flyers forward Tyrell Goulbourne has announced his retirement from professional hockey.
The 28-year-old forward from Edmonton, Alberta made the announcement last night on Instagram.
Goulbourne is likely best remembered for his first ever NHL shift. The hulking forward made his NHL debut on January 6th, 2018 against the St. Louis Blues and leveled defenseman Alex Pietrangelo to force a turnover just a couple minutes into the game. Scott Laughton scooped up the puck, skated in and sniped a shot over the shoulder of Jake Allen for the opening goal of the contest in an eventual 6-3 Philadelphia victory.
What a first NHL shift for Tyrell Goulbourne leading to Scott Laughton opening the scoring! pic.twitter.com/t2jDdB9L85

— Flyers Nation (@FlyersNation) January 6, 2018
Goulbourne appeared in 11 total games for the Flyers between the 2017-18 and 2018-19 seasons, recording no points, 2 penalty minutes, and 15 hits while donning jersey numbers 56 and 39.
Before reaching the NHL, Goulbourne spent parts of six seasons in the Western Hockey League for the Kelowna Rockets. He posted 60 goals and 65 assists for 125 points along with 461 penalty minutes in 275 games with Kelowna, and he also racked up 4 goals and 6 assists for 10 points to accompany 69 penalty minutes in 47 WHL Playoff games.
The 2014-15 Rockets went on to capture the Ed Chynoweth Cup as WHL champions and secured a berth in the 2015 Memorial Cup, the CHL tournament that determines the top team in all of Canadian major junior hockey. Goulbourne skated in 12 WHL Playoff contests but did not appear in any Memorial Cup games as Kelowna lost the title to the OHL's Oshawa Generals.
The Flyers selected Goulbourne in the third round (72nd overall) of the 2013 NHL Draft after he posted 14 goals, 13 assists, and a WHL career-high 135 penalty minutes in 64 games for the Rockets. After he finished up his WHL career, Goulbourne signed an entry-level contract with Philadelphia on March 3rd, 2015, and joined the AHL's Lehigh Valley Phantoms for the 2015-16 season.
Goulbourne's first professional season saw him post 7 goals and 10 assists for 17 points in 73 games as a rookie for the Phantoms. He also recorded 75 penalty minutes, good for second on the team behind Sam Morin's 115 that season.
His sophomore season wasn't as impressive, as he struggled at the AHL level by only potting one goal and 24 penalty minutes in 24 games, and he found himself in the ECHL for the Reading Royals for a good chunk of the season. He suited up in 36 games for Reading, chalking up 8 goals and 11 assists for 19 points in 36 games to accompany his 35 penalty minutes.
2017: Tyrell Goulbourne played half the season in Reading and later became the first Royals player to make it to Philadelphia since the Flyers and Royals became affiliated. Goulbourne showed good scoring and his FISTS in this takedown over Elmira. pic.twitter.com/sRkyeU0bK9

— Reading Royals (@ReadingRoyals) December 30, 2019
Goulbourne returned to Lehigh Valley for the 2017-18 season with a lot to prove and played some great hockey, setting AHL career-highs in assists (11) and points (19) to go along with 8 goals and 79 penalty minutes in 63 games. His improvements resulted in his first NHL recall in January of that season, and his NHL debut against the Blues also earned him the honor of becoming the first Reading Royals alumni to suit up for Philadelphia during their affiliation.
He was returned to the Phantoms after nine games with the Flyers and skated in 10 of Lehigh Valley's Calder Cup Playoff matchups, scoring his first two professional postseason goals in the process as the Phantoms fell in four games in the Eastern Conference Finals to the eventual Calder Cup champion Toronto Marlies.
Tyrell Goulbourne ties it up! pic.twitter.com/efXSh3XmBh

— Sons of Penn (@SonsofPenn) May 19, 2018
Goulbourne began his last season with the Flyers organization in 2018-19 with the Phantoms, where he suited up in 63 games for the club. He racked up 9 goals and 9 assists for 18 points, with his goal total being set as an AHL personal best. He also recorded 135 penalty minutes in Lehigh Valley, dwarfing the rest of Goulbourne's professional season totals. That total was tops on the Phantoms and fifth across the entire AHL as well.
He played in his last two NHL games that season as well, recording no points, 3 shots on goal, and 6 hits. Amazingly, he had an even plus-minus rating despite skating in two lopsided contests, as the Flyers defeated the New York Rangers 4-0 in a home Black Friday matinee before being spanked by the Toronto Maple Leafs in a 6-0 road thrashing at Scotiabank Arena the next day.
The Flyers did not extend Goulbourne a contract after the season and he found himself in the Vegas Golden Knights organization on a two-year deal. He played the entirety of his tenure with the Golden Knights organization in the AHL with the Chicago Wolves and Henderson Silver Knights, respectively. He skated in 53 games for Chicago during the COVID-shortened 2019-20 season, posting just 1 goal and 2 assists for 3 points to go with 42 penalty minutes.
When the Golden Knights obtained their own AHL affiliate for the 2020-21 season, Goulbourne joined Henderson and scored a goal and an assist along with 29 penalty minutes in 13 games with the Silver Knights. Vegas let Goulbourne walk to free agency after the season and he ended up inking an AHL contract with the Belleville Senators, Ottawa's top affiliate. He appeared in one preseason game for Ottawa, donning #59 and skated for 8:01 with no points and three hits, but he was eventually sent to Belleville to begin the season.
Goulbourne appeared in just nine games for the B-Sens while dealing with injuries and found himself traded to the Stockton Heat for future considerations on March 21st, 2022. He also suited up in nine games for the Heat, where he posted an assist and 14 penalty minutes.
As a few months have passed since the season ended, Goulbourne has decided to hang up the skates for good. Tyrell Goulbourne will always be revered as a player that wouldn't shy away from contact and would take on anyone that wanted to drop the gloves. He was the ultimate teammate and his impact within the Flyers organization did not go unnoticed.
Music City Hockey Trip
Take a three day vacation to Nashville with Philly Sports Trips this October! The package includes direct flights, a three night stay at the Cambria Hotel Nashville Downtown, an all-inclusive tailgate, and tickets to the Flyers Predators game. $100 cash for anyone who shows proof they went to the Flyers game on the trip.