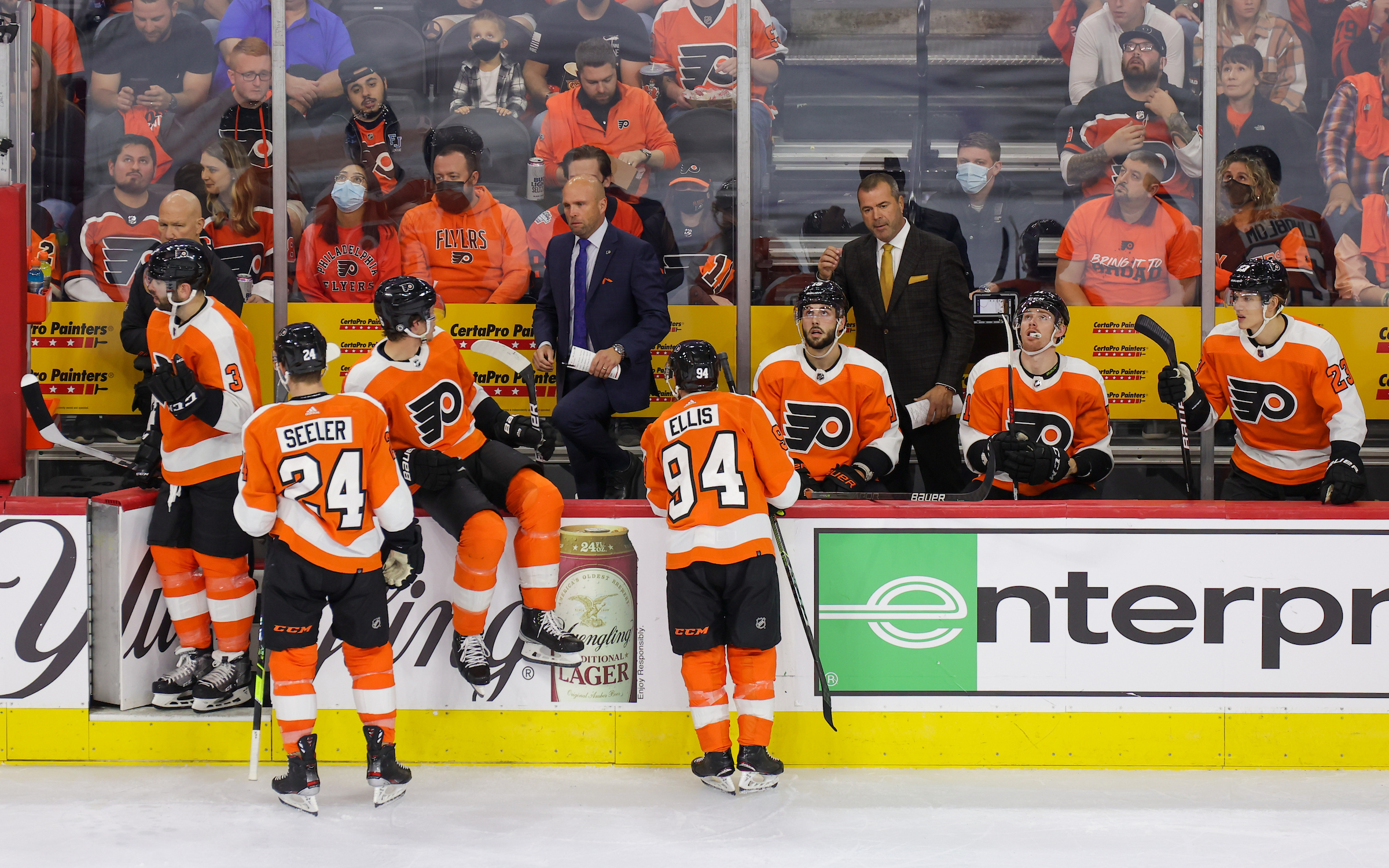 Where Do We Go From Here?
Where do we go from here? The Philadelphia Flyers are a historic brand in the NHL, coming into the league in 1967, being the first expansion team to win the Stanley Cup, being branded as the Broad Street Bullies, and then having enormous success year in and year out until 2013.
From 1967 to 2012, the Philadelphia Flyers only missed the playoffs 8 times in 44 seasons. Since then they've missed the playoffs 5 times in 9 seasons. They have gone through 3 different general managers, 5 different head coaches, new ownership group, and the core of the mid 2010s is essentially gone minus a few players. Is there any way to salvage this mess? Or are we in store for yet another "3-4 years until we're contenders" nonsense. 
From 1994-95 to 2011-12, the Flyers made the playoffs 16 times, only failing to qualify once and that was their beleaguered last place finish in 2006-07. In the non-salary cap world, the Flyers were often spending the most money year in and year out. For a team that was so successful on and off the ice, the Flyers had all the money they wanted and needed to go after the big fish and the big fish wanted to come to Philadelphia. 
It's ironic that when Paul Holmgren first became general manager of the Flyers, he inherited the mess of the previous regime and was tasked to solve the puzzle. Holmgren's tenure best exemplifies the Dr. Jekyll and Mr. Hyde analogy because he was a GM of two halves. From 2006-07 to 2009-10, he made good moves to build what he thought was a contending team around his cornerstones in Mike Richards and Jeff Carter. Over the years he acquired players like Kimmo Timonen, Scott Hartnell, Braydon Coburn, Matt Carle, Martin Biron, and Ville Leino among others through shrewd trades that catapulted the Flyers back into playoff contention.
All that came crashing down after the Flyers made their miracle run to the Stanley Cup in 2010. After that, his patience ran severely thin and he started throwing money at anyone with name value, making odd trades that crippled the team in the present and future, and seemingly lost track of the fact that he had to deal with a salary cap. 
The Flyers looking like a complete mess and with the assistant general manager, Ron Hextall, receiving interest from other teams around the NHL, the Flyers had to act quick. They promoted Hextall to the general manager position and instead of firing Holmgren, they promoted him to president. 
Holmgren's mess was Hextall's issue to solve and coming from the Los Angeles Kings, a team that had just won a few Stanley Cups after a full blown rebuild, he had one idea in mind and that was about building from within. The farm system was completely depleted at the end of Holmgren's tenure after he traded most high picks and prospects for that "win-now" mentality that left us with only a couple playoff series wins. 
Hextall's plan was to take 4-5 years because of all the contracts, lack of picks and prospects, and development of young players. Through and through he made great trades to rid the Flyers of Holmgren's terror. Year after year heavy contracts were off-loaded, whether it was Vincent Lecavalier, Luke Schenn, Nicklas Grossmann, and even Chris Pronger. 
The core of the team revolved around Claude Giroux, Jakub Voracek, Sean Couturier, Brayden Schenn, and Wayne Simmonds for the most part. Over the years some players were added onto that list like Shayne Gostisbehere, while some were taken off like Schenn. However, over this era of Flyers hockey, there was never a sense of urgency whenever the Flyers looked threatening. 
Now, playing devil's advocate, the Flyers succeeding during this "refresh", as he liked to call it, was probably more than was ever expected. However, any time the Flyers ever did make the playoffs, they were thoroughly outmatched, outworked, outskilled, and outscored by their opponent. Potentially adding to their core would've been essential to putting them over the edge but he stuck the course and added draft capital and depth pieces for the bottom-six. 
Over the course of his tenure, he stockpiled on draft capital on a yearly basis and held onto them for dear life. To his credit, he rebuilt the farm system with what looked like great prospects. Names like Ivan Provorov, Travis Konecny, Travis Sanheim, Joel Farabee, and Carter Hart have graduated and climbed up the ranks from being drafted to being mainstays on the Flyers. However, the list kind of stops there with question marks surrounding Morgan Frost and Wade Allison, among a few others. Question marks not due to skill but mostly due to the fact that they've missed so much time due to injuries. 
New ownership clashed with Hextall and it came to a head when the topic of firing Dave Hakstol was brought up. It seemed like Hextall had no intentions on letting go of his hand-picked coach, and Dave Scott and Paul Holmgren felt like they had no choice but to let go of Hextall. Shortly after his dismissal, Hakstol followed suit after Chuck Fletcher was hired as the new GM.
When the Flyers brought in Fletcher, and after witnessing the hustle and bustle of Holmgren to the patient wait-and-see attitude of Hextall, no one really knew what to expect from the former Minnesota Wild general manager. His time in Minnesota best resembled Holmgren's latter half as he left the Wild swimming with some heavy contracts. 
For the most part, he sat back and watched as things unfolded in front of his eyes, with his biggest move being Carter Hart's debut during the eight-goalie carousel season in 2018-19. He started making inroads during the off-season as he tried to build a contender with the scraps remaining. He hired Alain Vigneault to be his head coach as well as hiring Michel Therrien and Mike Yeo as his assistants. At the time, it was seen as a changing of the guard type of move because the Flyers added over 1000+ games of experience behind the bench with one move. 
He tried fixing the 2C conundrum by trading for and then signing Kevin Hayes to a long-term deal, he found Provorov his partner for the season in Matt Niskanen, and added Justin Braun as a veteran defenseman to complete the 6 defenders. It all seemed to really fall into place from January of 2020 until the COVID pause and ensuing playoffs bubble. 
The following year was disastrous and reminiscent of the previous down years we were told were in the rear view mirror. This past off-season, we were told that off-ice issues were as prevalent as on-ice issues and that is why Fletcher acquired players like Ryan Ellis, Keith Yandle, Derick Brassard, and Cam Atkinson. He wanted to change the culture and identity of this once successful franchise. 
19 games into the season and it's the same old song and dance we have been forced to witness for well over a decade. All the different visionaries at the helm, all the different voices behind the bench, and the assortment of players that have donned the orange and black have given us the same boring and lame result. 
What is the next move? A trade? Probably not right now with cap constraints and a lot of teams standing pat due to tight standings and possible early playoff pushes. Call-up from the minors? Can't really call anyone up from the AHL except for Morgan Frost, which they just did. Canning the coach and his staff? Seems to be the most popular choice and most viable avenue, all things considered. However, will it change anything?
We've witnessed 5 coaches in less than a decade. Peter Laviolette took them as far as any coach can in his first season but fell off shortly after. In came Craig Berube who was more strict and defensively minded than his predecessor but his voice fell flat near the end. In came Dave Hakstol, coming out of college it was seen as an out of the box hire by Hextall, but it looked good at the beginning. Then he started relying too much on certain veterans, playing them over some key youngsters, and his voice was lost amongst the clubhouse way before the end of his tenure. Scott Gordon was only an interim coach but he showed some flashes of brilliance in an otherwise mediocre season. Finally we've hit the Alain Vigneault era and it has been as topsy turvy as Hakstol's tenure. 
A common feat with all the coaches has been that the writing was visibly on the wall before they got canned. The Flyers play in such a manner where it looks like they're completely ignoring the head coach and almost willingly trying to have him replaced. Essentially they give up and don't want to listen to the bench boss any longer. 
Vigneault, just like all his predecessors before him, has his favourites as well as his doghouse candidates. All the players that left the Flyers this off-season had somewhat public beefs with the head coach. Jakub Voracek was rather vocal near the end of the season as he wasn't happy with his role. Shayne Gostisbehere definitely had a beef to pick because he was being underused and mismanaged. Nolan Patrick never seemed to gel with Vigneault and Phil Myers' sudden drop-off in play had him in the press box over players like Erik Gustafsson and Nate Prosser.
Somehow, no matter the changes behind the bench or up in the press box or even down on the ice, the Flyers have had the same issues for well over a decade,and it's becoming perplexing and unexplainable. With so many different voices behind the bench as well with different philosophies and strategies, could it be the players then?
Claude Giroux has been through it all, even if you want to count the 2010 season. The core since the Mike Richards and Jeff Carter trades surrounded Giroux, Voracek, Couturier, Simmonds, Schenn, and Gostisbehere. The depth pieces looked awful every year, veterans were being overused, and everyone was crying out for the youngsters to have their shot.
Schenn was the first to leave and then following that was Simmonds. Two key pieces to the roster at one point, the core now looked very different with players like Provorov and Konecny being added to the mix. Different players, different talents, and different usages, but the same mediocre results followed.
So then the Flyers tried blowing things up even more by getting rid of Voracek and Gostisbehere as the locker room started becoming a toxic environment. Both players are unsurprisingly thriving on new teams, while the Flyers still look like the same plagued team from 2012-13 onwards. 
On paper the Flyers' lineup looks pretty good. There is no more "core" because it's a seemingly balanced and deep roster, at least when healthy. Giroux, Couturier, Konecny, and Provorov now have Kevin Hayes, James van Riemsdyk, Cam Atkinson, Joel Farabee, Ryan Ellis, Rasmus Ristolainen, Travis Sanheim, and Carter Hart added to the fray. However, still with all these changes being implemented on and off the ice, the Flyers continue to play like a bottom feeder. 
With the core of the mid-2010s now mostly dispersed, is this a team that needs to rid themselves of Giroux and Couturier to move forward? It seems unlikely and it also seems like an odd move to make, but if it isn't the general manager's fault and if it can't be the head coach again, who is at fault? 
They have surges where they look unstoppable and then all of a sudden something goes wrong and they start losing games in the most deflating fashion. It's always a roller coaster with this franchise. 
This year was no different to previous years, where they started off the season pretty well in the standings, but you knew something about their game was off. It's only a matter of time before something pops and they're back to being the team that can't score, can't defend, and can't stop pucks. 
At this stage it seems unlikely that Fletcher parts ways with Vigneault, especially not right now. He has backed his head coach previously, none more than this past summer, where he chose his coaching staff over the players. To be fair, some of those moves had to be made but the point remains. 
Do we roll with the punches and hope that they turn the tide eventually? Once healthy they should have a decent enough lineup to start scoring goals again, but how long do we have to wait for Hayes, Ellis, and Allison to all return to the lineup? A trade could be in the works but how do you manage one with money tied up everywhere and not that many prospects to deal with?
Can you manage to find a trade partner for James van Riemsdyk's 7 million dollar contract? Do you ask Claude Giroux to waive his no-movement clause? Do you finally part ways with Travis Konecny in a package deal for a superstar? Do you add Morgan Frost as a sweetener to any large deals? The questions are endless but the answers are nowhere to be found. 
They have played some very uninspiring and deflating hockey lately. The schedule has done them no favours as they have had to play Tampa Bay twice, Carolina twice, Florida, Toronto, Boston, and Calgary, but they looked severely out matched in most of those games. The few that they have won or taken to overtime had more to do with the sensational goaltending and improved defense than anything else. Everybody has seemed to reach a boiling point, from the team to the fans to the players.
It has been a frustrating season to say the least with expectations pretty high heading into it. Maybe that's our fault for believing this team could turn over a new leaf and return to their once-dominant selves. 
The coaches are currently sitting on the hottest seats but it remains to be seen if Fletcher would pull off such a brazen move. The injury excuse could be used but even then, the Flyers aren't the only team dealing with injuries and some teams have it way worse. Sadly, the only logical route at the moment is to roll with the punches and hope they figure their game out. Scoring 31 goals in 16 games isn't going to win you many hockey games, and neither is a 5-for-51 power play, or a coaching staff insistent on using the same tired schemes and strategies that never worked in the first place.
The Flyers play the New Jersey Devils tonight in what is going to be an important two-game divisional mini-stretch. Already losing ground in the often-tense Metropolitan Division, the Flyers can't afford to lose ground in actual divisional games against not only the New Jersey Devils, but New York Rangers as well. These 4-point swing games are going to be huge even though we're only 19 games into the season, and if the Flyers need a break or a bounce, this is their time to get one before things really get out of hand.