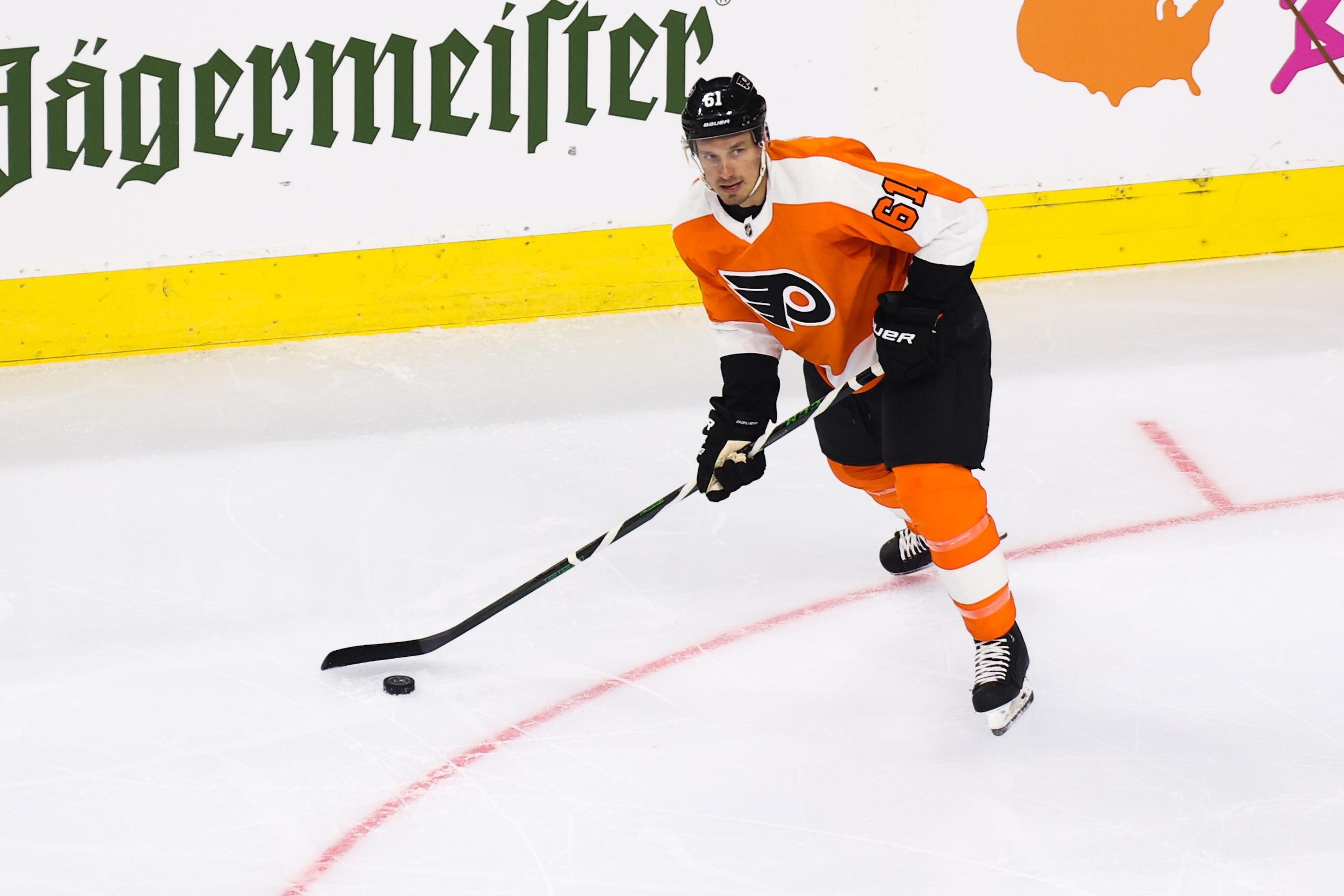 Justin Braun, the Unsung Hero of the Flyers
When the off-season flurry was over and the dust finally settled, the Philadelphia Flyers roster purge brought about many candidates who would need to step up for a successful season.
Names like Ryan Ellis and Cam Atkinson coupled alongside the roster mainstays like Claude Giroux, Sean Couturier, and Ivan Provorov needed to be strong from the outset.
A month into the season and Giroux and Carter Hart have really stood out as "heroes" for the Flyers, but one name which was barely mentioned over the summer has maintained an unsung hero status: Justin Braun.
Out of last year's debacle, there were very few positives to take from their season. One of them was how well Justin Braun played alongside Ivan Provorov on the top pair.
It wasn't what the Flyers wanted and it certainly wasn't what the Flyers intended either. Because of injuries and down seasons for several players, Braun found himself alongside Provorov for the majority of the season.
THE FLYERS' NEW-LOOK DEFENSE
He played very well all things considered, but the Flyers needed to address their defense in the summer and pair Provorov with a stud of a partner. They traded for Ryan Ellis, who they envisioned to play with Provorov, they traded for Rasmus Ristolainen who they planned to pair up with Travis Sanheim, and they acquired Keith Yandle who they figured would slot in the third pair with the dependable Braun.
For the first three games of the season, when at least Ellis was healthy, the defensive pairings looked pretty solid. Provorov was thriving alongside Ellis during the pre-season and regular season, and it seemed like a match made in heaven after all the tumultuous partners he has had to play with over the years.
Braun and Yandle formed a formidable third pair, where Yandle was allowed to be his offensively aggressive self as the dependable and defensive Braun would stay back just in case. However, injuries are a big part of the NHL, and Ellis went down with a mysterious lower-body injury that went from day-to-day to week-to-week. Ellis missed 9 straight games before returning for a one game stint and then re-injured himself and has missed the last 3. 
In his stead came Braun, who has played even better this season than last. Instead of possibly promoting Yandle or breaking up the Ristolainen and Sanheim pairing, head coach Alain Vigneault went back to what worked last year and slotted Braun alongside Provorov. It's a much better pairing this year, not only because Braun is still his dependable self, but also because Provorov has improved his game as well.
BRAUN'S 2021-22 CAMPAIGN SO FAR
When thinking of who could've been the Flyers' 2021-22 Barry Ashbee Award winner at the beginning of the year, Provorov and Ellis were definitely the frontrunners. Braun was probably an afterthought mostly because of his defensive style and lack of points.
However, this year Braun actually leads the team in points from the back end with 8, while Provorov trails with 6 and Ellis with 5 while missing significant time.
Braun has been averaging 19:54 of ice time this year, putting him behind Provorov's 24:36, Ellis' 22:48 (only 4 games), Sanheim's 22:29, and Ristolainen's 20:59. Braun is a +2 on the season, which puts him 5th on the team and has added 26 hits and 37 blocked shots.
Being tasked to play against the other team's top lines and alongside Provorov is never going to be an easy task for anyone, but Braun has stepped up admirably yet again and steadied the storm for the time being with Ellis missing time. Braun has also been tasked to play a predominant role on the penalty kill and he has helped the Flyers' once lackluster penalty kill climb up in the rankings.
General manager Chuck Fletcher could be in the market for defensive help with Ellis on injured reserve, but he can play patient for a little bit longer as Braun continues to excel in his position. His play has also allowed Ristolainen and Sanheim to build their chemistry and form a formidable second pairing and a solid top 4 group on defense.
Over the last few weeks, Sanheim and Ristolainen have played great hockey and have really stood out, both on and off the puck. 
But so far, the arguable most consistent and outright best defenders for this Flyers club in the meantime has been Justin Braun. The unsung hero of the Philadelphia blueline.