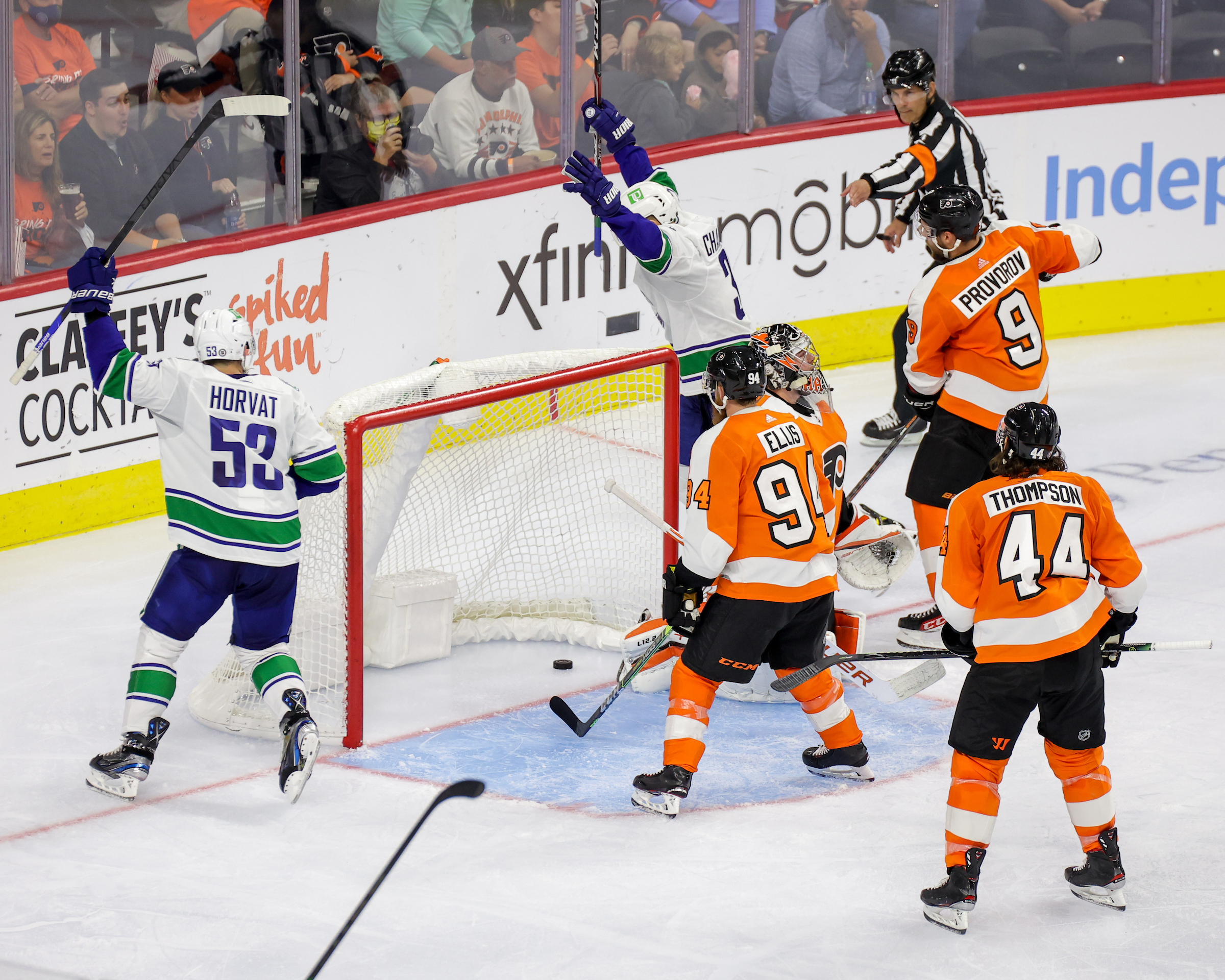 The Philadelphia Flyers have been a massive disappointment this season so far. I think that much is obvious right now. Their play on the ice is an eyesore to look at between an embarrassing power play and a seemingly invisible offensive output over the last month or so. We're already a quarter of the way through the season, and they sit at a measly 8-8-4, bad enough for seventh in the Metropolitan Division and 24th in the entire league.
They have repeatedly shown no signs of life or competitiveness in certain games over this recent stretch, which includes a disastrous six-game losing streak. That span of ineptitude includes dropping back-to-back three-goal games to the Carolina Hurricanes 6-3 and to the New Jersey Devils 5-2. This has been clearly the worst stretch of hockey under Alain Vigneault since his hiring ahead of the 2019-20 season.
Sure, last season was collectively a dumpster fire that everyone would like to forget, but at least they never lost this many games in one sitting. The last time the Flyers lost at least six in a row was during the 2018-19 season when they dropped seven consecutive contests under interim head coach Scott Gordon. Before that, they had lost a whopping ten straight in 2017-18 under notoriously terrible coach Dave Hakstol.
This franchise has been nothing but disappointing since the 2010 Stanley Cup Final run. Yes, we harp on that specific run or maybe the 2012 postseason run as the last time this team was actually fun or enjoyable, but it's for good reason. Now, I'm only 22 years old, so I'm not going to sit here and pretend that I can recall the glory days so perfectly and remember the 2004 Eastern Conference Finals run at all, or even really recollect the 2008 Eastern Conference Finals run that well either. The earliest memory I can really remember from this team playing actual important hockey is the 2009 Eastern Conference Quarterfinals, specifically Game 6 when Pittsburgh Penguins forward Maxime Talbot shushed the then-Wachovia Center crowd after fighting Daniel Carcillo.
Of course, the scrap energized the Penguins enough to come back from their 3-0 deficit in the game and win it and knock the Flyers out of the playoffs in the process. I can remember that series, and I can pretty easily recollect the 2010 Stanley Cup Final run as well. Carcillo's Game 3 overtime winner against New Jersey, Simon Gagne's heroics in Games 5 and 7 against Boston, Michael Leighton's back-to-back shutouts over Montreal, Claude Giroux's overtime goal over Chicago in Game 3, the list goes on.
What I can remember from those teams up until after the 2011-12 squad is that they were actually fun to watch and I could actually be excited about the Flyers pretty much no matter what. They had Jeff Carter and Mike Richards in their primes, they had my favorite player at the time in Danny Briere fist-pumping every other game, they had a Hall of Fame defender in Chris Pronger alongside a franchise staple like Kimmo Timonen.
Even after the Final run, they had Giroux coming into his own as a star, Scott Hartnell was scoring tons of goals and providing energy, Jaromir Jagr became an instant fan favorite after years of terrorizing Philadelphia. They even had some young guns that we'd fall in love with in Wayne Simmonds, Sean Couturier, and Brayden Schenn.
The Flyers were aggressive, competitive, and did whatever it took to please their fans and try to win championships. Sure, the Stanley Cup drought trudged on, but the late Ed Snider made sure his fans were cared for. He was a man who understood Flyers fans better than anyone could ever imagine. In the grand scheme of things, he was just a much larger fan than any of us and tried his best to give the Flyers the tools to remain successful and keep everyone happy and excited to watch this team. The Philadelphia Flyers to him were not just his team, but the city of Philadelphia's team and the fans' team. We were, in his eyes, a family.
Since his passing, that feeling has creeped away from the organization piece by piece to the point where most fans you'll see criticizing the team are clamoring for Comcast to sell the Flyers and give it to someone who "actually cares". I can't say I'm not guilty of those thoughts at times either honestly. I pride myself as a superfan of this team, and knowing the history of the franchise and what it once meant to people to be a part of the Flyers organization, it's saddening how far they've fallen.
You think about how in Flyers history, each decade seemingly has its own colorful cast of characters that have at least some sort of success or fond memories attached to them. When you think of the 1970s, you think of the Broad Street Bullies and the two Stanley Cups. Players like Bobby Clarke, Bill Barber, Bernie Parent, Rick MacLeish, Dave Schultz, Joe Watson, Bob Kelly, and a slew of others captured the hearts of the city while also capturing the distain of the rest of the hockey world.
When you think of the 1980s, you think of teams that were really talented and didn't quite get the job done, but they were an exciting bunch to watch with players like Brian Propp, Pelle Lindbergh, Tim Kerr, Mark Howe, Dave Poulin, Ron Hextall, and Rick Tocchet, among others.
When it comes to the 1990s, the early years weren't great but later in the decade the Flyers were constant contenders with Eric Lindros, John LeClair, Eric Desjardins, Mikael Renberg, Chris Therien, and Rod Brind'Amour consistently leading the way.
Even in the 2000s, players like Mark Recchi, Keith Primeau, Simon Gagne, Jeremy Roenick, Jeff Carter, Mike Richards, and Kim Johnsson added their own impacts and people remember them pretty well. But when it comes to the last decade-plus of Flyers hockey, there have been a few notable names with very middling results that Flyers fans have absolute repulsed by.
Claude Giroux has become a franchise icon and is one of the greatest players in Flyers history. Sean Couturier is a Selke Trophy winner that fans absolutely adore. But besides them, it's been a rotating door of players that seem fine but aren't superstars, and their impacts are irrelevant to some fans based on the lack of postseason appearances, much less success.
Shayne Gostisbehere etched his name into the NHL record books as a rookie, and then fans immediately turned on him after a poor sophomore season. Even with a career-high 65-point campaign in 2018, he couldn't persuade some fans he was the real deal.
Wayne Simmonds had back-to-back 30 goal campaigns in 2016 and 2017, highlighted by an All-Star Game appearance with a Most Valuable Player honor to boot in the latter season, but he was considered damaged goods in 2018 and was eventually shipped out in 2019.
Brayden Schenn was a misused Swiss Army knife of sorts under Peter Laviolette, Craig Berube, and Dave Hakstol, playing all three forward positions almost all the time. Despite thriving at center, the Flyers felt it would be best to move on and Ron Hextall traded him at the 2017 NHL Draft to St. Louis, where he became a first-time All-Star and led the Blues in scoring with 70 points as their top center in his first year there.
Steve Mason racked up 104 wins as a Flyers netminder, good for third behind Parent and Hextall, and his save percentage and goals against average are second and fourth in team history as well. Based on how fans treated him, you'd think he was a career AHL backup who couldn't stop a beach ball.
Now, I'm not saying the Flyers have done absolutely everything wrong or right when it came to roster management, nor am I saying fans were valid in every single one of their criticisms of players. But there is something to be said about how bleak this recent era of Flyers hockey has been. They've alternated playoff appearances from 2012 until now, the longest streak in American professional sports of a team switching between making and missing the playoffs.
When Chuck Fletcher was hired in December 2018 as general manager, he promised changes and he delivered immediately. Since his tenure in Philadelphia, he canned Dave Hakstol and formally replaced him with Alain Vigneault after Scott Gordon's interim run. He has traded or waived Dale Weise, Jori Lehtera, Mark Friedman, Shayne Gostisbehere, Jake Voracek, Nolan Patrick, Phil Myers, and Nicolas Aube-Kubel. He has notably called up or acquired Carter Hart, Joel Farabee, Morgan Frost, Justin Braun, Kevin Hayes, Ryan Ellis, Cam Atkinson, Wade Allison, Keith Yandle, Martin Jones, Cam York, and Nick Seeler.
Fletcher has delivered on his promises to revamp the core of this Philadelphia Flyers team, and they still have produced mediocre and disheartening results. Fans have gradually stopped attending games as a result, which we've seen at times in recent years during losing streaks and other moments of ineptitude. After receiving a vote of confidence from Fletcher after last season's debacle, Vigneault and his staff have massively underachieved with the exception of goaltending coach Kim Dillabaugh, and maybe defense and penalty kill leader Mike Yeo. But Vigneault and Michel Therrien, the assistant that runs the power play and has notoriously been bad as a head coach at the NHL level, have been nothing short of failures so far this year.
And sure, the players haven't exactly pulled their weight either, that much is apparent. Aside from Carter Hart, Martin Jones, and Claude Giroux, this team has been cold and deflated just about all season long so far aside from the first few games of the season. And they've been bitten by the injury bug quite a bit with Ryan Ellis, Kevin Hayes, and Derick Brassard among others missing time this season, but it's not an excuse for how lifeless they've looked in this stretch.
I just wish this team would actually figure it out and pull themselves together. There has not been a shred of consistency in this club for over ten years now, and this season has been no different.
I miss when I could actually be excited about a Flyers gameday. The anticipation of a puck drop hours before game time is supposed to be fun and you're supposed to be pumped up that the Flyers are playing that night. You think about who's gonna score and what you'll see and think about all the crazy scenarios that could play out on the ice. In the end, it's just a game and it's supposed to be fun! But right now, this team is far from fun. They're unenergized, they're disappointing, and it's become an egregious task to just even try and watch them.
These are unfortunately the Flyers that I've grown up with, and it's the same way for a lot of other fans too. And no one is innocent in this. Fans can be valid in a couple of their complaints, but maybe not all, but one thing's for certain and that is they're one hundred percent justified in calling out just about every single person in the organization for how far off the wagon this club has fallen this year.
From ownership, to management, to the coaching staff, to even the bulk of the players, not a soul has done their job effectively enough this season. If they want a chance to clean things up and try and make the playoffs, it better happen pretty darn quick or it'll be another early offseason in South Philadelphia.
I just want the Flyers to be good again. I want them to be excitable and fun and something I can look forward to, and every other fan feels the same way. I want to see a Flyers team that I can tell my kids about one day and pass on this fanfare the same way my dad did to me.
I want the real Philadelphia Flyers back in action as soon as possible. An organization that treats its fans like family, that truly cares about the on-ice product, that goes above and beyond to stay competitive and make this fanbase and city proud.
I just want my team back.