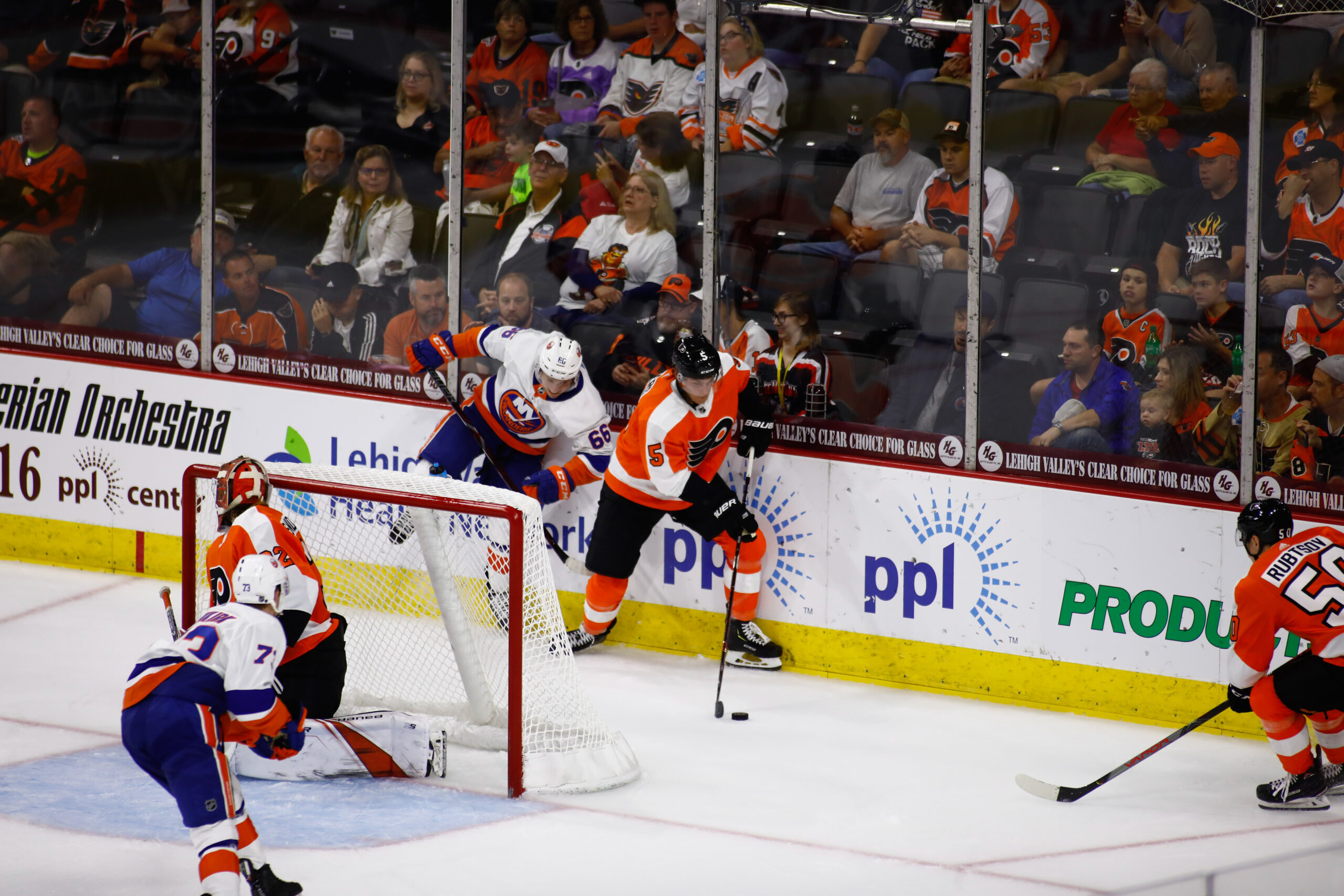 President of Hockey Operations and General Manager of the Philadelphia Flyers, Chuck Fletcher, has unveiled and announced the schedule and roster for their 2022 Rookie Camp, which is set to kick off on the 15th of September at the Flyers Training Center in Voorhees, New Jersey.
Rookie Camp is to begin on Thursday and will be stretched out over four days with on-ice sessions, including two games against the New York Rangers. The first day is more of an introductory to the camp than anything else, with a 75 minute on-ice practice session ahead of two games that are set to take place on Friday and Saturday. The fourth and final day will resemble the first day with an on-ice practice session that should last around an hour.
The Flyers are set to face off against the rookies of the New York Rangers on back-to-back nights and will take place at the PPL Center in Allentown, Pennsylvania, which is the arena for the Lehigh Valley Phantoms.
For those who would like to attend and watch the Flyers' Rookie Camp, it will be free and open to the public at their Training Center in Voorhees. If you would like to watch the games against the Rangers rookies, you can purchase tickets that are available at PhantomsHockey.com.
Rookie Camp is taking place one week before the official training camp for the Flyers is set to begin. Wednesday the 21st of September will be the first day of on-ice session and more information regarding the camp, roster, ad schedules, will be released and announced in the coming days.
ROOKIE CAMP SCHEDULE
Thursday, September 15th
On-Ice: 10:15-11:30 a.m. at Flyers Training Center, Voorhees, NJ
Friday, September 16th
Morning Skate: 10:30 a.m. at Flyers Training Center, Voorhees, NJ
Rookie Game: 7:05 p.m. at PPL Center, Allentown, PA
Saturday, September 17th
Morning Skate: 10:30 a.m. at PPL Center, Allentown, PA
Rookie Game: 5:05 p.m. at PPL Center, Allentown, PA (Televised on NBCSP+)
Sunday, September 18th
On-Ice: 10:15-11:15 a.m. at Flyers Training Center, Voorhees, NJ
The roster for the Rookie Camp has also been unveiled:
Forwards
#43 Theo Rochette
#49 Noah Cates
#52 Tyson Foerster
#59 Jackson Cates
#60 Zayde Wisdom
#62 Olle Lycksell
#70 Tye McSorley
#73 Elliot Desnoyers
#78 Jacob Gaucher
#82 Mikael Huchette
#83 Tyler Savard
#85 J.R. Avon
#92 Alexis Gendron
Defensemen
#47 Ronnie Attard
#50 Adam Ginning
#54 Egor Zamula
#63 Mason Millman
#64 Brian Zanetti
#65 Wyatte Wylie
#75 Ethan Samson
#80 Will MacKinnon
#93 Colin Felix
#95 Adam Karashik
Goaltenders
#30 Jonathan Lemieux
#33 Samuel Ersson
#34 Nolan Maier
Music City Hockey Trip
Take a three day vacation to Nashville with Philly Sports Trips this October! The package includes direct flights, a three night stay at the Cambria Hotel Nashville Downtown, an all-inclusive tailgate, and tickets to the Flyers Predators game. $100 cash for anyone who shows proof they went to the Flyers game on the trip.