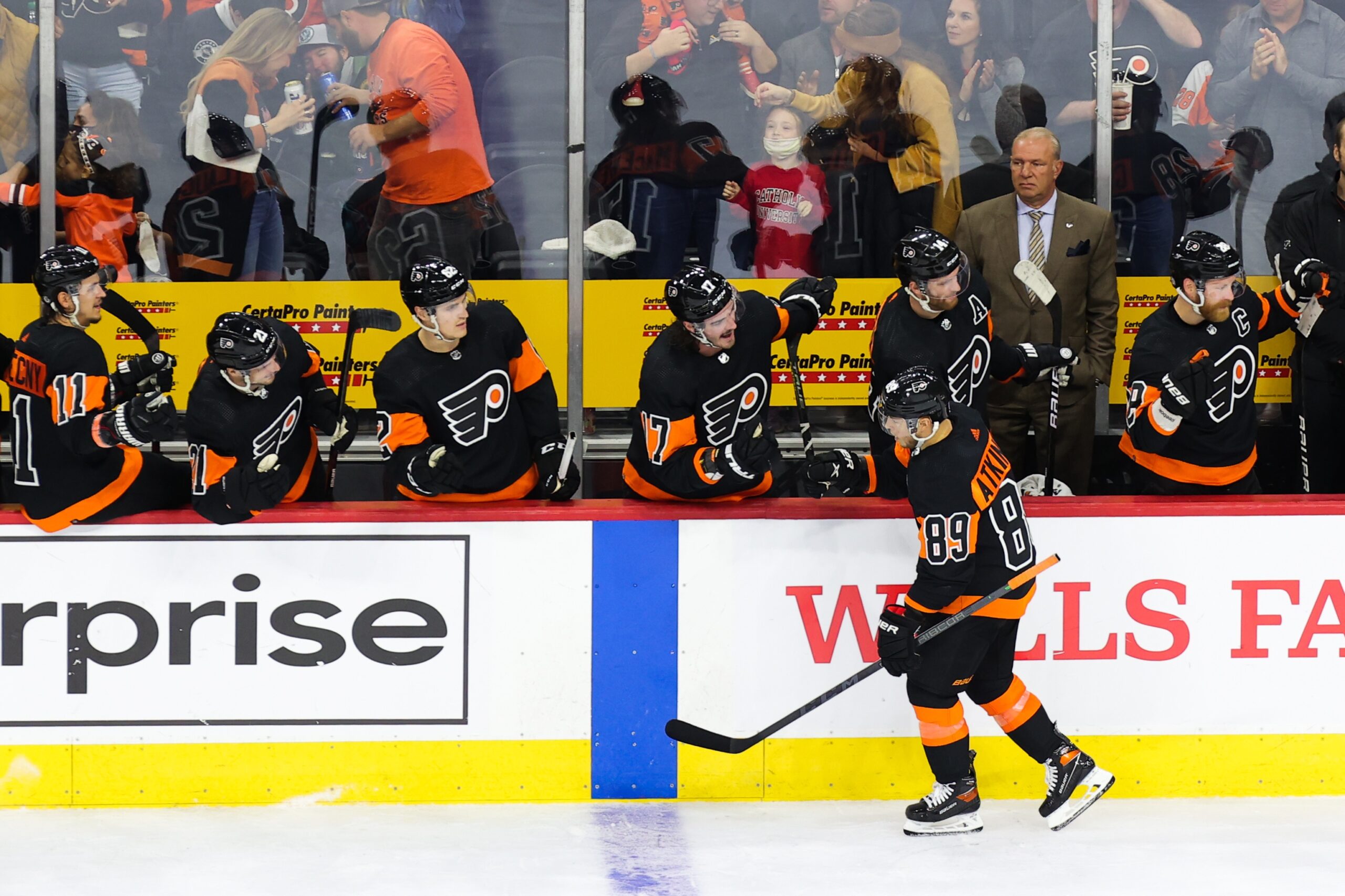 For the most part, Western Canadian hockey teams haven't done too well in recent years. The Edmonton Oilers, Calgary Flames, and Vancouver Canucks have drafted in the top 10 plenty of times, with the Oilers netting the first overall pick three times. For whatever reason though, that daunting road trip to Western Canada has plagued many teams around the NHL, including the Philadelphia Flyers.
No matter where they sit in the standings, that road trip has brought about ugly results. Since 2014-15, the Flyers have posted a 4-11-3 record, while being swept 4 times out of 6. They did sweep the road trip back in 2017-18, which makes the other 5 years a whopping 1-11-3. They haven't registered a victory out west since December 7th, 2017 against the Vancouver Canucks.
It hasn't been great. It's been downright ugly with lots of blowouts and one-goal performances. If the contest against the Florida Panthers was a barometer to understanding where the Flyers really stood against the best of the best, this road trip should be considered in the same light. Whether or not the teams they're about to face are juggernauts or bottom-feeders is irrelevant. The fact of the matter is that the Flyers have constantly struggled to find ways to win against these clubs, and if they want to stake a claim in the Metropolitan Division, coming out with at least two victories is going to be very crucial.
The Flyers played their best game in recent memory against the newly-formed Seattle Kraken. They then dispatched the Boston Bruins with opportunistic goals, stout goaltending, and a very strong third period. The game against the Panthers should give rise to optimism, as they were in a tightly contested battle all night until a heart-shattering shorthanded goal proved to be the game-winner.
The Flyers currently sit in last place in the Metropolitan Division, which doesn't mean all that much since they've only played 4 games, but it is ominous considering how many good teams are in this ultra-competitive division.
The Pittsburgh Penguins always find ways to win, the Washington Capitals are the epitome of regular season success with 5 division titles in 6 years, the Carolina Hurricanes and New York Islanders only seem to be getting better, the New York Rangers have been a dark horse for years, and no one can ever put a succinct label on the New Jersey Devils or Columbus Blue Jackets.
The Flyers are currently 2-1-1, which is a good start all things considered, but this road trip is going to put an exclamation point on the month of October. If they can come out of Canada with two wins at the minimum, with the potential for a sweep, then we'll have a good sense that the Flyers are a much better and different team than years past.
It's not going to be easy with the unbeaten Edmonton Oilers (5-0-0) on Wednesday, followed by a quick trip to Vancouver (3-2-1) who beat them on opening night, and then the Calgary Flames (4-1-1) who have surprised most so far.
The Oilers no doubt pose the biggest threat of the road trip as they are equipped with two of the most dangerous players in hockey. Connor McDavid and Leon Draisaitl currently have 13 and 11 points each, respectively, in 5 games. Former third overall pick Jesse Puljujarvi has 8 points, former first overall pick Ryan Nugent-Hopkins has 7, newly acquired Zach Hyman has 6, and Zack Kassian has 5 points in 4 games. To put that into deeper perspective, the Montreal Canadiens' entire roster has netted a measly 10 points total.
Mike Smith, who has been fantastic in his short sting with the Oilers will most likely miss the game with a lower body injury. Backup goalie Mikko Koskinen is 3-0-0 in relief with a 2.03 G.A.A and a .943 save percentage. The Flyers are 1-5-0 in their last 6 games in Edmonton and Connor McDavid has 17 points in 9 career games against the Flyers.
After Edmonton, they make a quick stop in Vancouver. The Flyers will end their season series with the Canucks in the very first month, after they were taken down 5-4 in a shootout on opening night.
The Flyers found themselves in trouble after a rough second period, surrounding 4 goals and a couple of costly power play tallies. Carter Hart did not have a good period after allowing several tough angle goals. However, he regrouped and made 22 consecutive saves in the third period and overtime, as the Flyers comeback fell a little short.
The Canucks are going to be better equipped this time around as Brock Boeser has returned to the lineup. They already feature talent like Elias Pettersson, Quinn Hughes, Bo Horvat, J.T. Miller, Conor Garland, and Oliver Ekman-Larsson, so it will be another tightly contested game. Thatcher Demko, like Carter Hart, is another one of a slew of talented young goalies in the NHL. They have fared a little better in Vancouver than the other cities but still only have a 2-3-1 record in their last 6 games at Rogers Arena.
They finish off the road trip against the Calgary Flames, a team they have gone 1-3-2 in their last 6 contests on the road. Equipped with Matthew Tkachuk, Johnny Gaudreau, Elias Lindholm, Blake Coleman, and Jacob Markstrom, the Flames should never be taken lightly.
In 6 games this year, Lindholm has 7 goals, Gaudreau has 8 assists, Mangiapane has 7 goals after a two-goal performance last night, and Markstrom is 2-1-1 with a 1.99 GAA, .934 SV% and one shutout. The Flames have delivered some heartbreaking losses to the Flyers in the past, including some late come from behind victories, as well as a few blowouts.
The Flyers have the skill, leadership, and personnel to have a successful road trip. All throughout the lineup the Flyers possess enough firepower to handle most teams on their best night. The top two lines have been buzzing nearly every game and once the third line gets going, the Flyers will be one dangerous team.
The game against the Oilers is going to be a test of their will, not only because of McDavid, but also because the Oilers as a whole play such a fast and up-tempo style that the Flyers aren't as used to. The Canucks and Flames play a similar style but their sneakiness could prove fatal. Demko and Markstrom are elite goaltenders, they both possess a fiery top-six group, and currently both teams are scoring at a high clip.
Ryan Ellis, who missed last game with an upper-body injury, practiced with the team on Monday and took his usual line rushes with Ivan Provorov as well as the second power play unit. However, he missed practice on Tuesday in Edmonton and is still listed as day-to-day and won't play tonight. Carter Hart has been tapped as the starting goalie for the game tonight and Martin Jones will be in the crease on Thursday against the Canucks.
A quick start is imperative and much needed if they want to win at least one game on this road trip. No matter where these teams sit in the standings, they will always pose a threat on the road. The Flyers are going to need to keep competing the way they have so far.
If it wasn't for their incessant penalties on Saturday, they had a good chance at beating the Panthers. They have otherwise shown mettle, composure, and determination and it should be on full display with the complement of players they possess. Leadership and accountability is no longer an issue and the veteran presence has taken its mantle, front and center.