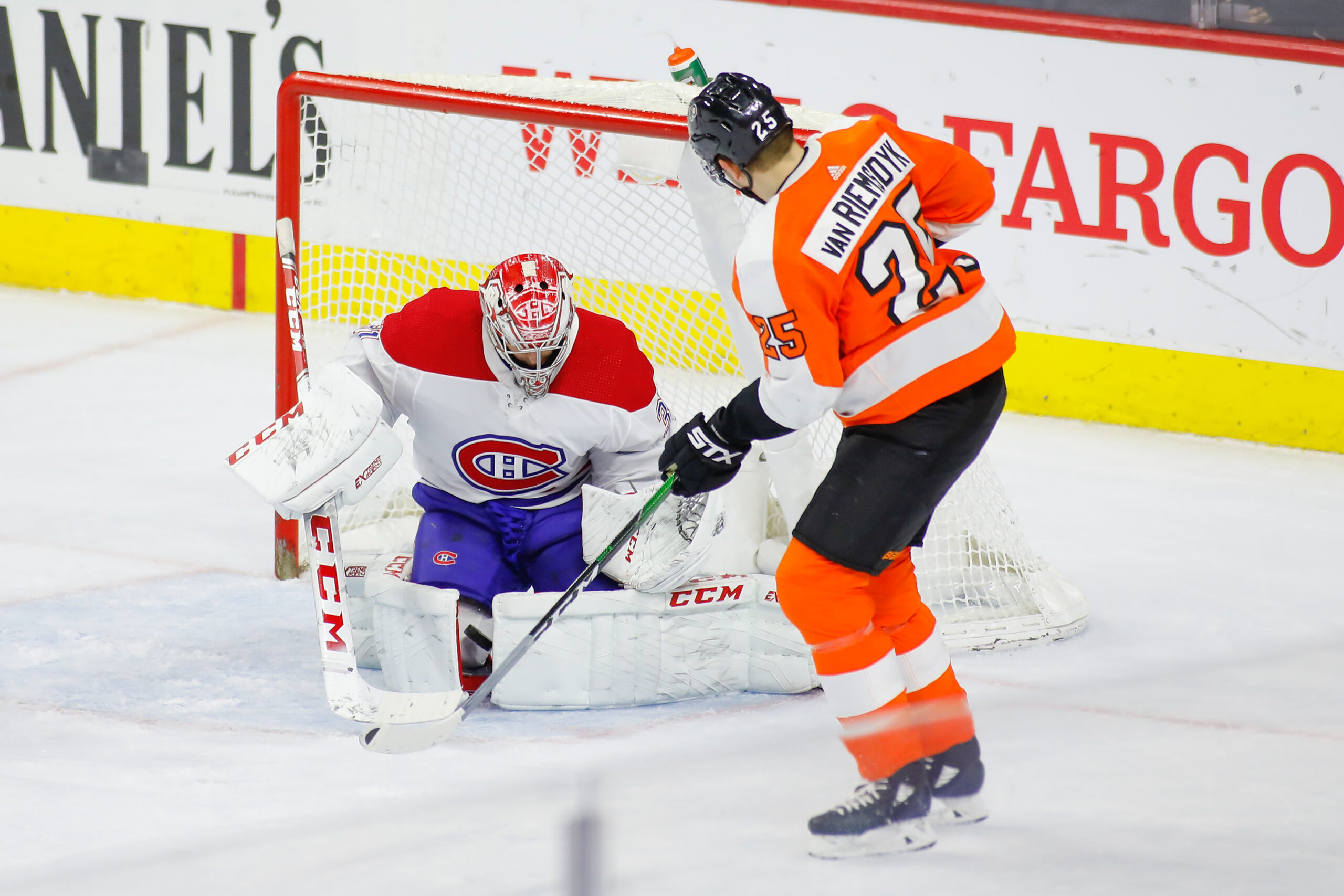 Flyers seek to best Montreal in mid-season rematch
Both hockey clubs enter this game with a loss and chip on their shoulder. The Montreal Canadiens had a great comeback versus the Seattle Kraken last night, scoring 2 unanswered goals in the 3rd period, only to lose in the shootout (going 0-7 in the shootout as well, remind you of anyone?). The Philadelphia Flyers, on the other hand, did not walk away as close to a win or even earned a point, but it was a game where one team (the Hurricanes) heavily outmatched the other.
The Canadiens shamedly hoist a 2.43 (32nd) goals per game, 3.79 (32nd) goals against per game, 12.7 (31st) power play percentage, and a 73.5 (29th) penalty kill percentage. The Flyers almost sit shoulder to shoulder in the same categories, with 2.50 (31st) goals per game, 3.41 (24th) goals against per game, 13.7 (30th) power play percentage, 13.7 (30th) penalty kill percentage. The duo is dead last in almost all categories, so this duel could be another high scoring game like we saw in last week's matinee where the Flyers scored 4 goals to edge out the Blackhawks, who had 3.
PHI Record: 18-30-10
MTL Record: 15-35-8
When: 7:00PM ET
Where: Wells Fargo Center
PHI Goalie: Carter Hart
MTL Goalie: Cayden Primeau
PHI Unofficial Lineup
#23 Oskar Lindblom – #48 Morgan Frost – #11 Travis Konecny
#28 Claude Giroux – #19 Derick Brassard – #89 Cam Atkinson
#86 Joel Farabee – #13 Kevin Hayes – #25 James van Riemsdyk
#20 Gerry Mayhew – #38 Patrick Brown – #17 Zack MacEwen
#9 Ivan Provorov – #61 Justin Braun
#6 Travis Sanheim – #70 Rasmus Ristolainen
#3 Keith Yandle – #45 Cam York
#79 Carter Hart
#35 Martin Jones
MTL Unofficial Lineup
#22 Cole Caufield – #14 Nick Suzuki – #17 Josh Anderson
#68 Mike Hoffman – #32 Rem Pitlick – #11 Brendan Gallagher
#41 Paul Byron – #71 Jake Evans – #55 Michael Pezzetta
#62 Artturi Lehkonen- #25 Ryan Poehling – #40 Joel Armia
#77 Brett Kulak – #26 Jeff Petry
#27 Alexander Romanov – #8 Ben Chiarot
#64 Corey Schueneman – #20 Chris Wideman
#30 Cayden Primaeu
#35 Samuel Montembeault
Last Game PHI: 3-1 L at Carolina Hurricanes
Last Game MTL: 4-3 SOL vs Seattle Kraken
News and Notes
– The Canadiens defeated the Flyers back on December 16th in their first meeting of the season at Bell Centre. Montreal won 4-3 in a shootout.
– The two clubs will meet once more after this on April 21st in Montreal to close out their season series.
– This is the 201st all-time meeting between the Flyers and Canadiens. The Flyers trail in the series 79-83-30-8.
– Tonight will be captain Claude Giroux's 999th NHL game. When he takes the ice, he will be set to reach game number 1,000 on Thursday against Nashville.
– The last time the Canadiens visited Wells Fargo Center was back on January 16th, 2020. Alex Lyon started in goal for Philadelphia, Tyler Pitlick assisted on a Joel Farabee goal, and Ilya Kovalchuk scored twice for the Habs in a 4-1 Montreal win, to give you an idea of how long ago that was.
Broadcast Info: NBC Sports Philadelphia, ESPN+, 97.5 The Fanatic
Injuries:
PHI – Ryan Ellis (lower-body), Nate Thompson (shoulder), Sean Couturier (back), Kevin Connauton (upper-body), Scott Laughton (concussion)
MTL – Christian Dvorak (upper-body), David Savard (ankle), Jake Allen (lower-body), Andrew Hammond (lower-body), Kale Clague (upper-body), Carey Price (knee), Jonathan Drouin (wrist), Tyler Pitlick (undisclosed)