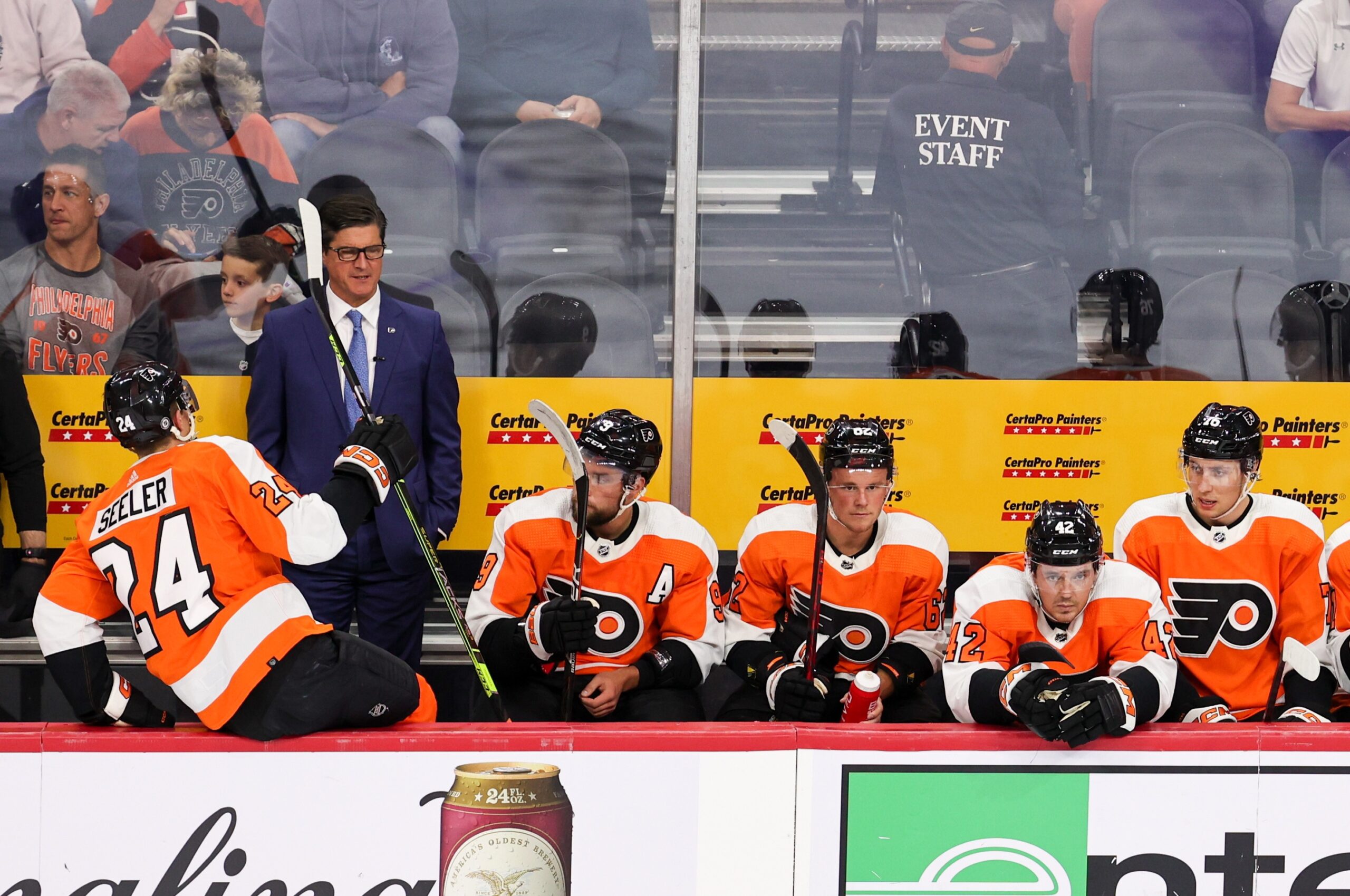 Flyers' Roster All But Finalized While a Few Question Marks Still Remain
The NHL regular season has technically already started with the Nashville Predators and San Jose Sharks completing their Global Series in the Czech Republic on the 7th and 8th of October. For the rest of the NHL, they've been preparing for their season openers that start either Tuesday, Wednesday, or Thursday by cutting, waiving, and demoting players to fit under the 23-man roster.
The Philadelphia Flyers waived Zack MacEwen and Cooper Marody yesterday and loaned Jackson Cates earlier today to the Lehigh Valley Phantoms. With Cates heading to the AHL, the roster is getting closer and closer to being finalized as they were due today by 5 p.m. We should know the full roster at some point soon.
The Flyers are hopeful that Cam Atkinson can suit up for the regular season opener on Thursday as he hasn't played in any preseason games. However as we saw last year, the veteran forward gets a lot of maintenance days as his style of play has him a little banged up on the regular. Head coach John Tortorella is confident he can be ready for Thursday but if not, it looks like Hayden Hodgson, Wade Allison, and Owen Tippett remain safe for the time being.
The lines and rushes from practice are as followed:
Scott Laughton – Kevin Hayes – Travis Konecny
James van Riemsdyk – Morgan Frost – Wade Allison
Joel Farabee – Noah Cates – Owen Tippett
Nicolas Deslauriers – Tanner Laczynski – Hayden Hodgson
Ivan Provorov – Tony DeAngelo
Travis Sanheim – Rasmus Ristolainen
Nick Seeler – Justin Braun
Egor Zamula – Ronnie Attard
Carter Hart
Felix Sandstrom
Samuel Ersson
There has been constant chatter about who will constitute the bottom-six as the Flyers had a cluster of forwards to choose from. The fact that Allison is currently in the top-six might suggest that he sits out for whenever Atkinson makes his eventual return. Not that Allison isn't deserving of a top-six role, but he has missed a lot of time in the last few years due to injury, Tippett was always meant for the third line, Atkinson is a top-six player, and everyone else currently in top-six aren't going anywhere. Allison was also quoted as saying, "I feel good. I worked my ass off at this camp. I think I deserve to make the team, but we'll see tonight."
On Jackson Cates, Tortorella felt he had a really good camp and that he thinks he'll eventually find his way back up to the NHL in short order but they don't want him to be the a 13th, 14th, or 15th forward right now and sitting in the press box. When it comes to the kids and the younger prospects, the Flyers have been very clear that if they don't make the team it's solely because they want them to get playing time, and there is currently no room at the NHL level.
There are only so many spots to vie for when you have Kevin Hayes, Travis Konecny, Scott Laughton, James van Riemsdyk, Morgan Frost, Joel Farabee, Owen Tippett, and Nicolas Deslauriers stapled in the lineup.
As for Noah Cates, he has remained his usual cool, calm, and collected self and has earned himself the third-line centre role. Tortorella said that this isn't a short term outlook, it's not a test, and it's not out of the sake of injury either. The Flyers like the idea of trying to develop him into a centre and they want him to become a two-way player in the near future, essentially trying to do to him what they did to Morgan Frost over the last few years, except this time around they're doing it to a player who has the capabilities of becoming a two-way centre in short order. Frost has always been a highly skilled playmaker and the Flyers were out of the loop in trying to change his game when they lack that game-changing ability.
As for Atkinson, it was reported by Tortorella that he was in Columbus the last few days dealing with some personal matters as well as working with a trainer who "has worked with him and his body throughout his time in Columbus." He has returned to Philadelphia today, is expected to practice with the club on Wednesday, and barring any unforseen circumstances he should be in the lineup on Thursday.
His insertion into the lineup will bump one of Allison or Tippett, however as Tortorella said he wants the fourth line – Deslauriers, Laczynski, Hodgson – to develop some chemistry, build something, and become their identity line. The idea is to not have either player in Allison or Tippett on the fourth line as that doesn't suit their skillset, and the Flyers want to really build the perfect lineup with what best benefits each other's talents and skill.
Bill Meltzer tweeted out that Tippett has been working on trying to get pucks on the net which, as simple as it sounds, has been the Achilles' heel for the Flyers over the last few seasons. They have always looked for the "perfect" play or the "perfect" shot, rather than just shooting it towards the net to force a rebound, a faceoff, a deflection, or God forbid a goal.
The Flyers have put an emphasis on Tippett to unlock his two-way abilities, his goal-scoring acumen, and everything else that made him a top-10 pick in his draft class. Tortorella has been impressed with the latter half of his training camp and is hoping that the players who are meant to score and produce for this team, do just that as soon as the season starts – Tippett included.
As for the defense and goaltending, it seems that as of right now Felix Sandstrom has won the backup position from Samuel Ersson, however the latter might stick around for a few more days depending on the status of Sandstrom's injury.
Egor Zamula and Ronnie Attard, who both had really good camps, figure to head down to the Lehigh Valley Phantoms as well in the next round of cuts with Justin Braun and Nick Seeler comprise the third pairing. The fact that Ersson, Zamula, and Attard have remained with the Flyers up to today is a testament of how ready they are for NHL action and should represent the first series of call-ups whenever that situation arises.
Ersson's pre-season play was something of a godsend for a team that has dealt with a myriad of issues at the backup position over the last few seasons. With Ivan Fedotov's future being as bleak as ever, its good to see the young goalie prospects who have been around for some time finally make their strides alongside Carter Hart.
The Flyers seemed poised to start the season and John Tortorella is ready to silence the many doubters of the Flyers' outlook for the 2022-23 season. Last year was atrocious as they finished fourth-last in the league and many have them pegged to finish somewhere in that same range this year with Sean Couturier and Ryan Ellis out long-term and no big moves having taken place during the offseason.
Joel Farabee's quick return is a blessing in disguise and we're also hoping all is well with Cam Atkinson,  as they are going to need their goal scorers to produce at an alarming rate – and quickly.
Tortorella has been implementing his system all month, the preseason and training camp were a grind for several key players, and some got the boot while others thrived and deserved well-earned lineup spots. The Flyers want to be hard to play against and it seems like their lineup changes reflect just that.
Music City Hockey Trip
Take a three day vacation to Nashville with Philly Sports Trips this October! The package includes direct flights, a three night stay at the Cambria Hotel Nashville Downtown, an all-inclusive tailgate, and tickets to the Flyers Predators game. $100 cash for anyone who shows proof they went to the Flyers game on the trip.