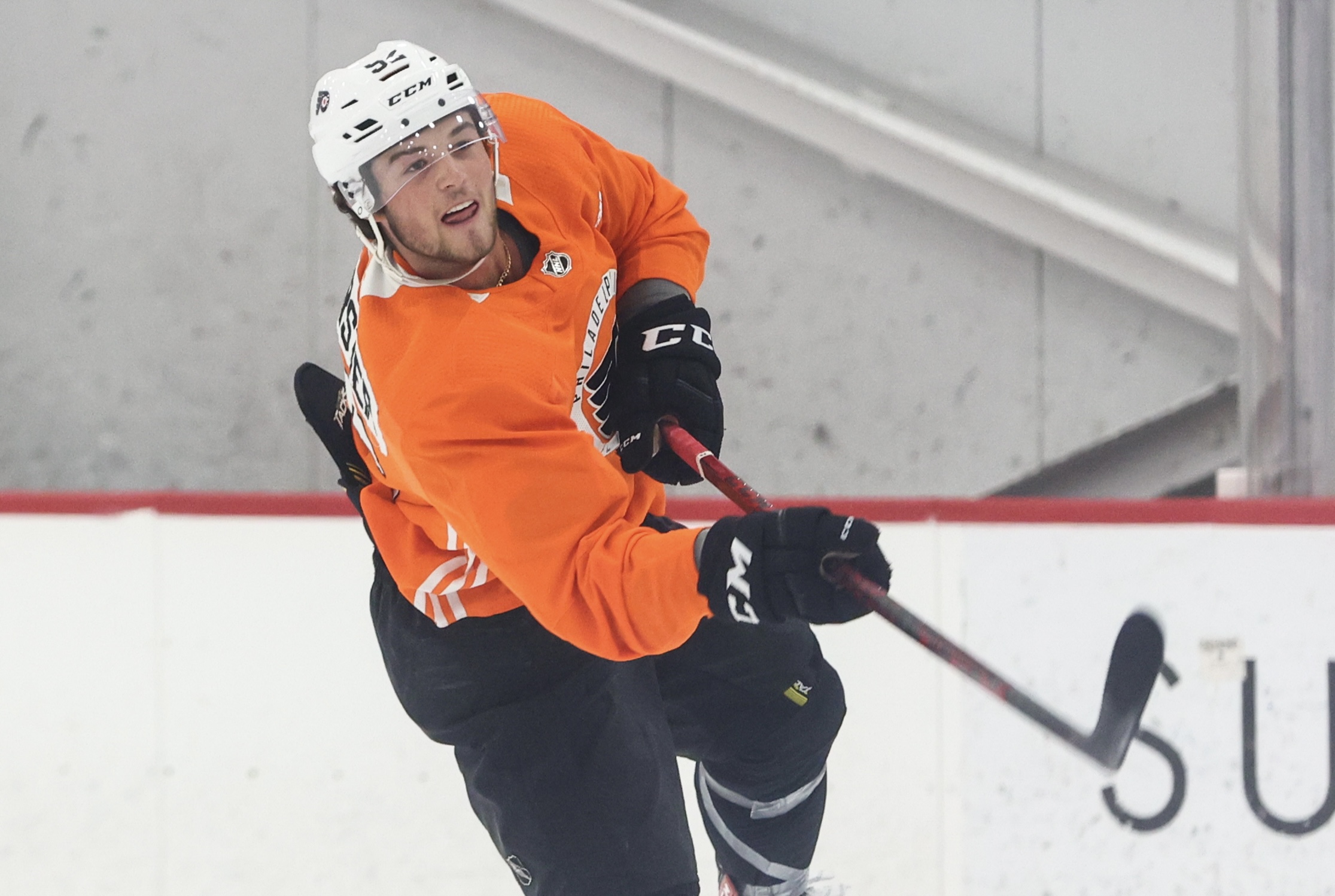 The first official Flyers game of 2023-24 is finally here! Well, sort of.
The Philadelphia Flyers rookies and New York Rangers rookies will be playing the first of two Rookie Series games tonight at PPL Center in Allentown, Pennsylvania, home of the Flyers' AHL affiliate, the Lehigh Valley Phantoms.
These two clubs faced off in a two-game Rookie Series last season in Allentown, with the Flyers winning both contests. Tyson Foerster's overtime winner capped off a 2-1 victory in Game 1, while they trounced the Rangers 5-1 in Game 2 largely behind Samuel Ersson's performance in goal despite the offensive output.
Some players vying for full-time NHL spots will be on the ice for Philadelphia, such as Tyson Foerster, Elliot Desnoyers, Bobby Brink, Adam Ginning, and Emil Andrae.
Six of the Flyers' selections from the 2023 NHL Draft will also be participating in this series. Defenseman Oliver Bonk (round one), goaltender Carson Bjarnason (round two), forward Denver Barkey (round three), forward Alex Čiernik (round four), defenseman Carter Sotheran (round five) and defenseman Matteo Mann (round seven) will be on the ice this weekend.
These two contests make up part of the schedule of the Flyers' Rookie Camp, which began on Thursday, September 14th will end on Tuesday, September 19th.
When: 7:05pm ET
Where: PPL Center, Allentown, PA
PHI Goalie: Nolan Maier (2022-23: 5-2-2, .886 SV%, 2.85 GAA, 0 SO w/AHL Lehigh Valley, 12-8-3, .892 SV%, 2.89 GAA, 0 SO w/ECHL Reading)
PHI Projected Lineup
#92 Alexis Gendron – #73 Elliot Desnoyers – #71 Tyson Foerster
#91 Brendan Furry – #52 Denver Barkey – #46 Bobby Brink
#38 Matt Brown – #87 Jonathan Fauchon – #56 Samu Tuomaala
#45 Alex Čiernik – #78 Jacob Gaucher – #60 Zayde Wisdom
#50 Adam Ginning – #59 Oliver Bonk
#80 Will Zmolek – #75 Ethan Samson
#63 Mason Millman – #65 Carter Sotheran
#35 Nolan Maier
#34 Carson Bjarnason
Scratches: #3 Helge Grans, #36 Emil Andrae, #67 Sam Sedley, #76 Matteo Mann
Broadcast Info: TV – PhiladelphiaFlyers.com
2024 Stadium Series Trip
Flyers Nation and Philly Sports Trips have teamed up to bring you on an amazing bus trip to the 2024 NHL Stadium Series between the Flyers and Devils. Place an early deposit to reserve your spot at the ultimate tailgate experience at MetLife Stadium before the game. The package includes a game ticket, round-trip charter bus, an all-inclusive tailgate party with unlimited cold beverages, "Philly Style" catered food, live entertainment, and more.