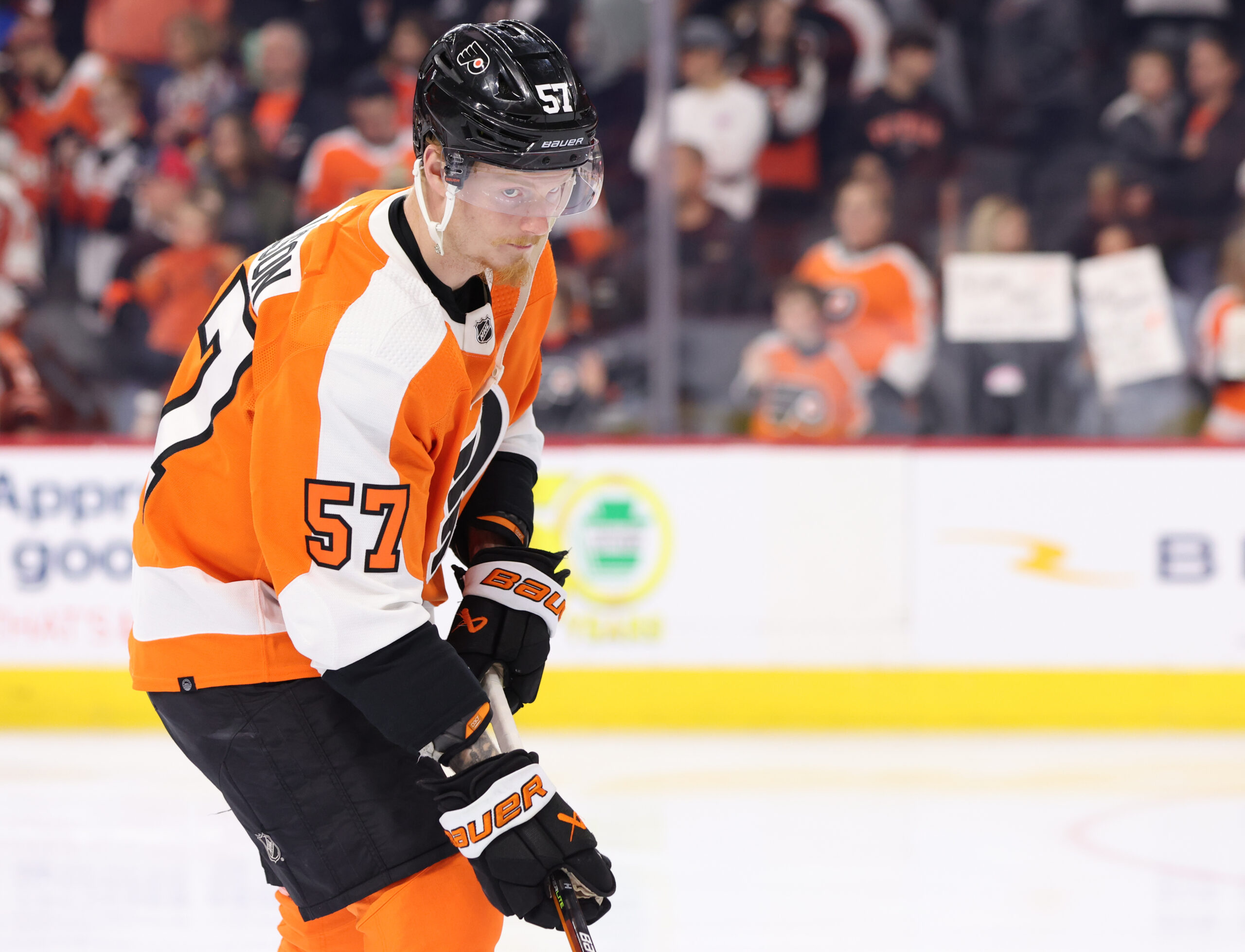 With the NHL regular season only a few days away from kicking off, almost every single team has been utilizing the waiver wire to become roster compliant. The Philadelphia Flyers waived goaltender Cal Petersen and forward Tanner Laczynski earlier this week – both have cleared and have reported to the Lehigh Valley Phantoms. Earlier today, they placed forward Wade Allison on waivers, which is a bit surprising, but it more or less solidifies that they feel a lot better about Tyson Foerster and Bobby Brink.
Allison was drafted in the second round of the 2016 NHL Entry Draft and was touted as a very serviceable power forward. He showed off his skills and intangibles at the collegiate level with Western Michigan University as he scored 45 goals and 97 points in 106 games but had issues staying healthy and in the lineup. He played in 36 games in 2016-17, then 22 in 2017-18, 22 in 2018-19, and 26 in 2019-20.
For the Flyers, he scored 4 goals and 7 points in 14 games in 2020-21, appeared in 1 game in 2021-22, and then played most of last season but wasn't as productive offensively as he only chipped in with 9 goals and 15 points in 60 games. He suffered an oblique muscle strain and a hip pointer in mid-November and then sustained another injury in January but fortunately the All-Star break was right around the corner.
Earlier in the summer we discussed how Allison would have issues making the opening night roster with the logjam the Flyers had on the wing. Tortorella made a few comments last season about how Allison had issues staying healthy, you couple that with the emergence of several young prospects, and the introduction of players like Bobby Brink and the depth chart got a whole lot busier.
John Tortorella intimated this training camp about how well players like Foerster and Brink have played and how the latter's inclusion all throughout camp and preseason games was a good indication in regard to his future with the club. Earlier today, PHLY's Charlie O'Connor tweeted out a lengthy quote from the bench boss:
Torts' full comments today on Brink, Foerster, and the development plan for the season.

Basically, guys may go up and down this year if they feel like that's best for their development. The roster is going to be pretty fluid, it seems. pic.twitter.com/8zIj2qhKsF

— Charlie O'Connor (@charlieo_conn) October 6, 2023
With so many possibilities with a 23-man roster, the Flyers had several options of either going 14 forwards, 7 defensemen, and 2 goaltenders or 13 forwards, 8 defensemen, and 2 goaltenders. They could also elect to go with 20, 21, or 22 players, all depending on how they want to utilize their younger players. It seems that Tortorella doesn't mind the idea of rotating Foerster and Brink in and out of the NHL lineup instead of playing in the minors.
With a few days to mull over their options, the Flyers have made a very important decision regarding their forward group, and it seems like there's a very good possibility that both Brink and Foerster make the opening night roster after all.
2024 Stadium Series Trip
Flyers Nation and Philly Sports Trips have teamed up to bring you on an amazing bus trip to the 2024 NHL Stadium Series between the Flyers and Devils. Place an early deposit to reserve your spot at the ultimate tailgate experience at MetLife Stadium before the game. The package includes a game ticket, round-trip charter bus, an all-inclusive tailgate party with unlimited cold beverages, "Philly Style" catered food, live entertainment, and more.