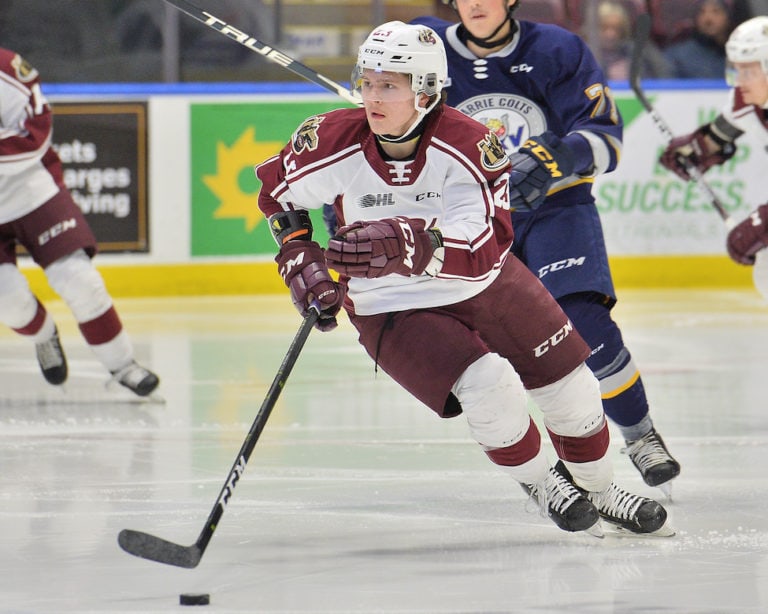 With the 13th overall pick the Philadelphia Flyers select…
Well, maybe we don't have that answer just yet. However, we can expect it soon as the 2021 NHL Draft quickly approaches on July 23.
As per the NHL's mock draft evaluation, NHL analysts speculate that the Flyers could potentially pick up centerman, Mason McTavish as one possibility in this year's draft.
McTavish, 18, with the cancellation of the OHL's 2020-21 season was loaned to EHC Olten, a team based in his homeland of Switzerland's league. McTavish ended his short regular season with Olten strongly, recording nine goals and two assists in only 13 games. Additionally, he recorded an added seven points (two goals, five assists) during Olten's series sweep of Sierre in the quarterfinals of the playoffs where he saw a significant increase in ice time averaging at 22:29.
Upon his return east to play in the 2021 IIHF Under 18 World Championship where he helped lead Canada to gold, 6-foot-2, 207-pound McTavish had a rather dominant performance. Sporting the "C" for two games while captain and teammate Shane Wright sat due to injury, McTavish flourished throughout seven games recording 11 points (5 goals, 6 assists). He was only outscored by four other players competing in the tournament including teammates Connor Berdard and Shane Wright, fellow sought after 2021 draft prospect Nikita Chibrikov, and predicted top 2023 draft prospect Matvei Michkov who lead the tournament with 16 points.
Known for his heavy lefthanded shots and net front presence, McTavish's size and his booming shot is a combination that is projected to pique the interest of several teams during the upcoming draft.
While his stats clearly show he was able to continue to produce offensively during a hectic season split between Olten and Canada's team during the IIHF U-18 Championship, the lack of a season's consistent play has posed some questions regarding the rest of McTavish's overall performance. His skating fluency, specifically, has been viewed as an area needing development as touched on in a report by DobberProspects' Tony Ferrari:
"He will need to improve his skating a bit as he can be a bit lumbering on his feet at times. When he digs in, he can generate some solid power and get up to pretty good speeds but the willingness to move his feet isn't consistent. This also [slows his progression] in his own end. His strength and ability to lean on a player is valuable and he should continue to do more of that as he develops but defensive effort is fairly broad concern among most prospects at this age."
Even with some needed development in areas of his defensive mobility and ability to create his own plays, Ferrari believes that "paired with a good playmaker, McTavish should be a legitimate scoring threat at the NHL level."
With the offseason in full effect and the draft drawing nearer, the Flyers have some big decisions to make before the puck drops igniting the 2021-22 season. Picking at 13th in July's draft, the Flyers using their pick to potentially add McTavish to their prospect pool could be affording them a future sharpshooter as McTavish continues to develop across more consistent seasons of play.