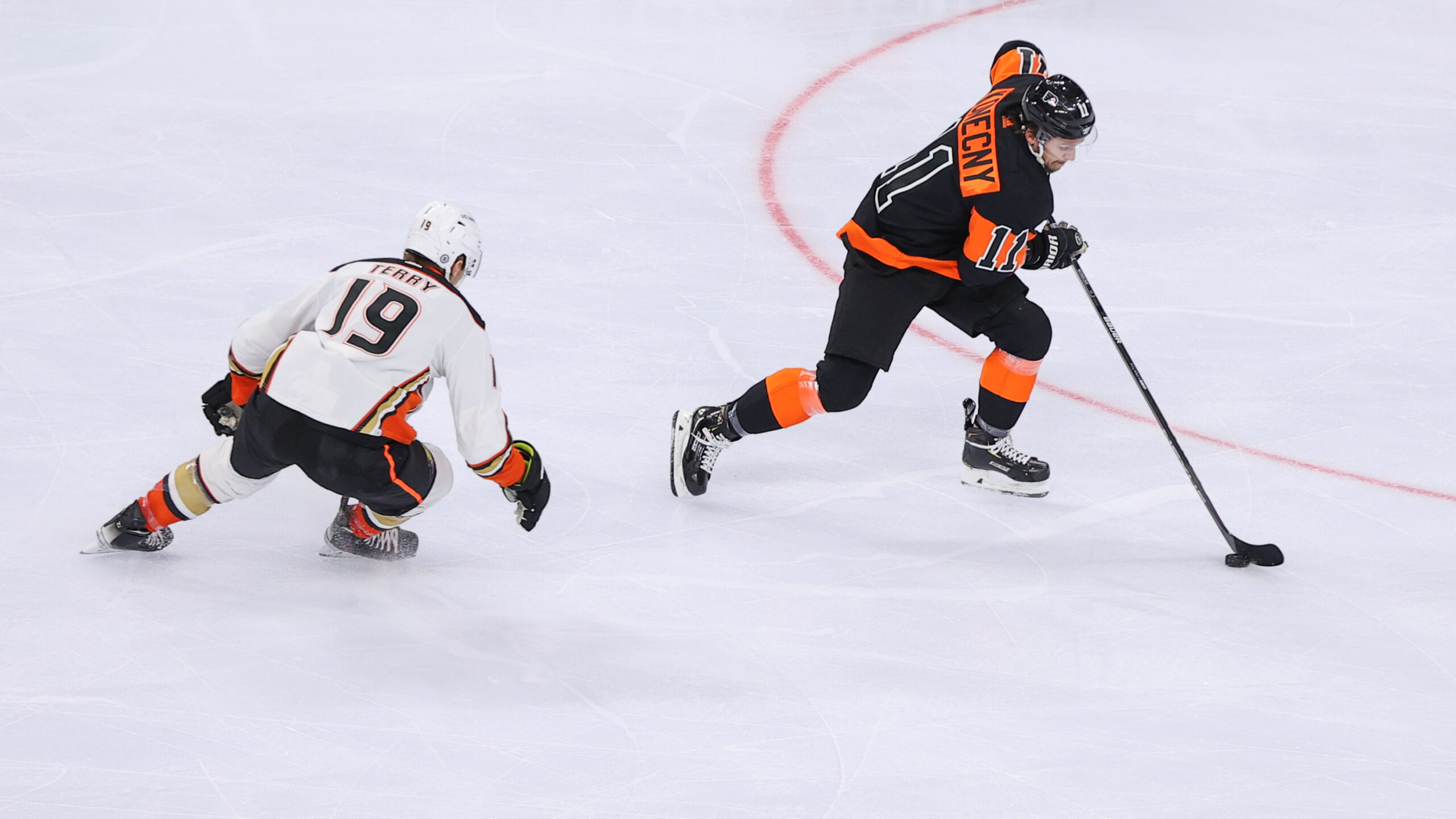 After an embarrassing loss at the hands of a previously 0-10-1 San Jose Sharks team, the Philadelphia Flyers (5-7-1) now travel to Anaheim to face Mason McTavish and the 7-5-0 Ducks.
Torts and the Flyers will be looking to wipe away that awful loss with a win and get back on track tonight at 10pm ET. It was reported that Carter Hart would be back tonight and start in net, however he reportedly came down with an illness and thus Samuel Ersson will get the nod once more.
After being scratched again in San Jose, Morgan Frost will see the ice tonight and most likely replace Ryan Poehling at center. Before we get into what the Flyers need to do in order to avoid a 3 game skid, let's take a look at the Anaheim Ducks.
What's Going Right for Anaheim?
The Ducks are off to a good start this season in what was expected to be another rebuild year. They are 4th in the Pacific and tout a variety of young talented players. In their last meeting with the Flyers, the Ducks put up 7 goals in what would be a 7-4 victory. The Ducks average 3.05 goals a game and have put up at least 4 goals in 5 of their last 6 games. The Ducks started off the season losing 4 of 5 but turned it around with a 6-game winning streak that was just recently snapped by the Penguins, losing 2-0. What was behind the surprise turnaround? It's got to be the play of their young talent.
First and foremost, let's start with Mason McTavish who the Flyers will certainly need to keep in check tonight. With 13 points in 12 games, the 20 year old is having a fantastic season thus far. He leads the team in points and has recorded 6 goals. McTavish is shooting the puck a lot this season with 13 shots above the league average for forwards (20). Most of his shots are coming from high danger zones with 5 of his 6 goals coming from close up on net. He seems to be putting himself in spectacular spots to bury goals and the Flyers defense will have to limit his chances and keep him on the outside.
On the defensive side of the Ducks, the first person you may not think of is the 2nd overall pick Leo Carlsson. Having a solid season thus far defensively, he has also contributed with 4 points in 8 games played as a good two-way center, but he's actually not the rookie that has stolen headlines in Anaheim. The 19-year-old Russian Pavel Mintyukov, who was picked 10th overall in 2022 by the Ducks, has recorded 8 points (1 goal, 7 assists) and finds himself tied with the likes of Logan Cooley and Bobby Brink in points. This is a great development for the Ducks as surely they are envisioning Mintyukov and Carlsson as the backbones of a future core.
Finally, the young goaltender in Lukáš Dostál has been very solid for Anaheim. He is leading rookie goaltenders in save % with a .920 and has posted a 2.80 GAA in 6 games played, winning 5. Veteran John Gibson shares the net with Dostál and also has a 2.41 GAA himself, but it seems the Ducks may have found a future goalie.
Besides the young talent shining, one of the vets on the Ducks has also had a good start to the season and is looking to get back on the score sheet. 29-year-old Frank Vatrano leads the Ducks in goals with 9. He has not tallied one in their last 4 games so look for Vatrano to get back on track.
Onto the Philadelphia Flyers, baby. What do the Flyers need to do to win? Where do we start?
Power Play
Theres a lot the Flyers need to work on as the rebuild will address for this season and onwards. However, the deficiency that has plagued this team for what seems like forever has been the power play. They can not generate power play goals. The power play lines don't look comfortable. And it's gotten to the point where as a fan you would want them to decline a power play chance! Going 0/4 on the PP against the lowly Sharks last time out was egregious. The Flyers can not keep squandering these opportunities if they want to win games.
Samuel Ersson
With Carter Hart being out tonight due to illness, Samuel Ersson will get the start. The Flyers have defensive issues in front of him but Ersson hasn't had a great start to the season. Posting a 3.52 GAA and .830 SV% through 5 games isn't going to cut it. Ersson showed a lot of promise last season as the Flyers' netminder, so the talent is there. They will need him to conjure up that 2022-23 Ersson tonight to avoid losing 3 in a row.
GOALS
It's obvious but the Flyers need forwards like Tyson Foerster, Morgan Frost, and Owen Tippett among others to get hot. They need goals to come from guys other than Joel Farabee, Cam Atkinson, or another key to this game in Travis Konecny. Konecny came out the gate scorching hot and has recorded 9 goals and 12 points. However, in his last 5 games he has tallied only 1 goal. It isn't a cause for alarm but with a team that desperately needs scoring, Travis Konency needs to find his scoring touch once more.
Let's get a win, go Flyers.
PHI Record: 5-7-1, 11 pts, 7th in Metropolitan
ANA Record: 7-5-0, 14 pts, 4th in Pacific
When: 10:00 pm ET
Where: Honda Center, Anaheim, CA
Broadcast Info: NBC Sports Philadelphia+, 97.5 The Fanatic
Last Game PHI: 11/7/23, 3-1 L at San Jose
Last Game ANA: 11/7/23, 2-0 L vs. Pittsburgh
PHI Goalie: Samuel Ersson (1-3-1, .830 SV%, 3.52 GAA, 0 SO)
ANA Goalie: Lukáš Dostál (5-1-0, .920 SV%, 2.80 GAA, 0 SO)
PHI Projected Lineup
#89 Cam Atkinson – #14 Sean Couturier – #71 Tyson Foerster
#74 Owen Tippett – #48 Morgan Frost – #11 Travis Konecny
#86 Joel Farabee – #27 Noah Cates – #10 Bobby Brink
#44 Nicolas Deslauriers – #21 Scott Laughton – #19 Garnet Hathaway
#8 Cam York – #6 Travis Sanheim
#5 Egor Zamula – #26 Sean Walker
#24 Nick Seeler – #37 Louie Belpedio
#33 Samuel Ersson
#40 Cal Petersen
Scratches: #25 Ryan Poehling, #98 Victor Mete
Injuries: #18 Marc Staal, #32 Felix Sandström, #55 Rasmus Ristolainen, #79 Carter Hart
ANA Projected Lineup
#17 Alex Killorn – #91 Leo Carlsson – #19 Troy Terry
#77 Frank Vatrano – #23 Mason McTavish – #16 Ryan Strome
#49 Max Jones – #14 Adam Henrique – #33 Jakob Silfverberg
#44 Ross Johnston – #39 Sam Carrick – #20 Brett Leason
#4 Cam Fowler – #60 Jackson LaCombe
#34 Pavel Mintyukov – #46 Ilya Lyubushkin
#5 Urho Vaakanainen – #7 Radko Gudas
#1 Lukáš Dostál
#36 John Gibson
Scratches: #24 Benoit-Olivier Groulx
Injuries: #6 Jamie Drysdale, #11 Trevor Zegras, #26 Brock McGinn, #21 Isac Lundeström, #69 Chase De Leo
News and Notes
– Betting odds: Flyers -120, Ducks +100, o/u 6.5
– The Flyers are 0 for their last 4 against Pacific Division clubs.
– The Ducks have won 5 of their last 6 against Metropolitan Division teams.
– Philadelphia is 4-1-0 in their last 5 games at Honda Center, and are 5-3-0 in the last 8 meetings against the Ducks overall.
Union Forge Vodka proudly serves as the Official Vodka of Flyers Nation. This partnership celebrates the unyielding spirit of Flyers fans and offers a quality spirit that perfectly compliments the team's essence. Whether celebrating victories or showing resilience, Union Forge Vodka embodies the winning spirit of both the Flyers and their dedicated fans. Stay connected with exciting giveaways by following @unionforge and @flyersnation across all social media platforms.