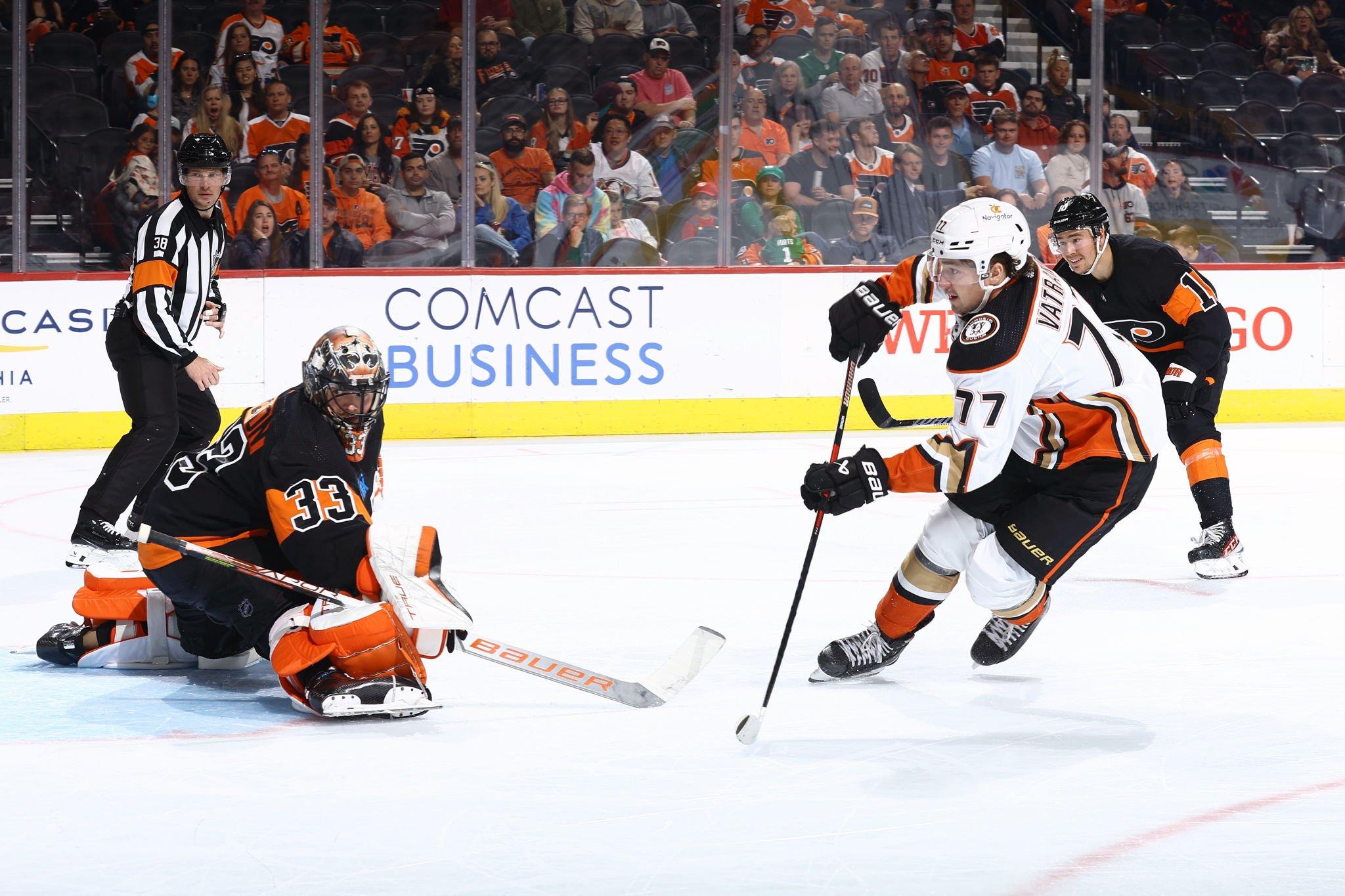 The Philadelphia Flyers were searching for their fourth consecutive home victory to open the 2023-24 season and take back first place in the Metropolitan Division in the process.
Unfortunately, the upstart Anaheim Ducks had other ideas.
After taking care of business against Columbus and previously-undefeated Boston, the Ducks continued their successful road trip with a 7-4 thrashing of the Flyers at Wells Fargo Center.
Frank Vatrano's second hat trick of the season lifted Anaheim to their fourth victory of the season, bringing them back up to .500 (4-4-0) and moving them into a Wild Card berth for the time being.
Lukáš Dostál made some timely saves and finished with 27 in the victory, while Samuel Ersson only stopped 18 shots in his first regulation loss of the year.
"What Sam had to go through with the Bronx cheers there, that's bullshit," said head coach John Tortorella after the game. "I don't think Ers was good, but we're not blaming it on him."
"Just very disappointed with myself," said Ersson on his performance. "Just not up to my standard."
The contest sunk Ersson to an 0-1-1 record with a .760 SV% and 5.91 GAA through 2 starts this year.
"It's up to me to be prepared, and when I get the chance I gotta be able to deliver a lot better performances."
Flyers forward Travis Konecny echoed Tortorella's sentiment and took accountability for today's loss.
"Ers is awesome. He battles everyday in practice, he competes when he's in, and…we're flat when we start the game for him, and you know, it's tough when you get challenged like that."
"When we were flat, he's taking grade-As after grade-A right away. It's difficult for him. It's too bad that's the effort we gave him but we're gonna regroup and forget about it."
Konecny, despite a couple poor plays, led the way for Philadelphia once again and racked up two goals to bring himself up to eight on the season in eight games. The last Flyer to score eight goals in the team's first eight games was Simon Gagné in 2005-06.
FIRST PERIOD
The Flyers were caught on their heels early after a bad turnover in the neutral zone as it took all of 58 seconds for Ryan Strome to pot his second goal of the year.
🚨Strome🚨

He follows up a shot from Mac-T to start the scoring! #FlyTogether pic.twitter.com/em0sTU2prY

— Anaheim Ducks (@AnaheimDucks) October 28, 2023
The Ducks seemed to have the early momentum and Nicolas Deslauriers looked to break that with a fight against fellow heavyweight Ross Johnston.
Deslauriers and Johnston drop the mitts. 🥊 pic.twitter.com/Kn1iLu30he

— Sportsnet (@Sportsnet) October 28, 2023
Philadelphia had the better of the chances in the period and were outplaying the Ducks, but the visitors capitalized on the Flyers' mistakes throughout the period.
After a Ryan Poehling delay of game penalty, Frank Vatrano burst through the zone during a line change and beat Samuel Ersson off a nice feed from Cam Fowler to double the Ducks' lead.
🚨 Vatrano🚨

An absolute SNIPE on the power play!
We lead 2-0. #FlyTogether pic.twitter.com/04FJzV2Rxa

— Anaheim Ducks (@AnaheimDucks) October 28, 2023
The Ducks took their 2-0 lead into the first intermission despite the Flyers outshooting them 10-8.
SECOND PERIOD
The Flyers kept up the pressure but Lukáš Dostál stayed sharp in the early going of the second period.
Anaheim supported their goaltender's strong play with more goal support, albeit in controversial fashion. After Samuel Ersson made an initial save, Frank Vatrano poked at the puck at his pad on the goal line. Vatrano immediately raised his hands in celebration but the officials signaled no goal.
After a lengthy review after the media timeout, it was determined the puck completely crossed the goal line despite no clear evidence from any of the camera angles displayed. Apparently the war room in Toronto had a magical angle that everyone else didn't.
🚨Vatrano X 2🚨
The officials took a look at it and confirmed!

We lead 3-0.#FlyTogether pic.twitter.com/E9dySA7XrB

— Anaheim Ducks (@AnaheimDucks) October 28, 2023
The stunned Flyers could not recover after the review and Anaheim kept their foot on the gas. They forced another turnover in the Philadelphia zone and just eviscerated their defense as Adam Henrique scored his first of the year just 2:32 after Vatrano's second of the game.
🚨Rico🚨

He taps home a rebound from Jones' shot!
We lead 4-0. #FlyTogether pic.twitter.com/nryp8lVYO8

— Anaheim Ducks (@AnaheimDucks) October 28, 2023
The Flyers were able to regather themselves and Owen Tippett and Cam Atkinson connected to get the Orange and Black on the board with 8:11 to play in the period.
TIPPETT TO ATKINSON! #Flyers pic.twitter.com/e32deaZUqU

— Flyers Nation (@FlyersNation) October 28, 2023
That may have been just what the doctor ordered for the Flyers as Travis Konecny fired home his 7th of the year only 46 seconds later.
TRAVIS KONECNY IS HOT! #Flyers pic.twitter.com/FTFtn4Awb4

— Flyers Nation (@FlyersNation) October 28, 2023
The Flyers clawed back into the game and showed life, and the third period was shaping up to be an exciting one as the comeback seemed to be on.
THIRD PERIOD
Well, it seemed the comeback was on, but the Ducks decided to kill that dream in short order as Trevor Zegras scored a power play goal – his first of the season – after a dreadful turnover by Konecny while trying to make a play out of the defensive zone.
🚨 Zegras 🚨

Strome finds Z and he buries it!
We lead 5-2. #FlyTogether pic.twitter.com/6R6x8AKVjR

— Anaheim Ducks (@AnaheimDucks) October 28, 2023
"I turn that one over there at the start of the third on the PK, and it gives it right back to them and they score two quick ones and we're kinda out of it," Konecny said after the loss.
Anaheim kept pouring it on and Brett Leason banked one in off Ersson after he received a pass from Sam Carrick to make it 6-2.
🚨 Leason 🚨

What a feed from Carrick!
It's 6-2! #FlyTogether pic.twitter.com/5rcNUoR6VT

— Anaheim Ducks (@AnaheimDucks) October 28, 2023
The Flyers mustered a little more life after a too many men call against the Ducks as Konecny racked up his second goal of the game and eighth of the year to cut the lead in half.
TiK-TaK-Toe. #ANAvsPHI | #LetsGoFlyers pic.twitter.com/UiKJck06VR

— Philadelphia Flyers (@NHLFlyers) October 28, 2023
"It's hard to even reflect on that right now," said Konecny after the game on his two goals and hot start to the season. "It's just…try to focus on what just happened. I'm more worried about…I kinda knocked us out of the game tonight."
Philadelphia got another power play after Leo Carlsson cross-checked Noah Cates less than a minute after the Konecny goal, but they coughed up a chance to get within two goals and Vatrano secured his second hat trick of the season on a shorthanded breakaway.
🚨 HAT TRICK FRANK VATRANO 🚨

His shorty makes it a touchdown with the extra point! #FlyTogether pic.twitter.com/uXJudPmMVc

— Anaheim Ducks (@AnaheimDucks) October 28, 2023
As deflating as the game was, the Flyers didn't show quit and Joel Farabee rammed home a fourth Philadelphia goal with three minutes to play in the final frame to make it 7-4.
That's five points (3g-2a) in the last five games for @FarabeeJoel. #ANAvsPHI | #LetsGoFlyers pic.twitter.com/eFpu29Q88f

— Philadelphia Flyers (@NHLFlyers) October 28, 2023
For Farabee, the goal extended his point streak to five games, which tied a career-high.
That would be all she wrote as the Philadelphia Flyers were blown out 7-4 by the Anaheim Ducks in their first home loss of 2023-24.
3 STARS OF THE GAME – 1) Frank Vatrano – ANA, 2) Ryan Strome – ANA, 3) Mason McTavish – ANA
UP NEXT
The Flyers will host the Carolina Hurricanes on Monday night (7:00pm ET, NBCSP) in their first Metropolitan Division matchup of the season.
2024 Stadium Series Trip
Flyers Nation and Philly Sports Trips have teamed up to bring you on an amazing bus trip to the 2024 NHL Stadium Series between the Flyers and Devils. Place an early deposit to reserve your spot at the ultimate tailgate experience at MetLife Stadium before the game. The package includes a game ticket, round-trip charter bus, an all-inclusive tailgate party with unlimited cold beverages, "Philly Style" catered food, live entertainment, and more.