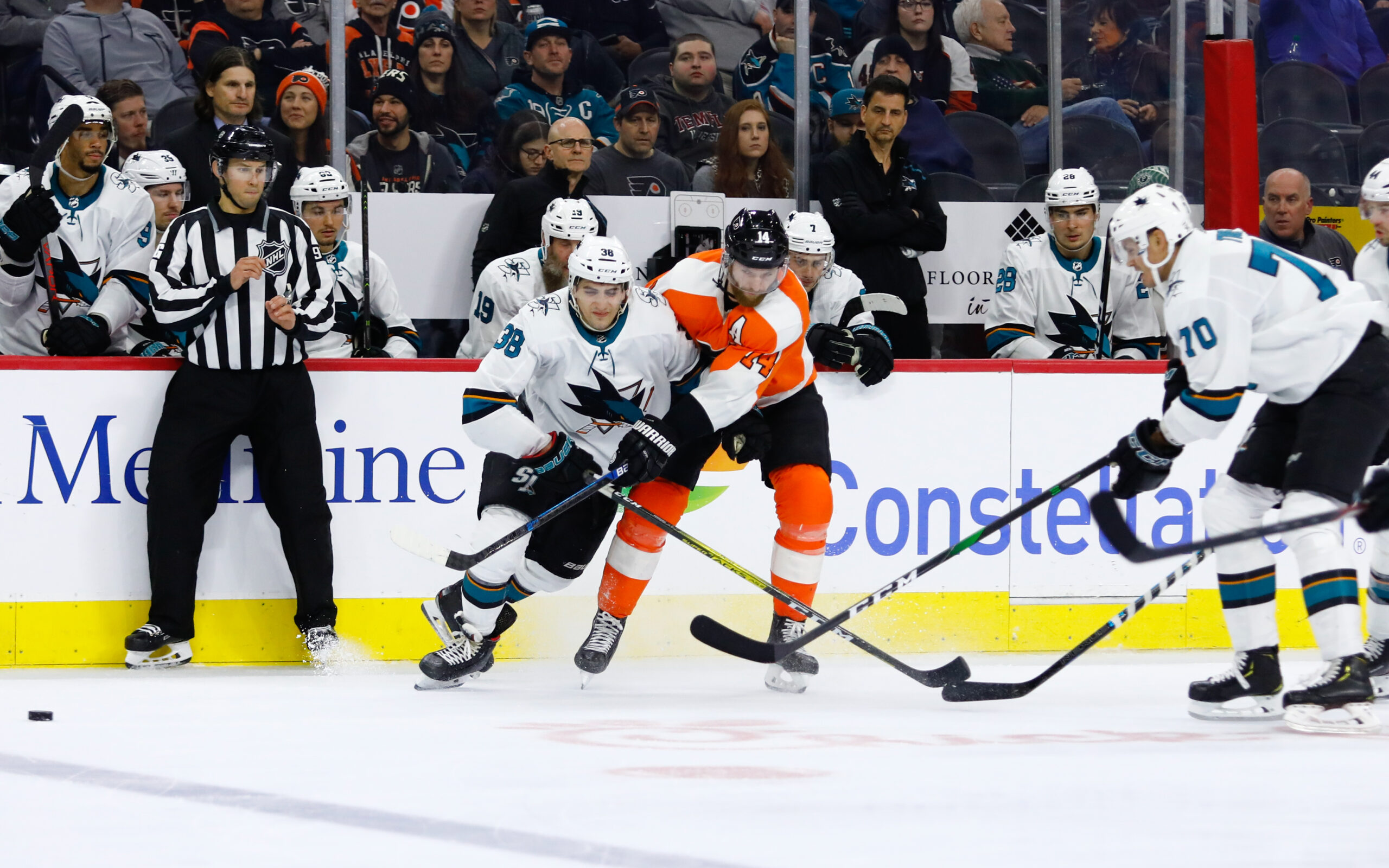 Coming off of a 5-0 shutout loss to the Los Angeles Kings at home on Friday, the Flyers begin a four-game road trip, the first of three in California tonight against the winless San Jose Sharks.
Cal Petersen got the nod for the Saturday night tilt, his first Flyers start, and was outplayed to say the least by Kings goaltender, and former Flyer, Cam Talbot. Petersen made 25 saves on 30 shots, giving up five goals in the process. As for Talbot, he made all 24 saves for his first shutout of the season, extending Los Angeles' point streak to six.
As for the Sharks, they are tied for the second-worst start to a season with the 1927-28 Pittsburgh Pirates, 1973-74 Minnesota North Stars, 1995-96 San Jose Sharks, and the 2017-18 and 2021-22 Arizona Coyotes with an 11-game winless streak. The 1943-44 New York Rangers hold the record with 15 games. The Sharks also allowed double-digit goals in consecutive games, the first time since 1965 when the Boston Bruins accomplished that feat. San Jose lost 10-1 on Nov. 2 to the Canucks and 10-2 on Nov. 4 to the Penguins.
Rookie Bobby Brink continues to prove that he belongs at the NHL level. Through 11 games, Brink has potted eight points on three goals and five assists. He is currently tied with Arizona's Logan Cooley and Anaheim's Pavel Mintyukov for most rookie points this season. Blackhawks forward and 2023 first overall draft pick Connor Bedard sits in second with seven points.
Despite not having a win through 11 games, Tomáš Hertl has become the Sharks' team leader as captain Logan Couture remains out with a lower-body injury. Hertl has a team-leading seven points on a goal and six assists. Fabian Zetterlund leads the team with three goals.
The last time the Sharks and Flyers met was on Dec. 29, 2022 when the Flyers stormed back after being down 3-0 to take a 4-3 overtime victory. Former Flyer Tony DeAngelo notched the game winner. The Orange and Black would go on to sweep the California road trip, the first time in franchise history.
If the Flyers want to win this game they must get off to a quick start. Going into the Saturday game against the Kings, Philadelphia was the league's highest-scoring team in the first period.
PHI Record: 5-6-1, 11 pts, 6th in Metropolitan
SJS Record: 0-10-1, 1 pt, 8th in Pacific
When: 10:30 pm ET
Where: SAP Center, San Jose, CA
Broadcast Info: NBC Sports Philadelphia, 97.5 The Fanatic
Last Game PHI: 11/4/23, 5-0 L vs. Los Angeles 
Last Game SJS: 11/4/23, 10-2 L vs. Pittsburgh
PHI Goalie: Samuel Ersson (1-2-0, .815 SV%, 3.90 GAA, 0 SO)
SJS Goalie: Mackenzie Blackwood (0-6-1, .879 SV%, 4.78 GAA, 0 SO)
PHI Projected Lineup
#74 Owen Tippett – #14 Sean Couturier – #89 Cam Atkinson
#11 Travis Konecny – #21 Scott Laughton – #71 Tyson Foerster
#86 Joel Farabee – #27 Noah Cates – #10 Bobby Brink
#44 Nicolas Deslauriers – #25 Ryan Poehling – #19 Garnet Hathaway
#8 Cam York – #6 Travis Sanheim
#5 Egor Zamula – #26 Sean Walker
#24 Nick Seeler – #37 Louie Belpedio
#33 Samuel Ersson
#40 Cal Petersen
Scratches: #48 Morgan Frost, #98 Victor Mete
Injuries: #18 Marc Staal, #32 Felix Sandström, #55 Rasmus Ristolainen, #79 Carter Hart
SJS Projected Lineup
#72 William Eklund – #48 Tomáš Hertl – #20 Fabian Zetterlund
#18 Filip Zadina – #64 Mikael Granlund – #10 Anthony Duclair
#9 Jacob MacDonald – #7 Nico Sturm – #62 Kevin Labanc
#54 Givani Smith – #22 Ryan Carpenter – #11 Luke Kunin
#38 Mario Ferraro – #6 Ty Emberson
#44 Marc-Édouard Vlasic – #4 Kyle Burroughs
#83 Nikita Okhotiuk – #84 Jan Rutta
#29 Mackenzie Blackwood
#36 Kaapo Kähkönen
Scratches: #68 Mike Hoffman, #71 Nikolai Knyzhov
Injuries: #5 Matt Benning, #39 Logan Couture, #94 Alexander Barabanov
News and Notes
– This will be the 50th meeting all-time between the Flyers and Sharks.
– San Jose forward Mike Hoffman leads the Sharks with 20 career points against the Flyers.
– Flyers forwards Travis Konecny and Cam Atkinson lead the team with nine points against the Sharks.
– With Sean Couturier returning from injury, Morgan Frost will once again be a healthy scratch. Frost will now be scratched for the seventh time in 13 contests.
– Carter Hart returns to the club after exiting last Wednesday's game mid-way through the first period. He will not start this evening but we could see the Flyers' starter in net later in the road trip.
Union Forge Vodka proudly serves as the Official Vodka of Flyers Nation. This partnership celebrates the unyielding spirit of Flyers fans and offers a quality spirit that perfectly compliments the team's essence. Whether celebrating victories or showing resilience, Union Forge Vodka embodies the winning spirit of both the Flyers and their dedicated fans. Stay connected with exciting giveaways by following @unionforge and @flyersnation across all social media platforms.